Born in Toronto Canada, I shoot full time out of my Leslieville Studio
I am available for creatives if the project sparks my interest.
For rates please inquire.
Toronto Studio For Rent.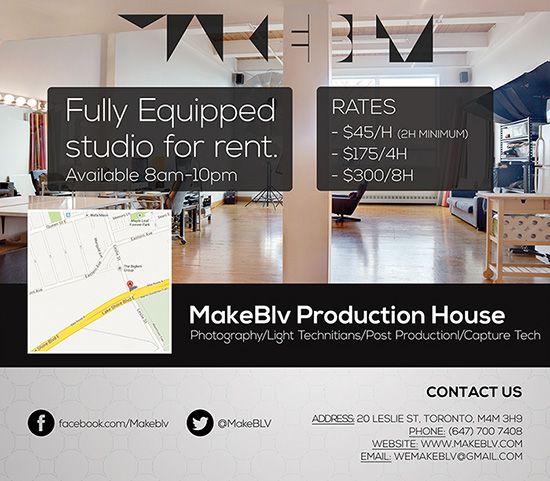 MakeBlv Production House
Fully Equipped studio for rent. Available 8am-10pm
Rates
$45/h (2h minimum)
$175/4h
$300/8h
The studio is conveniently located at the bottom of the DVP/Gardiner, and has 24h street car access. Ample parking is available, and amenities such as Tim Hortons, Starbucks, Loblaws and Fresh Co are steps from the front door.
-The Studio-
750sq ft
25x30 foot shooting area
14' ceilings
14'x 8.5' North facing windows
Washroom
Full kitchen
Makeup station fits 2 models
Freight elevator and loading dock
Wifi
Stereo with Aux hookup
-Equipment-
11x light stands
Super clamps
1x white seamless vinyl 9' wide
Plethora of seamless paper
Speedotron blackline 2403cx power pack and 4x heads
Speedotron Explorer
Alien Bees Ring Flash
Beauty Dish
Large Soft Box
7' Parabolic Umbrella (silver)
V Flats
pocketwizards
Seamless paper is available @ $5/ft
Areas Serviced
Toronto & Central Ontario
Expertise:
Photography, Light Technicians, Post Production, Studio Rental, Capture Tech
Languages:
English