About me (PLEASE READ BEFORE CONTACTING
My name is Veronica King I am a self taught photographer, photo shop wizard and fashion designer. I'm here for the purpose of networking with other photographers, as well as models, MUA's, Hairstylist, Fashion show producers, Dancers , Artist etc.
If you are interested in working with me. Please take a moment to send me an email (dofbyvk@yahoo.com). Please include, time, date and location of shoot, specific theme, style or idea for the shoot as well as number of models, specific outfits of interest and compensation.
I would love to help models build their portfolios. However I can not shoot and style for free. I am willing to negotiate rates. And I am willing to consider each models, stylist or photographers budget.
Friend request, comments and listings are always nice. However If your purpose is to contact me for collaborations, please send a direct email.
TFP considered for: tear sheets, creative photography, styling musicians, actresses, etc, with talented photographers only!
Handcrafted custom made realistic Victoria style angel wings for sale]
available in a variety of colors and style. Wings are adult size very wide wing span. May be attached to model by harness.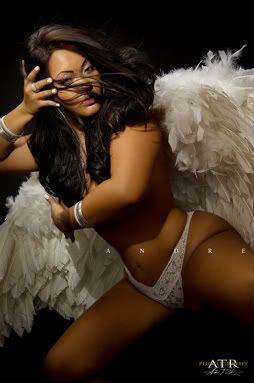 I work with a broad range of models despite age or race. The only thing i consider is if the model looks good in my creation.
PS. If I've shot with you in the past (TFP), and I don't see my name listed under credit, Please don't expect me to shoot with you again. It's a waste of my time.
This portfolio also shows collaborations with other talented photographers. Namely:
707 multimedia
Photos by Shai
Maroboyz photography
KC slippery girl magazine
Eric the eye catcher
Ken Weisenberg
Just to name a few.
[b]For inquires on wardrobe or photography, please contact me by phone toll free 888-867-1939[b]
Photo, Fashion and Graphics by Veronica King, Model: Jelli/Angelica
[b]Email me @ dofbyvk@yahoo.com for more details.
http://www.labellafemmestyle.com
or add me as a friend on
http://www.Myspace.com/labellafemmestyledotcom
[b]
Your welcome to join my social networking site dedicated to the fashion industry professional and aspiring model.
Http://www.ModeModels.ning.com