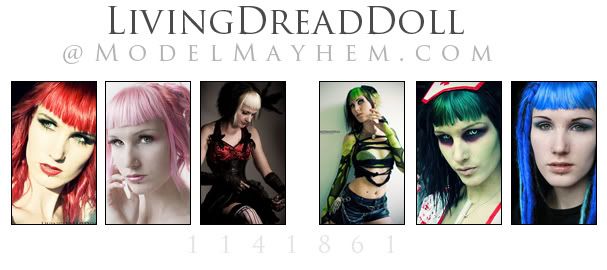 Hey there! I am Anja, 25 from The Netherlands.
A girl with many styles and colours. I am a photographer,
but love to stand in front of the cam in my spare time.
I also make Steampunk jewelry and have my own webshop: Time Traveller
I love being creative in all kind of ways.
I do not do nudity (even though I really love it sometimes -High or lowkey-,
but I am far to shy for that!), but I love to do pin-up though.
If you got questions or just want to chat, do not be shy and just leave a message.
with love, Anja
https://www.facebook.com/LivingDreadD0ll
=About me=
Nickname I work with: LivingDreadDoll
Name: Anja Elzinga
Height: 1.75 meter
Dress size: Small
Weight: 55 kilo
Shoesize: 40 (european)
Piercings:22
Eyes: Green
Hair: Changes every time.
Style: Versetile.
Traveling:
So far I only have done shoot/shows in the Netherlands.
Im willing to travel, but not outside the Netherlands.
Locations:
I live near Amsterdam. Utrecht/rotterdam/ etc
Shows/Performances/ Catwalks:
I love to do shows and catwalks as well.
I really like to be on stage or performances such as Scary Acting (Zombabes).
more pictures:
facebook.com/livingdreadd0ll