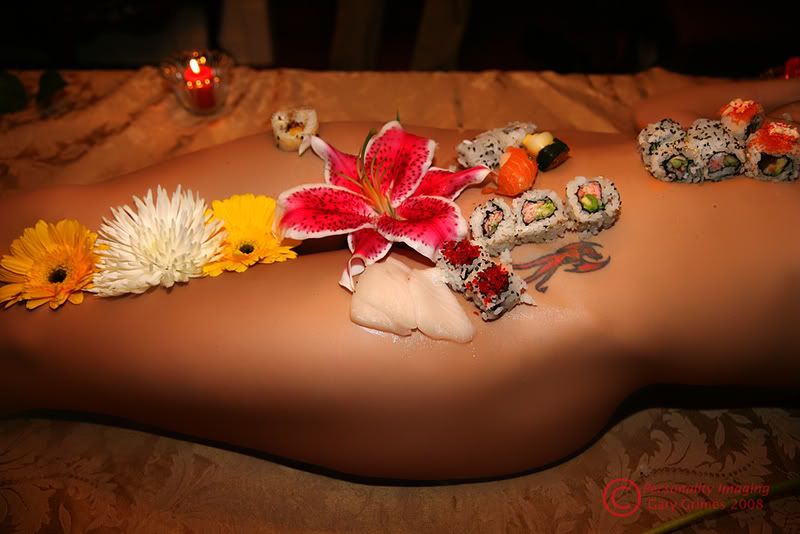 Visit or add me on Facebook:
http://www.facebook.com/sushichefmark
Also see more of my work on Instagram/Nyotaimoriexperience
Want to be a Sushi EVENT model? Fill out this form:
https://soyosushi.wufoo.com/forms/model … rest-form/
I'm a chef and artist. I provide nyotaimori "body" or "naked" sushi for clients and events across the United States. I have been doing this since 2004 and have worked with some amazing models and well known clients. Some artist use paint, some sculpt, some photograph...I use sashimi and sushi. I have done events for major music artists, NFL, and NBA players.
Models: This is a fun and easy job. I expect you to be on time and LOOK like your portfolio pictures. You should know what has been photoshopped and what hasn't. I am looking for the best of the best. This is NOT an everyday experience for my clients and they expect flawless models from head to toe. Your honesty saves me and you a lot of issues and insures my clients are happy with their experience, by not being honest, you make us both look bad and you will be sent home without pay or reimbursement for travel and expenses.
Important Details:
Will I be nude? Nyotaimori models are typically nude when lying on the table, but the lower private region is covered and legs crossed to eliminate any potential exposure of the area. Nipples are covered with either sushi and/or leaves. Some events require bikini bottoms and pasties. Remember this is art, not porn. Let me know your limitations and preferences upfront, so I can make sure you're comfortable and I am too.
CODE OF CONDUCT: There is no sexual contact and only chopsticks will be allowed to remove the sushi and sashimi if you are modeling for an actual event with guests. We do not permit people using their mouths to remove sushi from our models.
LESS HAIR IS GOOD: Front side of the Body must be completely shaven or waxed. No stubble. Looks unsightly for this type of presentation. Landing strips or minor bush is acceptable. But primary preference is completely shaven or waxed.
IMPERFECTIONS: No scars or stretch marks, unless you tell me BEFOFE I hire you. This isn't as important for photoshoots as we can photo edit them out. Live events NO SCARS OR STRETCH MARKS. You show up having them, I'll send you home without pay. I understand how these come about and their importance, but for these events my clients are paying for women without them.
BE DEPENDABLE: If it takes 1 hour to get to the location leave 2 hrs early. BE ON TIME.
BE FUN: I'm really easy to work for and expect the same from you. I'm very fair. Every model that has worked with me had a great time doing so.
LOOK LIKE YOUR PHOTOS: Weight especially! No jiggles on ass, hips, arms or stomachs. Trust me it isn't a very flattering position to be in when you're lying on a table. Everything that is loose will push outwards.
The majority of the photos of the Nyotaimori and sushi were not taken by me and I tried to credit the photographers with MM accounts. All sushi shown IS MY OWN and copyrighted materials. All of the other photos are 100% mine.
Please Visit My primary site-
www.nyotaimoriexperience.com
or
www.soyosushi.com