***Please Note: after years of working as a professional model, doing countless runway shows, modelling for 30+ brands and labels, 40+ magazine features and covers, and being a major featured model in the 'Modern PinUp' book alongside Dita Von Teese, Heidi Van Horne and Bernie Dexter, I am now semi-retired.***
This means my availability is limited, BUT when I do model, I am now open to the possibility of TFP, rather than charging full professional rates.
I also am now a size 10-12 rather than an 8, I have red hair, and am more tattooed. Modelling for me is now a source of inspiration and fun rather than a source of income. If you have fabulous fun artistic ideas, I look forward to chatting and perhaps shooting with you.***
--->Currently taking bookings for September 2013<---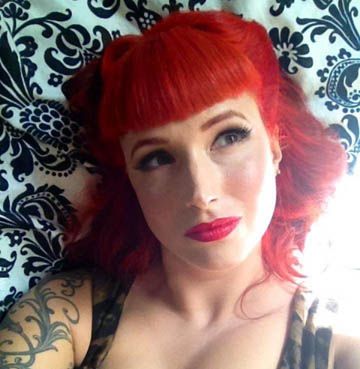 Current hair & look, Nov 2012
Professional, internationally published model. Extensive experience in catwalk, film, TV, stage & of course photographic modelling.
While I was best known for my pin-up and other editorial work; I also worked as a professional fashion model, doing everything from couture to bridal, commercial to sleepwear, lingerie to swimwear, alt-fashion to streetwear.
Publications:

M magazine [Sunday Age] (cover) (feature)
Metal Hammer magazine (cover)
Tattoo Revival magazine (cover)
A+D magazine (cover)
Cruzin (cover) (centrefold) (feature)
Car Kulture Deluxe (Deluxe Gal)
Oz Biker Nation magazine (feature)
TCB magazine (feature)
Herald Sun fashion spread (multiple)
The Age fashion spread (multiple)
Sydney Bride magazine
Skin Two magazine
Fae magazine
Kink-E magazine
Fiend magazine
LOTL magazine
XPress magazine
HCA magazine
Street Machine magazine
Deadbeat magazine
Australian Street Rodding magazine
Inpress magazine
Nylon magazine
2008 & 2010 Kustoms PinUps Calendars – March & Cover, February & Cover
2008 & 2010 Devil Doll Calendar – Miss January & Cover, September

Multiple catalogues, brochures, posters, music film clips, books, book covers + more