Hi! I'm Jasmine! Welcome to my little place in the MM world.
I am a full time actress. There isn't another source of money unless you count the pennies I pick up on the street.
*Please note even though I don't log on often, emails from MM go straight to my inbox, so don't be afraid to message.
My primary location is Ottawa, but I am in Toronto and Montreal frequently, so please don't be afraid to message.
I've been in the industry since age 9 (for acting) and age 16(for modeling). I have a BA in Drama and Arts/Culture from the University of Toronto.
I am professional, organized, and reliable. I have never flaked, you can ask references from anybody I've worked with, and I always show up early, whether the booking is down the street or across the country.
FAQ:
Friend requests: I accept all friend requests. So if you want to work with me, I DID NOT GET THE HINT! Send me a message:)
Race: Half Burmese (South Asia)/Half Welsh (Caucasian)
TFP OR PAID: Make me an offer, or I'll send you my rates. Each booking is different. Gift cards, passes, anything else I might spend money on that you can provide, these things are also accepted.
AGENCY: Have one. You don't need to call him.
TRAVEL: Will travel. Pretty good with covering expenses, but if they start to outweigh the job itself, I require some compensation for them. Note the travel notices on the top of the page, I do travel pretty frequently, and am up for going anywhere/arranging a tour in your area.
Schedule: I am a freelancer, there is no set schedule. Sometimes I work 21 days in a row, sometimes I have a week off. We'll find a time that works:)
PLACES TO SHOOT: While I don't own a studio, I do have a huge blank white wall , a green screen, and plenty of space in my place that has been used successfully for many shots. This is always free for your use if you don't have an alternative.
I look forward to working with you and promise I will bring the energy, drive, motivation and creativity to the shoot that you need!
Check me out on IMDB!
http://www.imdb.com/name/nm3246924/
Follow me on Twitter:
http://www.twitter.com/Jasminebowen
I currently host an online talk show.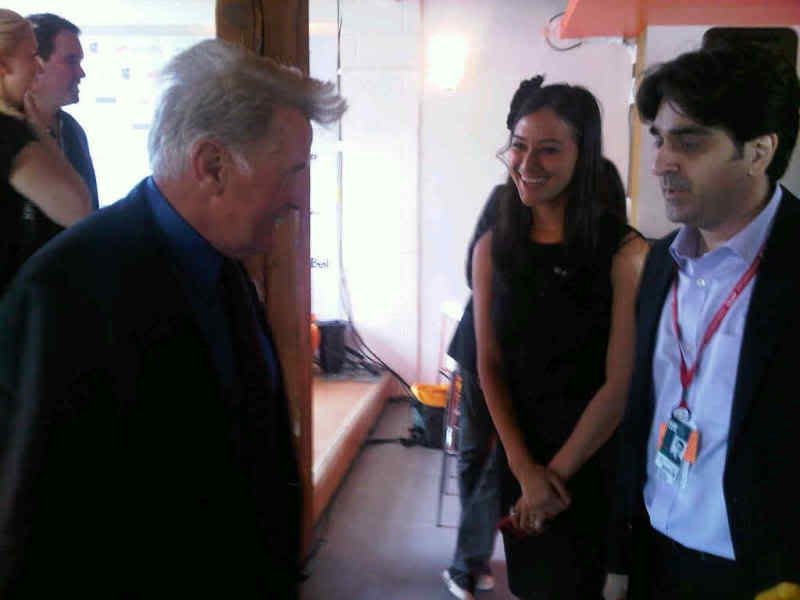 .
Chilling with Martin Sheen while as a Model for Blackberry/TIFF
.
Atmosphere Modeling with the Black Eyed Peas, complete with space boots and wigs