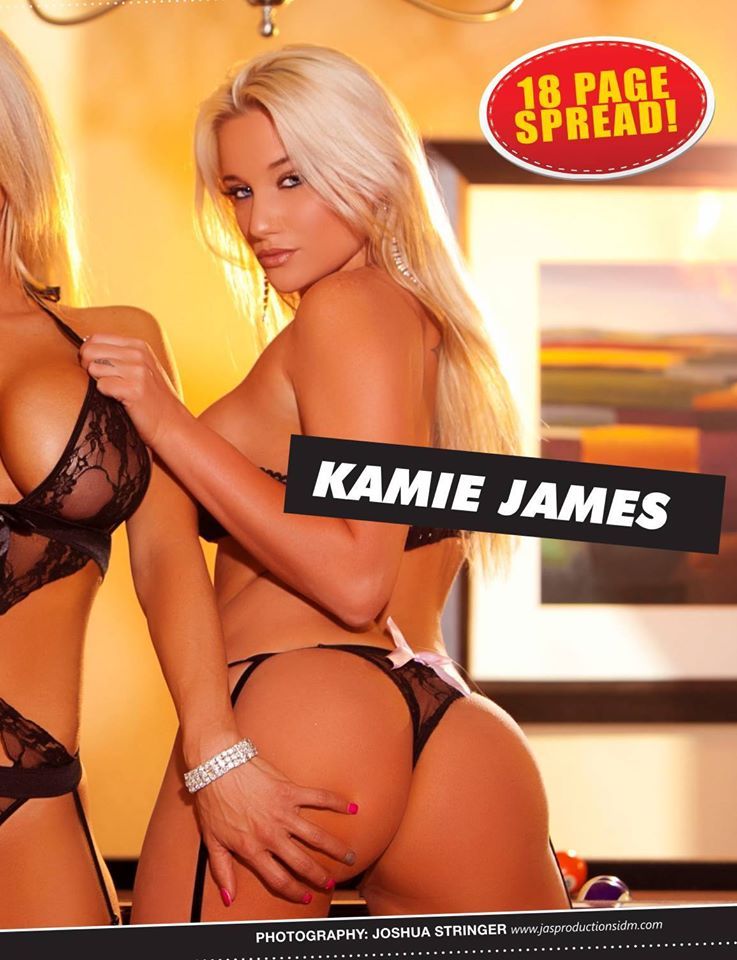 Hi, my name is Kamie James. I have a deep passion for modeling. I feel like this site may help me achieve my dreams and goals in this career. I do sports modeling, lingerie, implied nude, fashion, glamour, pin-up, event and swimwear, etc...
EXPERIENCE- Modeling- 7 yrs. I have been in many small town magazines, multiple online magazines, I have done advertisements for clubs and bars etc... Worked in Las Vegas, Houston, Los Angeles, Miami etc...
PERSONALITY- I am very ambitious and have a cheerful and bright personality. I am a people person and always love a good challenge.
GOALS- To feature in Maxim, XXL, American Curves, Sports Illustrated, Cruisin the Streets, Low Riders, Southern Vixens, sports magazines and many more PRINT MAGAZINES sold in stores NATIONWIDE... I am willing to travel, promote, and offer my best work and give it my 100% effort.
ACTING- I have no acting experience but I am interested in learning and will play the part of an extra if needed.
HOBBIES- Paintball, Sky Diving, Boxing and being an adrinalin junky.
*CONDITIONS*
(ONLY COME WITH ESCORT)
I DON'T do opened legged or erotic
***TFP/TFCD - I only do TFP/TFCD under 2 circumstances
1) Are an accredited photographer that has been Published in well known Print magazines and will submit my photos.
2) Shooting content for my website- I will want certain images (including nude) to use as I please for my website. In return I will shoot implied or non nudes for the photographer for free. This will contain a copyright release for these images for me to use as I please and contract stating that I get all of my unedited photos via CD, Email, etc... The agreed upon amount of edited photos will be due in an agreed amount of time- (No longer than one month)
This is for experienced photographers ONLY!!!
*** TFs are limited and only depending on the photographers experience!!! Does not apply for non experienced photographers. I will be agreeing to TF after looking through photographers port, including experience in swimwear, lingerie, glamour, fashion shots etc.. (Beginners please stop telling me you will agree to my TF terms) you will be asked to pay.***
***TFP/TFCD Model Release: I will not sign a Model Release form unless I'm being paid for the Images. I will bring my own model release stating that these Images are only for TFP/TFCD purposes NOT to be sold or distributed without my permission
***PAID SHOOTS***
My time is precious and I charge for shoots, just like a photographer charges for his time, I also charge for mine. I also reserve the right to have someone accompany me to shoots if desired. Please don't contact me to shoot unless you intend to pay for my flights, accommodation etc.
PAYMENT
I accept Pay-Pal for all shoots. ONLY local shoots will be able to pay cash upon arrival.
Please be advised that my rights in the items on this page, including any photographs, music, and videos, will be protected by the United States Copyright law. Any unauthorized use of the items on this page may result in statutory damages.
***RATES*** $$$
LOCAL ONLY
50/hr- 3 hr min
75/hr implied- 2 hr min
100-150/hr topless and nude (depends on the assignment and photographers experience and what the pictures will be used for)
Rates for NON LOCAL shoots will be $500 minimum. Rates will go up depending on the type of shoot.
WEBSITES
www.kamiejames.com
www.facebook.com/kamiejames
www.instagram.com/kamiejames
www.twitter.com/kamiejames
AIB Photos (Photographer)- Mayhem#1864683
CMB Photography Studio (Photographer)- Mayhem#1378993
Visual Poison(Photographer)- Mayhem#1587949
Images By Olipahnt (Photographer)- Mayhem#1824288
Shoot to Kill (Photographer)- Mayhem#835307
F Foto (Photographer)- Mayhem#462369
Docphoto54 (Photographer)- Mayhem#232976
CtinaRuther photography (Photographer)- Mayhem#2303322
BillSparks Photography (Photographer)- Mayhem#1476666
Cadena Laksis (Make Up Artist)- Mayhem#2686195
Radiant Inc (Photographer)- Mayhem#1738851
Evolve Photography (Photographer)- Mayhem#762748
Keri Pettit (Photographer)- Mayhem#1675424
Carey P Photography (Photographer)- Mayhem#405502
Zoni Photo (Photographer)- Mayhem#669456
***MAGAZINES***
S.U.G.O Magazine- Kamie James
Cruisin The Streets- September 2011 Model of the month
Miss Coed May 17th
Next Level Magazine- August Cover girl
Kaboom Magazine- Bombshell of the day 7-26-12
Horseback Street Choppers Cover -August 2013
http://www.ironcross.net/images/Home%20 … _large.png
Goomah Magazine- July 2013 Covergirl
http://www.magcloud.com/browse/issue/605270
Petite Alternative Magazine- May 2013 & July 2013
http://www.magcloud.com/shop/tag/kamie%20james?p=0
Glam Jam Magazine- March 2014
http://www.magcloud.com/browse/issue/714138