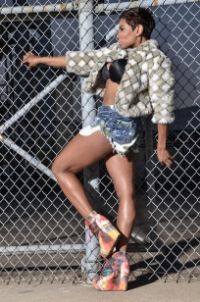 MODEL/ACTRESS:
I am a very motivated and professional individual with an friendly outgoing personality.I am very easy to get along with and i love to meet new people!!!
I am interested in :
Commercial Print
Film
Theatre
Catalouge
Glamour
I am always looking for new and exciting ideas that will enhance my portfolio and make it really stand out..
If you would like to work with me please provide the following:
Location/Time
Project Ideas
THANK YOU!!!!!
Print/ Modeling
2007- 411 sports Magazine Featured model
2007- Basic Magazine Featured model
2007-2008 Miller Lite Model
2007-2008 Various Fashion Shows
2007-2008 Various Hair Shows
2008-Black Hair Magazine
2008- Hype Hair Magazine



PHOTOGRAPHERS
Kauwuane Burton
Paul Williams
Hott Shotz
T Fate
Wayne Steele
George Fargo
K Dukes
Sivad

MUA:
Bridgett H
Kassie Coleman
VI-VE makeup

Hair Stylist:
Hair Designs by Monica
Brigett H

Stylist
Sheshae