Hey all,
Boas Photography is a partnership allowing us to develop our creativity and skills.
There is always something new and exciting out there!
That's where you come in! Either as a client, or a collaborator interested in bouncing some ideas around.
http://www.baosphotography.com
or
http://www.flickr.com/photos/67381248@N … 609963171/
Feedbacks always welcomed!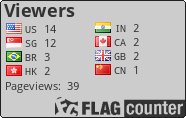 Jenn Of Arc MM# 292531 (Model)
Jackie Feihle (Hair, MUA)
Mystical MM# 358428 (Model)
Cherry Bonbon MM# 149380 (Model)
Mina
AntiSaint MM# 10181 (Model)
Bossie MM# 206600 (Model)
Darkniis MM# 746702 (Model / Clothing)
Gritzo MM# 70200 (Model)
Jenni B MM# 554193 (Model)
Madeleine Horn MM# 10154 (Model)
Renee Robyn MM# 1004 (Model)