**Melanie White has won the Contessa 22 Canadian Makeup Artist of the Year! **
** Melanie and her team have placed in the Provincial Top 3 for the L'Oreal Color Trophy!**
Hello All!!
I am a professional Hair Stylist and certified Make-up Artist, looking to network with creative and inspiring people.
As an artist, I thrive on challenge. I always try to explore different techniques with every project. I am so fortunate to be in an industry full of such creative and inspiring individuals, and to all of you, I thank you for making my life so colorful!
For the past 7 years I have focusing on fashion editorial, and beauty competition projects. I really love doing creative/concept shoots, so if you have an idea you want to explore, feel free to message me.
Aside from session work I am also a Colourist/ Stylist at Heather Wenmans' Studio H, London. I am also an educator, teaching Hair, and Basic and Advanced Make-up Artistry at DeVog Hair Academy in London, Ontario.
Please message me for my rates. They are very reasonable. I will do TFCD or TFP shoots, but on a selective basis. Of course, these things cost money. Especially if travel is involved.
Feel free to contact me at melanie.stylist@gmail.com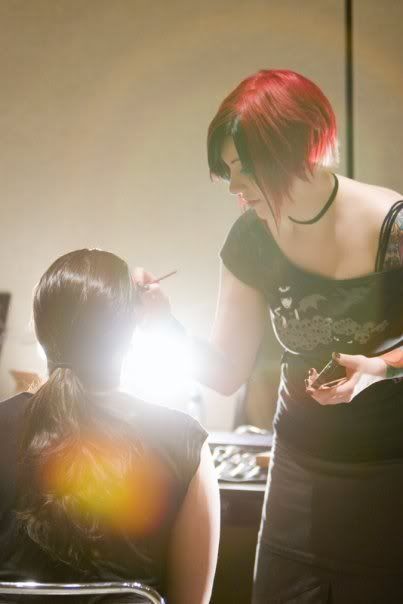 Backstage at the 2008 Mirror Awards in Toronto, CA
*** Melanie has placed in the Top 10 for Makeup Artist of the Year in the Contessa 20 Hairstylist of the Year awards!