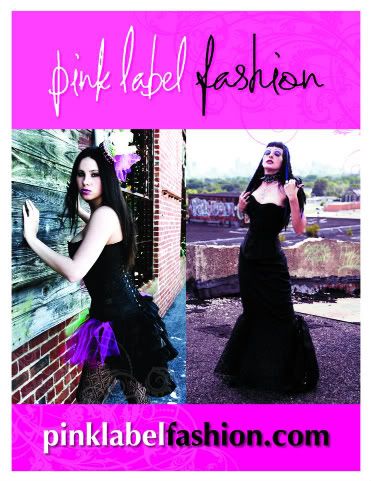 FREE Shipping for my MM friends. Enter this code at checkouts (djship).
Since 1997 Pink Label Corsets has been offering exciting and affordable custom made fashions specializing in outerwear corsets, matching skirts, retro, Neo Victorian for men and women and CosPlay.
All items are designed and made in Michigan USA. Please help keep American Designers in business.
I am here to meet and collaborate with other professionals in the industry.
Visit
http://www.pinklabelfashion.com
to see all of my styles, fabrics and colors.
Don't miss my blog
http://www.pinklabelcorsets.com/blog
Contact: Tuley corsets@pinklabelcorsets.com
I am an internationally published designer. Member: Professional Association of Custom Clothiers (PACC). Designs featured in Scratch Magazine 2007, Echo Immortalis 2006, 2007, XM West Magazine 2006, She Unlimited Magazine 2007, Runway Fashion Exotica Detroit 2008, Noir Runway Fashion Show University of Michigan Ann Arbor 2008, She Unlimited Magazine 2008, Personal Designer for The Glamazons NYC 2008, Runway Fashion show Soldier Rock Fash Bash Tribute concert Detroit 2008, Inclusion in FOX Press release for LA Designer Private Plane Originals 2008, Cause a scene Magazine 2008.StorErotica Magazine April Issue, 2009. Featured on Style Network for the show, Whose wedding is it anyway 2009. MegaCon 2010.
Gothic Beauty Magazine June 2011 Issue 33.

Pink Label Corsets Face to Face

~~~~~~~~~~~~~~~~~~~~~~~~~~~~~~~~~~~~
MegaCon 2010
~~~~~~~~~~~~~~~~~~~~~~~~~~~~~~~~~~~~
Marquis De Sade Fetish Ball July 17th & 18th, Pontiac MI Will be attending and on the runway. 2009
~~~~~~~~~~~~~~~~~~~~~~~~~~~~~~~~~~~~
Trianon 18th Century Ball Date and location coming soon. ~~~~~~~~~~~~~~~~~~~~~~~~~~~~~~~~~~
Fashion Style Lounge in the Tower January 22nd, 2008 Fresno, CA
~~~~~~~~~~~~~~~~~~~~~~~~~~~~~~~~~~
Fashion Style Lounge in the Tower November 13th, 2008 Fresno, CA
~~~~~~~~~~~~~~~~~~~~~~~~~~~~~~~~~~
The American Soldier Rock Fashion Tribute Concert August, 31st, 2008 Emerald Ballroom 31 Walnut St Mount Clemens, MI 48015 ~~~~~~~~~~~~~~~~~~~~~~~~~~~~~~~~~~
DeJa Vu University of Michigan Fashion Show April 8, 2008 Michigan
~~~~~~~~~~~~~~~~~~~~~~~~~~~~~~~~~~
Exotica Detroit November 9 -11 Expo & Ball 2008 Detroit, Michigan