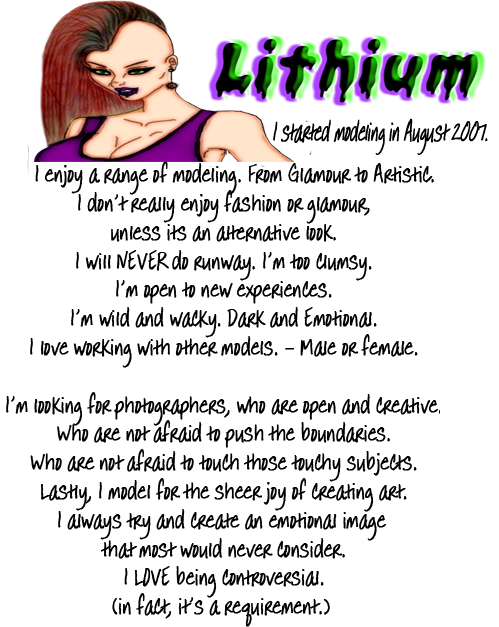 This is not Myspace or Facebook. I'm not here to make the most friends.
Please only add me if:
• You want/plan to work with me.
• You have worked with me.
• Live in Georgia.
• Message required with each request. Otherwise it will be declined.

I often travel to PA/NJ/NY/MD Area as I have friends and relatives up in that general area. I also travel once a year to New Mexico to visit my parents. Any photographers or models interested in working with me when I travel, let me know.

• I
Always
bring an escort to my photo shoots.
• I am really as small as my size states. I am handicapped, I can walk or stand, but am very unsteady. And am somewhat limited in certain poses, however, if you bare with me - I believe you'll like your results.
• I only shoot nudes with those I'm comfortable with. If I've never shot with you, do
not
expect me to get naked for you for any reason.
•
Before the question is asked:
I will
not
do adult work.
- •
For those who don't know what that means: No Porn, no pink shots. If you approach me for Adult work, you will be blocked.
• I have three lip piercings and Naval piercing that are NOT removable. Also ears, but rarely wear earrings, second piercing in my left ear.