ADD MY FACEBOOK -->
http://www.facebook.com/SecretPhotographyFan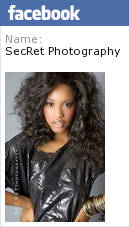 My name is Sandra. I'm Serbian, born and raised in Slovenia (Europe). I fell in love with photography in 2007, and have found it to be my passion ever since. It is an amazing experience to be able to work with people of all ages and backgrounds to capture their special moments.
All of the images on this site were created by me.
email: photography.secret@gmail.com
***!PLEASE READ!***
Taking photos is my JOB, so please don't ask me about TF*, if I don't contact you about it. I'm pretty sure you don't work for free either. I have low rates, so please ask for prices...
Contact me ONLY if you are serious. If you cancel scheduled photo shoot one day before, or on the day of the photo shoot, most likely I won't work with you anymore. Time is money. I won't waste your time, so please don't waste mine.
Thank you!