If interested in working with me, please e-mail me at Booking.Jadoreface@gmail.com I do not check this website enough and don't want to miss out on opportunities!
I enjoy modeling and dancing. I consider myself a jack of all trades. I am also available for wardrobe styling, hair and make up as well.. Please be in touch for rates. They are reasonable and negoitable.
I do:
-Fashion
-Glam/Swimwear
-Beauty
-Commercial
-Event Work/Promotional
-Hosting
-Bartending
-Dance
Contact:
Booking.Jadoreface@gmail.com
www.twitter.com/miiss_jacquelyn
**FEATURED ON MAXIM.COM**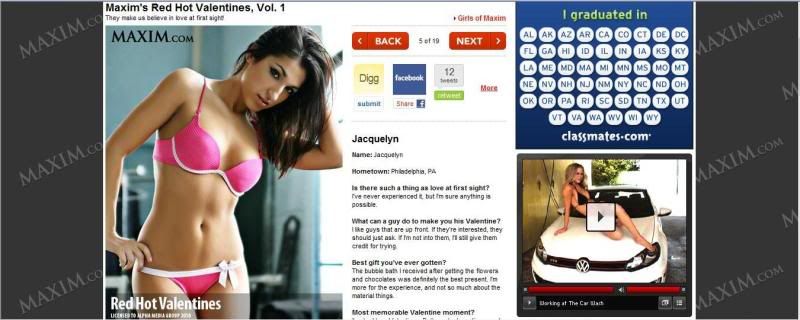 A second MAXIM feature

***PLEASE DO NOT CONTACT ME TO DO ANYTHING WEIRD. NO NUDES, NOTHING VULGAR.***
-Dancer for Almost Angels @ Taj Mahal in Atlantic City
-Dancer and Entertainer for Centerstage Entertainment-Atlantic City/Philly
-Dancer and Entertainer at Ivan Kane's Royal Jelly Burlesque Night Club Atlantic City
-Dancer on Law and Order Criminal Intent
-Dancer for Jewelz Entertainment-Philly/Atlantic City
-Dancer for Daniel Mulhern Entertainment- Atlantic City
-Dancer for Exxxotica NJ/2010 and 2011
-BabeBlvd.com Feature
-Playboy- Girl of Golf
-Playboy-Frisky Friday Feature
-COEDMagazine.com Feature-Philly's Finest
-Maxim.com Features
-Mami Magazine Beauty Feature
-Karin and Raoul- Corwin Prescott Feature
-Karin and Raoul- VC Ferry Feature

Promotional and Spokesmodeling
-Absolut Vodka-Atlantic City Liquor Convention
-Anhueser Busch various products-Harrisburg/Philly
-Lukas Oil- Dover Downs DE
-L'Oreal-Atlantic City
-PASMAG-Carlisle Car Show
-RockStar Energy Drink-Atlantic City

Many more not listed...

I also have an MUA page- Jadore Face..Feel free to add me on there as well or inquire about Makeup and Hair Styling gigs.