I now have a Wordrobe Stylist account since I do clothing hair and accessories! I will be using this account less! Add me on my other one
Mayhem #1048668
I am a All around Designer. I have been creating hair for over 7 years now. I sell on Etsy and Have my own website. My creations have been sold all over the world! I have had many Models buy and use my hair, clothing and accessories for photo shoots,dances, theater, club events and more. They always look so go on film!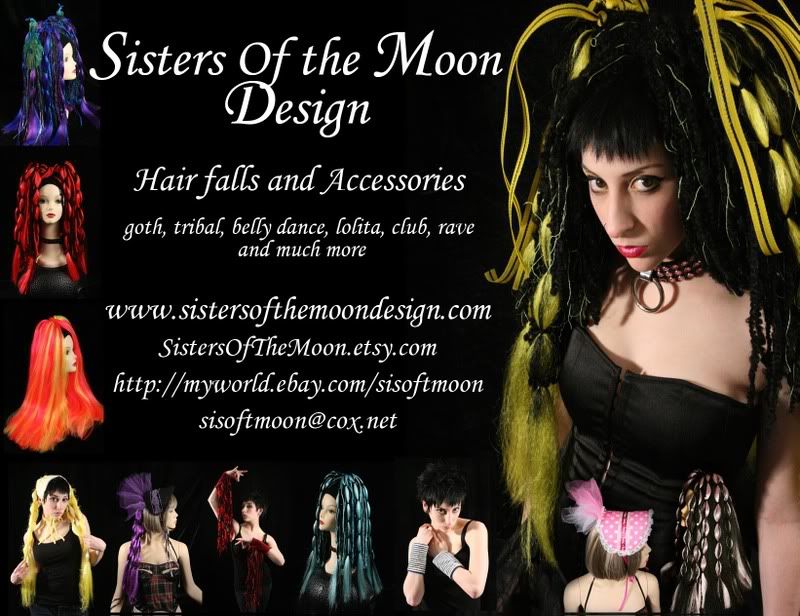 New: I have just been ask to be the new Hair resident At club Gallery for friday nights new night, Decadence
Which means I will be needing models for future fashion shows.
For more info, please feel free to contact me.
My hair can be used for many types of ideas such as:
Belly Dance
Gothic
Vamp
Punk
UV and Rave
Cyber
Renaissance
Rag Dolls
Alt girls
club
Lolita
Cosplay
and much more!
I work with synthetic hair, cyberlox(tubular crin),and Yarn
I am Looking to expand My work to other Photographers, To get all types of photos for my port. I do not go by any rates for my time, I just ask to be paid for the hair, Just cause after it has been used, I am not really allowed to sell it to someone else due to health issues.
If you would like to see more styles of my work. or would like to have something custom made Please feel free to contact me at:
www.sistersofthemoondesign.com
Also if you are in the area and want to shoot, I am willing to come down to a shoot and put the hair on the model for you.
some examples: