http://www.youtube.com/ruvibazaz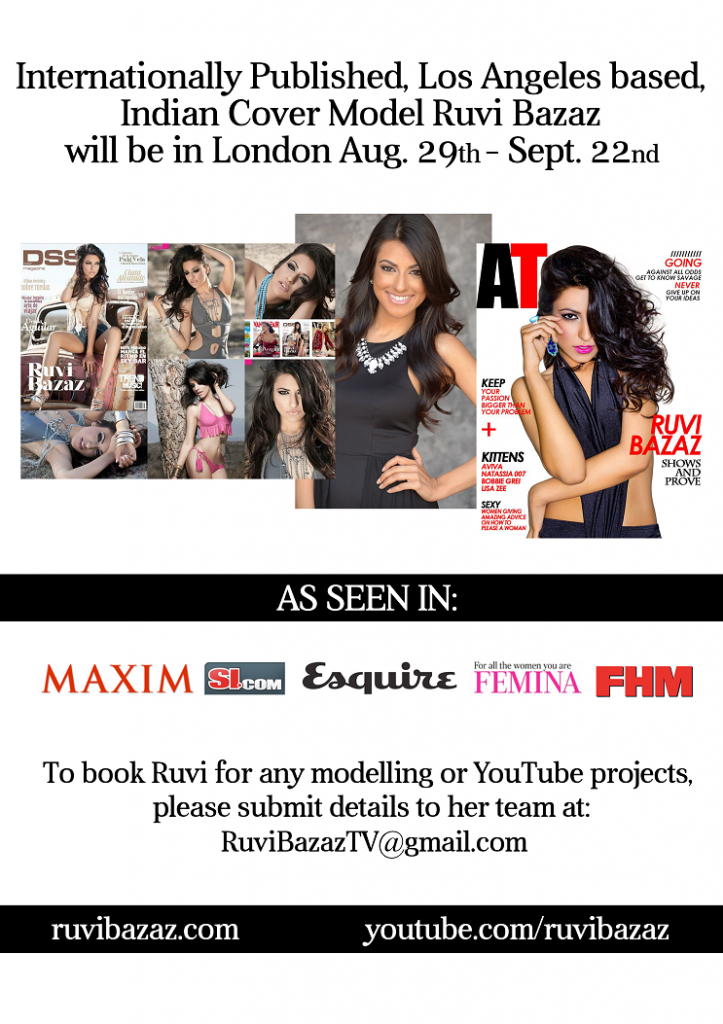 I'm an internationally published model who's been in Sports Illustrated, Esquire, Maxim, FHM and more... check out my print work here:
http://www.ruvibazaz.com/photos/print/
Based in Los Angeles but travel for work.

http://www.ruvibazaz.com/biography/
I'm not too active on MM, I usually only login when I get notifications that I've received a message. I don't check tags, photo comments, etc. so if you want to hire me, the best way to contact me is through e-mail (I usually respond within 24 hours): RuviBazazTV@gmail.com
Testimonials from people who've worked with me:
http://www.ruvibazaz.com/testimonials/
Facebook:
http://www.facebook.com/ruviofficialfanpage
Twitter:
http://www.twitter.com/modelruvi
Instagram:
http://www.instagram.com/ruvibazaz
Messages/emails without proper details will be ignored. Please include the following when contacting me:
-Your name/company name & website link if you have one
-Date of shoot/project
-Time of shoot/project & amount of hours on set
-If hair, makeup and wardrobe will be provided
-Concept or theme so I can prepare
-Location of shoot/project
-Compensation/budget
-What the images will be used for (portfolio, magazine submission, guaranteed publication, etc.)
-Leave your e-mail address for a quicker response
-If release is required
Firm believer in that: "The most attractive woman is one that leaves something to the imagination".
Main Interests:
Lifestyle, fitness, TV/film/commercials, swimwear, beauty, hair modeling, parts modeling, fit modeling, promotional modeling & hosting.