2009 IS MY YEAR TO BLOW YOUR MIND AWAY! 2008 I WAS JUST GETTING A FEEL FOR THE MODELING INDUSTRY. I NOW PLAN ON GOING INTO THIS FIELD FULL FORCE, AND GIVING IT AS MUCH AS I CAN!
Thank you so much for taking the time to view my port! All comments and opinions are appreciated and the favour will be returned!
As an alternative model, we are forced to deal with our flaws and insecurities that are created from the harsh world, and be proud of who we are as a person, physically, and mentally. We bare it all, for the whole world to see, including our flaws and imperfections. I myself, am a "used to be" fat girl, who finally decided to do something about it!
After a long internal struggle, I shed the weight, but I havn't quite gotten that happy ending.... yet
I never got rid of the insecurities and baggage that had developed from within myself, and strive to work every day to appreciate who i am.
Big thanks to Steve Locke for seeing past the flaws that I kept focusing on, and encouraging me to start building a portfolio. Not only does he take incredible pictures, but hes helped me appreciate who I am.. and be proud.
Many thanks to Sandra Roberts (Imago) for putting me on that runway and motivating me to keep going after what I love! Her shows are inspirational, and every person walks away a changed person after being blessed by her presence. Because if Sandra, I have stopped dreaming, and started making that dream reality! I look forward to working with her on several upcoming projects!
2008 has been one of the best years of my life, and now I'm ready to achieve more in 2009! Keep your eye out for me, because I'm not going anywhere, anytime soon!
Thank you to everybody who has encouraged me and supported me throughout all of this! I appreciate and love you all. ♥
Jacqueline S P
My self, Rebecca Hardy, and Taylor-Marie
Recently, I was honoured to have the opportunity to participate in the Wanderlust Show, with Sandra Roberts (imago), Rebecca Hardy (Winner of Canadas Next Top Model) and Evan Biddell (Winner of Runway Project). This experience has completely opened my eyes to a whole different world in the fashion industry...the whole team was incredible to work with, and we all had a blast! I am absolutley in awe of Sandras work, (I have worked two shows with her so far) and look forward to collaborating with her again in the future. keep watching for our secret to unfold, on feb 14th
interested in euro glamour, dark glamour, anything fashion, fitness, lingerie, swimsuit,maxim styles...ect.. got ideas?!?! id love to hear them!
***I am mainly focused on paid shoots, prices negotiable. TF* can always be discussed, if i feel it will be beneficial.
right now i am looking to book on fridays,saturdays and sundays of this year. I can, of coarse make myself more available with furthor discussion.
please message me if you feel we would work great together, i would love to talk business with you!!!**
i have two tattoos, one on my lower back and one on the back of my neck. (easily covered and/or photoshopped) reddish dark hair and blue eyes. Pierced navel, and ears. No other piercings.
I'm laid back, bubbely, artistic and creative. I feed off of other peoples creative energy, and i love being in front of the camera!
I am not a high maintanence model, and i try to get along with everyone the best i can! Please note, i MUST have the option of bringing an escourt to all photoshoots if I feel that i need too. Especially if I am driving to your location.... its only fair that i be given the common courtisy of being able to bring someone with me. (and NO...I ABSOLUTLY DO NOT MEAN I WANT TO BRING A BF.. )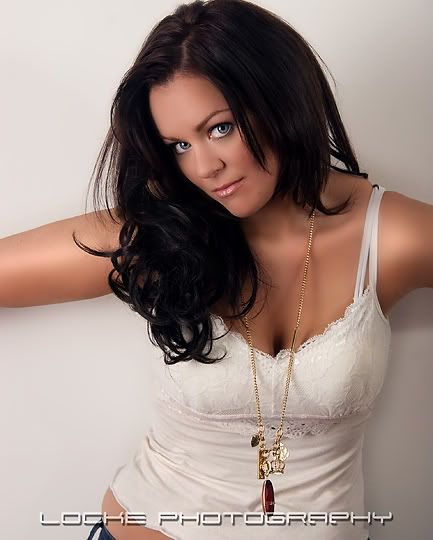 NO i do not have any interests in posting nude. Rather than that, I am up to new ideas and suggestions.
Please note: i will only shoot with someone who has proper references and credits.
that being said, LETS SHOOT!!!
Please feel free to message me for any furthor information! Thanks for viewing my port!