Follow my nerdy exploits on Twitter:
http://twitter.com/Bobsuicide
Where I might be:
San Francisco (GDC): March 25-29
I'm in school, so I'm cutting back on the amount of work and traveling that I will be doing. So, if you have an idea...make it REALLY good and I'll try to fit it in.
I've run the gamut of shoots; glamor to commercial. I have experience in commercials, movies, commercial print, figure, and runway. I was also a dancer (ballet, jazz, ect.) for 8 years.
But, if you're looking to do something geeky, techie, or gamer-oriented I'm your gal!
Check out my photography here:
http://bobtography.tumblr.com/
The most epic collaboration formed to bring you a ComicCon exclusive poster, the likes of which have never been seen before. Drawn by
Jeff Carlisle
for the X-Sanguin 9 ComicCon party and featuring the uber geek: Bob Suicide.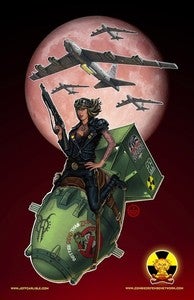 Couldn't make it to the con to get your very own poster?
Click here!
I've got a limited amount of autographed posters
for sale here
and each one comes complete with your very own "limited edition" Bob Suicide poster tube (great for LARPing--gives you a +5 to Bob).
Be sure to get yours before they run out!!!