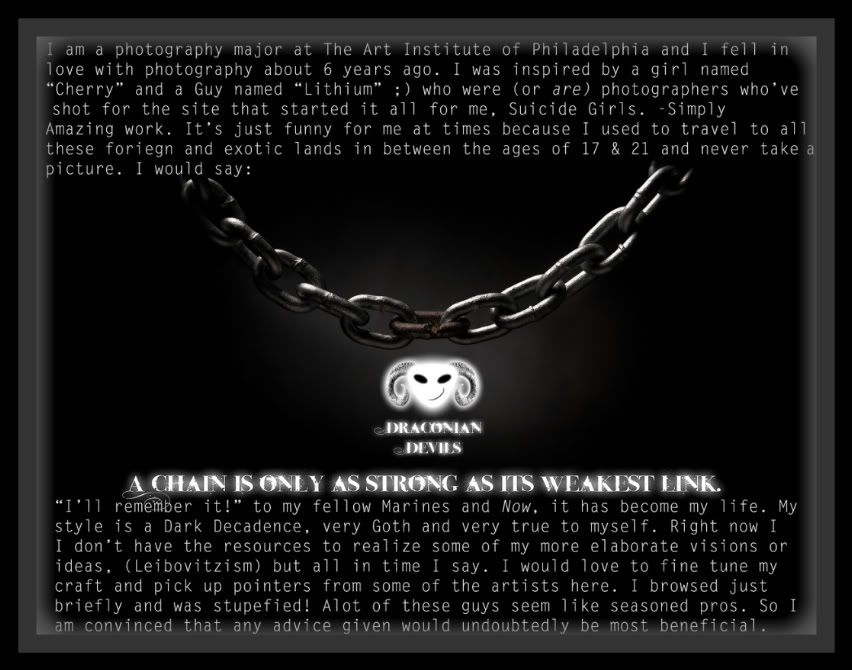 (* In fact, the rusted & chipped chain link image above means breaking the "ideas" (i.e. Cognitive Chains) imposed on YOU from birth. Whether it be the blind worship of religious idolatries "or" even an atheistic negation of religion caused by a disenchantment brought on by the wrong doings of a wicked human. -Or more simply put, my photograph means breaking the chains of indoctrination. Because more than likely, you're wrong anyway. *So, "Be" the weak link*)
Did you know occultists of days past referred to Jesus as "The Master"? Yup, the master Magician.
-The true Magician finds the balance between the contradictions.
P.S. I have "NO" time for anyone that is afraid of the dark terrifying world. I'm a young professional that intends on making my mark in the Art world or, the Art "UNIVERSE!" haha -please be of like mind.
*So please, anyone terribly afraid of their own shadow OR with a penchant to "flake" on your responsibilities -don't even continue. And bring on the music makers and the dreamers of dreams. (Arthur O'Shaughnessy) -That's from Willy Wonka. ;P
Yours Truly,
Lord Draco Grey ;P
Contact: onegreyungman@gmail.com