i'm a certified high fashion photographic makeup artist . i graduated from cinema makeup school in Los Angeles. i plan to grow within the industry and do anything and everything with makeup.

i have many different brands in my makeup kit . I can asure you that all my products are GOOD! Everything in my kit are the exact product that i would use on myself. 80% of my kit is MAC cosmetics the rest of my products are by MAKEUP FOREVER, 2 FACED, URBAN DECAY, REVLON, & others products .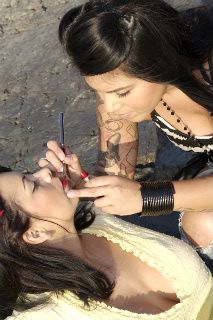 i have been very well trained in all aspects of makeup.classic. glamour. high fashion. avante garde. airbrush.ect.. by some of the very best makeup artist in the buisness.
*t.v./film
*fashion show
*photoshoots
*weddings