TEXT 405.274.4993 FOR BOOKING INFO OR QUESTIONS.
I DONT LOG ON OFTEN. TEXT OR CALL TO BOOK.
THANK YOU.
OTHER SERVICES OFFERED BY LC Photos & Graphics:
Photo Retouching, Graphic Design, Flyer Design, CD & Mixtape Covers, Custom Myspace & Twitter & Facebook Layout Designs, Banners, Logos, Posters, Comp Cards, Web Design & Hosting, Event Photography, Calender Design, Business Card Design, and much more.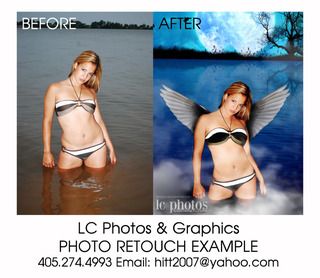 IMPORTANT LINKS:
WEBSITE: www.lcphotosandgraphics.com
FACEBOOK: www.facebook.com/lcpgx
TWITTER: www.twitter.com/lcgraphics
ONE.MODEL.PLACE.: www.onemodelplace.com/member.cfm?P_ID=218513


CURRENT PROJECTS:
CANDY COLLECTION
DEADLY BEAUTY COLLECTION
HEROES/VILLIANS COLLECTION
INK'D SERIES (TATTOOS)
***If interested in these projects send us a message.***

Contact Info:
Hitt:
hitt2007@yahoo.com (E-Mail and Yahoo IM ID)
CELL: 405-326-1956
OFFICE: 405-274-4993

MODELING AGENCY:
www.lcmodeling.com

My work has been published in:
Hip Hop Premiere Magazine
Block2Block Magazine
Local Heat Magazine
and numerous others...

MM Members I've worked with:
J. Reed #704660
Jessica B. #745222
Candice W. #742437
Amorette R. #843893
Camencia M. #820892
April Jasmine #845644
Mika W. #799370
Kathe Vo #513743
Jaime Floyd #877771
Shay Foxx #171282
Stephaine R. #496729
Camille W. #821831
Tyanna W. #878275
Kendal #682590
Kiki #
Blanca Casale #
Alicia H #
Brittany R. #
Camille W. #
Essence #
Delonda B. #
and many more...