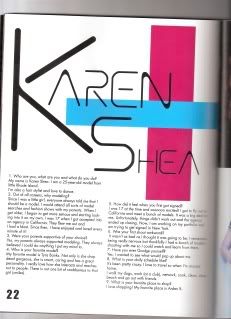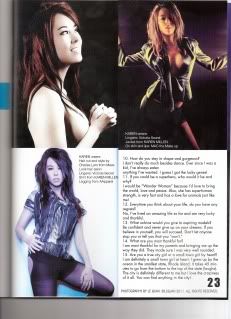 Tons and tons of photoshoots! Have traveled to NYC, MA, CT, CA, FL, HI, NJ, Mexico. Love traveling!!
I am in RI right now and am available to work!!!!
-Theatre-by-the-Sea, off-broadway production of "Jesus Christ Superstar" 1996
-Fashion Shows, Fashion Bug 1999
JCPenney 2001
-Participated in Miss Junior Teen Rhode Island 2000
-Fresh Faces management in California 2002
-Featured KISS girl of the week 2002
-Featured on the cover on RI Girl Magazine July 2003
-Photo shoots
-Hair Show, Matrix june 15, 2004
-Fashion Editorial for Metropolitan women of new england magazine edition june 2005
-"Hot Import Nights" Boston april 30, 2005 (model) xm satellite radio and diald magazine
-Degree deodorant promo, Boston,Ma May 16-20, 2005
-Fashion show Pearl restaurant June 18, 2005
-IceBreakers Promo, Hillary Duff concert, RI July 19, 2005
-Buick/Nike Promo, PGA Tour, MA Sept.3, 2005
-Chevrolet Promo, Newport International boat show sept.15,16,17 2005
-Centra Talent Fashion Concert feb.2005
-Maxim Girl @ maxim budlight hookup, alchemy, new haven CT Oct. 2007
-Team Pelagic bisbees fishing tournament winners PV 2008
-Ujena Jam PV aug. 2008
-Playboy Girl of Golf and model at mansion March 2010
-VNBeauty Magazine May 2011 edition. Featured Model of the month.
Buy it online
WWW.VNBEAUTYMAGAZINE.COM
-"Spend the day with Karen Shea" interviewed by Cary, fixemagazine.com. Oct. 2011
http://www.fixemagazine.com/post.php?postid=2213
Calendars-
Girls and Guns 2012
Precision Harley Davidson 2012
TV
- Foxy Lady commercial (4different ones), RI 2011
-NBC 10
-pending reality shows
Film
~"The Town", directed by Ben Afleck.Warner Brothers production. releasing at end of summer 2010. Dancer.
Credit to photographers:
Berge Zobian, Prov.,RI dec.2002
Allen Hess, LA, CA dec.2002
Dave Erck, San Jose, CA dec. 2002
David Jackson, San Jose, CA dec.2002
Bob Mack, MA april 2002
Karen Bernard W. Greenwich, RI sept. 2002
Dave Dolan, Block Island, RI aug. 2002
Greg Munro, Worcester, MA april 2003
Peter Scott, MA april 2003
Ken Lanetta, Newport, RI july 2003
Ed Rudman,(from CT), RI aug.18 2003
Robert Milazzo, NYC Sept. 14 2003, Jan.4 2004, Apr.9 2005, March 2008
Snap Shots Unlimited Nov.2003
Rob and Robin nyc Jan.4 2004
Frank C Rutherford, NJ feb.9 2004
Jeff Fox, RI Mar.4 2005, Metropolitan women of new england magazine edition april 2005
Frank Capri, NYC April 4, 2005
William D.L. from italy,NYC, April 26, 2008
John Cannon,RI July 2, 2008, Sept. 2008
Mauricio Ache, PV MX, aug. 2008
Chuck McCart, PV MX, aug. 2008
Brett Havika, PV, MX, Aug. 2008
Tahoe Studio, PV MX, aug. 2008
Swimwear Plus, MA, sept.11th 2008
Corey Silken, Newport RI, Sept. 13 2008
KenMal Photo sept. 27, 2008
nov.2008
GMK photo, Providence RI 2009/10
Le Quan/VNBeauty Magazine, NYC. April 16, 2011
DEN Photography, NY. April 23, 2011 #2119877
Kenneth Carlisle, August 26, 2011
Stephen Fasano, October 2, 2011
David Rose, Twisted Images Studio. October 4, 2011
Gilberto G Agar. May 2012
Tillett Studios Jan.2012
Stewart Smith Photography. Feb. 27, 2013
Coast Lightroom. March 30, 2013
Makeup/Hair:
Olga Hawwa
Amy Spaholz
Crystal Halikias
Angela Rafaela
Janet Choup
Theresa Gallagher
Regina
Wardrobe:
Britni
Designers:
Catalina
Karen Miller
MoNays Closet