Details
Experience:
Very Experienced
Compensation:
n/a
Genres:
Art
Bodypaint
Editorial
Fashion
Glamour
Hair/Makeup
Lifestyle
Performance Artist
Promotional Modeling
Runway
Spokesperson / Host
Swimwear
Underwater
Info
Last activity:
Jun 19, 2014
Joined:
Aug 23, 2008
Ashley Joy Beck

Female
Los Angeles, California, US
ashleyjoybeck.com

Mayhem #797545
Makeup Artist
MM URL: http://www.modelmayhem.com/ashleyjoy
About me
"I've had the pleasure of working with Ashley Joy Beck in multiple special events for Cirque du Soleil. She was one of the makeup artists and made a huge impression on me with her professionalism and talent. Ashley is a first-rate artist, was always on time (usually the first to arrive), always had a positive, upbeat attitude and smile on her face - even when under the pressure of a time crunch, and represented Cirque du Soleil as the world class organization that it is. I heartily recommend Ashley Joy Beck. Anyone would be lucky to collaborate with her. She is a pro in every sense of the word!" - Jon Monastero, Entertainer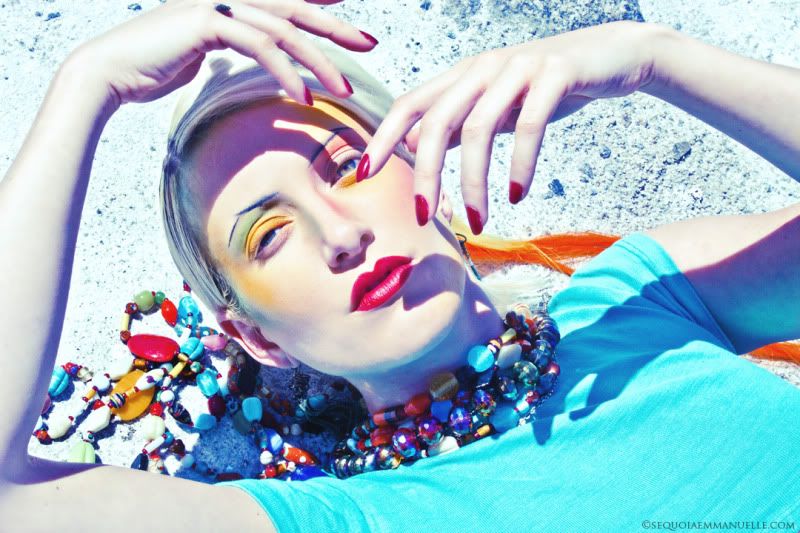 www.ashleyjoybeck.com

"Ashley is top-notch and I would hire her again in a heartbeat. We brought her on to handle hair and makeup for a short film. There were approximately 8 talent on the shoot and she did an amazing job getting them all camera-ready on a rather aggressive timeline. Everyone looked terrific and the work she did creating our lead character was nothing short of incredible." - Justin Seidner, Producer

"Dear Ashley Joy, I am still reeling from all of the love, generosity & good energy that you bestowed upon me on my sacred wedding day! You are one powerful (& let's not forget talented!) woman!!! I seriously feel so very blessed to have had your kind spirit during the crazy dischord that was trying to creep in in the precious moments before exchanging our vows. I believe, in large part thanks to you, that I was in a relaxed, peaceful, loving & spiritual state-of-mind for the ceremony. It was magical - and Maximo [her husband-to-be] mouthed to me during the ministers speech: "you look beautiful." Again, thanks to you!"

- A personal note from TV personality and green spokesmodel: Jen Boulden

"Ashley is one of my favorite Makeup Artist. I have worked with her several times, and will continue to hire her for future events. She is well educated in her craft, on time, and a pleasure to work with. I can trust that she will produce the level of artistry that my clients desire. She is a must have for any event producer." - Abigail Puanani Rinderknecht, Producer

Credits

Celebrities/Actors/Models:

Arsenio Hall, Ashley Benson, Ben Shwartz, Brendan Hines, Brittany Snow, Caridee English, Chris Masterson, David H. Lawrence, Deanna Russo, Felicia Day, Jason Mewes, Jim O'Heir, Keegan Michael Key, Kevin Smith, Malin Ackerman, Matt Besser, Michael C. Hall, Mimi Rodgers, Nichelle Nichols, Nikki Reed, Peter Facinelli, Richard Roundtree, Robert Rodriguez, Sarah Carter, Shaun Ross, Steve Rannazzisi, Yvonne Strahovski

Musicians/Performers:

Akara, Anahata Sound (Hopscotch), Beware of Darkness, Bobby Brackins, Chamber of Echoes, Chuck Wicks, Christina Grimmie, Earth Wind & Fire, Emii, Empire of the Sun, Georgi K, Hells Belles, Kerli, Lana Del Rey, LeKat, Lisa Loeb, Meiko, Michael Franti, Michael Grant, Neon Hitch, Sanguinedrake, Sila, Simone, Snoop Dogg (LION), Sublime with Rome, The Sword, Tune-Yards

Designers/Artist/Jewelers:

Amae Love, Black Lotus, Bubbles and Frown, Dalia McPhee, H.Naoto, The Fourth Dimension, Future Heritics, Kittenhawk, Miss G, Miss Be, Nally & Millie, The Plumed Serpent, Robert Krugman, Sauipe Swimwear, Sequoia & Gita (S&G), Stephanie Inagaki

TV + Web:

Adult Swim, Better TV, College Humor, Daddy Knows Best (My Damn Channel Youtube), The Guild, Hulu "Spoilers", KABC7 Green Segments, LA FBI PSA, MTVX "Status Updates", Nick at Night, Spike TV, StyleHaulYT, Young Hollywood, YouTube Originals: (Smosh) "Oishi High School Battle" + (Disney) "Power Up"

Photographers/Directors:

Allan Amato, Allan Barnes, Anthony Mandler, Angela Marklew, Bui Brothers, Catherine Asanov, Chad Michael Ward, Daniel Jung, Deverill Weekes, Lance Drake, Rush Varela, Sam Reich, Scott Stewert, Sequoia Emmanuelle, Tas Limur

Companies:

Arby's, Autofuss, Bad Robot, Ben Nye, Carl's Jr., Cirque du Soleil, Dark Beauty Magazine, Disney, Ford of Cerritos, Glamour Magazine, Got Milk?, Grumbacher Art, J's Hair Studio & Academy, Jenn Air, Jinx Clothing, Jose Cuervo, Maybelline, Microsoft Xbox 360 Kinect, Makeup Designory (MUD), Modnique, Moonscoop, Purebread Productions, Randomhouse, The Smithsonian, Tallgrass Pictures, Ubisoft, University of Pheonix, Upright Citizens Brigaide, Verizon, Wii, Wing Stop



Published Work:

Dark Beauty Magazine #21 "Neon Hitch" Cover + Editorial
Beauty Editor of Dark Beauty #18, #20 beauty editorial with Ben Nye cosmetics: "Liquid Light" and Iona cosmetics review
Beauty Editor of Dark Beauty #17 "Serpentine" Editorial and "Kerli" Cover + Editorial by Sequoia Emmanuelle
Auxiliary December/January 2012/2013 "Sugar High" by Sequoia Emmanuelle
Sessions #10 "Flora" editorial by Sequoia Emmanuelle and a Portrait of Sequoia Emmanuelle
Dark Beauty #13 with Caridee English by Sequoia Emmanuelle
Stage Directions June 2012 Zombie Wheel ad for Ben Nye cosmetics
Auxiliary April/May 2012 "Spectrum" Beauty Story by Sequoia Emmanuelle
Giuseppina #12 "Paisley" Beauty Editorial by Sequoia Emmanuelle
Giuseppina #9 Halloween Special Edition "Sombres de Cirque" Artistic Clown Editorial by Angela Marklew
Giuseppina #4 Bad Charlotte with Purebred Productions
Featured Online Publications: Twisted Lamb, Coilhouse, Dark Beauty Magazine

Lists




Friends


Ashley Joy Beck has 1002 friends.