I love working alongside photographers to create striking images and have experience of promotional fashion work and artistic portfolio shoots, both studio and location and would like to meet some like-minded people to collaborate with in future.
Especially interested in shoots in a whimsical fairytale vein (been wanting to do some misty forest shots for a while) or some Hello Kitty-tastic pictures featuring my collection!
If either of those ideas appeal, or if you have something in mind that you think I would be suitable for then just drop me a line and let me know:)
I am not interested in nude/semi-nude work - I can appreciate the artistic merit but it's just not for me I am afraid.
Any other enquiries, just ask, I don't bite:)
I have a preference towards dark gothic aesthetics but also a cutesy Hello Kitty/My little pony obsession!
This contrast has led to my own personal sense of style:)
I have a fondness for body modifications - I have 21 piercings and have tattoos on my upper and lower back, shoulder, both arms, stomach, thigh and ankle at present (would love to do a shoot showcasing my tattoos)
I also have a vast array of hair extensions so my look is adaptable for different assignments, my natural hair is mid-back length and deep plum, my fringe tends to be teal or purple:)
Photography by Malice Doll for Alienskin clothing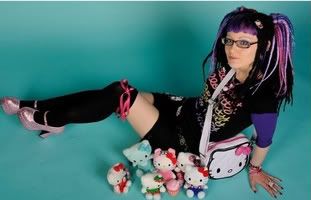 Kitty shoot with William Brown