CURRENTLY SEEKING
:
- TV & FILM ACTING WORK
- AGENCY WORK
- SELECT TFC & PAID PROJECTS
Core Experience:
Acting
- 3 yrs. BA in Theatre Acting/Directing at the prestigious DeSales University
- 20 years of acting experience including on-stage plays & musicals starting at age 5
- 5 years in the professional, non-union industry--TV, film, commercials, music videos (Video Reel & Resume being re-posted SOON!!!)
Dance
- University training in Ballet, Modern, Tap & African Dance;
experience in musical theatre, choreography; Skills in Yoga, Burlesque & Pole Dancing
Make-up Artist
:I have university training in stage makeup, and a certification with the School of Sephora, the world's leading authority on beauty & skin-care. I've done the makeup, styling and wardrobe for all of my shoots.
Products I use include: Makeup Forever, NARS, Sephora, Lorac, Urban Decay, Ben Nye, Stila, Smashbox, and more.
Other Skills
:
Stage Combat, Weight Training, Yoga
Highly flexible
Note*-
I have no tattoos and have never had any cosmetic surgery. I AM 100% NATURAL EXCEPT FOR MY HAIR COLOR AND NAILS.
I demand high standards of myself and my shoots. I work very hard to stay in "shooting shape". I provide full, professional make-up & styling, and a pretty vast collection of wardrobe to choose from (shoes, dresses, stockings, etc etc).
I am also willing to work for wardrobe.
MY WEBSITE IS IN THE PROCESS OF RE-CONSTRUCTION
http://www.vixxaviolet.com
Travel:
I do need full travel compensation for out-of-state projects. Currently, I do not have access to a vehicle.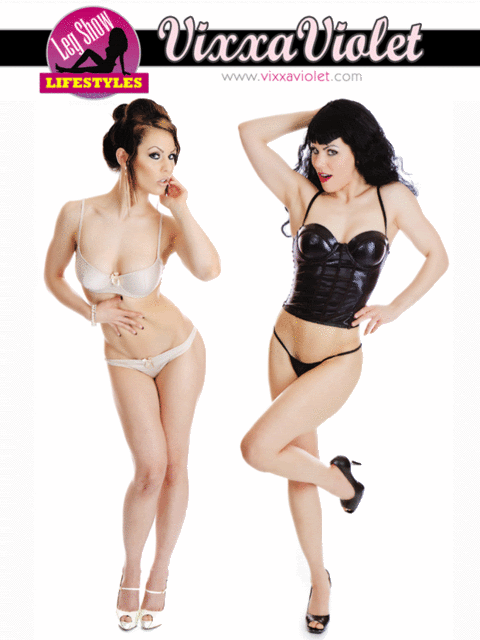 TFC:
I am open to TFC depending on my work schedule. My current projects include a "7 Deadly Sins" series that I will be finishing in 2012, along with merchandise materials and magazine submissions. If you choose to trade I would require:
-Equal share of copyright ownership
-Hi-resolution copies of all edited photos [negotiable]
-Generally 15 finished photos per shoot in 2 months turnaround time
TO BOOK ME
:
Please contact me via Model Mayhem. Include SPECIFIC DETAILS of your project, please.
Who, what, where, when, and how much.
Sorry, but I do not consider any of the following projects:
-tickling or amateur fetish material
-BDSM
-any XXX or pornographic material
-web cam
-car shows
-contests of any type
-Hustler-style material, open-leg shots or explicit nudity
-anything I deem stupid, boring, trashy or lame
GOAL=LA
[FYI]:
The Roth test was expanded when the Court decided Miller v. California, 413 U.S. 15 (1973). Under the Miller test, a work is obscene if:
(a)...'the average person, applying contemporary community standards' would find the work, as a whole, appeals to the prurient interest,...(b)...the work depicts or describes, in a patently offensive way, sexual conduct specifically defined by the applicable state law, and
(c)...the work, taken as a whole, lacks serious literary, artistic, political, or scientific value.
If you do not understand this, get off of this site.
Fraudulent behaviors of male photographers has and will be reported to the appropriate authorities. This includes theft of my materials, hacking, stalking, and much more.
PS. I would love to add everyone as a friend, but I will be revising my friend list to strictly professional contacts. So, if I don't have you on my friend list, it does not mean we will never work together, it just means I cannot fit you in right now.
***DON'T FORGET TO LIKE MY FACEBOOK FAN PAGE!!!***
http://www.facebook.com/vixxavioletxo
FILM - Independent / Non-Union
9 Ball: "Woman in Skirt". Mainstreet Productions (2010)
Night at the Farmhouse (Short): "Jennifer". Eye in the Sky Entertainment (2009)
Late Night Dame (Short): "Dame". (2007)
Wasted Time (Short): "Adeline". (2006)
Hero (Short): "Victim". (2006)

TV
Hot Rod Reality: Episode #21 - Self. (2010)
Creature Feature - Co-Host, Episode-"The Double D Avenger". (2010)
Monster Madhouse: "Bride of Frank". (2010)
Episodes - Bride of Frank; The Creeping Terror; NOTLD Reanimated; War of the Monsters
Commercial: Sequoia Supply, (2009)
Martini Dreams (MTV Pilot): Self, (2009)
Philly After Dark: Dancer, (2009)
'Girls of WMCN' Televised Bikini Contest --Week 3 Contestant, January 2009.
Here's to Us! (Pilot) - Model, (2008)

MUSIC VIDEOS
Afrocentrixxx - "OMG" (dir: Adam Marano), (2009-2010)
"Escape"
"In the Summertime"
"Rock with You"
"Last Christmas"
Victory in Numbers - "The King is Dead" (dir: Patrick Michael), (2009)
JJ Sinatra - "Spittin' Forever" (dir: Joseph Frantz), (2008)

AGENCIES WORKED WITH
Expressions Modeling / Greer Lange, Philadelphia

STAGE
ACT 1 Mainstage DeSales University:  
Antigone: "Messenger". (2007)
The Jeweler's Shop: "Monica". (2007)
The Last Night of Ballyhoo: "Sunny Freitag" (U/S) (2006)
The Crucible: "Mary Warren, Mercy Lewis, Susanna Wallcott" (U/S) (2006)
Savage in Limbo: "Denise Savage". (2007)
Everyman: "Goods and Riches". (2007)
Out at Sea: "Thin". (2007)
The Bad Penny (excerpt): "Kate Penny". (2005)

MODELING
WEB - VIXXA VIOLET FEATURES 
Afrocentrixxx.net
Bikinipedia.com
Blackmendigital.com
Blockdymez.com: Model of the Week, 1.24.10
Bodybumpers.com
Body-rockin.com
Delilahs.com
Dipstickmag.com
Fixemagazine.com
FoxTracks: 'Fox of the Week', 1.24.10
Foxblood.com
GirlsofWMCN.com
Gotcurves.com
Guitarworld.com
HardbodyTV
Hiddentreasuresmag.com
Oldskoolrodz.com
PlanetPrettyGirl.com - "PA's Finest": April 2009
Planetprettygirl.net - Apparel Model
Pumpsmag.com
Purehotmodels.com
Sportz123.net 
Superheroinebabes.com
94WYSP.com
WMMR.com
Worldfamousgoldclub.com
Xtrememagazine.com
Zariamagazine.com

PUBLICATIONS - PRINT
Leg Show Magazine - May 2012
Xtreme Magazine: Miss Xtreme January - Centerfold Cover Story
Unveiled Magazine, 2010
Raretoy Calendar, 2010
Foul Balls Magazine, Issue #2, 2010 - Cover
Inside Women Magazine, 2009 - Cover
Hot Lix Magazine, 2009 - Cover

MEDIA
Late Night w/ the Fox: Online Radio Interview, 2010
94WYSP Neighborhood Hotties Contest Podcast: Oct. 2009
WMMR's Preston & Steve Show: "Hottie Cam" Podcast: Sep. 2009 & Nov. 2009
Chillin' with Kenny-C: Online Radio Interview, 2009

AWARDS
Model of the Month - Planet Pretty Girl.com: March, 2011
Showcase Image (Fine Art Nude), One Model Place: January 2010
"Sportz Fantasy Model of the Year" (voted online), Sportz123.net, 2010
"Model of the Year", Inside Women Magazine for 2009
Runner-Up, WMMR's Halloween Hotties Contest, 2009
Winner, Week 3: 'Girls of WMCN' Televised Bikini Contest, January 2009

EVENTS
National Haunters' Convention @ Valley Forge: w/ Monster Madhouse & Count Gore de Vol (2010)
Zombie-a-Go-Go Rock 'n' Roll Art Show, DE: Vendor (2010)
Whiskey Tango Tavern: Contestant for "Neighborhood Hotties" w/ 94WYSP (2009)
Monster Mania Con: Cherry Hill w/ Eye in the Sky Entertainment (2009)
Sequoia Supply Deck Show, Lansdale (2009)
Hot Import Nights: Spokesmodel for Performance Auto & Sound Magazine (2009)
Cebu Nightclub: "Bite" w/ JKE (2008)
Philly Music Video: Cannstatter Fundraiser (2008)

CLIENTS & COLLABORATIVE PHOTOGRAPHERS (FREELANCE)
Pennsylvania
B4URI's*
Celica Prints
Connorportraits*
Dangerous Curves Photo*
Digital Articulation
Douglas Roberts
EA Photographics*
Eric Taylor
Frank Stephens III
Galen R
Gregory Maxx*
Iannemezan 
Images by Ray*
Jeff Campbell
Jeffrey Leeser
John Campbell
JP Dawson
Kencredible
Kenn Lichtenwalter
Latin Dog Studio*
Lens Sexy
Mark Z Images
Medicine Wolf Studios*
Mojokiss
Papa Sin*
Raretoy Studios
Robert Sleeper Photography*
Scott Church*
Scott Nichol / silverystars
Shotz Physiques
Steve Bradley Photography*
Steve Gray
Steve Ruegnitz
Studio 308 Photography*
Studio D
Tim Prendergrast
Tony Nuntasiri
Victor D'Angelo
VikingFoto

New Jersey
AB Photo
Adams Glamour*
Franco Napoli*
Lance Tyler*
Lost for Words
Mike Tyler

New York
Roxxsolid

DC/Virginia
Glamour-Shooter
Helmuth Humphrey
Jon Thorpe
Mickle Design Werks

Maryland
Tony Lites / 7 Treasure Studio*

*Indicates multiple shoots

EDUCATION
DeSales University 
B.A. Theatre/Acting - 2009

School of Sephora - Certified Cosmetics Consultant
October, 2008

RELATED COURSEWORK- University
Basic, Intermediate & Advanced Acting - Stanislavski, Meisner, Adler
Training the Natural Speaking Voice
Movement for Actors
Theatre Practicum - All Semesters
Directing I
Linklater Technique Workshop
Intro to Ballet & Modern
Tap I

SKILLS
Burlesque / Pole Work
Cosmetic & Camera Make-up Application
Choreography
Dialect - Non-Regional; English, Cockney, Spanish, New York (Bronx/Brooklyn), Southern (all regional dialects highly learnable)
Painting - Acrylic, Watercolor
Prop Making
Scenic Design
Shakespeare & Sonnet Work
Stage Combat - Basic, Some Weaponry
Stage Make-up Application (Basic, Old Age)
Teleprompter
Yoga