Viberation Visuals
(1997-2013)
www.viberation.com
Video Instals, Rigging, Take down, Live Video Mixing/fx, Live Feeds, AV/Vj, Video Content Compiling/Creation, Int/Ambient/lower lvld Lighting...
hundreds of gigs over the past 10yrs (1997-2007) thru out the bay area and abroad. clubs to raves to festivals to movies to private parties to out door video assaults on walls in the middle of downtown sf.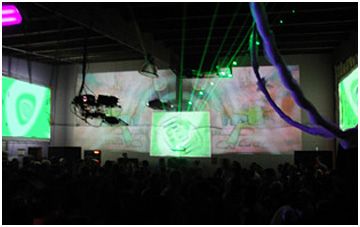 worked along side/with/for many big named groups/djs/artist
from: Christopher Lawrence to Dj Dan, Mix Master Mike to Meat Beat Manifesto, From Dj Rap to Unter Null. the list carries a ten year career of names, places and faces... the list would take awhile.

Fashion show/Performance Art Video Projection/Live Video Editing & Mixing
Video Compiling, Multiple Set Design: Video Display
for
"Groove"
the Movie (1999)
Sundance/415films/Sony entertainment
Infomercial for American Entertainment's 30 games in 1 Nintendo Game - starring Hulk Hogan & Honky Tonk Man, Ko Ko B. Ware (1994)
lastandreine Imagery
(2002-2013 current)
Glamor/Self/Propaganda/Portraits, Urban/Industrial/Nightlife/Landscape
Horror, Dark Imagery/Art, Graphic Design, Photo Manipulation,
Logo/Flyer/Cover Art
worked with with/for many different photographers/models/artist/musicians
for photography/modeling/graphic design/logo/flyers/random art
designed/constructed the up coming, highly anticipated
FT13
follow up album
hair model for/done (by) Shannon Morales (2004-2013)