Details
Last Activity:
Nov 10, 2014
Compensation:
Depends on Assignment
Genres:
Cosplay
Hair/Makeup
Lingerie
Promotional Modeling
Spokesperson / Host
See Less
Friends (104)
About Me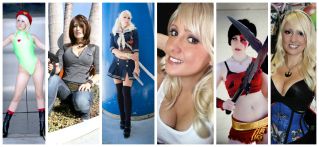 GAMER. COSPLAYER. YOUTUBER.
Only serious inquires please and all nude requests will be ignored.
GAMER:
Yep, I am a gamer and have been since I was just a toddler. When I'm not shootin' skags in Pandora, then I can usually be found aboard the Normandy or putting the moves on Alistair while killing Darkspawn in Ferelden.
Gaming media:
Penthouse magazine gamer featurette
Featured Gamer Girl of the Month on Spike.com
Babe of the Day on CraveOnline.com
"Hot Girl, Cool Job" feature video interview on Asylum.com
Girls of Geek 2012 calendar girl
Crush of the Day on GuySpeed.com
COSPLAYER:
Cosplay modeling is my second passion. Dressing up as some of my favorite characters, both male and female, is something I put a lot of my heart...and wallet...into.
Cosplay media:
Maxim - Jay Leno Show - RollingStone - IMDB front page - Game Informer - Geekologie - USA Today - CNN - G4 - GameSpot
VIDEO HOST:
Lastly, I do a lot of on-camera work. I interview celebrities, game developers, artists and more at conventions. I also do on-camera reviews, and a weekly live news show.
CLICK HERE for my video hosting demo reel:
http://youtu.be/op5HXZHjWSM
Verified Credits
Worked with Raychul? Share your experience and become verified!
Add Credits
Credit Notes
2012: —————————————-
Kotaku.com: Gender-Bending: 8 Impressive Girls-as-Guys Cosplay – my Kratos was listed as #2 (July 2012)
TheChive.com: Sexy Cosplay Girls of SDCC 2012 (July 2012)
WhatCulture.com – Number 11 in the Top 50 Sexiest Woman You've Probably Never Heard Of (June 2012)
Izismile.com - Number 1 in Top Girls You Want to Game With (June 2012)
Manga Minutes – Comic Con Babes (XBL channel): Interview dressed as Cammy (May 2012)
G4 TV: Best of Comic Con Cosplay featurette (April 2012)
GuySpeed.com: Crush of the Day feature (March 2012)
ChaCha.com: 7th Hottest Geek in Top 10 List (Feb. 2012)

2011: —————————————-

GirlsofGeek.com: Month of May 2012 calendar girl
SDCC.co: Hottie of the Month feature (Oct. 2011)
ComicsAllience.com: Best Cosplay Ever feature (Sept. 2011)
Examiner.com: Woman Gamers feature (Sept. 2011)
Maxim.com: The Sexy Super Powered Girls of Comic Con (July 2011)
RollingStone.com: Cosplay at the 2011 Comic Con (July 2011)
The Smoking Jacket: San Diego Comic Con Cosplay 2011: Spot the Stars (July 2011)
ComicVine.com: San Diego Comic-Con 2011 Cosplay Gallery (July 2011)
IMDB.com: Front Page – featured photo for SDCC 2011 coverage and 3 photos featured in the Comic-Con 2011: The Cute, The Crazy and The Creepy gallery (July 2011)
TooFab.com: Featured photo for Comic-Con Wrap-Up: All the Crazy Costumes! (July 2011)
Fox5SanDiego.com: Babes of Comic-Con 2011 photo feature, 3 photos (July 2011)
Unreality.com: Kratos cosplay featured (March. 2011)

2010: —————————————-

Asylum.com "Hot Girl, Cool Job" feature video interview (Sept. 2010)
IHEARTCOMIXCON: Comic Con 2010 documentary trailer (Aug. 2010)
MachinimaETC: Comic Con 2010 coverage interview (July 2010)
GameInformer.com: SDCC 2010: A Cosplayer's Perspective (July 2010)
Geekologie.com: Featured photo for Girls of San Diego Comic Con (July 2010)
PixelatedGeek.com: Featured photo in Comic Con cosplay gallery (July 2010)
USA Today.com: Voices – What is the greatest super power interview at Comic Con (July 2010)
CNN.com: Costumed Cuties of Comic Con 2010 – front page (July 2010)
CraveOnline: Babe of the Day featured interview (April 2010)


2009: —————————————-

KRON 4 News feature: Beatles Rock Band (Sept. 2009)
ConsoleCuties.com: Feature spotlight (July 2009)
The Game Show (on thestream.tv): Guest host (May 2009)
Spike.com: Featured interview (Feb. 2009)

2008: —————————————-

GamePro Magazine: GameGirls Gone Wild 3-page feature and interview (Nov. 2008)
Spike.com: Girls Love Gaming article and gallery (Oct. 2008)
Coin-Op TV: Guest host (Oct. 2008)
Slobs of Gaming: Named #4 Most Beloved Girl in Gaming (July 2008)

2007: —————————————-

Penthouse Magazine: Featured in a Gamer Girl interview (Jan. 2007)
Electronic Gaming Monthly: 1UP.com Member of the Month Feature (Oct. 2004)