Details
Last Activity:
Oct 18, 2017
Compensation:
Depends on Assignment
Genres:
Acting
Bodypaint
Dance
Editorial
Fashion
Fit Modeling
Fitness
Glamour
Hair/Makeup
Lifestyle
Lingerie
Parts Modeling
Pinup
Promotional Modeling
Spokesperson / Host
Sports
Swimwear
Underwater
See Less
Friends (558)
Lists (11)
Amazing Sci&Fi images
5 Photos
Awesome portraits
4 Photos
Fantastic makeup
1 Photos
Images that talk...
3 Photos
I want to re create!
3 Photos
See Less
About Me
I moved to Chicago in September 2012 and I'm looking for new opportunities!
**I will prefer paid work**But I'm available for TF/CD with selected photographers ONLY.
I been modeling since 2002 in Los Angeles, Ca- Denver, Co- Las Vegas NV- and in El Paso, Tx. I'm looking for photographers with different ideas to expand both of our porfolios.
////PLEASE NOTE////
I understand that nudes, and fetish can be artistic and tasteful, but they are not an option for me.
If you want to see more of my work and new images please visit my website at
http://www.eternitycm.webs.com
or add me to FACEBOOK
https://www.facebook.com/eternitymodel
have a great day and thanks for stopping by!
**if you are going to comment on my images please be respectful and professional, I hate to remove disrespectful comments**
Eternity
***Please add me on INSTAGRAM***
http://www.instagram.com/eternitycm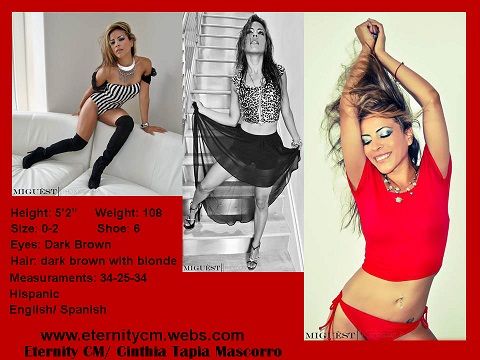 Verified Credits (3)
Worked with Eternity Cm? Share your experience and become verified!
Add Credits
"Eternity Cm is amazing. I hardly had to direct her at all. She gracefully flows from pose to pose and everyone is exactly what you want. I would highly recommend her." Read less
"Are you kidding me? First, she contacts me and then is proactive in confirming and discussing the shoot. She makes her own bikini shell tops to go with the mermaid theme. Then she gives me the best poses so far in this series. I can't wait to find a new project that she will be excited to participate." Read less
See Less
See All Verified Credits (3)
Credit Notes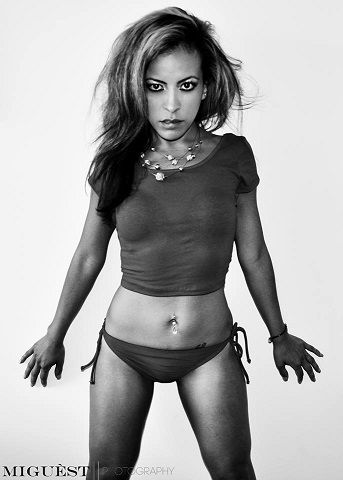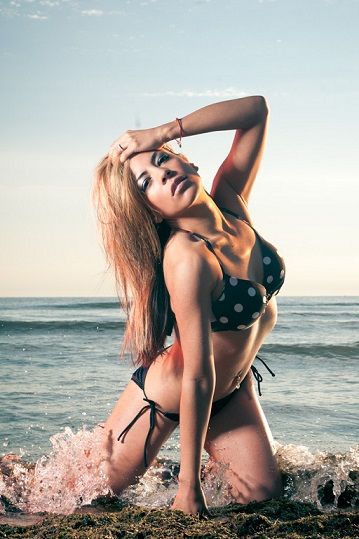 * StreetLow Magazine 2013
* Victoria Beer
* Bud girl
* Axe Angel
* Got Milk?
* AD walker Computers
* Jack Daniels
* Chivas Regal
* Tequila Herradura
* Tequila el Jimador
* Malibu liquor
* Budweiser girl
* Tecate girl
*Tecate light
* Coors light model
* Sol girl
* Dos equis girl
*Corona model
* Starbucks liquor girl
* Colorado pageants 2002
* Moreno clothing (modeling t-shirts)
* MAD Flavors Clothing line (modeling shirts to make posters)
* Unique Silver (I model jewels and morrocan clothes)
* Digame ( promoting phone cards)
* Verizon Wireless promotion
*Prickwear.com catalog shoot for internet adds
*Promo with Chivas Regal
*Feature in Unlimited the Magazine in El Paso TX
Fashion shows:
*Lenced fashion show at Purple Martini (by Ms. Champlain Designer)Denver, Co 2006
*Go GO fashion show at shelter (by Ms. Champlain designer)Denver, Co 2006
*Hawaiian Fashion show at Xzanthia's galery in Denver, Co 2006
* Alpalca Elegance Fashion Show at Tivoli Denver, Co 2006
*Valentine's fashion show for Ms Champlain 2007
*Certified Customs Fashion show and Roca Wear at DC10 2008
* Puppy Love Fashion Show in Pueblo, Co 2008
Contest:
*Best Eyes Contest 1st place for Explore Talent March 2011
*Best jewelry Modeling 3rd place for Explore Talent, March 2011
*Beauty contest for Conceptos magazine February 2008 (first place)
*Model Of the month
http://www.ftbrecords.com
March 2006
*March 2006 Hot body contest,
http://www.modeling-world.com
(3rd place)
*Dicember 2005 Hot body contest,
http://www.modeling-world.com
(1st place)
TV Commercials, and Videos
*Dj Fred Malone video shoot June 2014
*Wicked Song Video Clip, Red Novella Rock/Metal Band August 2011
* For Kare Disstribution (advertising phone cards TeCuento) July 2007 Univision Colorado
*For Lawyer Ivonne Azar Univision Colorado June 2007
*For Kare Distribution (Mi carnal phone card) April 2007 Univision Colorado
Photographers:
*FoxForceFive MM#3844114 Easy to work with Aug 2016
* DJW Photography Mayhem # 116672, AWESOME 2016
*Kumaran Photography Mayhem # 2367313, 2016, great to work with
*JPphoto Mayhem # 3096316 Wisconsin 2016 very professional
* LMJ Photo MM#532265 Chicago 12th Ave Beach shoot! very professional
* Cultured Photography/ F1 Photography MM#1482915 Chicago, IL (it was very fun to work with BUT we shoot in May 2014 and its December 2014 and I didn't received anything from him, DONT WASTE YOUR TIME)
* Always Great Photography MM#1344669 Chicago, IL (awesome to work with)
* Adam Discotheque Photography MM#2391966 Chicago, IL
* Joseph Harnish Photography MM#871939 (Chicago, IL (very punctual, great work)
* Monique Jimenez Photography (Chicago, IL) MM#2724618 (She and her crew were very nice and polite but she NEVER responded to my messages and she never gave me images well I never saw nothing from this shoot, I had a shot with her on January 2013 and it's Aug 2013 and NADA!! don't waste your time)
* Wolfshead Photography (Chicago, IL) MM#1771695 (Very professional)
* Stan Balazia (Chicago, IL) MM#2672741 (The best of the best)
* DidierPhoto (Addison, IL) MM#1215277 (nice to work with)
* Kukuc Photography (Willow Springs, IL) MM#2585085 (very professional)
* MargaritoH (Chicago, IL) MM#2151512 (Honesty I never saw an image from him, he is nice but don't waste your time)
** David M. Earnisse (Chicago, IL) MM#1244937 (one of the best) **Multiple shoots
* Jeffrey Klawitter (Downers Grove, IL) MM#1290873 (nice to work with)
* Femi Photography for VJG clothing (Chicago) MM#71450 (He was working for a "clothing" company, I know is not his fault but the company never gave me anything "VJG Clothing MM#1930610
* JB Media (Chicago, IL) MM #1054162 (very professional)
* Owens Roberts (Blue Island, IL) MM#627032 (I felt uncomfortable to work with him, but he gives you all your images with good quality)
* Joe Grossinger (El Paso, Tx) MM#610914 (very professional, and nice person)
* Les yeux sans visage (El Paso, Tx) MM#1314644 (very professional)
* What's Hot Magazine Calender Shoot 2010(El Paso, TX) (very professional)
* Foto Maniacs (Las Vegas, NV) MM#25953 (very professional)
* Tame Photography (El Paso Texas) MM#768484 (awesome person to work with)
* Cadena Arts (El Paso, Tx) MM#729643 (very professional)
* SkyDiverr Imaging (El Paso, TX)
* Zadouri Photography(Aurora Co) MM#707916 (very professional)
* Robert Donahue photographer(Boulder, Co) MM#667376 (he was good, but I got very small images and he disappeared)
* J Vega Photography(Denver, Co) MM#715298 (one of the best)
* Frank Digitally franks(Aurora, CO) MM#246073 ( very professional)
* Mike ( prickwear clothing line)Denver, Co (cool people)
* Mike (Denver, CO)
*J.J Photographie Inc.Denver, Co MM#1088165 (one of the best)
* Daniel Valencia (Los Angeles, Ca)(my first shot, he was very calm and patience with me)