So you have a DSLR camera that can shoot video and while you've seen the cool fashion videos out there, it all seems so daunting! Where do you even begin? How do you put together a cool fashion story? What shots do you need? How do you get the right shots? And how the heck do you even edit video? Slow-motion? Speed-ramping?
To answer all your questions and more, I'm pleased to announce the first L U C I M A Fashion-Editorial DSLR VIDEO Workshop. Sponsored by SmallHD and Camera Research Motion and in collaboration with Rick Craft, we've put together an intensive DSLR Fashion Video Workshop geared towards fashion photographers that want to learn and experience the entire production of putting together a fashion video... LIVE!
PRODUCTION TEAM
Charles LUCIMA
Principal at LUCIMA STUDIO
MBA, MA Psychology Claremont Graduate University, BA in Economics Claremont McKenna College. Instructor at New York Film Academy, School of Photography at Universal Studios. Focusing on fashion, editorial and beauty photography/cinematography in Los Angeles. See
Charles' Vimeo channel
for more of his work.
L U C I M A | Lost
Rick Craft
Director/Cinematographer
International music video director/cinematographer. Videos featured on MTV (USA/UK), FUSE, CMT. Director of Photography for the Maylene and the Sons of Disaster music video feat. Danny Trejo. On-set experience with six feature films, narrative style cinematography. Focusing on directing, photography, and cinematography in Los Angeles. See more of
Rick's cinematography here
.
Rick Craft 2011 Summer DP Demo Reel
WHAT YOU'LL EXPERIENCE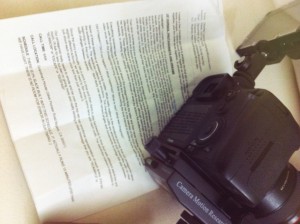 Script from "Lost"
DAY 1:
Pre-production
Starting from concept, storyboard, to shot list we will cover all the aspects of pre-production. After all, the recipe for successful production and post-production is good pre-production. We'll also cover the different roles necessary for your video production; including but not limited to producers, production managers, creative directors, directors, camera-ops, gaffers, grips, talents, makeup/hair, wardrobe, and more.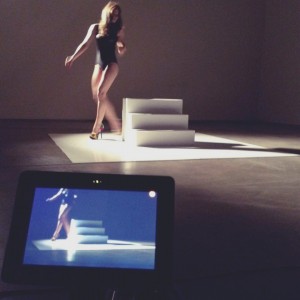 Bekka on stairs for MakeMeChic.com
Production
This is your one chance to get all the raw pieces of the puzzle together! For our fashion video production each of you will experience the on-set rigors of directing, lighting, operating the camera, managing the production, shooting B-roll, and more! You will learn the responsibilities of each production role and execute each role throughout the production! The success of this fashion video production depends on
you
! Not to fear! We will guide you through the entire process!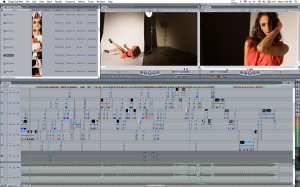 Rough cut of MakeMeChic.com promotional video
DAY 2:
Post-production
Now that you've got all the footage, now what? We will cover DSLR video workflow from importing footage to exporting the finished product. The workflow includes critical steps such as converting to ProRes, conforming to timeline, audio/video editing, organizing (binning), color-grading and more!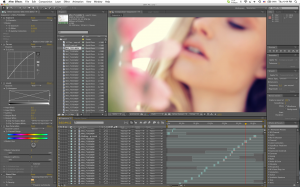 Grading in After Effects
REMEMBER! The workshop is a
LIVE video production
. This is not a pre-packaged or "canned" production where we spoon-feed you video clips that we've created with RED Cameras on million-dollar sets. Every aspect of creating this video is performed LIVE from pre-production to shooting with YOUR cameras and editing collaboratively. You will be a critical part in the entire production and experience firsthand every facet of this video production!
WHO YOU ARE SHOOTING
You'll be shooting 3 professional models with a full production team including hair, makeup, and wardrobe.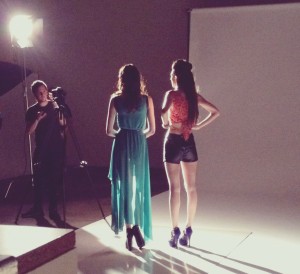 BTS Rick with Janelle and Judy
WHAT TO BRING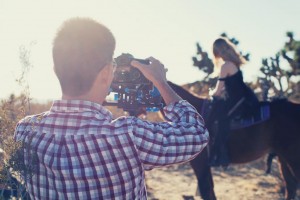 Racking focus on the "Escape" scene
• DSLR camera that shoots 720p/24fps
• Assorted lenses
• Memory cards
• Card reader
• Laptop
• MPEG Streamclip (download
here
)
• Final Cut Pro 7 (trial versions available at the workshop)
• After Effects CS5 (trial versions available at the workshop)
• Automatic Duck (download
here
)
FEE
$1050 before June 9th! $1200 after June 9th.
CANCELLATION POLICY
• 100% refund if cancellation is 2 weeks or more prior to workshop.
• 50% refund if cancellation is less than 2 weeks but more than 1 week prior to workshop.
• 0% refund if cancellation is 1 weeks or less prior to workshop.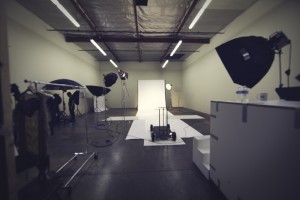 LUCIMA STUDIO in video production mode
LOCATION
LUCIMA STUDIO
212 Kruse Ave.
Monrovia, CA 91016
DATE | TIME
Saturday and Sunday | June 23-24, 2012 | 9AM-5PM
SPONSORS
The following sponsors have partnered with LUCIMA Fashion-Editorial DSLR Video Workshop to provide demo units and promotional codes for workshop photographers. That means your workshop will include valuable production experience from working DSLR video tools like field monitors, follow-focus rigs, and camera stabilizers.

Following 3 years of research and development into gyro dynamic stabilization for hand held camera stabilizers,
Camera Motion Research, LLC
was incorporated in late 2007.
Our GS2 stabilizer is still under development but we are very excited about it's potential to advance the effectiveness of hand held stabilizers. While the general concept of gyro dynamic stabilizers is not new, our patent pending technology to make it work is new.While developing the GS2 we learned that a good gyro assisted stabilizer must be based on a good passive inertial stabilizer design. And knowing the important elements of a good passive inertial stabilizer, we decided to also develop a passive stabilizer that would provide a better camera experience than any existing inertial handheld stabilizers. We think we have succeeded in that goal with the release of our Blackbird.
We are a very small company but we have world-class design and manufacturing experience. Our goal is to provide innovative high value camera stabilizer products to users at an affordable cost.
Rich Greb
President
Camera Motion Research, LLC
Raleigh, North Carolina

SmallHD
designs and manufacturers Rugged, High Definition, "Future Proofed", Pro Featured On-Camera field monitors, sold direct and shipped FREE to USA and Canada. Producing innovative tools for the film industry and backed by our famous customer support. Chat here:
http://www.smallhd.com/Support
to email or talk instantly to a representative.
TESTIMONIALS
Please see our
testimonials page
for references from workshop photographers from previous LUCIMA fashion photography workshops!
FAQ
Q: Where can I see previous workshop results?
A: Please see our [url=http://www.facebook.com/groups/185656974814125/]L U C I M
A Workshop Facebook Group[/url]!
Q: Do you teach private workshop?
A: Please see our
L U C I M A Private Workshop page
!
Q: Which airport should I fly into?
A: The best airport would be Burbank (Bob Hope Airport) but there is a limited number of flights in and out of Burbank. Next best would probably be LAX or Ontario Int'l. Ontario Int'l Airport is 29 miles and smaller so it's easier to get in and out of. And of course you have LAX which is a huge hub that is 37 miles away.
Q: I'll be flying in from [fill in the blank]. Where should I stay that's not too far from your studio?
A: There are several hotels 2 miles away from the studio. I'm not affiliated with any of the following suggestions:
a) Doubletree Hotel
924 West Huntington Drive, Monrovia, CA
b) Oak Tree Inn
788 West Huntington Drive, Monrovia, CA
c) Courtyard
700 W. Huntington Drive, Monrovia, CA
Q: Which models are we shooting?
A: Will update shortly! But chances are that they'll be the ones that you see most recently in my portfolio. See my
tumblr blog
for recent work!
Q: Are we shooting outdoors?
A: This video workshop will be shot indoors for lighting and camera control.
Q: Will we be shooting nudes?
A: Nope. For that I suggest you go to Drew and Karl's workshops. I hear they're great!
Q: At what point will you know whether you will register enough students to confirm the workshop?
A: I never cancel my workshops. If there is even 1 photographer, then the show goes on! Yes, I will teach to 1 photographer if only 1 registers!
Q: I have a general question that isn't specific to this workshop, do you have a general FAQ?
A: Yup! Here's the general
L U C I M A Frequently Asked Questions page
!