All of these items for sale are new and have never been worn. I sell lots of clothing, shoes, and accessories. I have listed sizes that they will fit with each. If you need more specific measurements, want to know if they will stretch or what fabric they are made out of, please ask me and I will let you know. I accept payments through PayPal. You will receive a tracking number within a few days of sending the payment and they will arrive in about 1-3 weeks. Shipping is included in all of the prices.
Sexy Pink Dress-$15 (fits sizes small and medium)
Sequin Dress-$14 (fits sizes small and medium)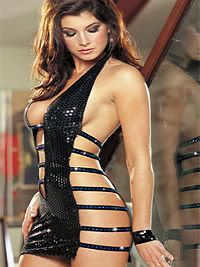 Sexy Pink Santa Lingerie-$20 (fits sizes small and medium)
I have a lot of other items available too, so if you are looking for something specific, let me know and I will see what I have.