D. M. Gremlin Studios in North Long Beach is available for hourly rental for photography and video shoots.

Great central location to bring together photographers, models, and stylists from greater LA, to Inland Empire, OC, San Diego, and the Beach Cities!

Two private, air-conditioned shooting rooms, 24-7 availability by appointment, each room with own restroom, sound system, entry/exit.

Full time rates including weekends/holidays, for small group photo shoots are $15/hr or $60/5 hr block (Studio A) and $20/hr or $90/5 hr block (Studio B) including lights and equipment.

Please scroll down in this post to see room photos and equipment lists!
Reservation Inquiries:
Please email studio@dm-gremlin.com or call 866-334-4364.
PLEASE INQUIRE 5-7 BUSINESS DAYS IN ADVANCE FOR 1ST TIME BOOKINGS!
Rates posted are for small groups of 6 or fewer people. For larger group bookings, rates are $2-$5/hr higher; please visit the studio's web site for details.
Studio A Rates:
including lighting
$15/hr
~~ $60/5-hour half-day block ($12/hr)
$12/hr each add'l hr past 5 in same session
Studio B Rates:
including lighting/amenities
$20/hr
~~ $90/5-hour half day block ($18/hr)
$18/hr each add'l hr past 5 in same session
OR BOTH STUDIOS, 10 hours, $300: all equipment and amenities, up to 30 people
Studio A Photos/Equipment: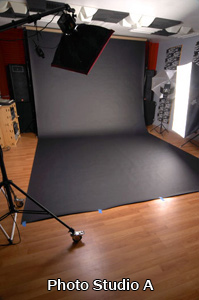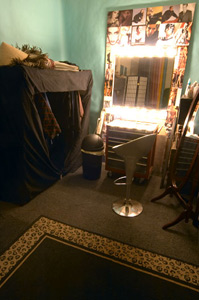 Studio A rental includes:
18' x 23' shooting room with wood floor
Three Alienbees B800 strobes
Three soft boxes (1-2'x4', 2-2'x2')
1 boom stand; two straight light stands
1 set of Pocket Wizard transceivers
Adjoining makeup/styling room
Chairs/small props
Studio B Photos/Equipment: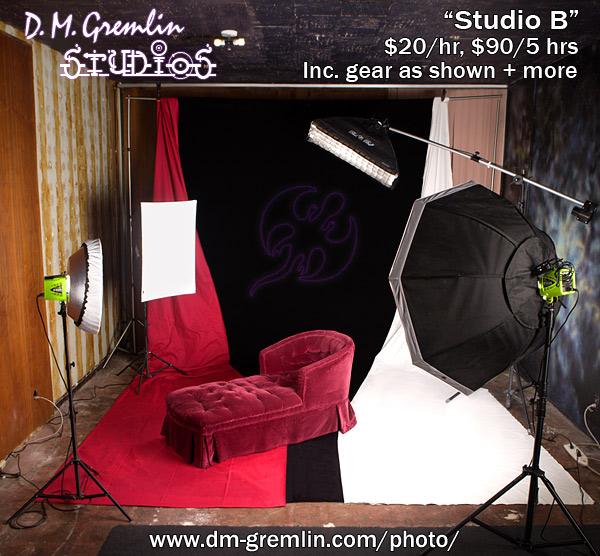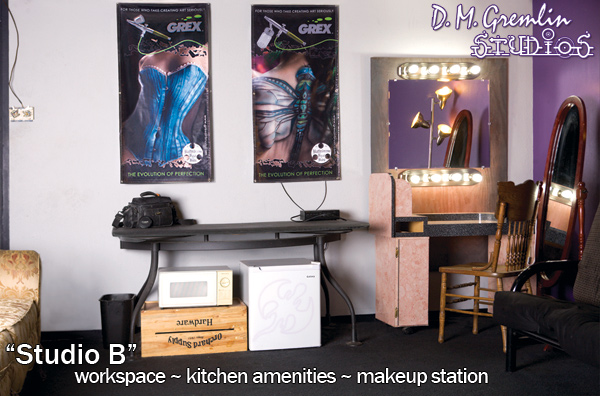 More photos of the room's backgrounds/furniture on the studio's web site!
Studio B rental includes ALL of the following:
** 15' x 29' shooting room with 10' ceiling
** Ceiling anchor points for hanging props or set pieces
** Rugs roll up from concrete floor for messy bodypaint/fx, or you can roll in a motorcycle to shoot!
** FOUR Alienbees B1600 strobes
** 22" Beauty Dish w/ diffusion sock
** 48" octabox, 2x3' softbox, 1x3' gridded stripbox
** Reflector cones/honeycomb grids available upon request (no extra charge)
** 2 large white board reflectors and a variety of black foamboard light baffles
** 1 heavy boom stand, 3 standard straight light stands
** Pocket Wizard Plus II transceiver set
** Black, white, and red cloth photo backdrops
** Multiple wall backdrops - industrial, wood panel, starfield, and more
** Furniture: gold brocade couch, red velveteen settee
** Boudoir set with ornamental daybed
** Makeup station w/vanity lights & mirror
** Sound system hookup for iPod/CD player/laptop (you supply the player)
** Microwave, mini-fridge, and coffeemaker for hot snacks and cold drinks (you supply food/drinks)
In either shooting room, black or white seamless background paper is available for $25/section.
Alienbees Ring Flash/Moon Unit is also available for rental $10 for the duration of any booking.
For booking or information, please visit our website, send us an email to studio@dm-gremlin.com, or give us a call at 866-334-4364.
Our appointment calendar is online at
www.dm-gremlin.com/calendar/month.php
.
This calendar shows all of our booked and available times.
Reservation Inquiries:
Please email the studio at studio@dm-gremlin.com or call us at 866-334-4364. Thank you!
Full Terms & Policies are listed on the studio's web site.
** All reservations must be confirmed at least 48 hours in advance.
** First reservation by any new client must be paid in full in advance.
** We do not offer private studio tours or "walk-throughs."
** Anyone wishing to visit the facilities before renting is welcome to RSVP and attend one of our free monthly
Studio Open House
events.