This post contains the studio's booking information, gear/amenities list, and photos - Scroll down to see it all!
**NEW - UPDATED PHOTO OF DAYBED/BOUDOIR SET AT BOTTOM OF POST!**
D. M. Gremlin Studios, Long Beach CA, Presents: STUDIO B
24/7 availability, no minimum rental period, no add-on fees, same low rates 7 days/wk!
Scroll down for photos and the very long list of gear and amenities included in the $20/hour rental rate!
Reservation Inquiries:
Please email studio@dm-gremlin.com or call 866-334-4364.
PLEASE INQUIRE 5-7 BUSINESS DAYS IN ADVANCE FOR 1ST TIME BOOKINGS!
SMALL GROUP RATES:
(for groups of 6 or fewer people)
$20/hr
~~ $90/5-hour half-day block ($18/hr)
$18/hr each add'l hr past 5 in same session
LARGE GROUP RATES:
(for groups of 7-15 people)
$25/hr
~~ $110/5-hour half day block ($22/hr)
$22/hr each add'l hr past 5 in same session
This is our dedicated photography studio, decked out with gear and amenities for the photographer seeking versatility and lighting control.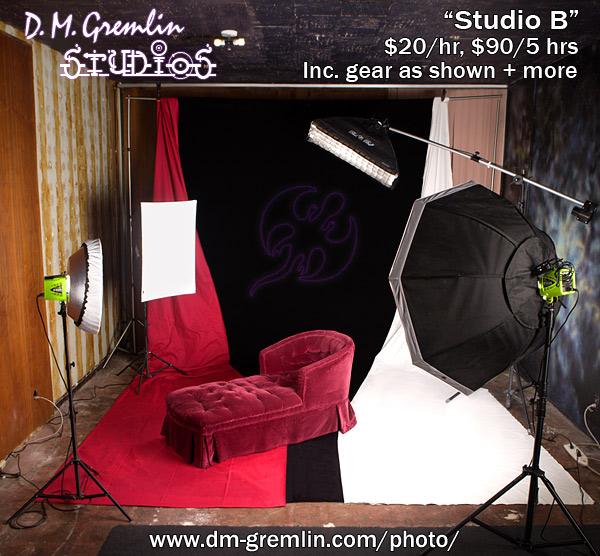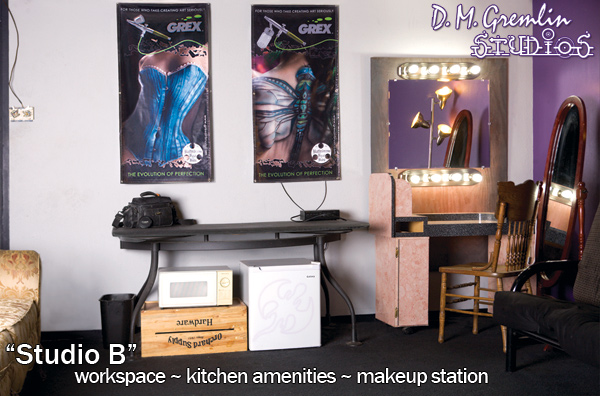 Studio B rental rate includes ALL of the following:
** 15' x 29' shooting room with 10' ceiling
** Ceiling anchor points for hanging props or set pieces
** Rugs roll up from concrete floor for messy bodypaint/fx, or you can roll in a motorcycle to shoot!
** FOUR Alienbees B1600 strobes
** 22" Beauty Dish w/ diffusion sock
** 48" octabox, 2x3' softbox, 1x3' gridded stripbox
** Reflector cones/honeycomb grids available upon request (no extra charge)
** 2 large white board reflectors and a variety of black foamboard light baffles
** 1 heavy boom stand, 3 standard straight light stands
** Pocket Wizard Plus II transceiver set
** Black, white, and red cloth photo backdrops
** Multiple wall backdrops - industrial, wood panel, starfield, and more
** Boudoir set with ornamental daybed
** Furniture for lounging or shooting - gold brocade couch, red velveteen settee
** Makeup station w/mirror & vanity lights
** Private restroom
** Air conditioning
** Gated parking lot or street parking
** Sound system hookup for iPod/CD player/laptop (you supply the player)
** Microwave, mini-fridge, and coffeemaker for hot/cold snacks and drinks (you supply food/drinks)
Additional items available
(extra charge):
Black or white seamless background paper: $25/section.
Alienbees Ring Flash/Moon Unit: $10 for duration of any rental.
For booking or information, please visit our website, send us an email to studio@dm-gremlin.com, or give us a call at 866-334-4364.
Our appointment calendar is online at
www.dm-gremlin.com/calendar/month.php
.
This calendar shows all of our booked and available times.
Reservation Inquiries:
Please email the studio at studio@dm-gremlin.com or call us at 866-334-4364. Thank you!
Full Terms & Conditions are listed on the studio's web site at
http://www.dm-gremlin.com/photo/rates.html.
** All reservations must be confirmed at least 48 hours in advance.
** First reservation by any new client must be paid in full in advance.
** We do not offer private studio tours or "walk-throughs."
** Anyone wishing to visit the facilities before renting is welcome to RSVP and attend one of our free monthly
Studio Open House
events.
MORE PHOTOS:
Everyone who has been asking for room photos -
The main shooting set and workspace area are shown above. Here are some better views of a couple of the wall backgrounds, in moodier lighting that shows some of their possible potentials for shoots!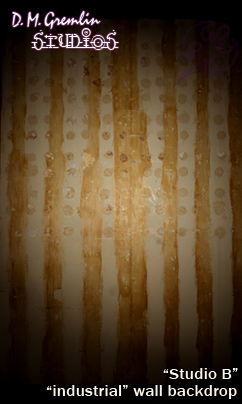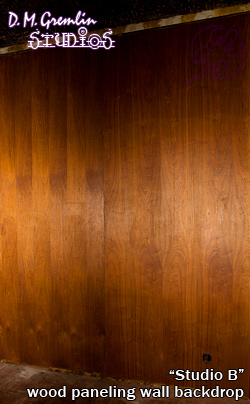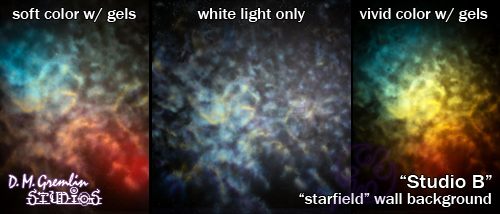 More wall backgrounds, and set furniture:
(red velveteen settee shown in main set photo above is also included!