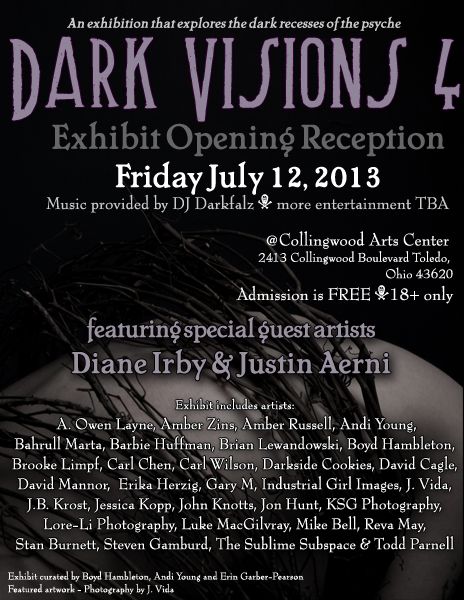 Dark Visions 4, the exhibit that explores the darker recesses of the imagination, will open Friday July 12, 2013 at the Collingwood Arts Center - 2413 Collingwood Boulevard Toledo, Ohio 43620. Whether your artwork is horror themed, fetish related or conceptual, we welcome it. The exhibit runs through July.
Exhibit opening reception * Friday July 12, 2013 * Collingwood Arts Center 2413 Collingwood Boulevard Toledo, Ohio 43620
Admission is FREE * 18+ only *Cash bar
Featuring special guest artists Diane Irby and Justin Aerni
Featuring artwork from A. Owen Layne, Amanda Marie, Amber Zins, Amber Russell, Andi Young, Bahrull Marta, Barbie Huffman, Brian Lewandowski, Boyd Hambleton, Brooke Limpf, Carl Chen, Carl Wilson, Darkside Cookies, David Cagle, David Mannor, Erika Herzig, Gary M, Industrial Girl Images, J. Vida, J.B. Krost, Jessica Kopp, John Knotts, Jon Hunt, KSG Photography, Lore-Li Photography, Luke MacGilvray, Mike Bell, Stan Burnett, Steven Gamburd, The Sublime Subspace and Todd Parnell.
Music provided by DJ Darkfalz * rigging demonstrations by Amanda Marie * poetry