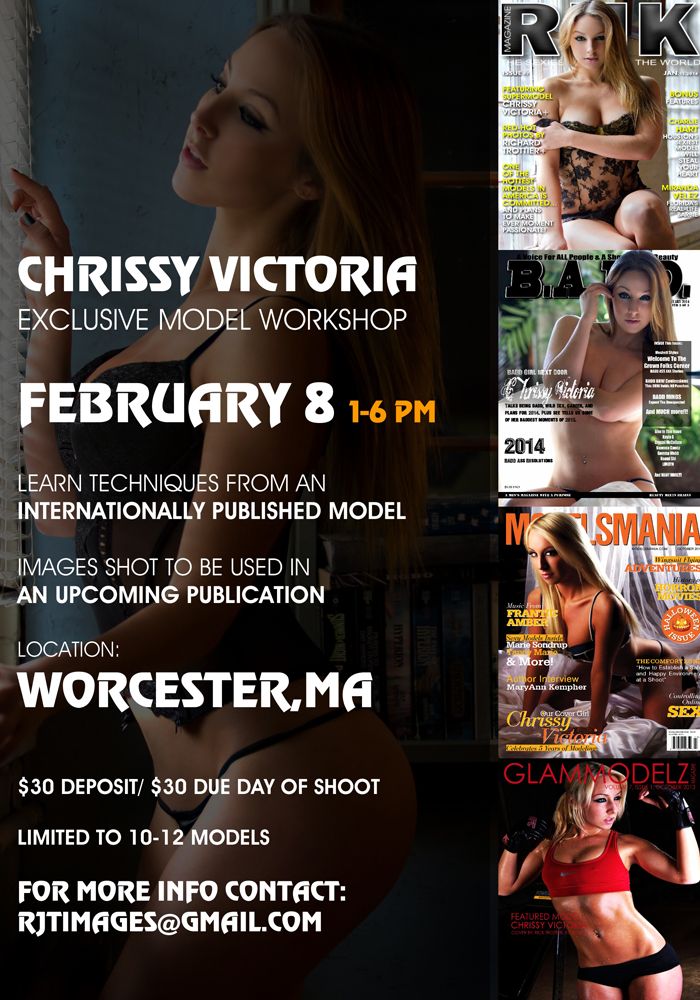 * RJT Images-Chrissy Victoria
MODELING WORKSHOP *
Saturday, February 8
1pm to 6pm
Indoor Modeling Workshop – $60.00 per Model
Limited to 10-12 participants
Details:
• 5 hour workshop
• 1 hour of interactive discussion (overview, techniques, modeling info, industry standards)
• 3 hours of directed shooting time
• 1 hour image review and positive critique
• Indoor Location: Light Works Studio, 6 Jacques Street, Worcester MA
What will be covered and provided:
• Working with photographers – Do's and Do not's
• 2 images fully retouched from the workshop within 6 weeks
• One image minimum used in the Glam Modelz magazine article based on this workshop
• Body posing, facial expression techniques to improve the dramatic glamor look
• Critique and review of wardrobe and content
• Model Release to be discussed and signed at the workshop
Requirements:
• Hair and Makeup done BEFORE arrival at the workshop
• Two outfits of your choice (fashion, light glamor)
• Bring footwear, accessories, accent pieces and props
• A desire to learn
Registration, deposit, cancellation and refund information:
A $30.00 registration fee and deposit will be required to reserve your spot. The deposit will be applied to the final workshop cost. Checks or money orders must be sent to
Rick Trottier, PO Box 3606, Worcester MA 01613
The balance due will be on the day of the workshop and I will accept cash, money orders or personal checks made out to Rick Trottier.
Cancellations up to 2 weeks prior to the scheduled workshop date will receive a full refund of the deposit.
Cancellations within the 2 weeks prior to the scheduled workshop will forfeit the deposit.
Contact me for more information!
rjtimages@gmail.com
603 313 8646