Details
Last Activity:
Jun 29, 2012
See Less
Friends (197)
Lists (1)
Andre Rowe's list of killer photos
5 Photos
See Less
About Me
If you are the spouse or immediate family of Andre Rowe and would like to have this profile hidden from view, please contact us and we will honor that request
[email protected]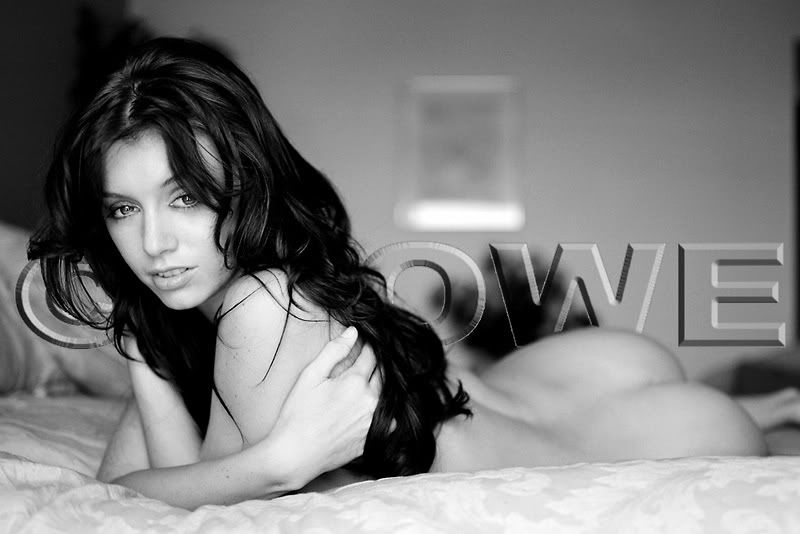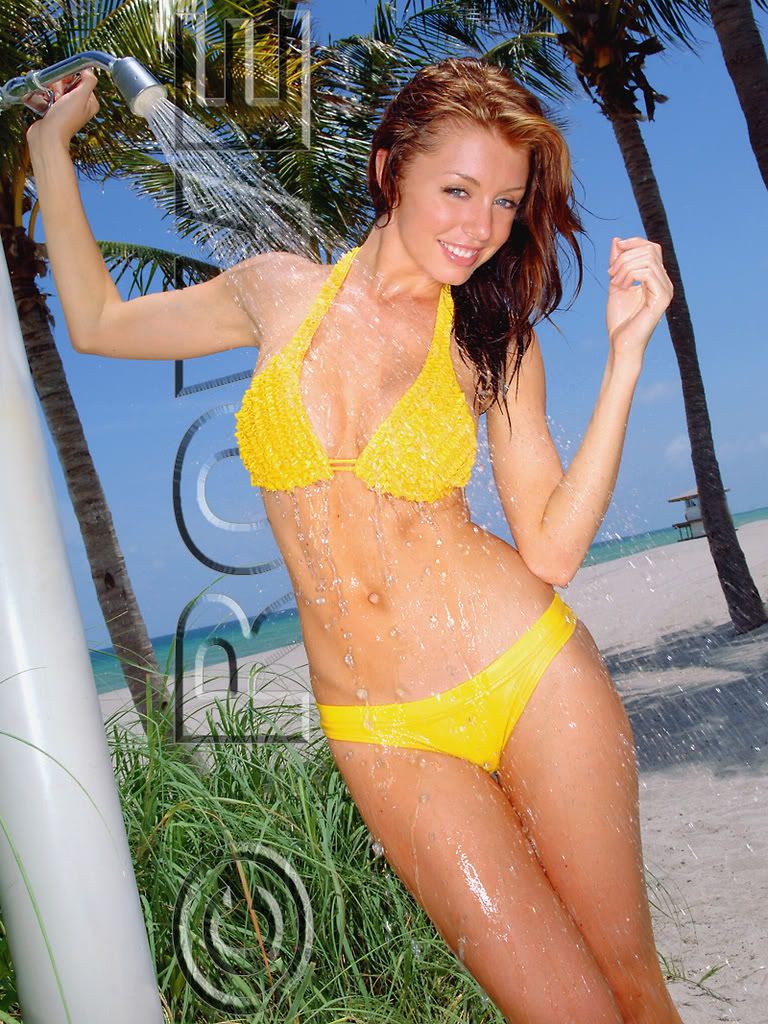 Aspen Lea - Mayhem #8978 - Model and friend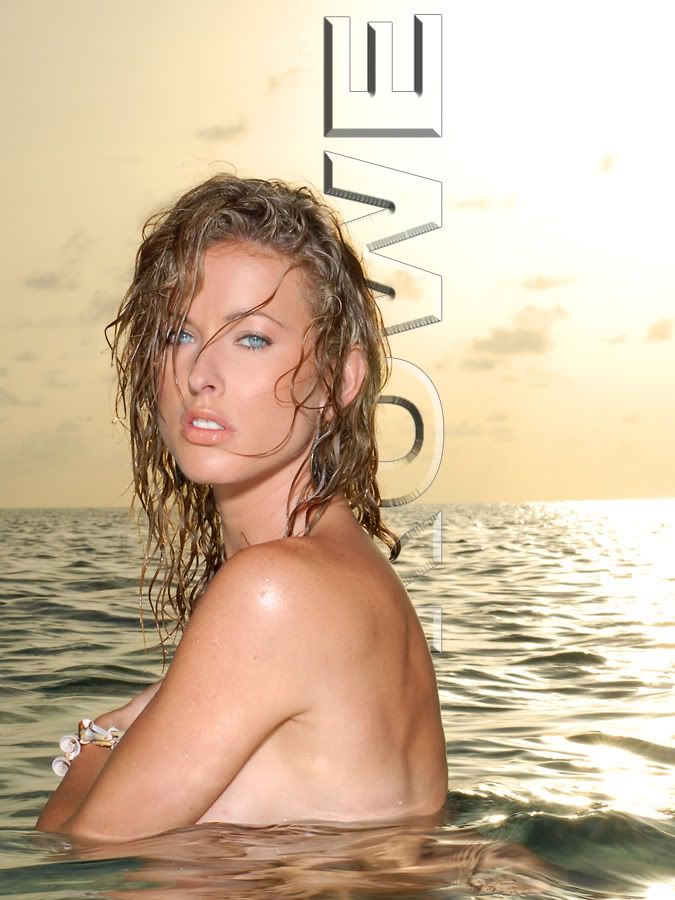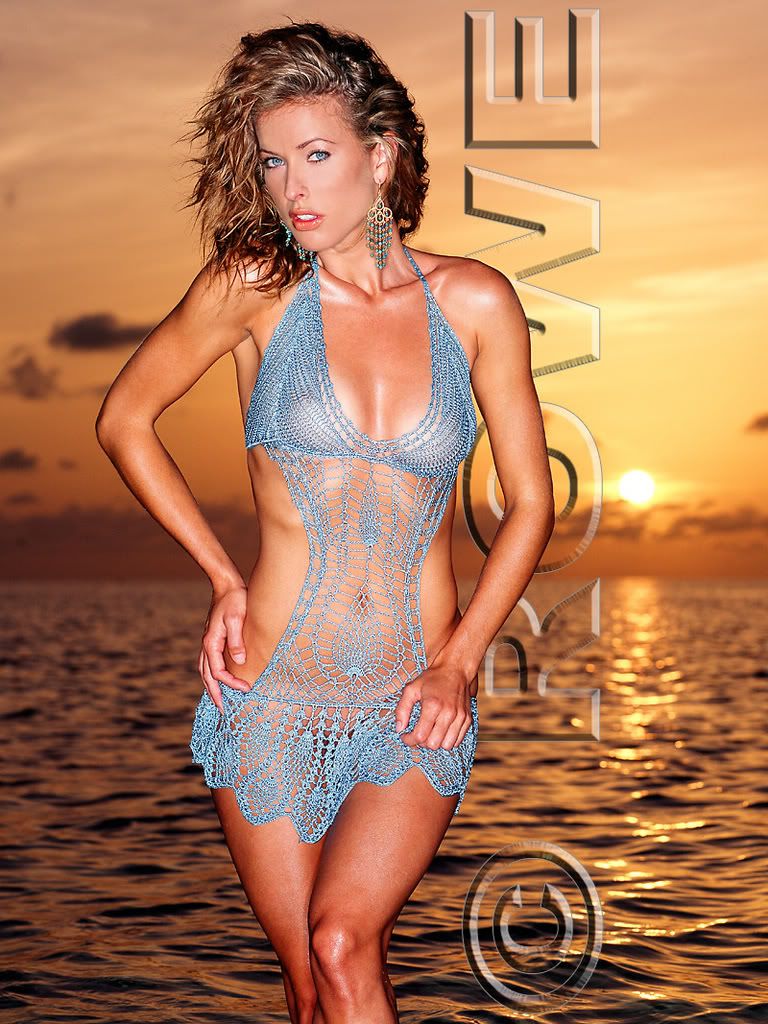 Summer Posey Mayhem # 191584 - Simply stunning and awe-inspiring to work with.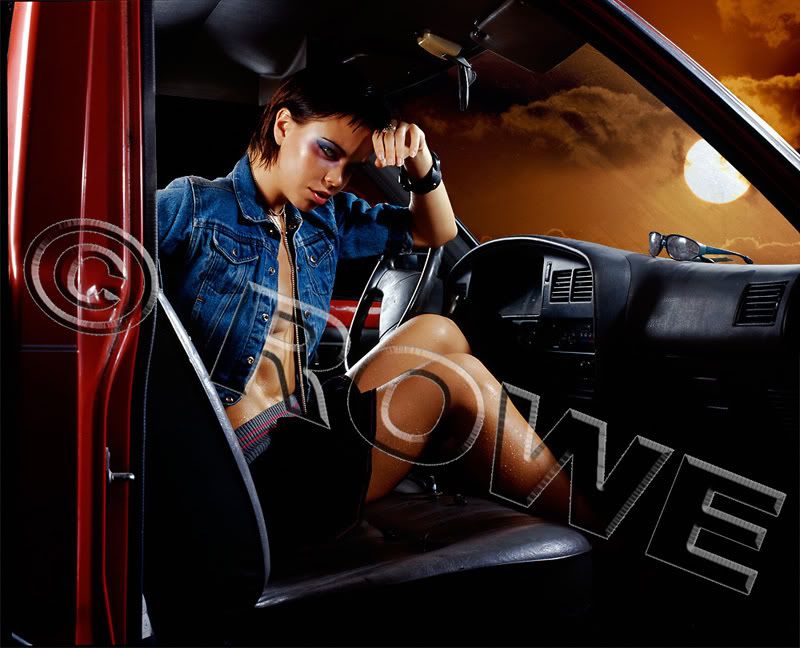 Aussie Sheila - Mayhem #75266 - My absolute favorite model to work with.
I should not have to apologize, but I will: "I'm sorry, but NO TFP!!!".
I mean really people, there are some things in life 'WORTH' paying for, and if you can't find it here, then God Speed on your journey in finding it elsewhere.
High caliber photographic imaging that is both professional and marketable.
Thank you for viewing my profile.
A little about me....I've been shooting for over two decades, however only 15 of of those years have been professional. This means that I have been shooting before the introduction of AUTOFOCUS, and well before to conception of digital. Consequently, to this day I still prefer to shoot manually in every respect, as well as to continually shoot film versus digital. I have nothing against digital as 80% of my commercial work is done digitally, but if given a choice, I'd shoot film all the way! I started day one with Minolta (R.I.P) and have added every major brand to my repertoire except Bronica, Canon, Contax, Olympus and Rollei. Today, I still actively shoot with Hasselblad, Leica, Mamiya, Minolta and Nikon. If you'd like to know my favs and why, then you can talk to me in person.
In my personal time (and to some degree in my professional work) I mainly pursue images in fashion and beauty. I enjoy networking with other with a similar interest in all things fashion and beauty related. As such, I created this Model Mayhem profile to network with those with similar tastes and who display a true talent and passion for what they do.
On occasion, I lend my talents and experience to educate other photographers in lighting and equipment via a series of class-like programs with my photo lab of the last 17 years, DALE PHOTO & DIGITAL. Through them, I keep active and up-to-date with the latest gear from some of my favorite brands such as LEICA, PROFOTO and ELINCHROM.
Andre' Rowe
myspace.com/rowephotography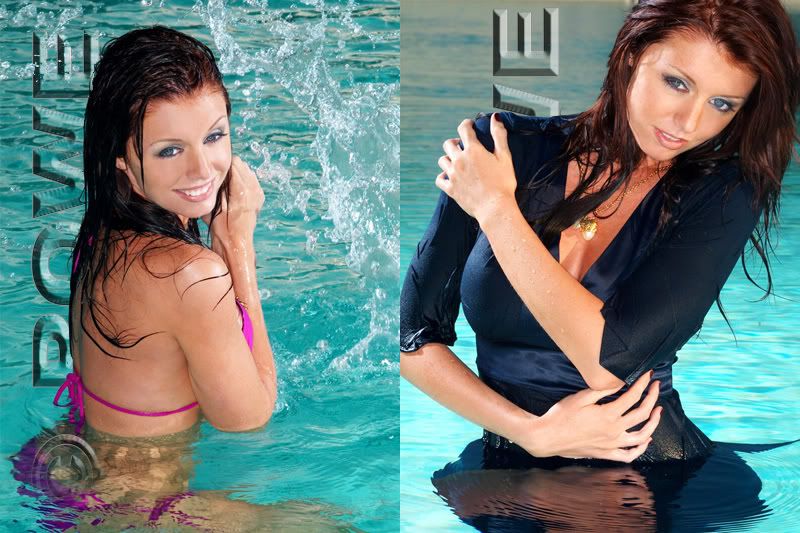 Aspen Lea - Mayhem #8978 - I have to stop and give credit to Aspen as a model. Folks, if you ever, EVER, get an opportunity to work with her, you will be very, VERY, pleased. Rarely have I ever encountered someone so open & receptive to a radical concept and execute it as simply as though they were putting butter on bread. I owe many tricks of craft to Aspen, and am forever grateful.
Adrienne Does It All - Mayhem #148295 ( Make-Up Artist / Hairstylist ) - Likewise, Adrienne ( who did the make-up for Aspen above ) is quite frankly the best at what see does. For those that know and have worked with me, they know that the wicker never stops burning until the shot is won. I've pulled off 16 hour shoots, I've tolerated unbearable heat, I've watch others fall apart trying to keep up....but not Adrienne. The woman's a robot! I have to salute her, for she, unlike any other make-up artist/hairstylist I've ever worked with, is probably more committed to getting the job done than even I....and that's tough!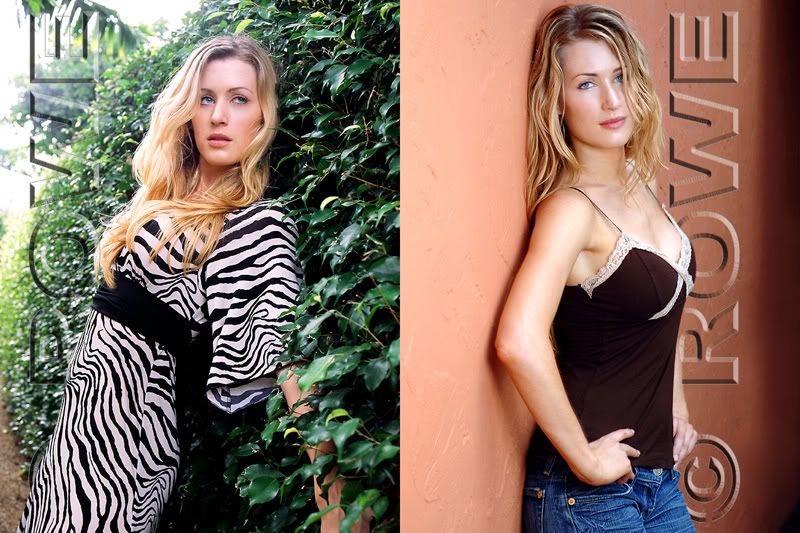 Carin Ashley ( upper set pair ) & Oona O'Connell ( lower set ) have no MM profiles for me to refer to. Both can be seen in the November 2006 issue of PLAYBOY Magazine or found online at Playboy.com
I was asked by a few members on Model Mayhem about just "where" can my work be seen (i.e. magazines, tearsheets, etc.), and fact is that I simply don't keep track of such things. I've been published nationally & internationally, but "that" shouldn't make me a better photographer should it? I would hope not. I do have at least 4-5 dozen tears that I could scan and post, but I actually NEVER thought to. Truthfully, I don't even have the patience to. I'd much rather impress viewers with the actual work, than the mention of where it's been or where it will be seen.
Should it matter to anyone still, the following five sets of images attached to each other below were all published images. Only two of them are as they appeared in their respected magazines.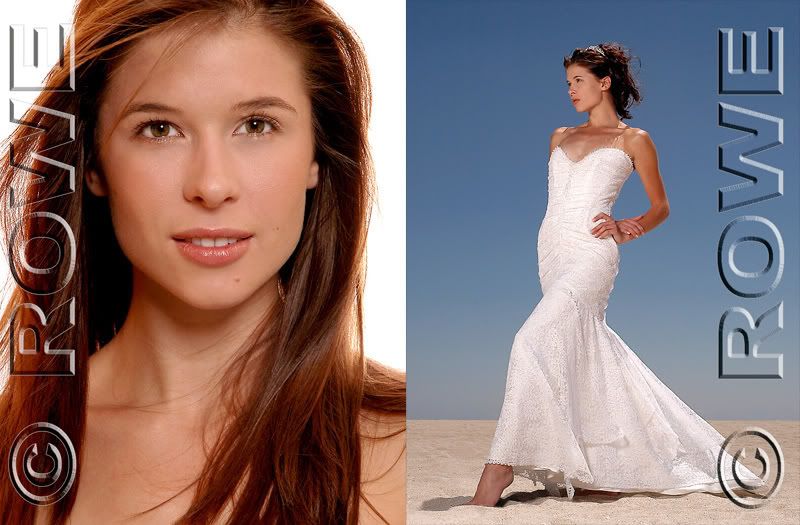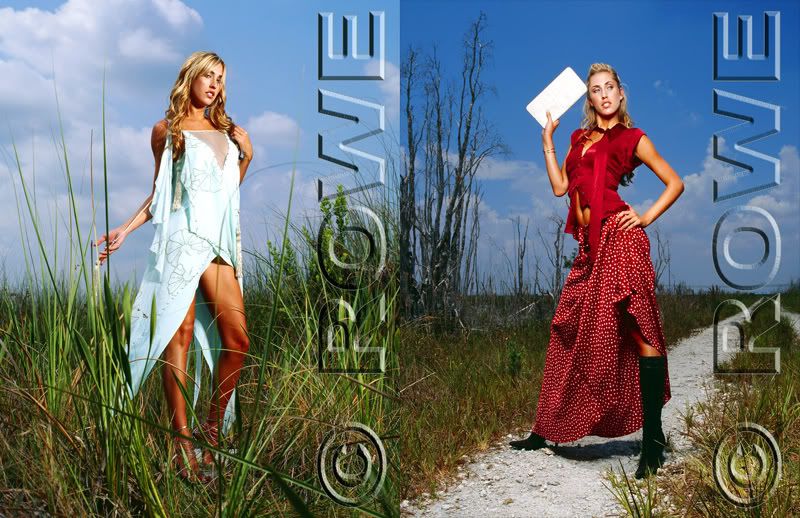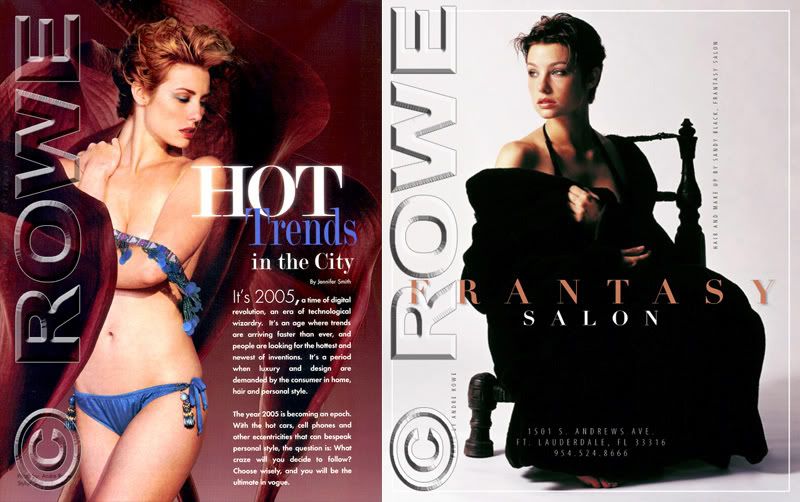 Shana ( blue swimsuit on left ) and Erica Lynn ( red/yellow swimsuit on right ) do not have MM profiles for me the refer to. Both models can be found online at the Michelle & Group, Inc. modeling website (
http://www.michelleandgroup.com
).
Verified Credits (0)
Worked with Andre Rowe? Share your experience and become verified!
Add Credits