Details
Last Activity:
Aug 08, 2017
Experience:
Very Experienced
See Less
Friends (790)
Lists (2)
GIrls with Glasses
10 Photos
Pheet I'd like to Meet
105 Photos
See Less
About Me
WELL I'm now in Winchester, VA full time. I do make it to NYC, Philly, Nashville and Detroit a ton as well.
instagram: COLLINJRAE
Twitter: CollinJRae
Facebook:
http://www.facebook.com/collinscuriosities
Facebook:
http://www.fsacebook.com/artlolol
Here is s link to my new blurb.com book "Carnival of Soles"
http://www.blurb.com/b/4405939-carnival-of-soles
I Preach FEET...so join my CULT please
The work is about feet... and connection... and the connection with you and your feet.
***NEWS***
-NOTHING YET FOR 2016....
Some Publications
-Featured in European Photography Magazine
Follow them here:
https://www.facebook.com/EuropeanPhotographyMagazine
-I Will have works in a new TASCHEN publication "The New Erotic Photography 2
-Secret Magazine
****and YES those are my hands in the photos sooooo if having your feet touched freaks you out well then shooting with me is NOT a good idea = )*****
WHAT THE MODELS SAY:
Kess M mm#609428
"yer cooler. no wait, the iron giant takes the cake, you are as cool as the iron giant. its a bit of a tie. WOW that makes you awesome!...Collin is laid back, fun, and very good at introducing sheltered models to batman vs. dracula cartoons and the likes big_smile"
Lucy Vamp mm#846414
"What to say about the great Collin J Rae? Working with Collin is like having your own personal foot massuese, zombie movie expert and kickass photographer all rolled into one. He's truely an artist, appreciating one of the most underrated and beautiful body parts on a woman. Plus he has amazing taste in (stuff) and is a killer host. My toes miss him insanely."
Sister Maggie mm#1315206
"When you are craving something for the soul that is when it is time to contact Collin to. His hand touches you and effortlessly pulls out all that sexy raw energy that is buried deep inside. The images that he captures when you allow yourself to let go are truly sole revealing. He is a true fetish artist and I will continue to work with him until the day I die."
SASPHOTOS mm#17771
"Collin is seriously one of the coolest and truest dudes I've ever met. He will LOVE your feet and you WILL love him loving your feet and making them look beautiful in photographs. I had an awesome time hanging out & shooting with him and have never been more comfortable chillin' out in my underwear with someone I just met.
Collin is A+ to the extreme!! "
Stacey S mm#63913
"Working with Collin has now become a necessity in my life. From day one I was sold. He's super sweet and always fun to work with."
Crystal O mm#771586
"Feet may not be everyone's thing, but with Collin it doesn't matter. He's taking one of the most underrated, intimate, and powerful body parts of a women's body and using it to create raw, sensual images that stay with a person long after first glance. It's amazing to work with someone who has a complete image of something in his head as he snaps photo after photo to create a final product that illustrates pure sensuality."
V E L O C I T Y mm#800145
"you made me like feet, and not just because foot modeling is so easy... one of the more refreshing, enjoyable, purely talented and all around wonderful people i've encountered on the road. aquatic nazi zombies + small library of classical music = YES, please, and thank you."
KayT Model Mayhem mm#813387
"what is it like to work with Collin?, the first things that come to mind are the actually mechanics of his shoot. Spending time painstakingly attempting to paint my own finger and toe nails, or attempting to lay backwards down a stair well after a few beers. To stepping on my childhood teddy bears crotch all while trying to maintain a perfectly poised foot. After I recount these things, the overall feeling of working with collin sets in. Comfort, friendship, understanding, compassion. Collin will make you see the true beauty within yourself...and your feet!"
Lysistrata mm#1011028
"working with Collin is an eye opening experience. it allowed me to connect with an aspect of myself and my sexuality that i had never even adknowledged before. it's an intense, exciting, and emotionally charged process that leads to some of the most beautiful and powerful images i have seen."
groovaciousk mm#557134
"Collin, you were a groovaciously gracious host. Thank you for letting me hang at your pad and entertaining me with my kind of muzak, not to mention the Yeti movie. You rule! I love the pictures! You can love my feet all you want. They miss you, especially my littlest piggie!...No one loves my feet like Collin J. Rae, No one ever will"
Mizz Amanda Marie mm#1289955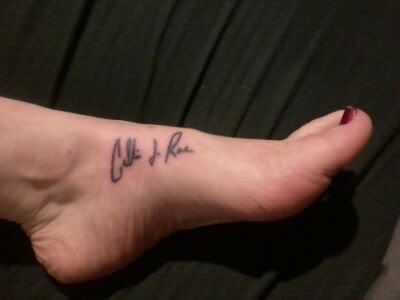 Kara Chiffon mm#801253
Sadie Seuss mm#703512
Hadlee mm#430446
Manchester mm#371054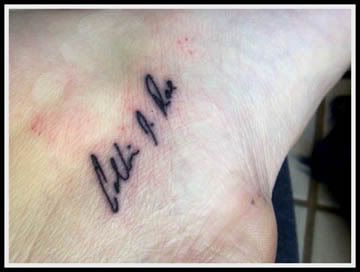 cnr Photography mm#1515265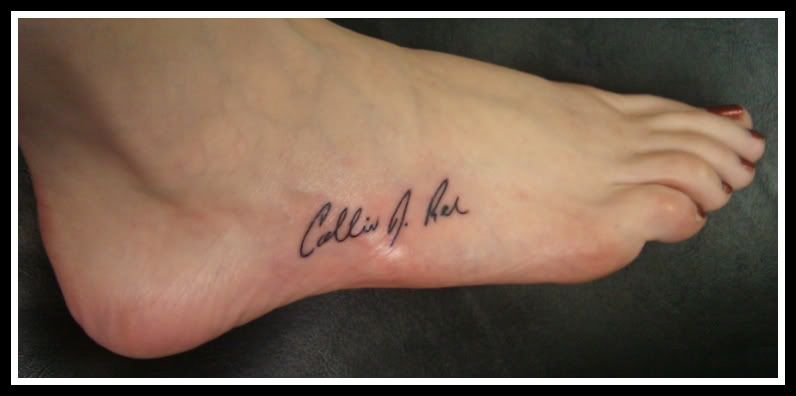 CRASH mm#604197 & Sister Maggie mm#1315206
Ivy Red mm#13222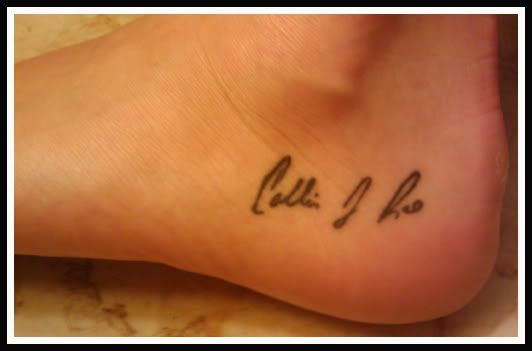 adrian louise mm#106046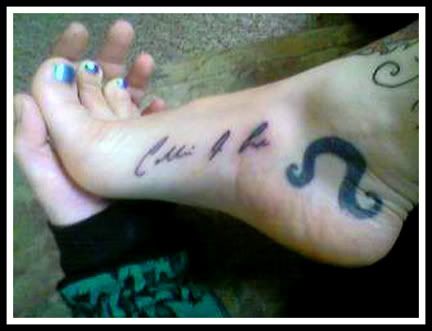 My Friend Ashley H.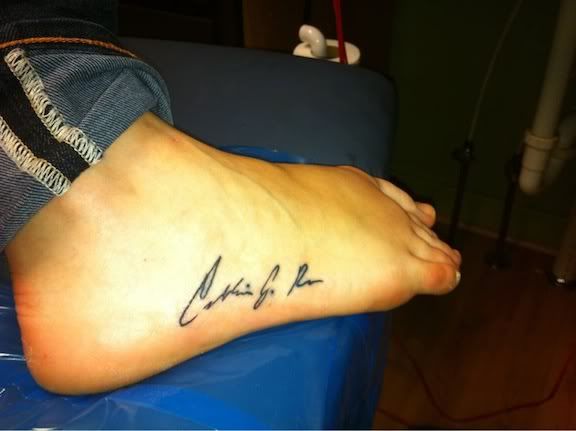 ***if ya can't find words to say to me please don't friend request me***
Fatal Natas mm#403480
My Friend Morgana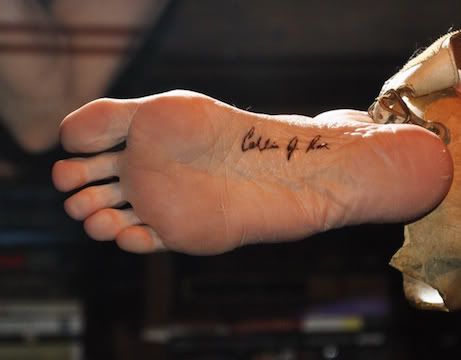 Available from Secretmag.com: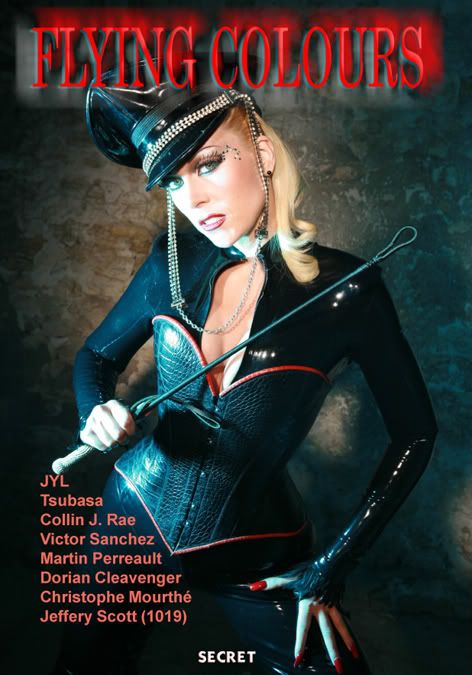 "There is no one out there doing so clearly and beautifully what Collin Rae is doing. He is like a Van Gogh (who I don't like) or a Paul Gauguin (who I really like) whose work is so exceptional, few understand it. Rae is that DEEP into his worship of women's feet. The photographs are a simple testimony to his obsession. He journeys to Portland, to Los Angeles, to Simone Kross' dungeon, to Craig's list, to make these compelling photos. His education is the best; from the work of Elmer Batters to the technique of Natacha Merritt. The tattooed women lay there, sometimes in pairs, allowing him to expose their feet to his hard-on and mine and yours. It is the feet he is having the relationship with. That is the attraction. The person is important but secondary to her feet. It is not unusual for Collin, once he has photographed a woman, to ask if he may arrive late at night and photograph her while she sleeps. That is the clarity and devotion Degas employed when he moved into a brothel for a year to draw his favorite subject.
Collin Rae's journey is unending. Over Indian food one lunch I suggested he photograph women outside the sex scene we all know, women that were older. Within a week he was bringing me beautiful photographs of women in their thirties. The variations are endless.
In my mind's eye I imagine a long line of women, dressed properly, except they are barefoot. They have just cleaned their feet and they are waiting for Collin to shoot them. It will be a passport photo to identify the eroticism of that particular woman to this particular photographer. And to his audience.
ps- note how exact his fetish is. No high heels, no stockings. The feet. It is in the feet." - ERIC KROLL
Buy This:
"...The mixture of sex, horror, and fetichism is perfectly combined together with a fantastic technical quality. I hope you get along way giving us a lot of pleasure and artistic inspiration." – Jess Franco (amazing Spanish "Cult Film" Vampyros Lesbos, 99 Women, She Killed in Ecstacy, Rites of Frankenstein, and many more)
"I think of Collin Rae more as a painter than a photographer. He's a painter who uses vivid, saturated light to create stunning portraits and fantastic depictions of perversity."
- Steve Diet Goedde
"Whenever the sole of the foot is visible in a set up, I try to style it to appeal to those who appreciate it. When capturing a foot image, I keep Collin J Rae in mind as the standard to meet."
-Chas Ray Krider
"anytime I see cool feet photos I think of you, especially when they are a bit kinky" - Dastardly Dave
ME
Verified Credits (2)
Worked with Collin J. Rae? Share your experience and become verified!
Add Credits
See Less
See All Verified Credits (2)