Details
Last Activity:
Dec 30, 2017
Experience:
Very Experienced
Compensation:
Depends on Assignment
See Less
Friends (429)
Lists (7)
Andi Martin's list of killer photos
12 Photos
Awesome Body Paint
8 Photos
My Work Elsewhere On Mayhem
13 Photos
Top Glamour Pics
12 Photos
See Less
About Me
UPDATE, NOVEMBER 2017: I am full time in the film world at the moment, but I am trying to make the time to shoot maybe only once a month as my time is limited (if i've messaged you this means i really do want to work with you around my hecticness)
RED EPIC owner - looking to do some Glamour/Art Fashion films soon.
Just completed this amazing glamour film with the lovely Bailey Kaye from MM.
https://www.youtube.com/watch?v=C7jiKeYtyvw
CHECK OUT ENTITLED PHOTOGRAPHY IT'S NOW LIVE!!! https://www.entitledphotography.co.uk If I do offer to shoot with you, its not on a whim - it means i see something in you that means we can get some amazing shots and im willing to give up my time for free - please dont waste my time by ignoring that offer, as it wont me given again - one chance.
My Retro Photography Profile
https://www.modelmayhem.com/1336886
NEW SHOWREEL https://www.vimeo.com/9977967
CARRY ON VIDEO PHOTOSHOOT HERE: TAKE A LOOK
https://www.vimeo.com/7001302
NIGHT FASHION VIDEO SHOOT HERE: https://www.vimeo.com/9125074
Hi.
I love photography first off this is my job and its a big passion of mine and i am always striving to get the perfect shot. I've been a photographer now for the past 8 years doing all kinds of shoots - architectural product etc . . . . Recently i have concentrated on fashion and retro shots, with lingerie and Art Nude thrown in the mix as well (Art Nude Photos not on here, but link can be sent on request).
I am now concentrating on Retro / Pinup themed shoots as these are my specialty. So if you are a Burlesque Dancer / Pinup Model do get in touch.
I do choose who i offer to do TF* with very carefully - not just everyone - if i have it means i truly do like your look and would like to work with you at somepoint --- saying that if you are new to the modelling industry i am happy (and do) help new models build up their portfolios with different style shoots - please do contact me if you are.
I am also a full time Writer / Director / Producer with my own production company and have a slate of short films, Music Videos and TV work - and have a wild and creative visual style.
http://www.entitledproductions.com
I'm in to my Location shoots at the moment so if you have a location where you can shoot let me know.
You can contact me through here or via my website. If you have an idea however wacky it maybe - jot it down and send it to me, you never know i might just be able to do it.
Andrew Martin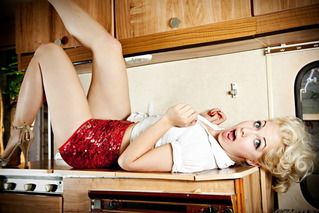 **NO unedited pics will ever be given out and any that have been hacked or copied from web pages for review will be asked to be removed. If you Photoshop my pictures this has to be cleared with me first and i will have final approval on the pictures -- this is something that is not negotiable**
Follow me on Twitter!!!
https://twitter.com/andimartin
Shoots I want to do:
*An Orange Shoot - lighting gels, makeup and location.
*A sexy arty shoot - paint and vibrant colours.
*Another Caravan shoot - a lot darker and edgier.
*A 40's war inspired shoot.
*A shoot in the rain.
*A artistic nude set with musical instruments, violin, cello etc . . .
*Some greenscreen work both stills and video - replacing backgrounds.
*Body landscapes.
*A collection of pics of piercings, nipples, facial, body, private basically anything
and everything really.
*A CARRY ON style shoot - pinup, sex on legs think Babs Windsor in Carry on Doctor (if you know it) that type of thing very 60's sexy.
*Outdoor Lingerie and Art Nude Shoot. Field of grass, corn etc . . . .
*Lily Allen The Fear Music Video Style Shoot, wacky and pastel colours.
*Leona Lewis Music Video for Run Dark in a forest with smoke and fields.
*Katy Perry Thinking Of You Music Video Inspired very 40's.
*MAD MEN TV series 1960's style shoot.
*Old 1960's PLAYBOY bunny costume shoot.
*A series of White Room Nudes, Natural and contrasty.
*A Beach Glamour Shoot - Topless and Implied Nude.
*A Beach Fashion and Swimwear shoot.
Me hard at work as a director - that camera is bloody heavy i tell you.
Verified Credits (0)
Worked with Andi Martin? Share your experience and become verified!
Add Credits
Credit Notes
Numerous Horror Websites (with pics taken for Suckablood BloodyCuts horror short films)
BBC News Website.
MoneyGram Print Campain for the 2011 ICC Cricket World Cup & Advert - Worldwide.
Tutor for Insight Education running Red One Seminars & Workshops. A UK Exclusive.
Rogue Maidens Alternative Modelling Agency Coffee Book.
Film & TV Credits - IMDB Listed. Tomb Raider, Bond etc . . .
Broadcast Video Forum Feb 09 Production Gear Stand.
Focal Press Website, Video Footage.
Mag The Weekly - India.
BBC


Models On Model Mayhem
Edyta W Mayhem #796130 x 3
Rebecca Tun Mayhem #822673
Heike Mayhem #697854 x 2
Emma Heffern Mayhem #822125
Ashli Rossetti Mayhem #610992
Maria Valentine Mayhem #122776
Safya Mayhem #537253 x 2
Katie Reynolds Mayhem #740693 x 2
Sasha 84 Mayhem #884401
Lora H Mayhem #1012237
VBE Mayhem #870341
Sadie Charles Mayhem #1025311
Ella Kerr Mccutcheon Mayhem #656346
Chantal H Mayhem #783958
Catherinexx Mayhem #851981
Anna Smith Mayhem #569260
Sasha Rosevear (not on Model Mayhem)
Amber Wallis Mayhem #752514
Polly Poppet Mayhem #862746
Kayleigh Louise Mayhem #484585 x 4
JunkieSlut AKA Emily Mayhem #1167087
Lizzie Ann Mayhem #812816
Banbury Cross x 2
Susanna Larsson x 3
Brittany Atkins
Kiri Alice
Larnie
Francesca Anne
Alicia Li
Ellie Swain
Donna Jackson
Sophie Anderson
Michael Koltes
Jessica Messenger
Holly Springett
Gemma Giddings
Rachel Elizabethh
More to be added,


MakeUp Artists On Model Mayhem.
Mandy Spencer Mayhem #706500 x 5
StephMA Mayhem #809178
Mira Parmar MUA Mayhem #691391 x 2
Holly Edwards (not on Model Mayhem yet) x 4