Details
Last Activity:
Sep 16, 2014
Compensation:
Depends on Assignment
See Less
Friends (273)
About Me
I am a:
-Make up artist
-Hair stylist
-Designer
-Wardrobe stylist
-Model
-Photographer
-Pose coach
I am an overall:
-Artist
-Creative visionary
-Conceptual thinker
-Intellect
-Professional
-Self-driven force
-All-encompassing being
I am now offering my designing services as well, along with my MUA/hair styling services. I can design and contruct clothing pieces, dresses, hats, head pieces, collars, and accessories. Contact me for details, examples of my creations are credited in my photos on all three of my profiles.
-------------------------------------
For your viewing pleasure and to see more samples of my work:
Photography profile:
http://www.modelmayhem.com/787280
&
Modeling profile:
http://www.modelmayhem.com/208664
-----------------
Check out my MM Market link of see items I've made for sale:
http://www.modelmayhem.com/po.php?thread_id=787586

Personal message me for any questions or inquiries.
------------------------
My interview with The Photographer and Model Podcast is launched! Big thanks to Ron Davis and Shawna Rencher!
http://www.photographerandmodel.com/blog/2010/10/21/ep-72-model-cordial-lee/
-------------------------
***HERE'S THE THING, FOLKS, I DO NO, I REPEAT, DO NOT WORK FOR FREE.***
A true "trade" agreement means that equal skill, effort, services, and talent is being put in and exchanged from all teams, if I do not feel the playing field is even, I will not participate. What good will a whole CD of images do me? What good will doing make up last second on a shoot do me? What good will doing free make up do me?
---------------------------
I am part of the 5th list of Mentors for Hair, Make Up, and Styling. To my models, photographers, and others in the industry or area have questions I would be happy to help the best I can.
--------------
On set with model, DreamerL85-Lana. Photograph by Rick Mapes.
Unedited make up/hair styling image. Model, Sakura X, Photographer, Cory Billeaud.
Verified Credits (0)
Worked with Cordial Lee MUA? Share your experience and become verified!
Add Credits
Credit Notes
Make up artistry work featured in:
Mojo Cosmetics (site relaunch)
https://www.mojocosmetics.com/
Color swatches/application on featured model Lindsay Michelle
2010's INKED Girls (Special Edition) Volume 1 Issue 3, pages 80-85 (On sale now)
Christina Sparrow model feature, all photographs in the issue by Tabatha Jacobs of Exquisite Views Photo (EV Photo)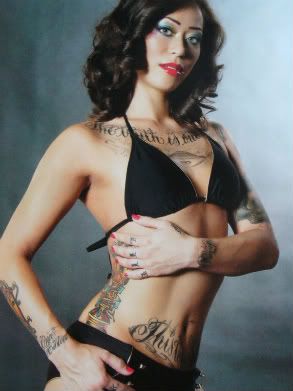 Personal message me if needed for references/reviews of those I have worked with.
Models on MM:
Kendra Reese #1191018 (served as her MUA/hair stylist/pose coach)
Shawna Rencher #194338 (served as her MUA/hair stylist/pose coach)
Lindsay Michelle #31660 (served as her MUA/hair stylist)
Jazzsolob #1673607 (served as his MUA/hair stylist)
Miss Christina Sparrow #12134 (served as her MUA)
Sakura X #1690790 (served as her MUA/hair stylist/pose coach)
CindyT3e #1464232 (served as her MUA/hair stylist/pose coach)
Lexihex #470930 (modeled alongside/served as her MUA/hair stylist)
Hex Hypoxia #749533 (served as her MUA/hair stylist/pose coach)
DAXclamation #791949 (shot/served as MUA/hair stylist)
MeShele #1114055 (served as her MUA/hair stylist)
Linnea M #274680 (served as her MUA/hair stylist)
A Morris #224658 (served as her MUA/hair stylist)
Muze Dahl #1021493 (shot/served as her MUA/hair stylist/pose coach)
Miss Teri Lynn #681731 (served as her MUA)
PhyllisCartina #713351 (served as her MUA/pose coach)
Amanda Frances #876631 (served as her MUA/hair stylist/pose coach)
DreamerL85-Lana #423283 (served as her MUA/hair stylist/pose coach)
Kaije #529723 (served as her MUA/hair stylist/pose coach)
Trinna New #816367 (served as her MUA/hair stylist)
Jin X #563474 (served as his MUA/pose pose coach)
Lily Blackout #677655 (shot/served as her MUA/hair stylist)
CattSmear #782856 (worked alongside hair/MUA with on Lily's shoot)
Hazel3408 #739074 (served as her MUA/hair stylist/pose coach)
Sarrow #171844 (shot/served as her MUA)
Monica Kaui #438150 (served as her MUA/hair stylist/pose coach)
Bryan Hwa #1000903 (shot/served as his MUA)
Toxic #16315 (shot/served as her MUA)
Christine Bax #225789 (shot/served as her body painter)
Photographers on MM:
Mojo Cosmetics #362433
Cory Billeaud #1683482
Kris McManus #676798
EV Photo #736046
Make up artist on the HUMANZEE clothing line promo/web shoot 2008/2009 (
http://www.humanzeeonline.com
)