Details
Last Activity:
Sep 18, 2012
Experience:
Very Experienced
Compensation:
Paid Assignments Only
See Less
Friends (321)
About Me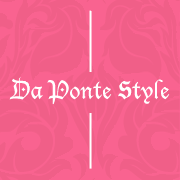 http://www.dapontestyle.com
Claudia Da Ponte knew from a young age that fashion was her passion. After being inspired by a Coco Chanel book, she attended the Vancouver Art Institute for Fashion Design and Merchandising and went on to graduate from Blanche Macdonald with a diploma in Fashion Merchandising. However, she believes that you are born with a sense of style and that it is something that cannot be taught. Rick Alyea's "That One Night" served as Da Ponte's first feature film as costume designer. She has worked on various photo shoots, short films, fashion shows, print ads and theatre productions. She specializes in fashion editorial, commercial print, event coordination, and theatre/film work.
NO TFP. I do model testing. MSG me for rates
Thank you for your time!
[email protected]
http://www.dapontestyle.com
"Fashion is not something that exists in dresses only. Fashion is in the sky, in the street, fashion has to do with ideas, the way we live, what is happening." - Gabrielle Bonheur "Coco" Chanel
"You are only as good as the people you dress." - Halston
"There is no such thing as unconscious dressing." - Diana Vreeland
Verified Credits (0)
Worked with Da Ponte Style? Share your experience and become verified!
Add Credits
Credit Notes
Thank you so much to all of the amazing and talented people that I have had the pleasure to work with thus far!
Intern for Vancouver Fashion Week April 2005
Runner for Fashion Rocks 2005
Dresser for B.C. Fashion Week September 2005
On Set Wardrobe Supervisor on "Birthdays & Other Traumas" October 2005
On Set Wardrobe Supervisor on "Ryan" November 2005
Assistant Coordinator for Crave Fashion Party November 2005
Dresser for Dining With Fashion November 2005
Set up/Greeter/Dresser for Winter Wonderland December 2005
Dresser for the Glad Rags Party April 2006
Fashion stylist for the 2006 Coquitlam Centre ads
Assistant stylist for Margareta's summer 2006 ads
Key Costumes for short film "Sanguine" October 2006
http://www.180degreeimaging.com/180mag/06nov/azar/azar.html
Dresser for the Blanche MacDonald Center grad show November 2006
Key Costumes for short film "The Newclear Family" December 2006
Telus website film project December 2006
Key Costumes for the feature film "That One Night" January 2007
Key Costumes for short film "Crosswords"
Styled Actress/Model Lucie Guest for the Victoria Film Festival Opening Gala
Fashion Stylist for French Spy 2007 Fall/Winter Catalogue shot by Candace Meyer
Fashion Stylist for BMG Models shoot shot by Frank Otten (
http://www.ottenphoto.com
)
Dresser/Stitcher for Event Star's production of Cats in Chilliwack,
Key Costumes for short film "Danger Zone"
Backstage supervisor for the Chanel show, June 2007
On Set Wardrobe Supervisor for Karen Lee Batten music video July 2007
http://www.vancouverfashionezine.com/magazineissue01/stylist.html
Backstage Supervisor for the Jason Matlo show, September 2007
Fashion Stylist for Skate Canada, November 2007
Styled Singer/Actress Elisa King for the 2008 Juno Awards in Calgary, Alberta
Dresser for High School Musical at The Centre, May 2008
Wardrober for Cirque Du Soleil's Corteo, June 2008
Dresser for Monty Python's Spamalot, July 2008
Wardrober for Cats, October 2008
Dresser for Celine Dion "Taking Chances" Tour November 2008
Dresser for Thomas and the Trains November 2008
Dresser for Hairspray November 2008
Costumer for "Santa Buddies" November 2008
Dresser for Jesus Christ Superstar December 2008
Fashion Stylist for Pure Orange January 2009
Fashion Stylist for Boys Co. Rock Revolution Fashion Show January 2009
Dresser for Annie March 2009
Fashion Stylist for Toro Mag photo shoots March 2009
Costumer for feature film "Altitude" March 2009
Fashion Stylist for Image Source Stock Photography shoots April 2009
Dresser for Britney Spears Circus Tour Concert April 2009
Fashion Stylist for Toro Mag photo shoot April 2009
Costume Designer for short film "Mike, Inc" April 2009
Costume Designer for "Stop Kiss" play April 2009
Fashion Stylist for Toro Mag photo shoot May 2009
Costumer for Rock The Stars May 2009
Styled Actor Dan Payne for May 2009 Leo Awards
Costume Designer for "Tofu & Greens" Music Video May 2009
Assistant to Catherine Dunwoody for Blake's Fashion/Style Event June 2009
Fashion Stylist for Tesla Productions "Compassionate Eye" Shoot June 2009
Wardrobe Assistant to David Zambrana for Lost Highway Productions "Tide Commercial" June 2009
Fashion Stylist for Entertainment Tonight Canada "Cheryl's Celebrity Makeover" Segment June 2009
Costumer for mini series " Alice" (costume designer Angus Strathie) July 2009
Fashion Stylist for W25 Magazine cover/editorial
Fashion Stylist for Urban Weddings Magazine editorial
Fashion Stylist for Asian Wave Magazine editorial
Fashion Stylist for Luxsure Magazine cover/editorial
Fashion Stylist for Fine Taste Magazine
Fashion Stylist for Haute Magazine editorial
Fashion Stylist for In Toronto Cover
Fashion Stylist for 2:The Magazine For Couples Cover
Fashion Stylist for Enbrel Ad Photo Shoot
Fashion Stylist for Harlequin Book Covers Photo Shoot
Assistant Stylist for Harry Rosen E-commerce Shoots
Assistant Stylist for Hudson's Bay Catalogue Shoots
Fashion Stylist on Rogers Daytime Toronto Segment
Fashion Stylist for Life & Style With Zara TV Series
Fashion Stylist for Cactus Club Café Promo Video
Fashion Stylist for Milano Swimwear Look Book
Fashion Stylist for Rockartel Look Book
Fashion Stylist for Melissa Rae Barrie Music Video
Fashion Stylist for Noir Lash Lounge Ad Campaign
Fashion Stylist for TV Week Mag Cover
Fashion Stylist for Vancouver View Mag Editorial Shoot
Fashion Stylist for Chrizzo & Maxim ft. Amanda Wilson "Runaway" Music Video
Fashion Stylist/Producer for 5440 "Lost In The City" Music Video
Costume Designer on Mirza: The Untold Story Feature Film
Fashion Stylist for Malene Grotrian F/W Ad
Fashion Stylist for Blanche MacDonald Centre Ad
Fashion Stylist for Stylelist Editorial Shoot
Fashion Stylist for singer Kristen Nash CD/Promo shots
Fashion Stylist for Raghav "On Top Of The World" Music Video
Fashion Stylist for String Magazine Editorial Shoot
Fashion Stylist for singer Eric Solomon CD/Promo shots
Fashion Stylist for Swanrock Jewels Ad Shoot
Fashion Stylist for Goldtooth Creative "Sleeping Dogs" Video Game Trailer
Fashion Stylist for singer Taylor James CD/Promo shots
Fashion Stylist for TV Week Mag Cover
Fashion Stylist for G&G ft Jonny Rose "All Falls Down" Music Video
Fashion Stylist for culture Magazine Editorial Shoot
Guest Speaker at Kwantlen University Re: Styling
Fashion Stylist for Express/West Coast Style TV Segments
Fashion Stylist for Vancouver Magazine/Ford Edge Ad