Details
Last Activity:
Sep 11, 2023
Experience:
Very Experienced
See Less
Friends (2847)
Lists (5)
In Memorian Of Great People Who Have Passed
14 Photos
In Memory Of My Sister Christine
6 Photos
Photographers I want to work with
243 Photos
Work That I am Featured In
114 Photos
See Less
About Me
My name is Jessica, I'm 32 born on All Saint's Day started modeling when I was 16.I like to model, sing, act, write, listen to music, travel, and love the paranormal etc. I recently just became a certified paranormal investigator. Our museum recently closed down last month but if anyone is in need of help we are always willing to help people. I currently live in Las Vegas but do visit to the PA as well.
YOU CAN EMAIL ME AT
[email protected]
I HAVE TATTOOS ALSO I DON'T MIND COVERING THEM UP OR BEING PHOTO SHOPPED OUT WHICH I HAVE DONE BEFORE.
THANK YOU,
JESSICA
Welcome to my site and thank you for taking the time to look at it
I BRING AN ESCORT TO ALL OF MY SHOOTS UNLESS I HAVE WORKED WITH YOU ENOUGH. I bring an escort for safety due to bad experiences and I suggest others should do the same as well. If I can't bring an escort then I am not your model. Usually whom ever I may bring does not get in the way.
Print:
On the Cover of a book called The Starfish by Bekah Ferguson, not out in stores but you can buy it here:
http://www.bekahferguson.com/books.The
Starfish a great book you won't want to miss also taken by Jamie Cocco 05 with permission to be used on the front cover
HIV/AIDS Charity Book I'm not sure when it's coming out but was supposed to go nationwide but I have no idea when now shot in 2005 by Kiran Patil
Nude Photo Magazine by Kiran Patil his picture is supposed to be ft. soon
Namaste Feminist's book project Remembering the Blue Poppies by Jessica Lark 2009
FIXE Magazine
http://www.fixemagazine.com/jessangel.html
MUEN magazine content page by Rudy Stone and on pg.29
picture by redshiftblueshifthttp://www.scribd.com/doc/19441746/MUEN-Magazine-Sept-2009
MUEN MAG for Sept. 2009
http://www.scribd.com/doc/19441746/MUEN-Magazine-Sept-2009
MUEN MAG for Oct. 2009
http://www.scribd.com/doc/21183558/MUEN-Magazine-Oct-09
Cover June 2010
Magazine 13 Online magazine 2009
Dark Lilly Magazine 4th Edition October 2015 By Steve Lease and Dennison Small
By Steve Lease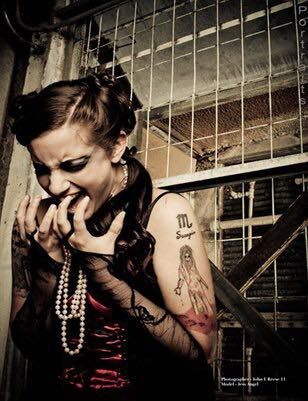 By JR Reese MUA Mandi D
By JR Reese MUA Mandi D.
Leonessa Magazine Cover The Great Outdoors April 2015 Issue 3 by Natalie Clark and Tasha Primeau pages 4-7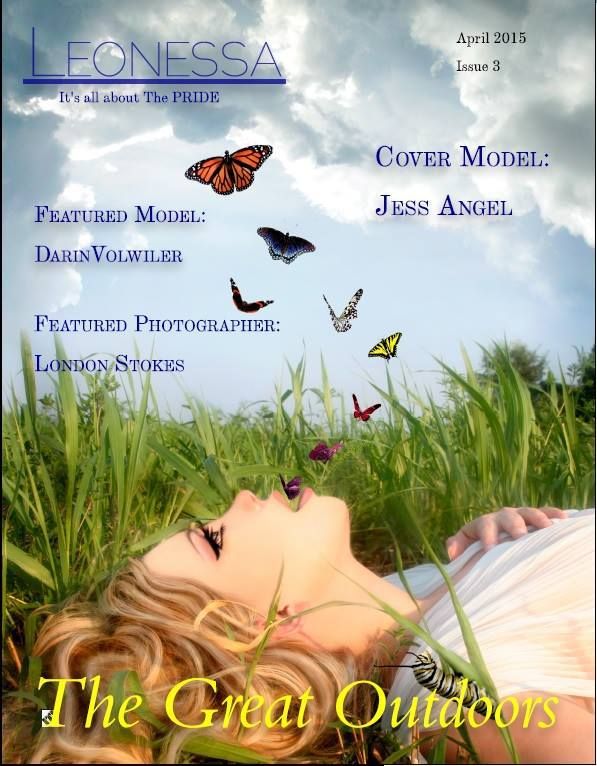 Leonessa Magazine Spread Picture Issue 3 Cover Model April 2015 The Great Outdoors By Tasha Primeau pgs 4-7
Beauty Is What I Crave April 2015
Tasha Primeau and Rudy Stone
Leonessa Magazine Spread Picture Issue 3 Cover Model pgs 4-7 The Great Outdoors April 2015 By Tasha Primeau
Leonessa Magazine Kiss Me/All The Glitters March 2015 Issue 2 pg21 By Tasha Primeau
Bizzare Issue 186 pg 46 Jim Horne Photography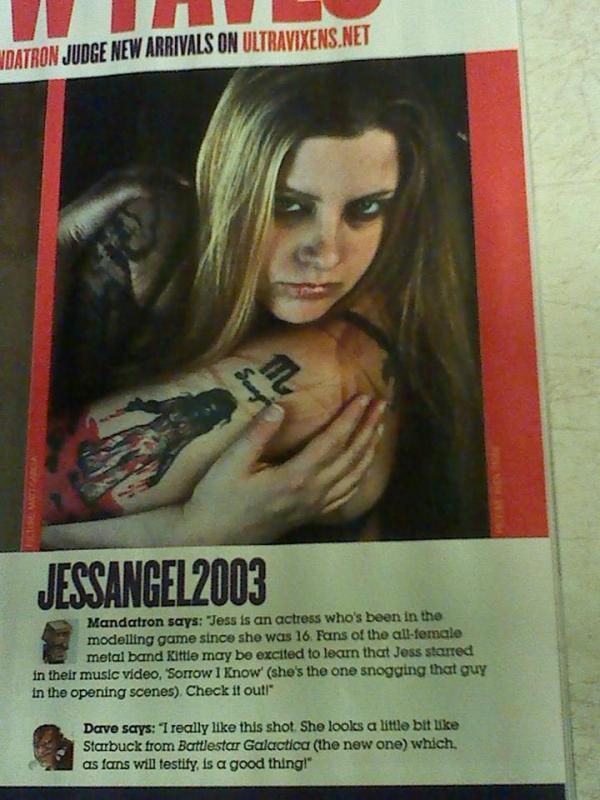 Bizarre Issue 218 By Rudy Stone
The Petite Alternative Magazine Issue 8 May Issue pg: 4-5 photographer Autumn Dies I highlight a section in that magazine
The All New American Pinup Tattooed and Pierced at Barnes and Nobles pg 32-34 and a brief bio about myself by Brian Johnson and Valerie Stanton
Bella Morte' Magazine Issue 5 pg 5 Photographer Trisha Bowyer
Bathtub book series by Lithium Dreams Photography I believe on amazon
"The Earl" a local Shippensburg, PA magazine Volume: 1 Issue: 3 Summer Issue 2011
http://www.theearlofshippensburg.com/index.html
By Takun Photography
"The Modified Dolls" pg: 27 or 28 Issue 4 5 and 6
http://www.magcloud.com/browse/issue/294524
they are based on charities etc.
Shon Anderson, E.A. Photographics and Krista Leigh Hurst
The UpChuck Magazine Arts and Chaos Aug. 2012 Krazy Spoons and Steve Lease I got showcased in that one also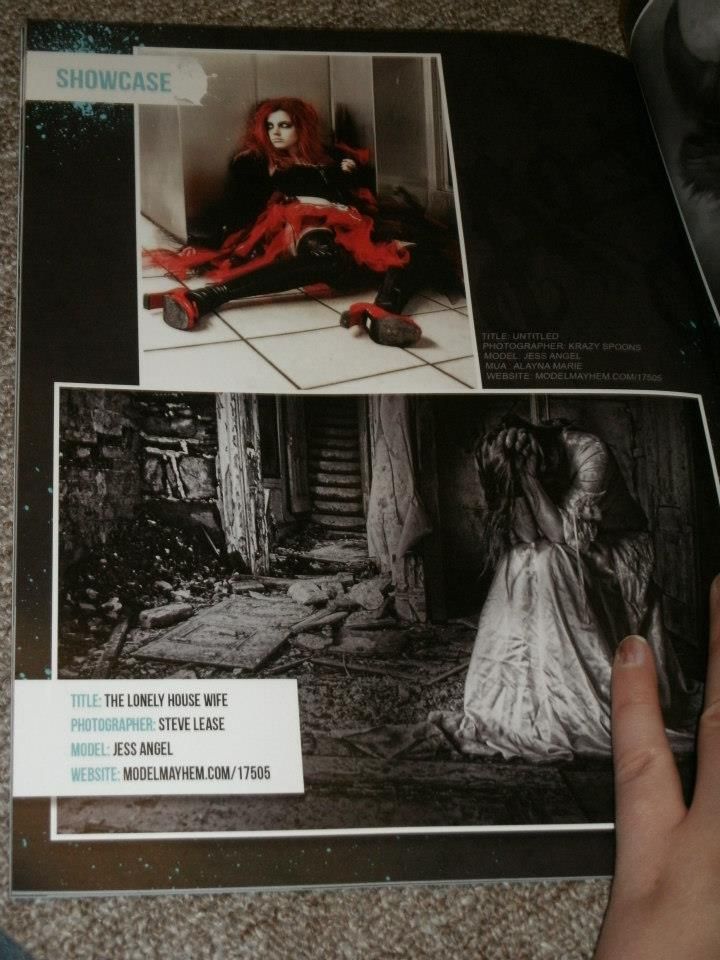 Volume1 The UpChuck Magazine Oh The Horror Oct. 2012 facebook.com/TheUpChuckMagazine J2 Potraits in The Horror Feature
The Unsung Magazine I won 4th place and my poetry is also published 10/19/2012 facebook.com/TheUnSung Cari Jodoin Photography
Gorgeous Freaks Magazine January 2013 Issue 13 Bio about myself Christine Luster 2 pg spread Female and Male Issue they are the same just different covers pg 46-47 Left Side: Jerry Bennet, Valerie Weaver, Christine Luster, Right: J2 Potraits, Horne Photography, Steave Lease and Lithuim Dreams Photography all these pictures were taken between the years of 2007-2012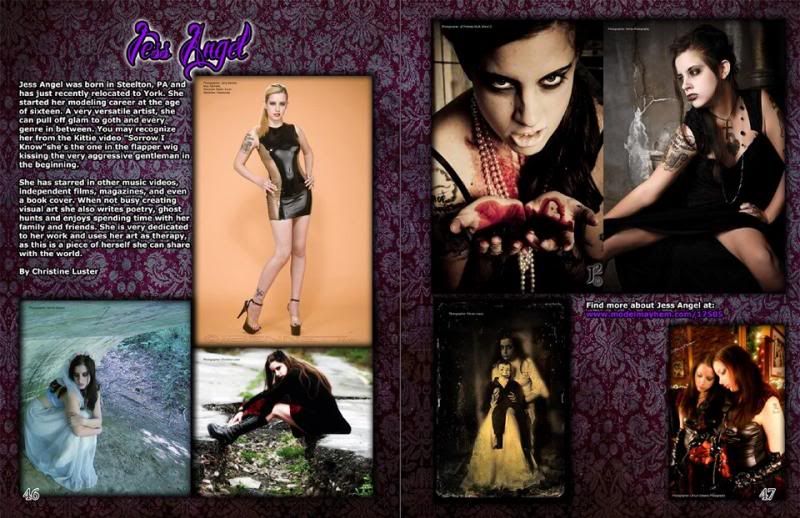 SKIN Magazine Issue 6 pg 29 By Steve Lease June 1st 2013
By Steve Lease Issue 6 2013 June1st 2013
https://issuu.com/skin./docs/issue6_finalsinglepages_1_?e=0
Glimpse Magazine Summer Issue 2013
Valerie Weaver, Jim Horne
Mature Women Magazine
Jerry Benett, Jesus Martinez and Tasha Primeau Sept. 2013
Mature Women Magazine Nicole Lynn Sept. 2013
Ink Pushers Magazine Jan. 2014 Jim Horne Photography
I"m the conductor for Aeshtetic Revolution
http://aestheticevolution.blogspot.com/?zx=d11aa187503d7da6
So far have interviewed Lady Pixie aka: Stacey Wolf, Rlynn, aka: Soul Blackned, and Samura and many more to come
Interview conducted by Jess Angel.
UPCOMING 2016
Pimp- Music Video By Devil Noise Pat Sandman still in process
Artifical RedHead Book By Heather Clauser not sure when but soon
I'm currently finishing up my poetry book should be out soon
Flyers:
Won 2nd place to be ft. on Sinner Saints Flyer for MotleyCrueFest 08
On a Flyer For Guilifty's 2010
By Creative Lens Photography
Also ft. on flyer for PocketChange Productions for a convention and in a calendar 2011
Calendar for Liberty Calendars not sure which month 2011 I believe
Galleries:
Featured in Rudy Stone's gallery in Mechanicsburg PA
http://www.2ndfloorgallery.com/
2nd Floor Gallery
Also ft in Ray Philbreck's gallery in Mechanicsburg,Pa for the month of sept. 2010
Joe Miller's gallery
Cafe Beracah & Gallery, In Lebanon PA 07
The Art Association of Harrisburg,PA
1st floor Rudy Stone's gallery 2007
2nd floor Gallery In Mechanicsburg Pa *** lost count been ft. there alot, showcased on the 2nd floor u can come and go as you please at anytime ongoing since 2007
*Little Buffalo Festival
Newport PA
by Heather Clauser 3 pics there were ft of me. 2008 or 2009
* York PA Library
1031 Edgecomb Ave.
York PA, 17403
4 pics ft. of me there until Dec. 13th 2008 By David Brown
* Club Midnight **
ft. by Trystlarand In D.C. 2008
* Scott Church's show ft. by Christopher Lee Davis
Mulberry Arts Studio 21 North Mulberry St, Lancaster, PA
http://www.MulberryArtStudios.com
2009
* Work ft. at an actual mausoleum yes it was actually ft. in there and it was awesome by Rudy Stone Oct. 2009 for a Halloween art show also ft. many artists as well Presented by the 2nd Floor Gallery in conjunction with the East Harrisburg Cemetery Company At the East Harrisburg Cemetery 2260 Herr St. Harrisburg PA 2009
Photos of Juan C. Irizarry in EXPOSED: The Contemporary Nude By 1650 Gallery & Studio Ft. In LA 2011
I have also done portrait sketch classes in Mechanicsburg PA April 2013 xx
2 OMP showcases Jaycie Photography
http://www.onemodelplace.com/member.cfm/P_ID/93568]for
artistic catergory
Barry Kid aka: Sixty4Graphics
http://www.onemodelplace.com/member.cfm/P_ID/167960]for
artistic nude[/url]
Featured and Represented:
Harrisburg's Featured Model on the month for Jan.2008
http://www.hbgonline.com/
Featured Model Jan. 2008
Represented back in May 2010 the 717 Awards for Best Male Artist
Won Best Female Costume 08 was a corpse bride
Won Best 80's costume 08
Ft. at HACC College by Heather Clauser Photography 2008
Also ft. in Spirit Quest by Michael Cline a charity project for St. Jude's Hospital
Agencies: Barbizon School of Modeling and Acting Graduate 2001
I have taken pictures before but don't consider myself a photographer.
Films:
"Leighi Lo": was an extra and it was an independent film I was 17 when it was shot. This was shot in Dillsburg, PA only took 1 day to film
"The Truth Of The Streets": I was played as a young distressed girl and it is still in the process of editing.It took 6 months to shoot.This was shot in Harrisburg, Pa early Dec.-Apr. I wrote this script director liked it and it became a part of a film.
"City Untouchable" I play a gang girl who gets shot in a gang and I also have a speaking role. My name is Sherry and I also get murdered so I die 2wice in this film and there's more but you'll have to wait and see!! Coming out in Nov.2009 to netflix. I also play Madessa the most evil assasian alive!! You could only imagine
- •
newer one
I'm not in this one but you can see what everyone has been doing since 2007-2009 coming to netflix in Nov.2009
"Last Day Of Summer" 2008 just finished featuring Nikki Reed, DJ Qualls and many more late 2008-2009 I play a college student whose in a burger joint who gets shot by DJ Qualls and also have featured extras in there as well etc, Scene got deleted but I"m still in it. In the beginning talking to an extra. My hair was blonde and in pigtails. It was played in NY theater you can now buy it on amazon.Making of "Last Day of Summer" Ft. Nikki Reed and D.J. Qualls. (Here is the
Trailer
of the making of it!)
"Alexis" it's about a 2 lesbian girls the one gets infected by a vampire her gf Laura is trying to find the cure to help stop it I play Crea a vampire hunter coming went to a film festival .
Another one is I play a snobby little rich girl who gets kidnapped it's a film project
"The Great American Serial Killer"I play Lisa who gets killed based on a true serial killer Rober Palmer "The Great American Serial Killer" based on a true story, about a serial killer, I play Lisa who also gets killed and was shot in Spring, 2009 finally finished is going to be at a screening at the Horror Convention in June 2011 in pittsburg Based on the documents of Robert Kemp. Is currently out but some of my scenes were cut. You can buy it here:
http://bluntforcecinema.com/product/great-american-serial-killer
THE GREAT AMERICAN SERIAL KILLER AKA: KILLING FIELDS JUST GOT TOLD ABOUT IT TODAY CHECK IT OUT
http://vimeo.com/5897743
I'M IN HERE 3 TIMES SAME ROLE I PLAY LISA WHO GETS KILLED BY ROBERT KEMP.
Raw Footage: The Great American Serial Killer. This film is based on the crimes of Robert Kemp. A serial killer that had tortured, raped, and murdered over 32 individuals. This film is based on interviews Kemp gave before being sentenced to death. Welcome to
The Great American Serial Killer
Produced/Directed/Written By Saint Matthew
Featuring: Todd Servo, Playboy Model Angelina Leigh, Eddie Benevich, Debbie D, and Katie Russell.
Music Videos:
Trash That Dress video for modeling project 2008 by Nicole Photograhy
Trash That Dress Video
Kittie's "Sorrow I Know" 2nd leading role. I'm featured in the beginning kissing the gentleman with a flapper wig on. Shot all in NYC. Link:
http://youtu.be/Y9RwvOPt9Ig
and
http://youtu.be/j3S8qefFOFE
They have 2 different versions the clean cut and the unclean which I am featured in both versions but they are both different. It was too violent that's why that one didn't get featured but you can find the uncut version on Youtube. The Uncut version in the beginning kissing the gentleman wearing a black flapper wig. 2nd leading role. Other version on the left side by Kittie sipping a tea cup most of the time.
Me Morgan Lead Singer Deanna extra
I Stand At The Doorway By Sid Squid shot in York, PA 2013 recently came out 2016 . I play Beth which is Aspen's sister. Seven girls at an isolated cabin. A killer on the loose. You've heard this story many times before.But what happens after the blood stops spilling?
https://www.youtube.com/watch?v=6NaRPEzeaqY
full movie
trailer
https://www.youtube.com/watch?v=mqbdtdZbG1g
Full trailer I'm at timeframe 14-20
Recently did a music video for DevilNoise- "Horror Child" by Pat Sandman
http://www.youtube.com/watch?v=KKq0oxoHqCY
Culture and Main Episode 17 reading my poetry and have an interview 2nd girl in the show.
http://youtu.be/qphdIQRpC_U
Broham Babe
http://brohamnation.com/broham-babe-jessangel/
Gore Hunny Of The Month Feb. 2013
http://thegorehound.com/Last_Rites.php
Won 1st place for disturbing picture by Steave Lease
http://www.greenmartini.com/contest/Disturbed
Model for Morbidly Divine Modeling
Did an interview with ObsecureHorror.com u can view it here:
http://www.obscurehorror.com/jessicashroyinterview.html
2nd Interview I did with obscurehorror.com
http://obscurehorror.com/jessicashroy2interview.html
Runway:
For Barbizon School Of Modeling and Acting 2001
All Voluntered For Fashion Bug there may have been 1 or 2 I missed but it's been awhile and I can't remember but have been doing runway or at least practicing since 16 since Barbizon
Fall/Fashion Bug Spring 2002
Fall/Fashion Bug Fall 2003
Summer/Fashion Bug 2004
Fall Fashion Bug 2005
Catwalk Tragedy Orlando Fla Oct-17th-18th 2008
Bridal Show in WV mall 08
Awards: For Barbizon Most Improved Runway
Official Citizen Delegate for MS. Harrisburg 2003
Presented an award for 717 Music Awards for Best Male Artist 2010
Pagents:
Represented MissHarrisburgUSA2003 Pittsburg PA
Makeup I've done but don't consider myself a makeupartist
"Pipin" School Musical - Head Costume Designer 2003
"Moon Over Buffalo" 2001 Makeup
"Over Here" 2003 Makeup
I also sing
I've worked with Liz Phair's back vocalist at the time being
I was in a band called Shading Grace didn't work out very well do too technical difficulties.
I have also sang for a choir I did at a show when I was 16 sang in front of my church retreat and that about sums it up for that...
Instruments: Keyboard, Acoustic Guitar, need a little more being playing since I was 14 and I also write a lot of dark poetry.
http://www.youtube.com/watch?v=r-o8y5HrRKc
For Catwalk Tragedy
CATWALK TRAGEDY WAS IN THAT SHOW IN ORLANDO FLA. 2008 MUA: KRYSI KING AND HAIR ELIZABETH VOLKES
Mini Portfolio
Click thumbnail to view larger.



Verified Credits (9)
Worked with jessangel2003? Share your experience and become verified!
Add Credits
"I have worked with JessAngel2003 as a photographer, a makeup artist, a wardrobe stylist, hair, and helped her at other photo shoots. I know her to be professional while still friendly, laid back, and a warm love bug. During our shoots we were able to fire off ideas and work together to create the art images I was seeking and the images she wanted. Later we came together to work again and still found we fell into that same pattern of creativity. I think together as artist we will always have it. She is a beautiful, strong woman who deserve all her achievements. She has a diverse look and it can become anything with the right styling. I always look forward to my next shoot with Jess, and am hoping to shoot her again soon." Read less
"Published and professional, working with JessAngel is like having a girlfriend over and getting silly with a gamer. Yes it is work and yes you are really working, but you are so busy having fun you forget. She trusts me to create amazing make up looks and hair that she doesn't worry and I don't take any stupid risks. I have known her a long time doing my own theme shoots, various others. She can be professional, polished, poised. She can complete any look but loves to do themes." Read less
See Less
See All Verified Credits (9)
Credit Notes
- I am a published, and experienced model. I have done 5 shows and 1 hair show. I did 6 independent films that one is still in the process of editing at the moment. I started modeling when I was 16. I was in Miss Pennsylvania USA 2003 pageant. I went to Barbizon modeling school for modeling and acting I am a graduate from there. I am willing to travel as well. I also took up 1 year of drama in high school was in the school play and I also have experience with acting and posing. Also featured on MTV2 for Kittie's video "Sorrow I know" 2nd leading role
- I usually do paying work but I do not mind doing TFP depending on what the theme/idea maybe. When paying my rates are reasonable depending on the assignment etc, but I am willing to do TFP depending on the assignment or theme etc, If you can't do paying we can work something out no worries. If you have any questions don't hesitate to ask me.
Also please be patient with me on getting back to messages, comments, tags, etc, I try to respond back as quickly as I can I get a lot of messages on here so don't ever think I'm mad or ignoring you or don't want to work with u that's not the case. The same with pictures if I don't have something that I had previously worked on with you on here don't ever think that I don't like it in any way shape form etc, I just have a lot of images for the time being my friend helping me with this site to make it a lot easier.
Thank you,
Jess
For those who are interested in a detailed list of my credits, please Click Here!
This includes:
Galleries, Movies, Music, Books and More.
The list of photographers, Models, MUA's and Hairstylists I've worked so I've made this easy:
full list of Those I've Worked with
I have worked with many as to of late but my friend updates it just haven't had the chance to put the most recent ppl I have worked with on here