Details
Last Activity:
Mar 08, 2012
Experience:
Very Experienced
See Less
Friends (145)
Lists (18)
Artistically Uniquely Gorgeous
1 Photos
Amazing headshots,,that make me say wow!
0 Photos
Just cool photo opporatunity...
0 Photos
Fabulous Depth of Field
0 Photos
OH,just too cute animals!!
1 Photos
just Awesome facial expressions!
1 Photos
Rare I get all girly giddy over a photo, BUT,,,,,
1 Photos
Gorgeous Wedding shots!
0 Photos
LaUgH aNd SmiLE OnCe aWhiLe!
3 Photos
soft,pretty,and just plain gorgeous!
2 Photos
Natural and Simple!
1 Photos
Sweet angel! Gorgeous children's photos!
0 Photos
Fantastic photoshop work!
0 Photos
Fabulous Models! All shapes, sizes, and colors of the rainbow!
2 Photos
Thought provokingly artistic
2 Photos
See Less
About Me
*Welcome to my profile! Thank you for taking a look! I do a little of everything professionally. I have had my own business for close to 9 years, also freelance for our local newspaper, have credentials to shoot AZ. Dbacks baseball games, I do portraits and portfolios for models, kids,weddings,seniors,pinup and LOVE being creative!
*If you have a chance, stop by my models galleries too! They also love to see their work complimented that we did together!
* I work extensively with hair/mua Miss Heather Riot..she does all of my Girl's Day Out photoshoots, and she can also do senior photos, models portfolios right along with me if you need her.
Photography, my family, and my faith are my true passions in life! Contact me please for anything else you would like to know.
*My portfolio is very diverse! I love being able to show all the different aspects I do in photography. I am unable to post any MLB photos taken with my credentials,,per MLB rules.
**I am a working mommy. Thank you for your patience with me returning comments and tags. I love commenting and listing, but sometimes I just can't answer back right away. Thanks for understanding!!
* If interested, please contact me for my rates
I charge for model portolios like I would charge a senior portraits, family portraits, special events,weddings,etc .
***If you are going to ask a friend request,please say hi first in a tag/comment! Would just like to know who you are!
**** a few of my yeps and nopes***
-nope:don't do the all nudie pic shots, cause well,it just isn't my style. Yep, God gave us all beauty inside and out BUT, he did create wonderful clothing designers for a reason to leave some to the imagination
-yep: I love to have fun during shoots,but when I get serious, doesn't mean I'm frustrated or irritated,just means I'm a perfectionist and it's time to get down to business on certain shots.
-yep: do act like a goofball at times, doesn't mean I'm unprofessional, but just means that I have to keep things light at times
-nope: not a big fan of texting in between shots, unless I'm taking a drink of Mt. Dew and taking a 2 min. break if its hot.If its an emergancy, of course that's different!
-yep:big fan of lipstick,foundation, and mascera, on a model during a shoot. Makes you look more professional in photos and gives me less to photoshop.(which is a BIG plus!!) If you bring these items with you to the shoot,,you're definately my best friend!
-nope: not a big fan of eyeliner on guy models,,well unless you're Johnny Depp in Pirates movies, then of course you're excused!
-nope: just not into people that no matter who you are, you think you're better,prettier,smarter, or hotter then everyone else in this world. I'm just not into the snotty attitude,or an attitude that is hard to work with. Cause, that's just not my style,,we're all in this world together, might as well make the best of it!
-yep: I'm pretty easy to work with, if I have a shoot idea and ask you to wear or act a certain way, it's cause I often shoot in themes and have an idea in my head on how it should look. My job is to make YOU look your best. Sometimes, you just have to trust your photographer. I may not know it all, but I can also photoshop a giant zit on your nose if we don't get along,,ok, I'm teasing, I'd never do that to you
-yep: I LOVE expression!! If you are supposed to look mad in a shot, be mad,not bored! If you are supposed to look happy, then think of something that makes you laugh, and laugh out loud! If you are supposed to be sultry, then think of someone,even if its a hot celebrity, that would you would make a sultry face to. EXPRESS YOURSELF!
-yep: of course I love to hear your shoot ideas, after all , its your professional portfolio and your portfolio should represent the BEST of you!
- last yep: I try to stay as original as I can. I know, NO photo or idea is completely original, but I really do try my hardest to make a photo taylored to you and keep it fresh as possible.
**Oh, and one more lil side note about me, I bling just about anything if it will be an awesome shot!
ok,,well,,just about anything
All rhinestones are placed by hand, taking up to 2 hours for some things. No rhinestones are photoshopped onto photo!
Have a blessed day!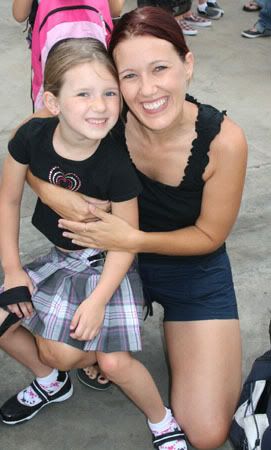 YEP! THIS IS ME AND ONE OF 2 MY LIL ANGELS!
I normally stay behind the camera for a reason,but had to show off my little girl :)
Verified Credits (0)
Worked with Jillian Danielson? Share your experience and become verified!
Add Credits
Credit Notes
*Heather_Riot- Mayhem #860934 - MUA

*Super Boss Bitchin- Mayhem#723628-model

*Maria- Mayhem #1216459-model

*Dolly Marlowe- Mayhem #1219406-model

*Amber Ellis-Mayhem #702408 - model

*Trixie Love-Mayhem#827247-model

*Whitney Instigator #414051- model

*Liz Carpio-Mayhem #753607- model