Details
Last Activity:
Dec 07, 2023
Experience:
Very Experienced
Compensation:
Depends on Assignment
See Less
About Me
Hey, we book Half Days and Full Days in our wonderful new studio here in the beautiful City of Roses, otherwise known as Portland, Oregon. Come shoot with us in our Little Kingdom by the River. Or, if you're a Photographer... book it out for a day and get the pics of a Lifetime. ;-)
http://www.wildevisionentertainment.com
.
Mini-sessions now offered at WildeVision Studio. My RATE for this ONE hour shoot is 300. My normal rates start at 600. Msg us and see if you qualify. "No Testing."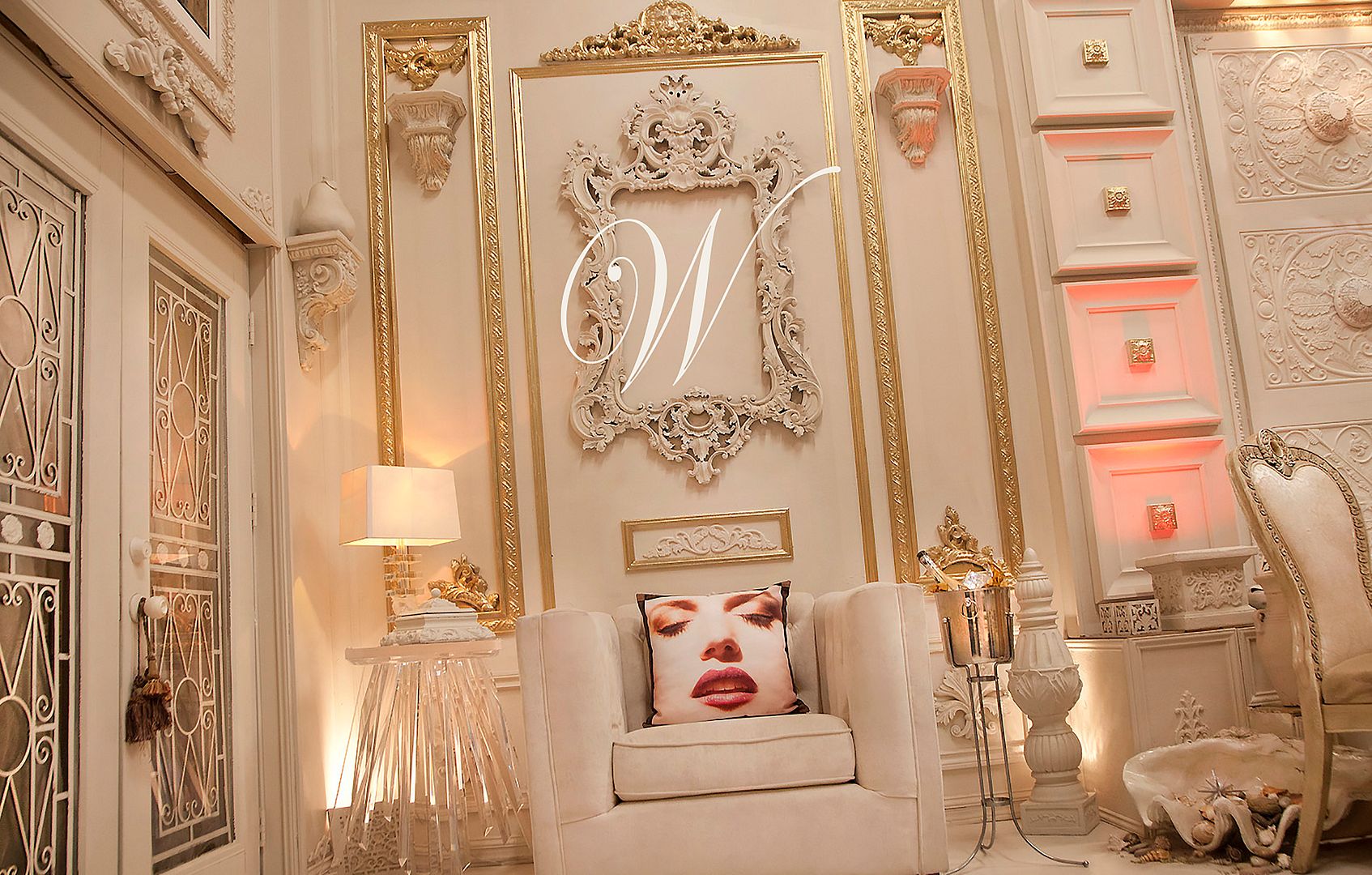 NEWEST WORK here: "Julian James Wilde" on Face Book. And waaaaay more of The Fun Stuff. All the day-to-day and up-to-the-second! And as strange as it sounds: LESS censorship! ;-)
WORKSHOPS for PHOTOGRAPHERS: Check under Rates/Workshops:
http://www.wildevisionentertainment.com
"SHOOTING With JULIAN WILDE" for Information and Rates:
http://www.wildevisionentertainment.com
And click on the "MODELS" link.
BEFORE you do a "Friend Request"... Say something "Friendly." ;-)
AS FOR PROFESSIONAL RETOUCHERS: although I appreciate the offers... having someone edit My Images feels a bit like paying someone to sleep with my wife. As busy as my days get... I STILL think it's something I need to do myself. And to be just as honest: I'm quite Happy to do myself. ;-)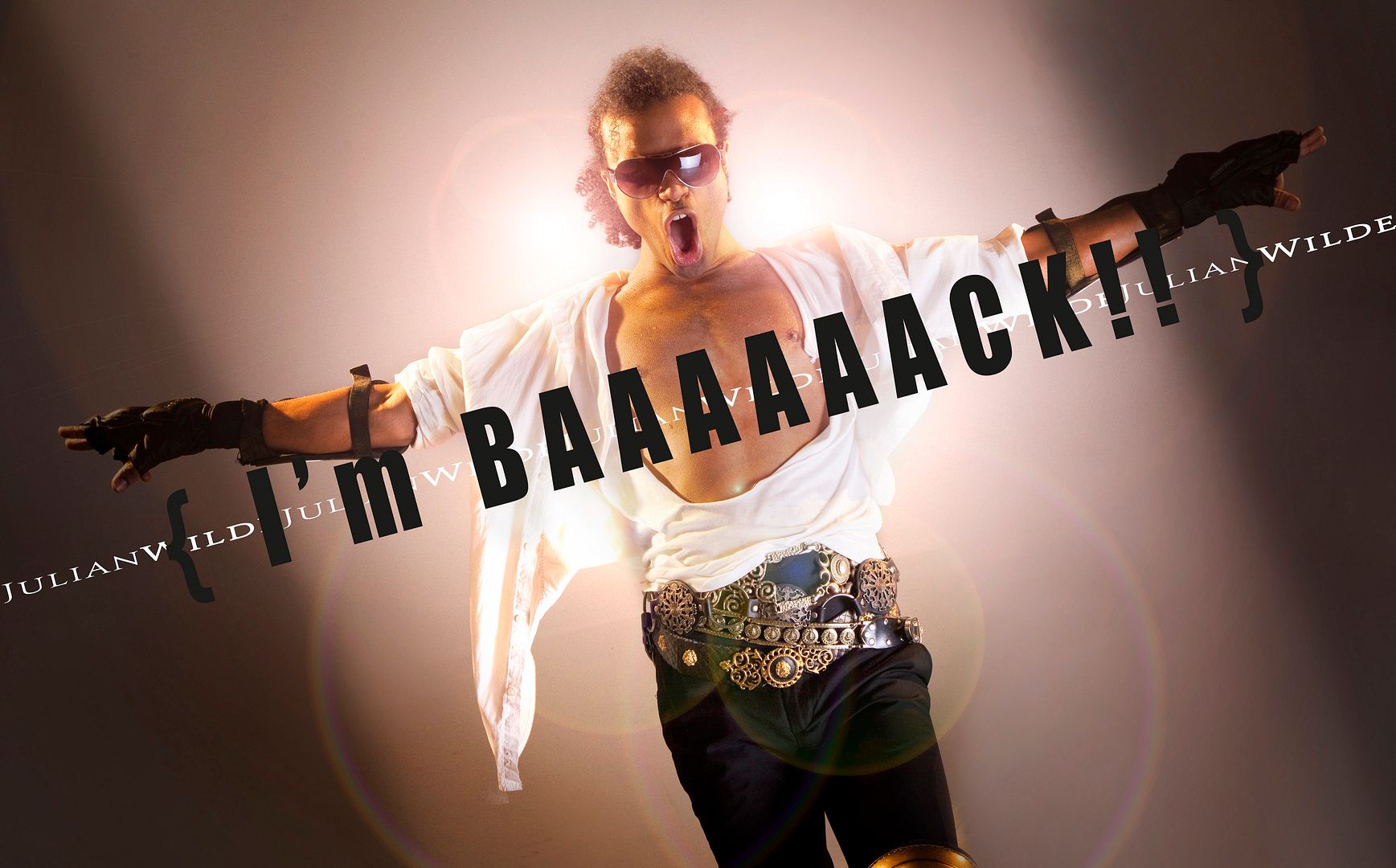 Gone on vacay from Mayhem for almost a year. But.... enough said! I'm Back!! ;-)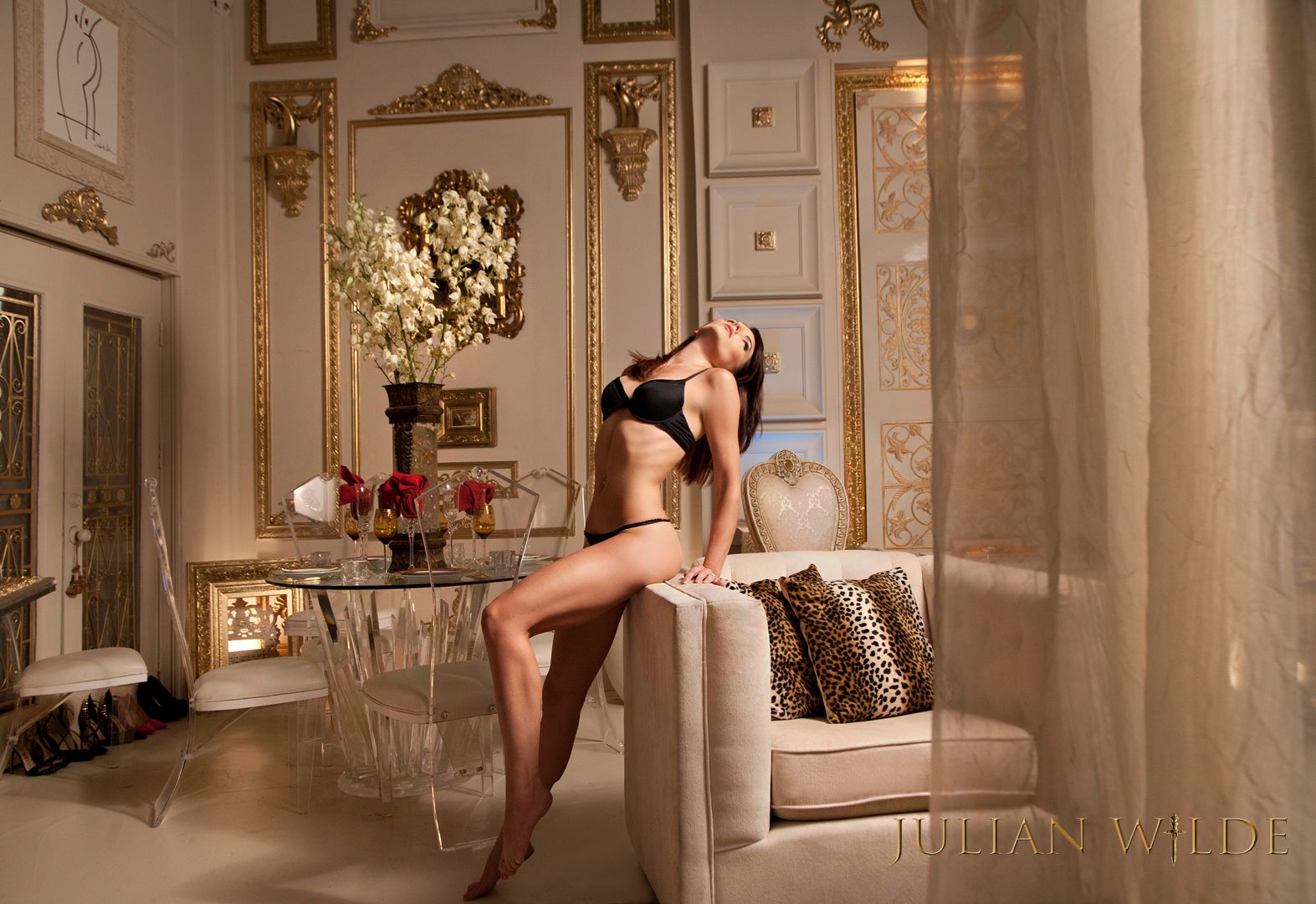 Shawna relaxing in the Grand Salon at WildeVision... and photographed for "La Femme."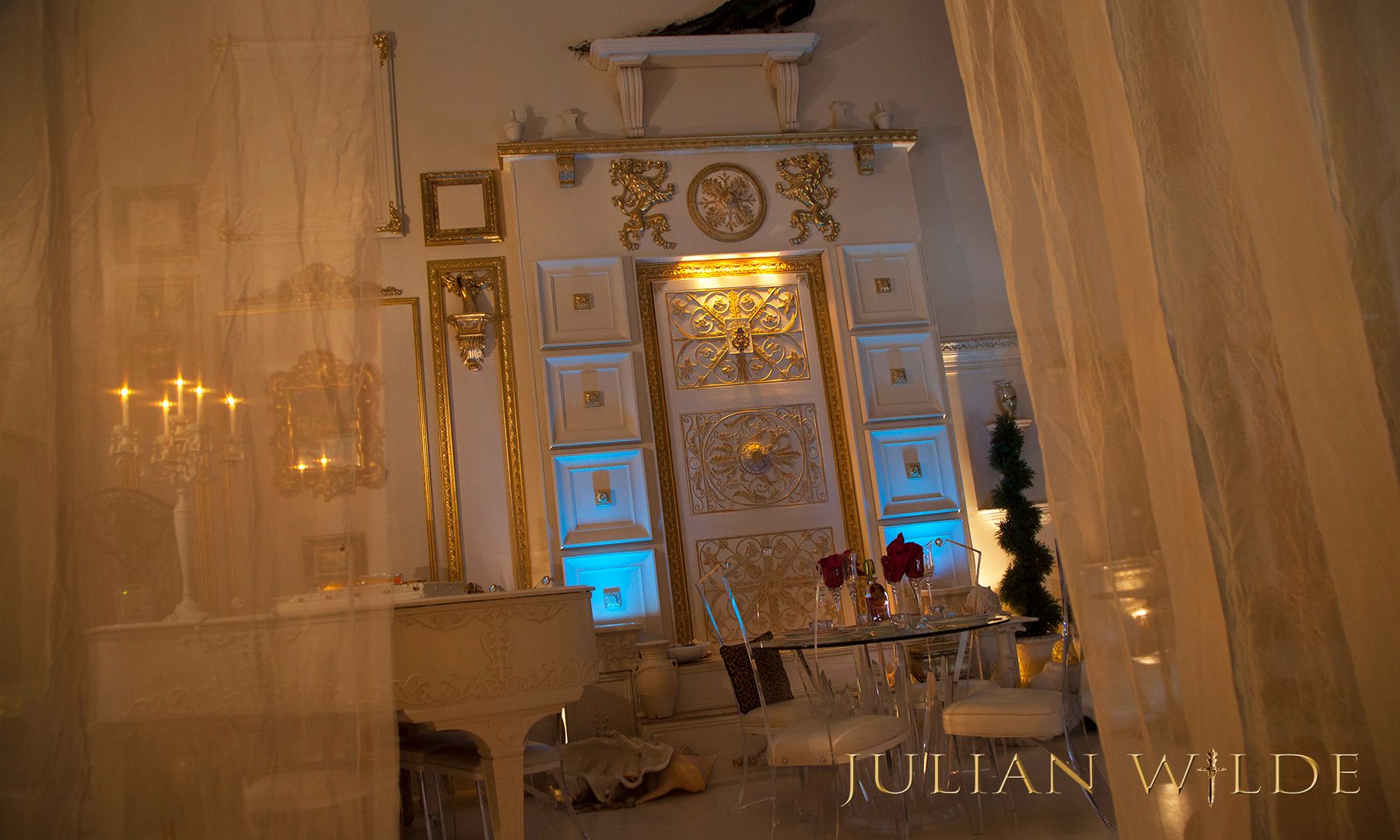 We just added 22' high silk curtains in the Grand Salon... and they are especially pretty in a summer breeze!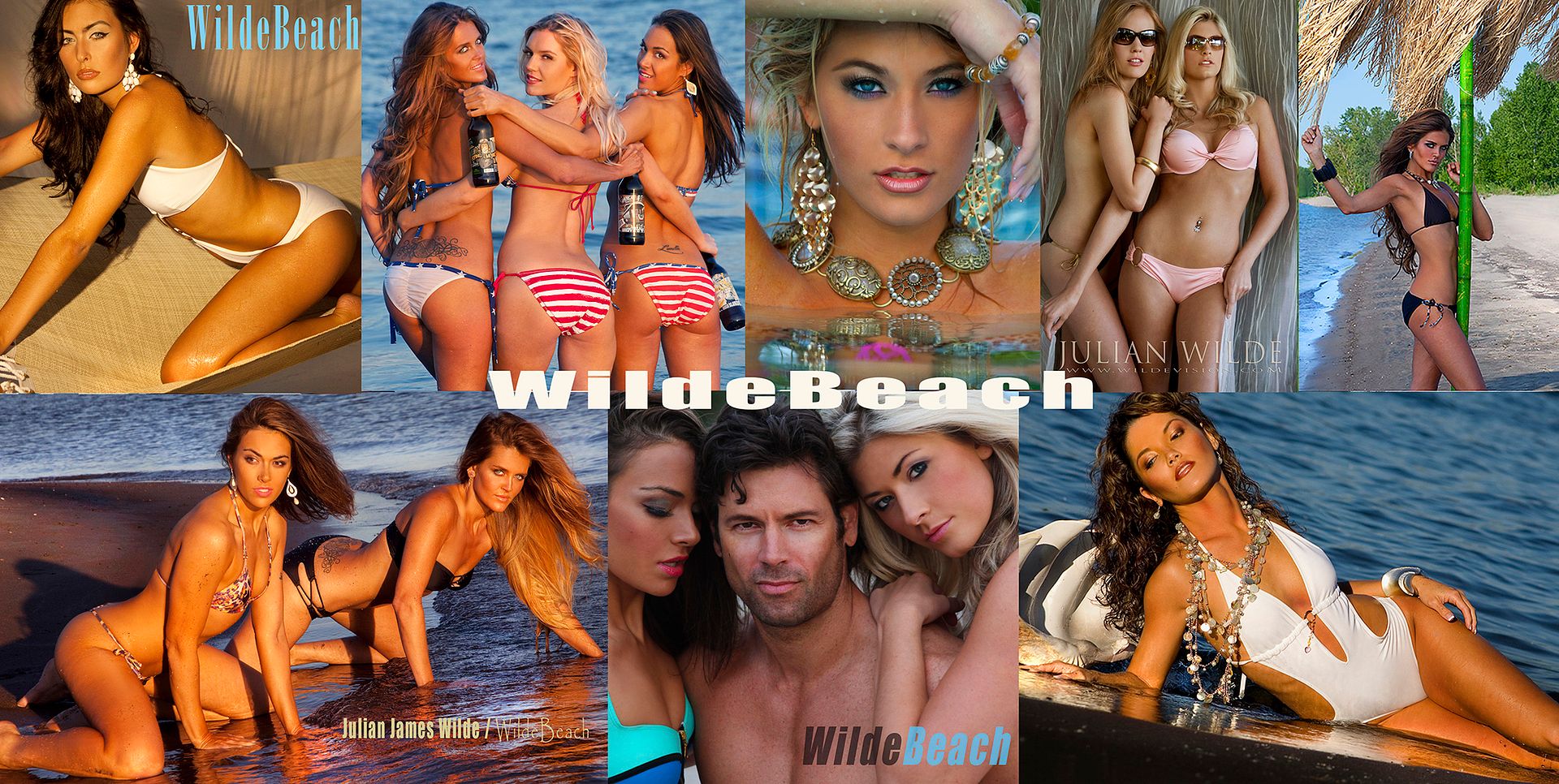 The great thing about "WildeBeach" is that it's just 8 minutes from the front door of our Studio. (!!!)
The very beautiful Staci Hart... photographed in the Grand Salon at Wildevision for "La Femme.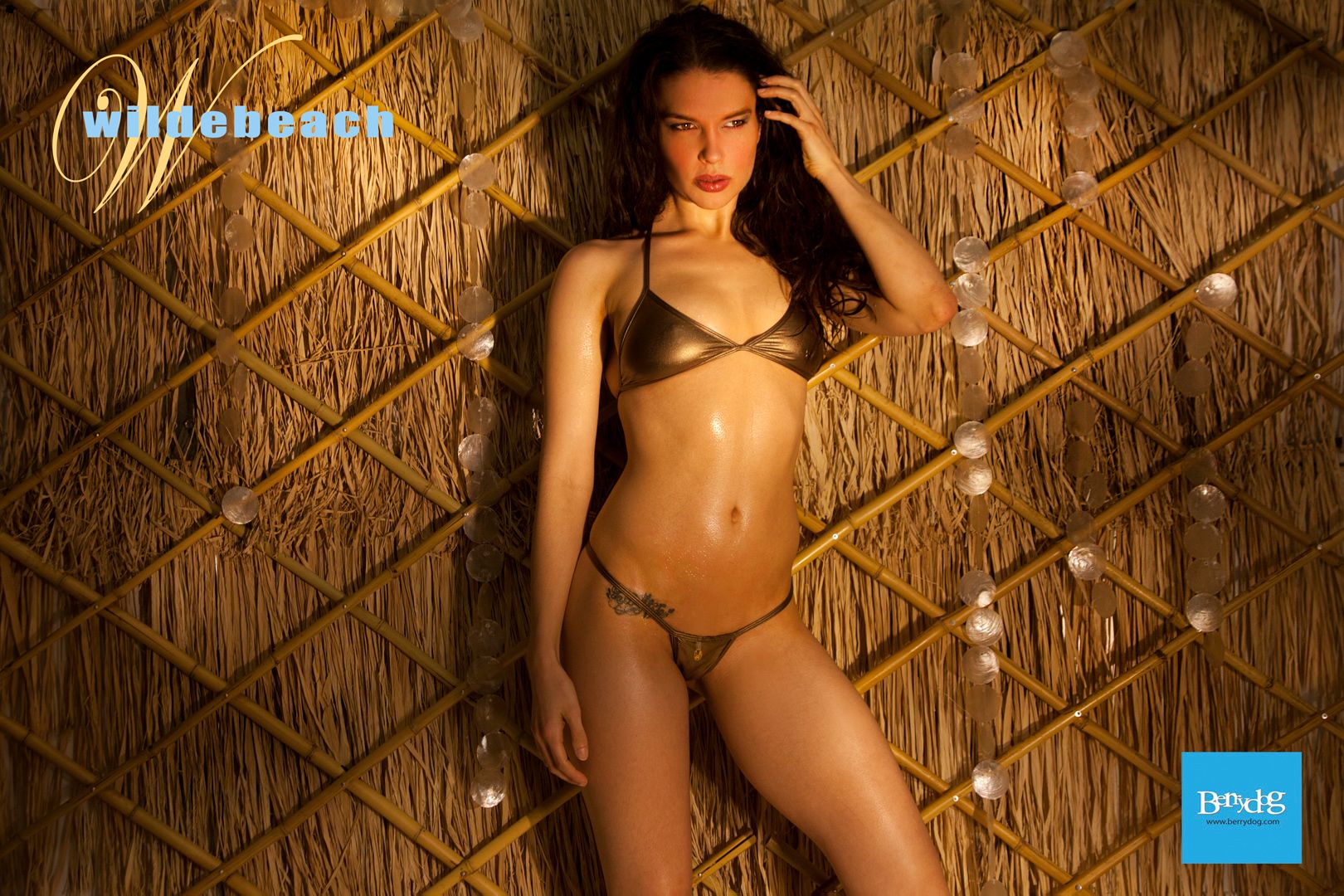 Mercedes enjoying the fire in the Cabana... photographed for BerryDog Bikinis and "WildeBeach."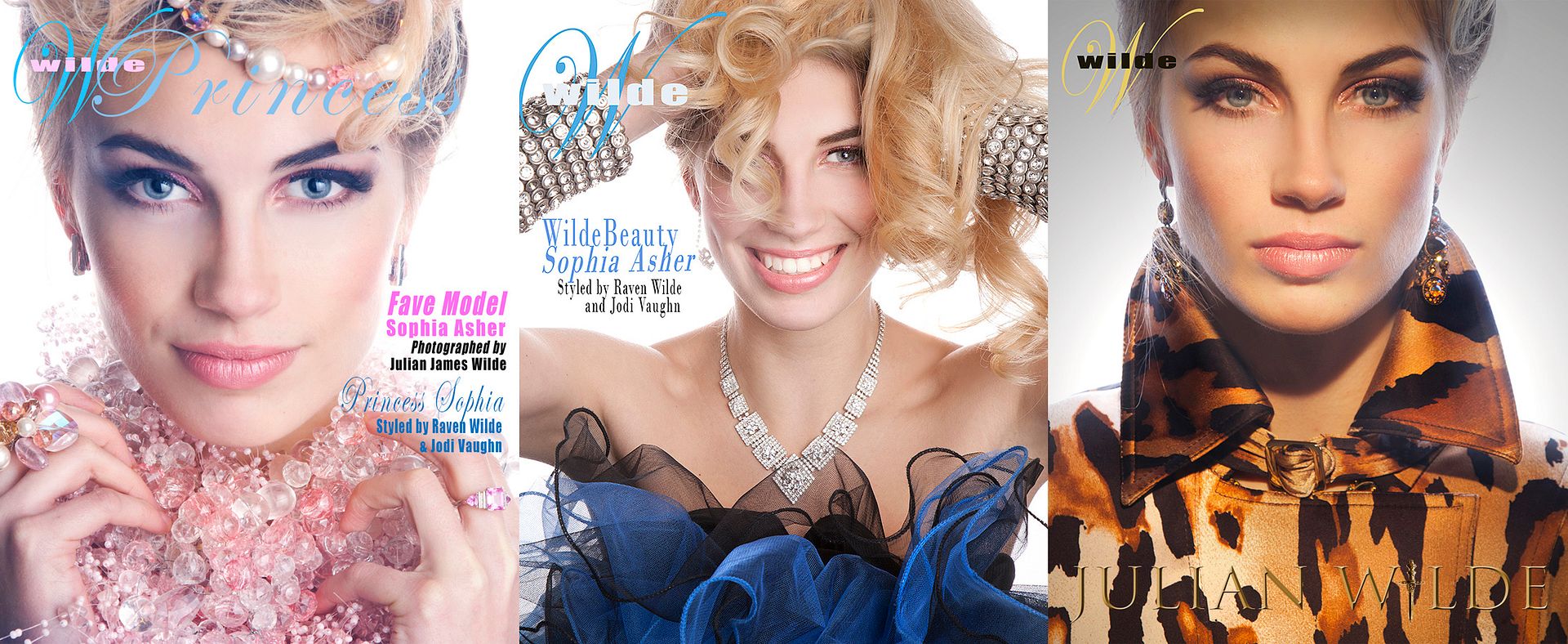 Sophie's 3 "Cover Shoots" for "WildeBeauty." All Styled, Lit and Shot inside an hour. ;-)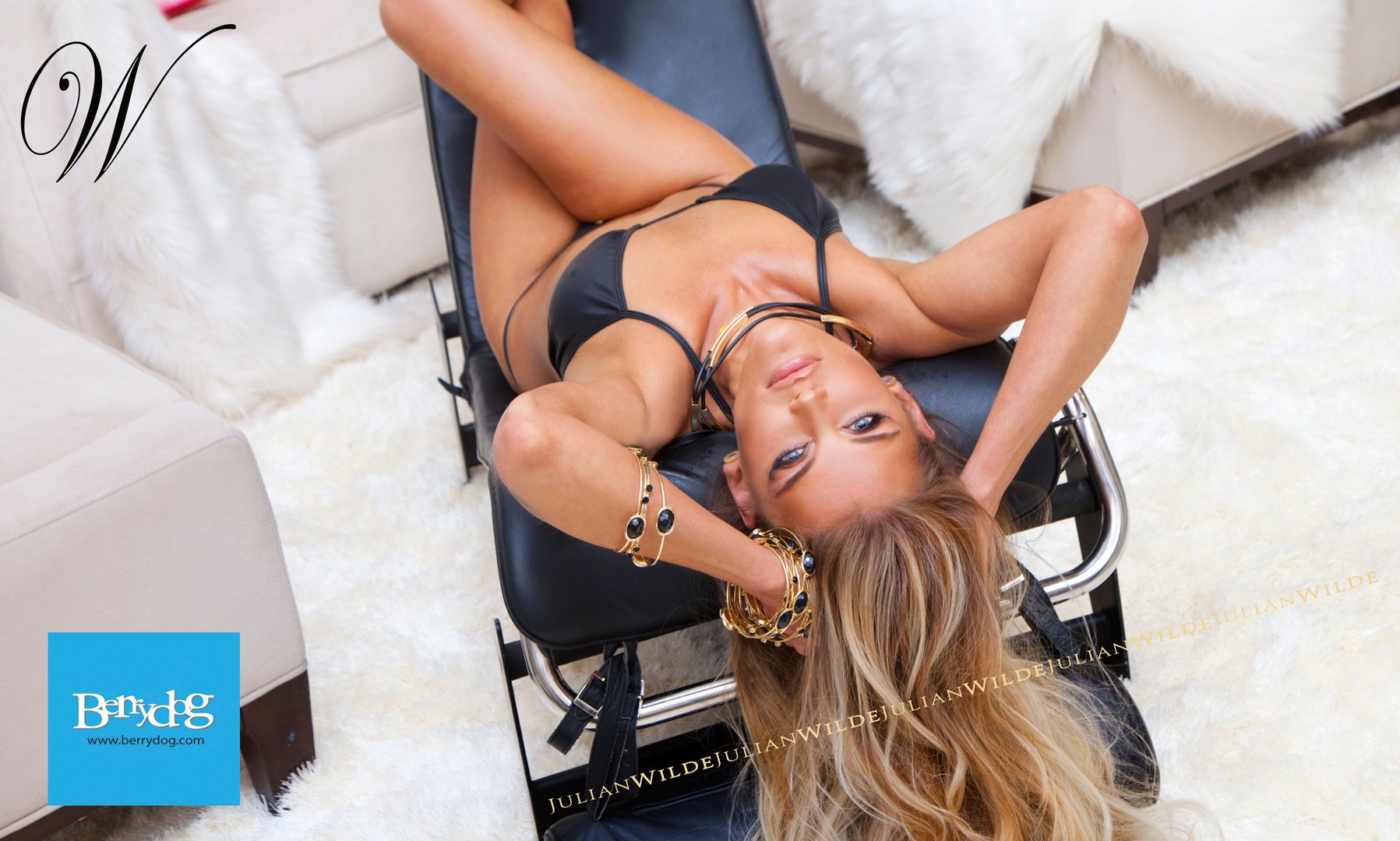 Staci Hart lounging in "ClubWilde!" from today's Lighting Workshop.
Laudan dreaming on the Grand Looking Glass... Photographed for "The Fine Art of Dreaming."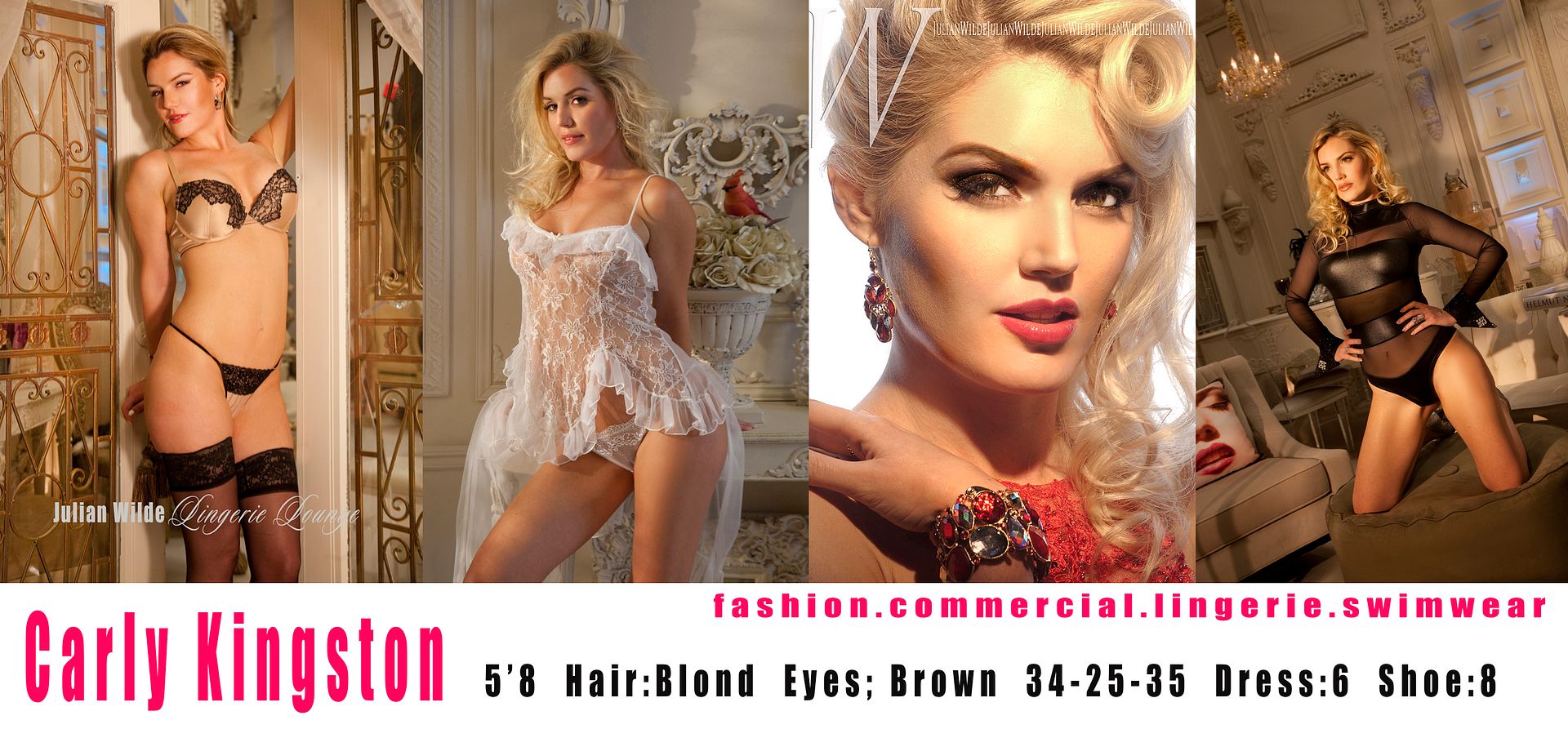 Fave Model/Actress Carly Kingston. Styled by Raven Wilde and Photographed at
Wildevision.
Dani May Red for Dawnamatrix Designs. Photographed at Wildevision Studio.
Fave Model Kristy Jessica relaxing at Wildevision and photographed for "La Femme."
Working with the sensational Staci Hart... Styled by Raven Wilde for "La Femme."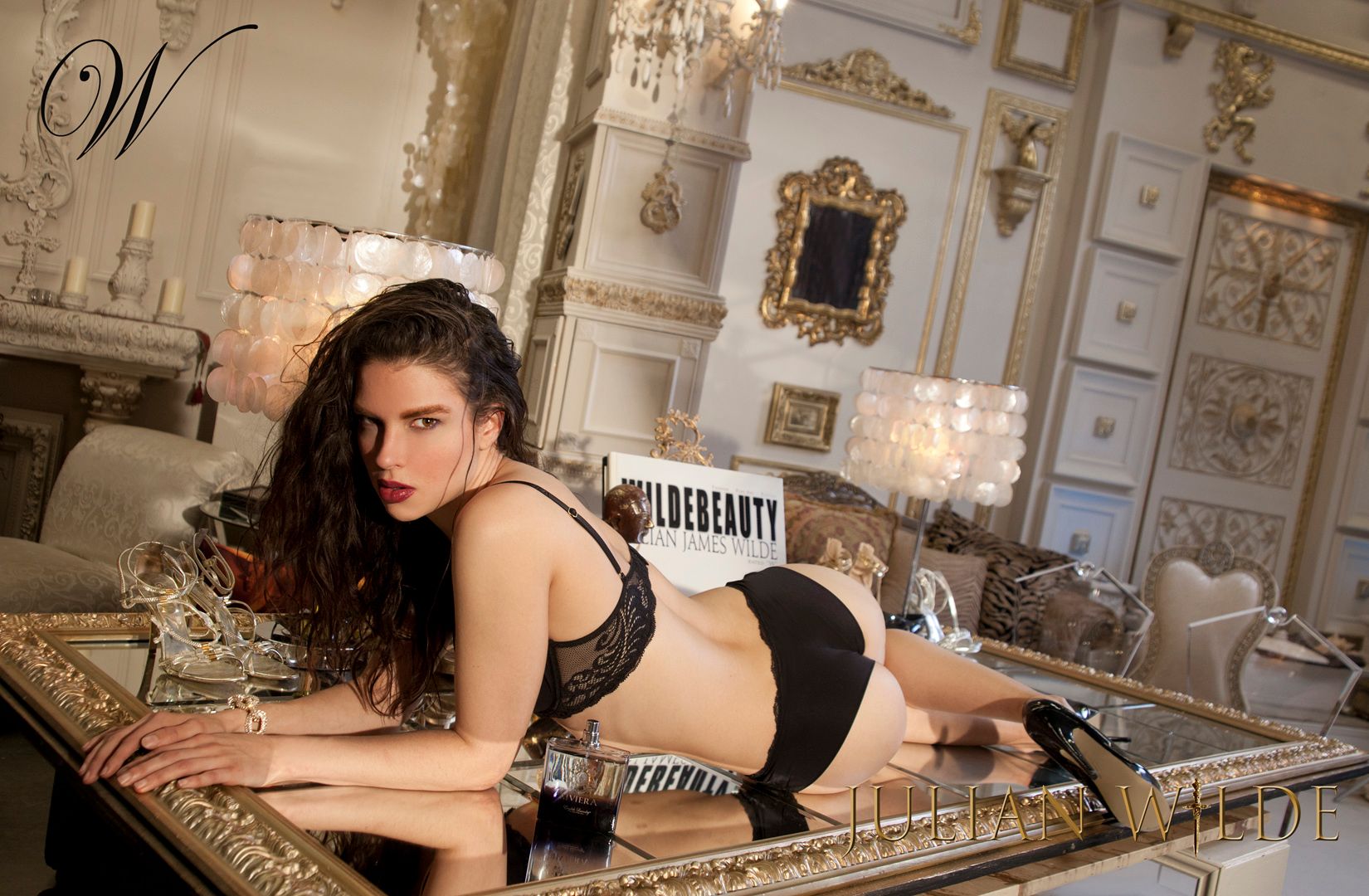 Our good friend Elisabetta getting comfortable on our new Layout Table... photographed for "La Femme."
This is part of The Shooting Salon at WildeVision. And as you can see from the photographs that follow...that it has many various and evocative personalities...
"Image Removed due to Image Rule Violation"
The very beuatiful Danielle Sherer photographed at Wildevision for "La Femme."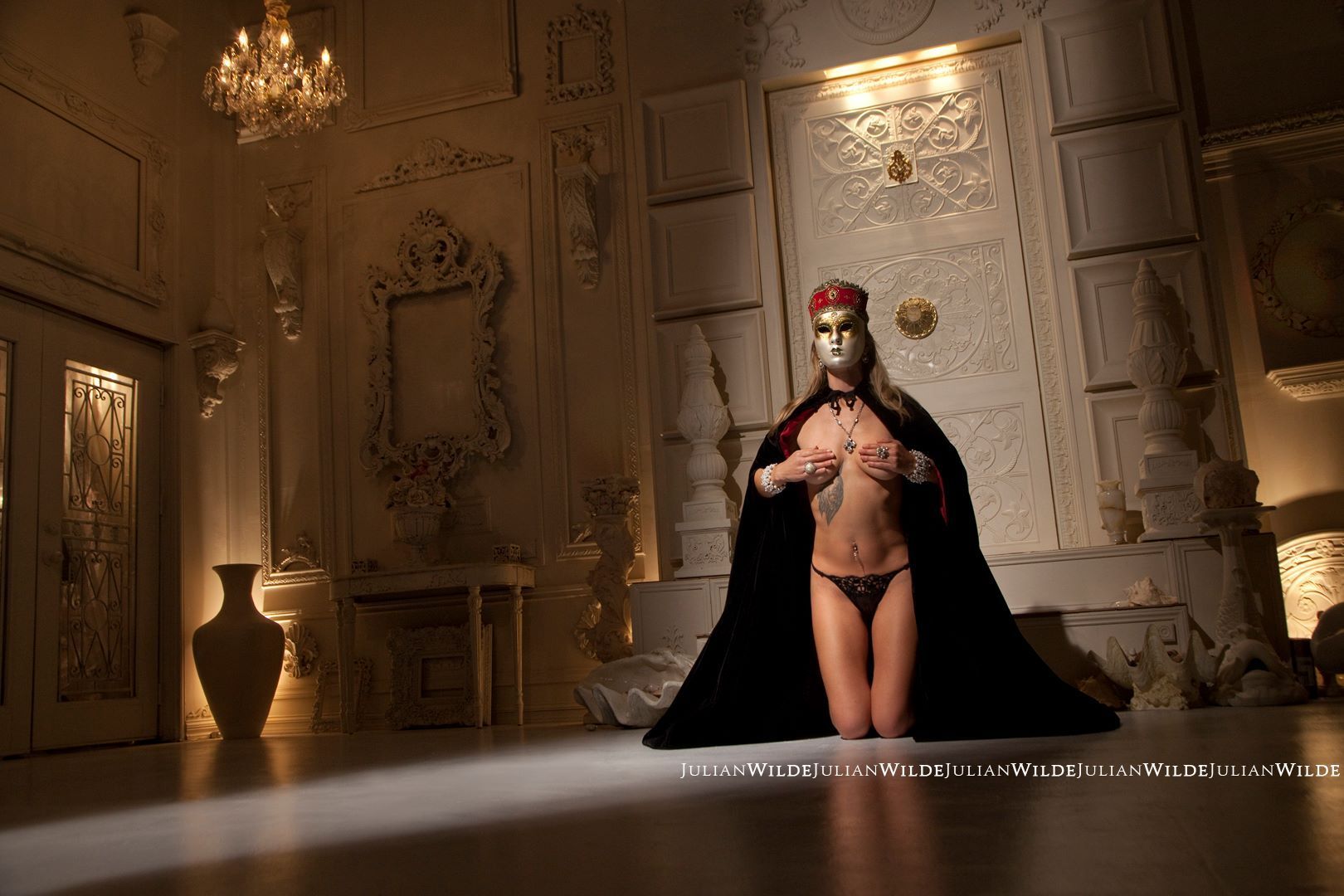 This is "KingsGate" at WildeVision Studio, aka The Dream Machine... one of our favorite "locations" within the space and one of many reasons most of our clients are happy to fly in. Here, with one of our fave international models, Anzhelika.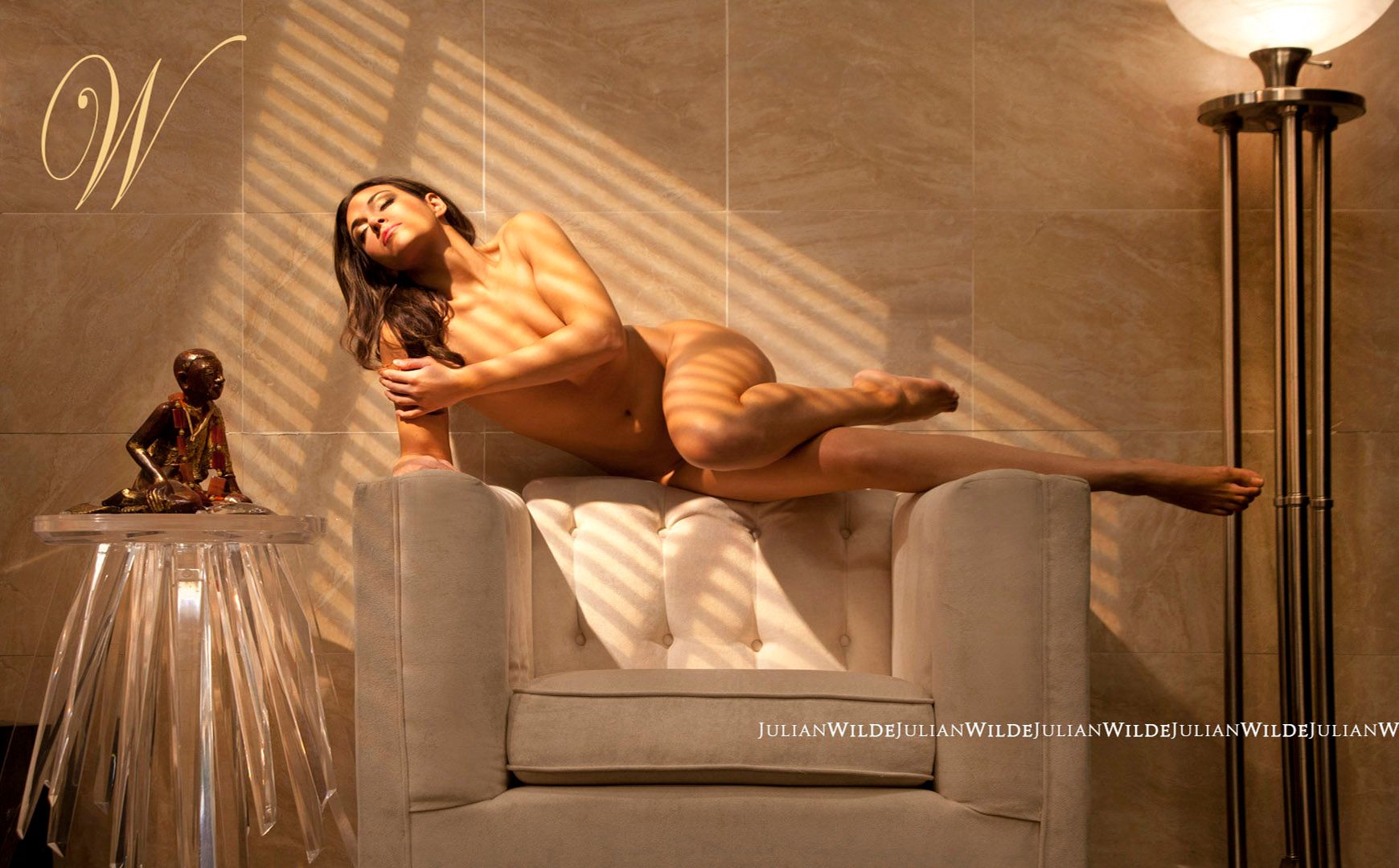 Emmanuelle relaxing in the sun... just one of the perks after a long day of Modeling...
Some commercial work for Marc Kristel Lingerie....
"Image Removed due to Image Rule Violation"
Camille... photographed in the Grand Salon at Wildevision Studio for my book on modern erotica "NightVision. Censored for ModelMayhem.
Fitness Model Jason...gets photographed for "RockStars!" and wins Pic of the Day!
Entertainer Patrick Lamb...photographed for this year's New Year's Eve Governor's Ball.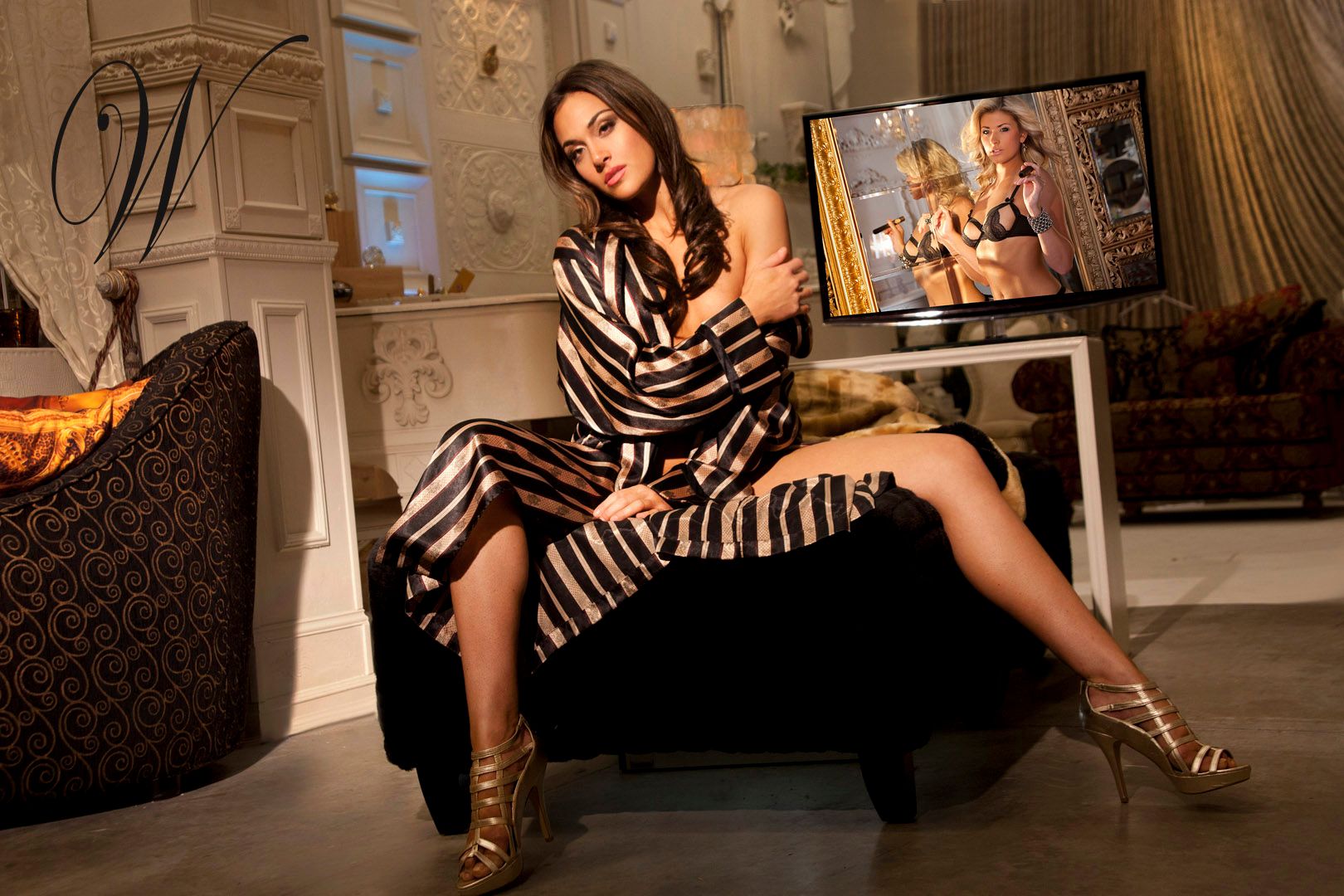 Just watching the late night, "Rated W" version of "La Femme."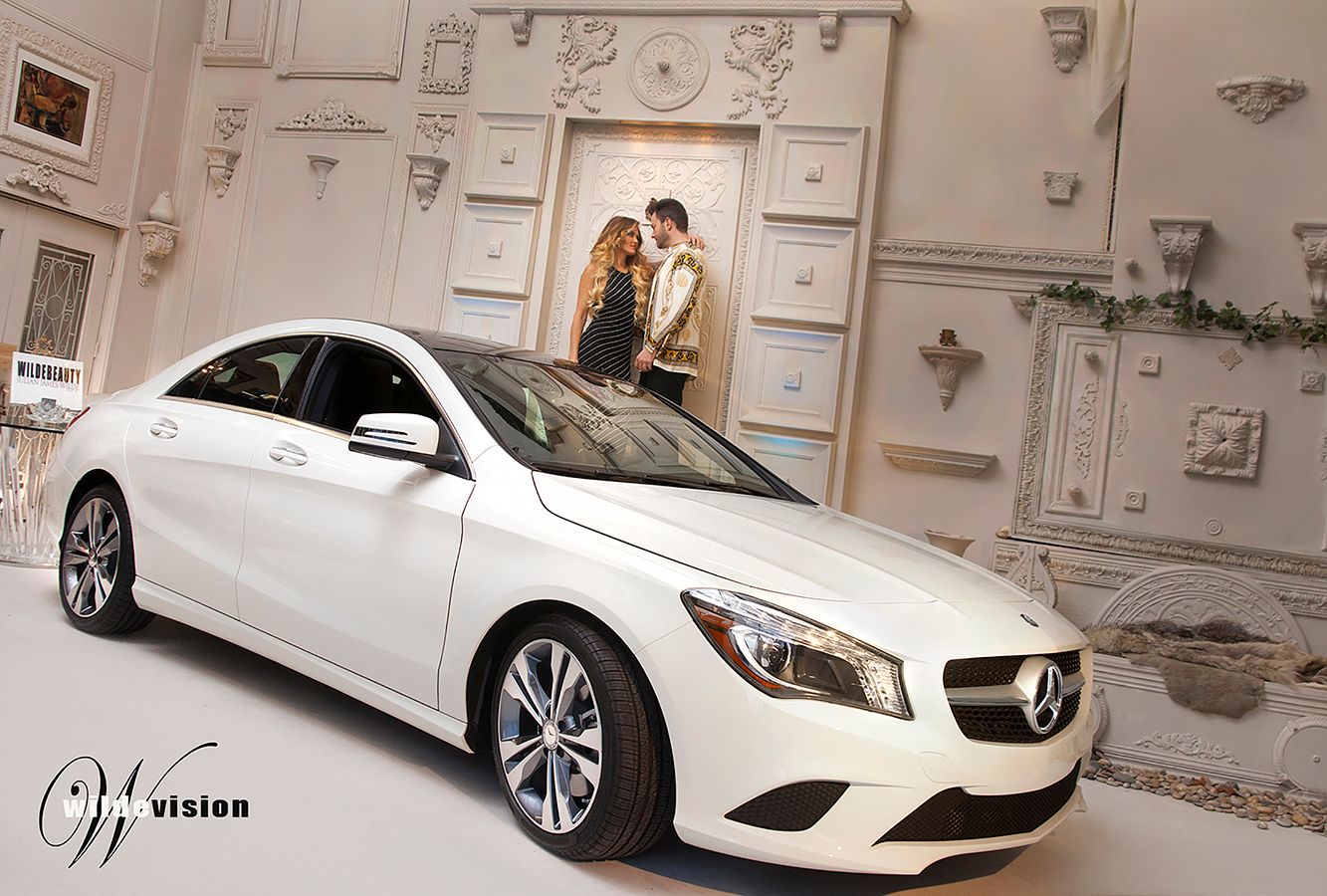 There are 2 things life that are never out of fashion: Beauty & Love. Here, the new beautiful CLA-Class Coupe from Mercedes-Benz... photographed at WildeVision Studio.
Staci, Ella and Laudan... Photographed for "WildeBeauty."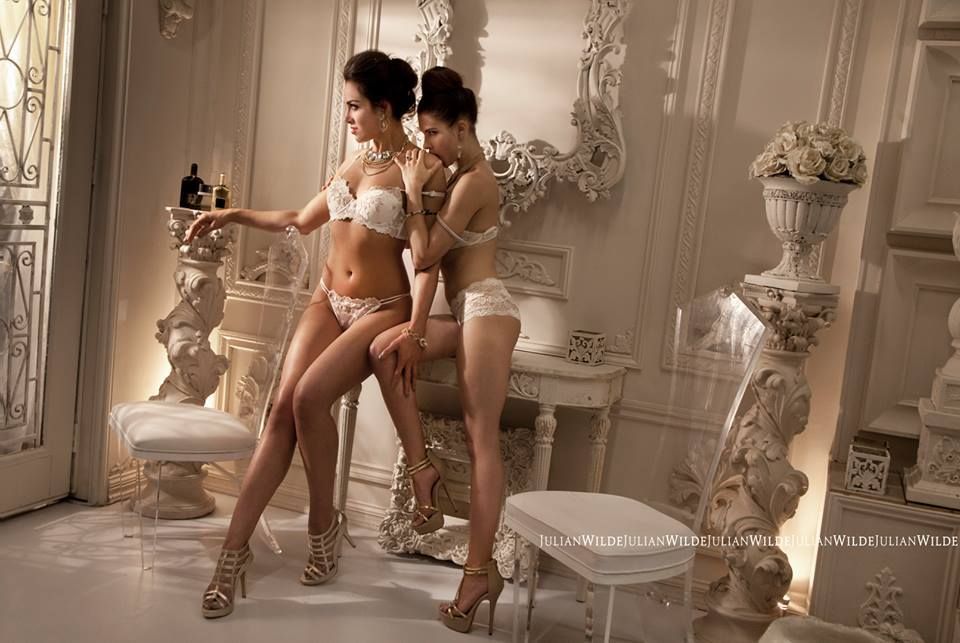 Fave Models Laudan and Lisa-Lisa, photographed at our last "Light & Lingerie" Workshop at Wildevision.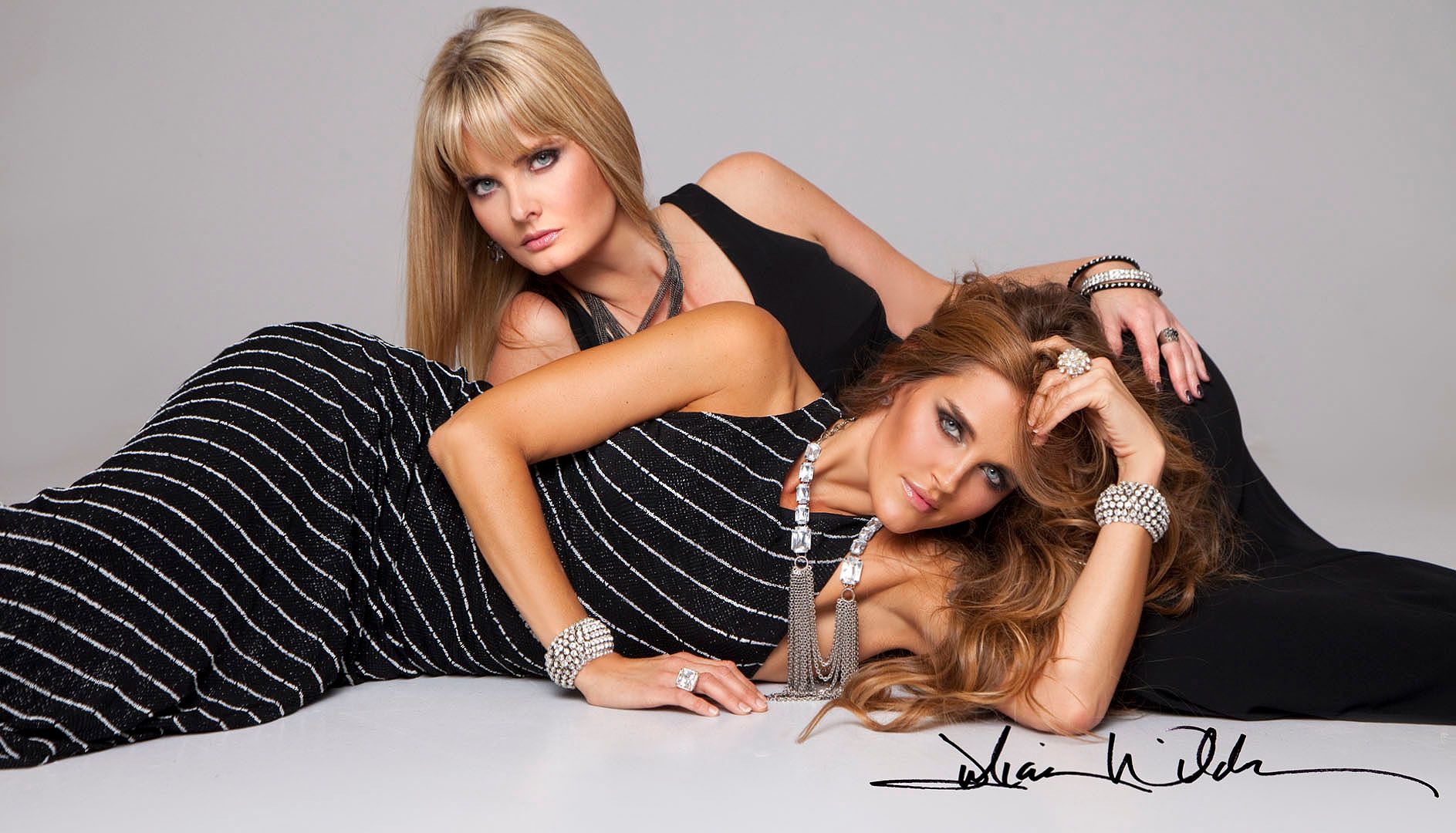 "Photography is not about being comfortable--for the model or the photographer." - Diane Arbus. I could not disagree more. I insist that you ARE comfortable, that you feel SAFE and Adored. Because that's when you'll do your best work. That work will be real, genuine and factual. Not a put-on. And that's what I'm looking for. -JULIAN.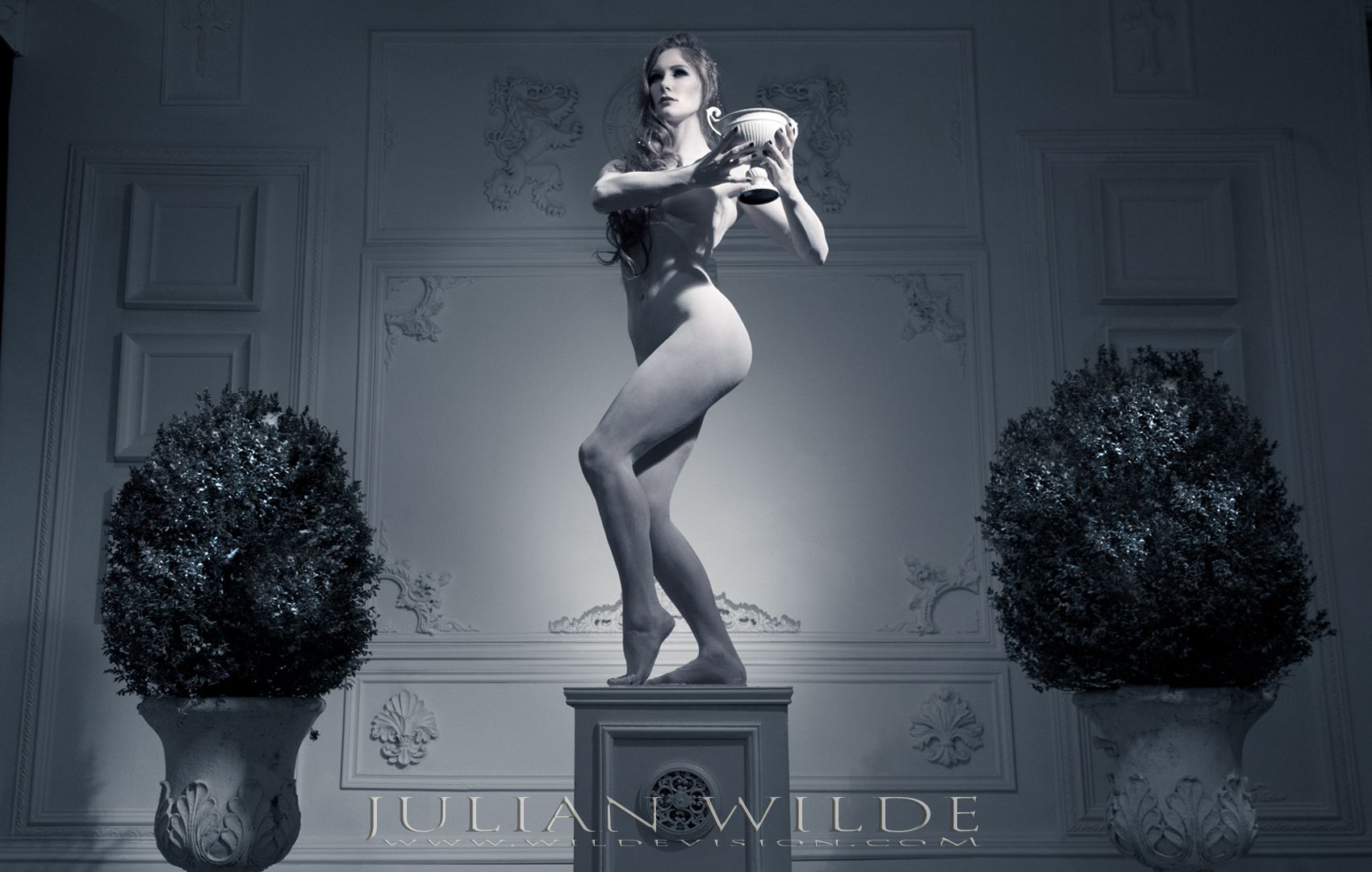 "Winter in the Garden of Good and Evil." Photographed at WideVision for The Fine Art of Fantasy.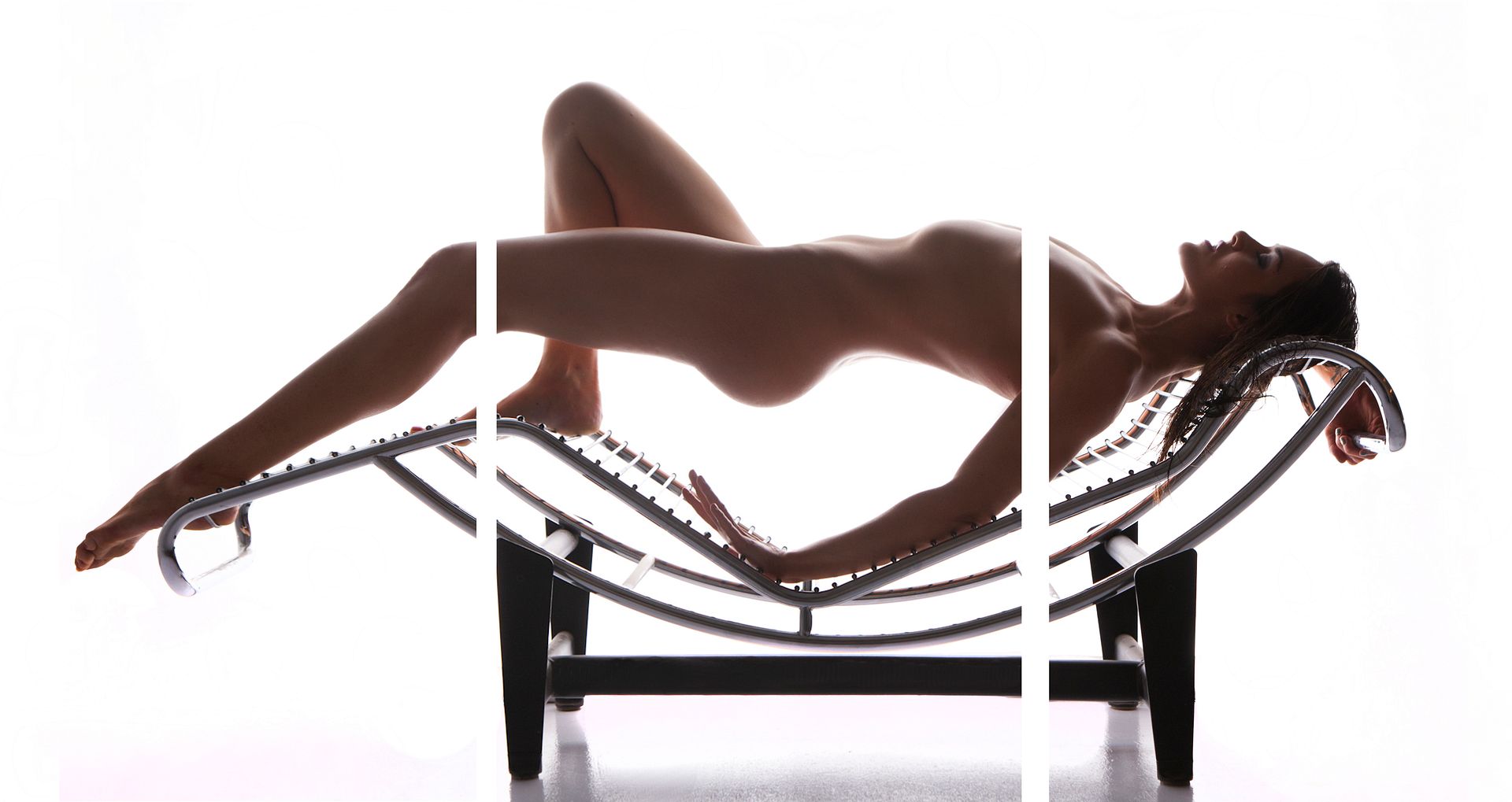 "Trisecting Beauty" was created at our last Fine Art Workshop at WildeVision.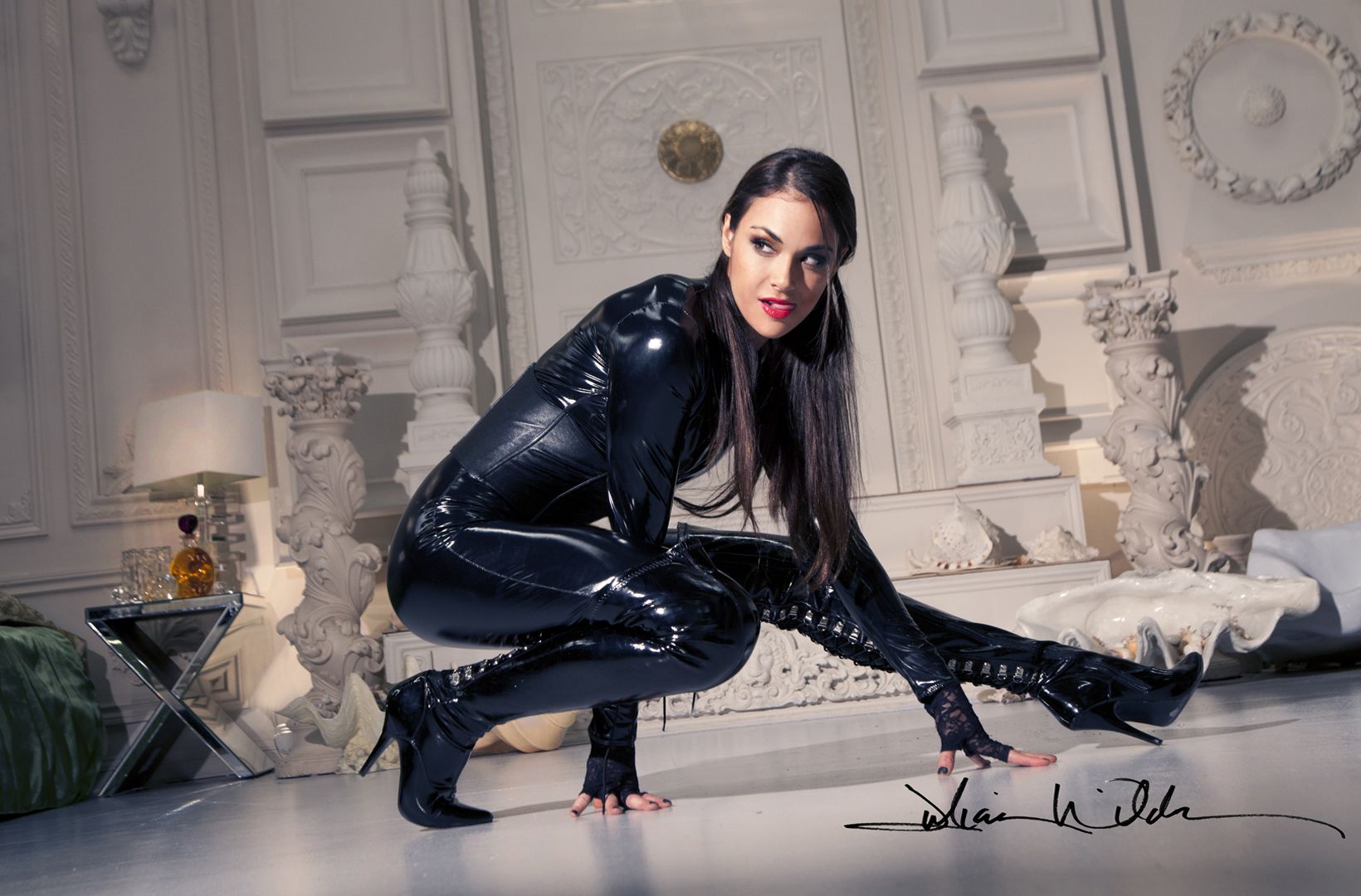 NEWS FLASH: "Catwoman breaks into Wayne Manor!" With Fave Kitty Cat Laudan Taiby for Wildevision.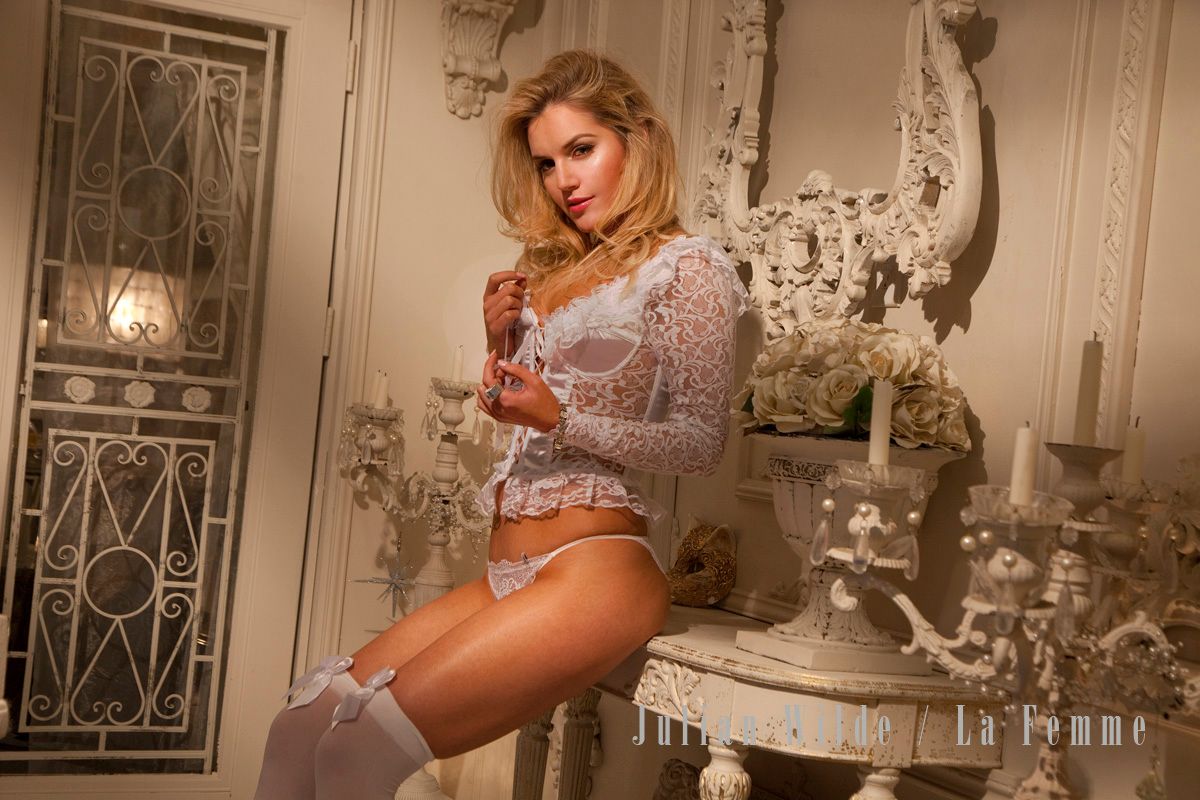 Carly Kingston gets all lacy during a recent Fashion Editorial workshop at WildeVision.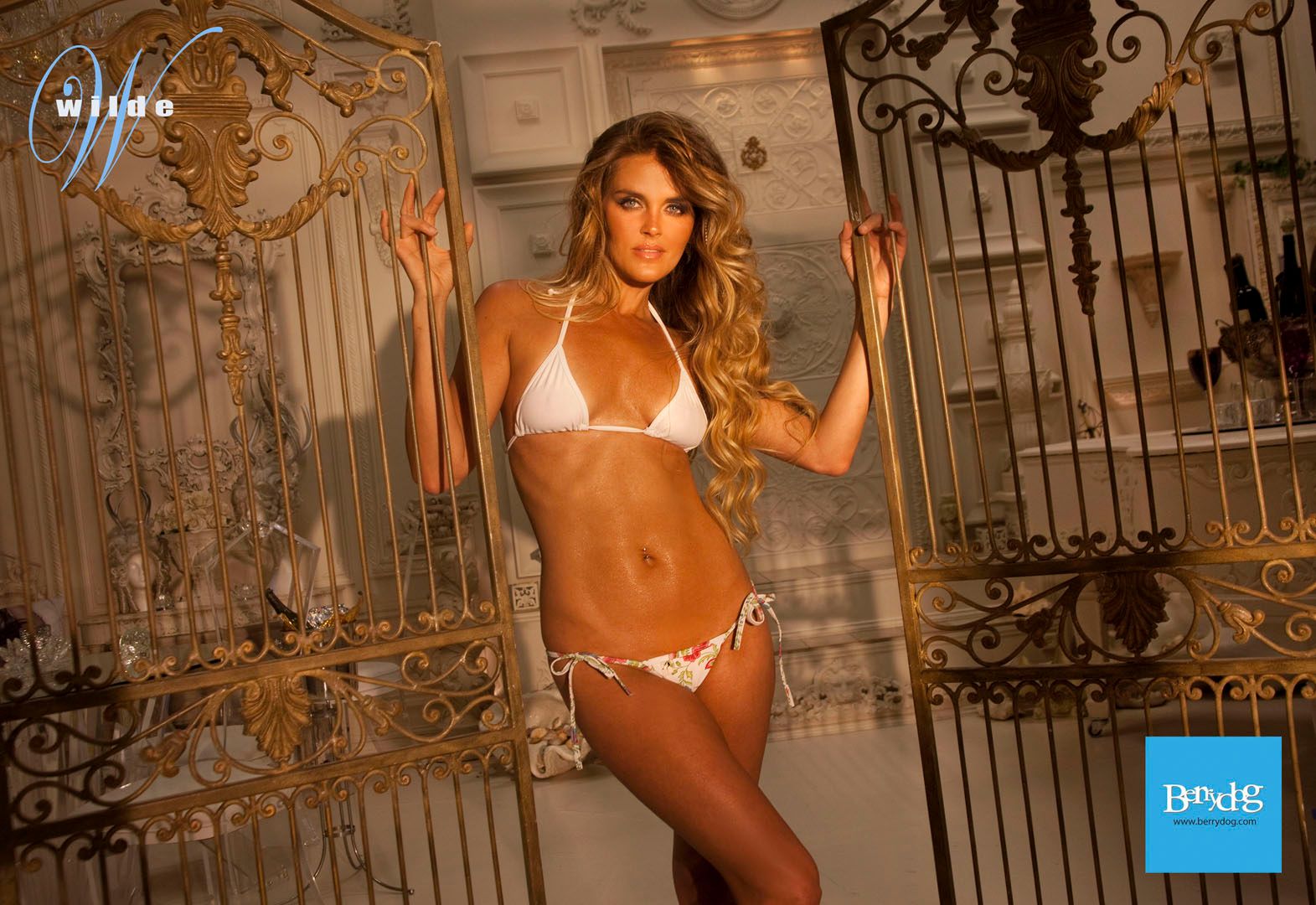 The very beautiful Staci Hart is photographed at the Gates to Wildevision for swimwear client BerryDog Brazilian Bikinis.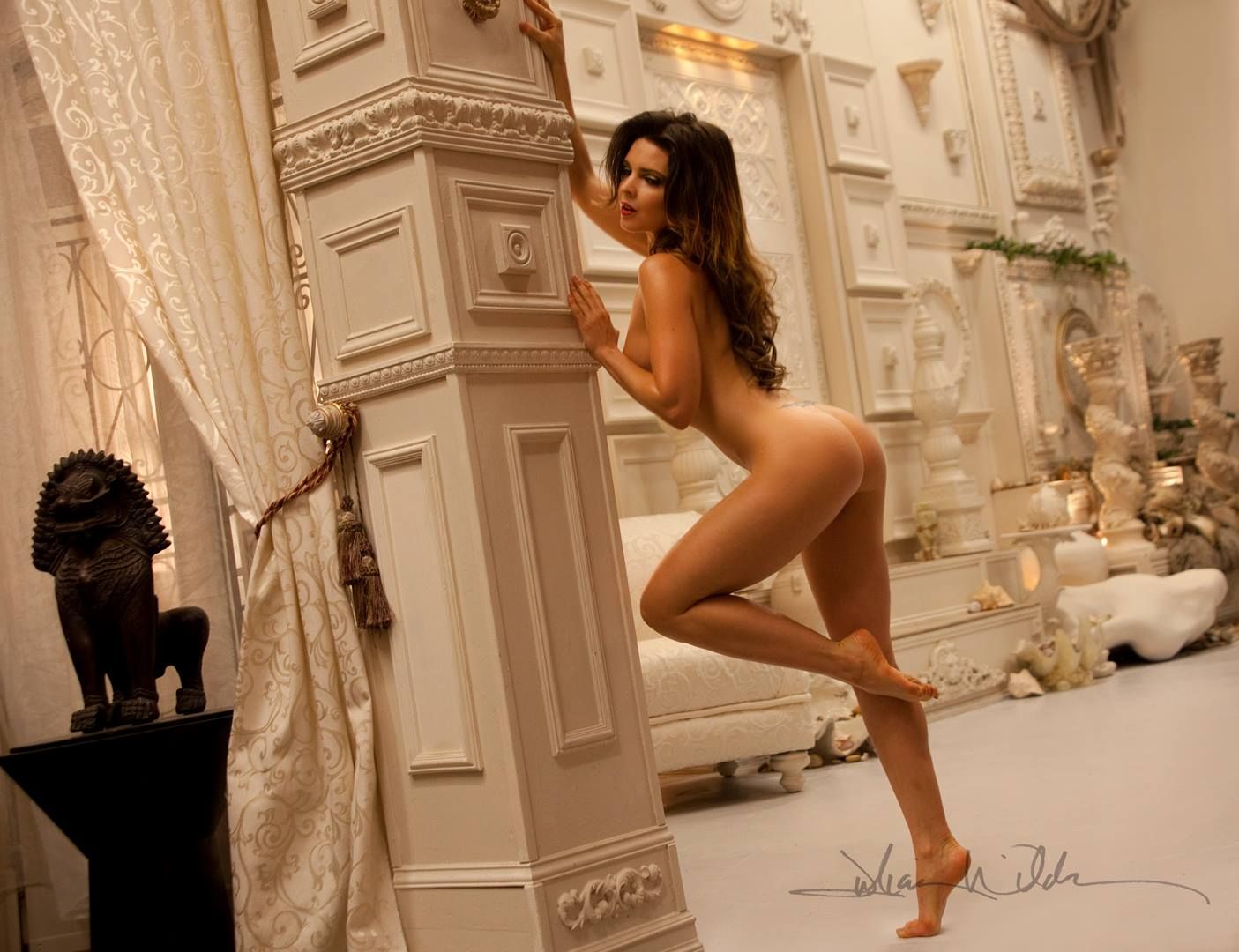 Fave Touring Model Kristy Jessica getting comfortable in the Grand Salon at Wildevision.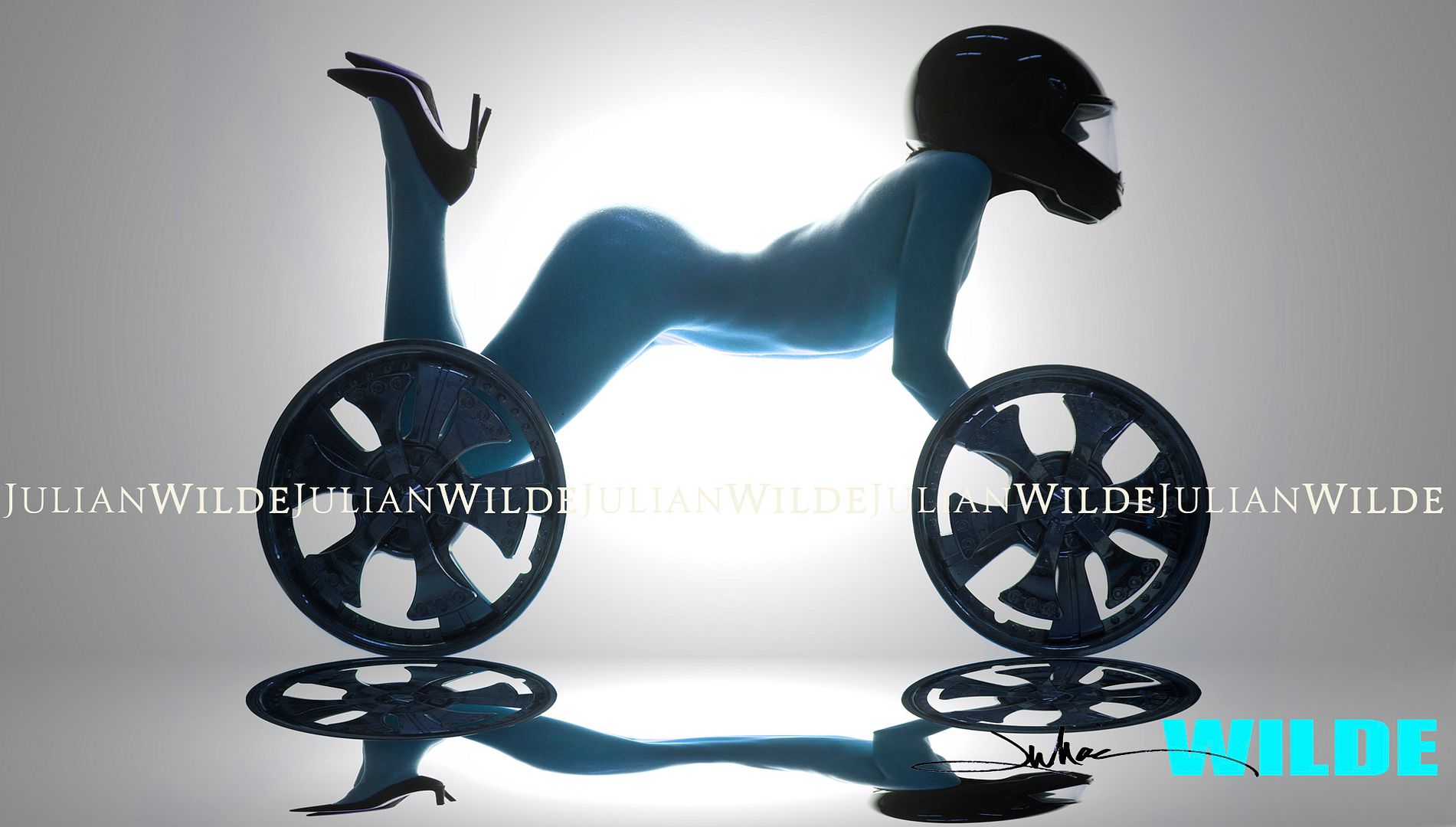 The All New Colton Super Sport in electric Blue with ALL the option upgrades! Photographed for "La Femme."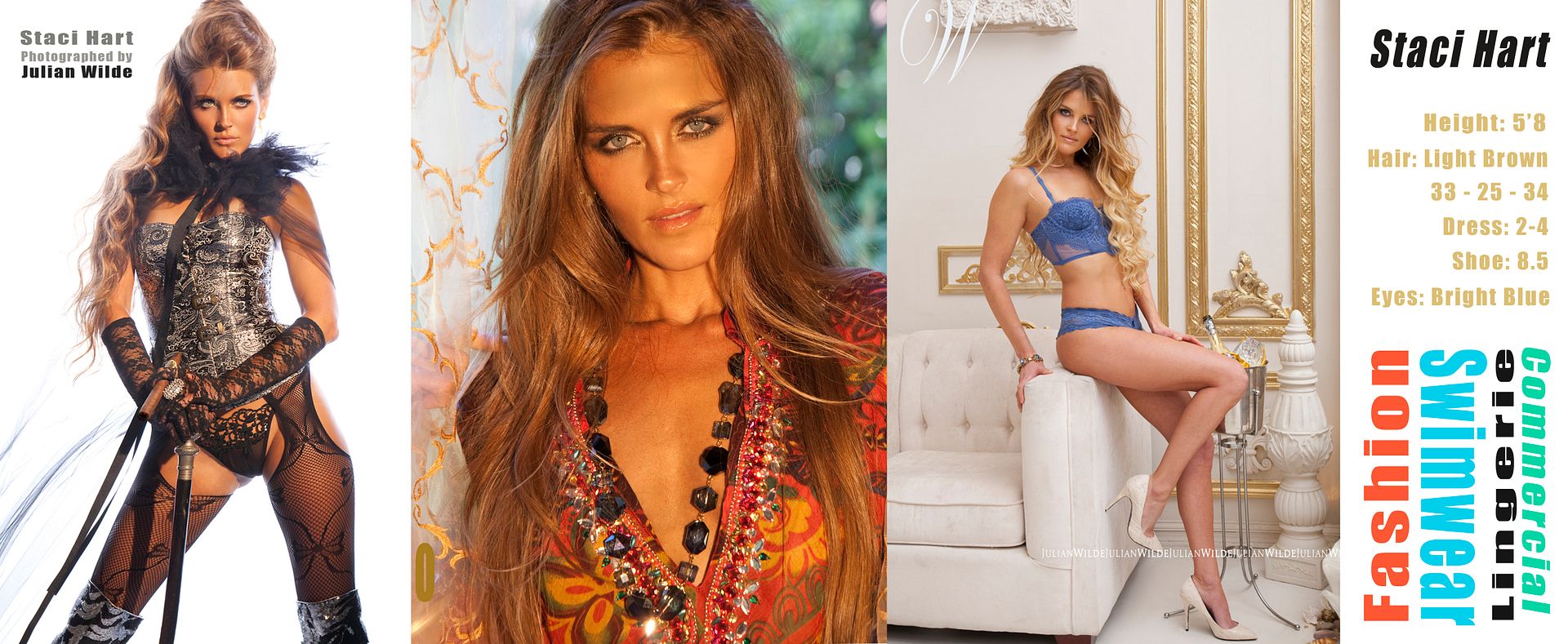 Just shot Fave Model Staci Hart's CARD... Beautiful!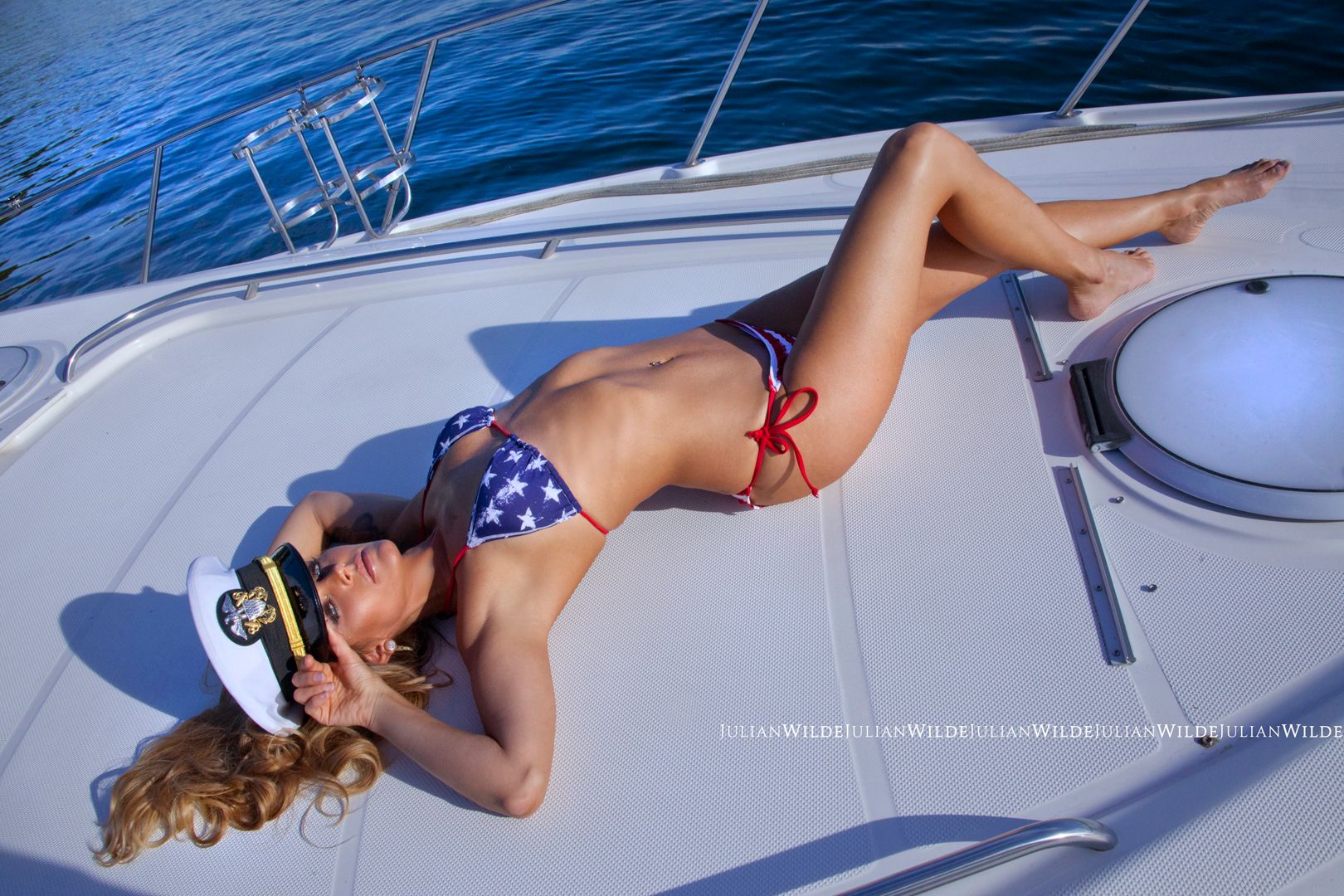 Aboard the motor yacht Lady Verco, catching a few rays for the Collector's Edition of "WildeBeach."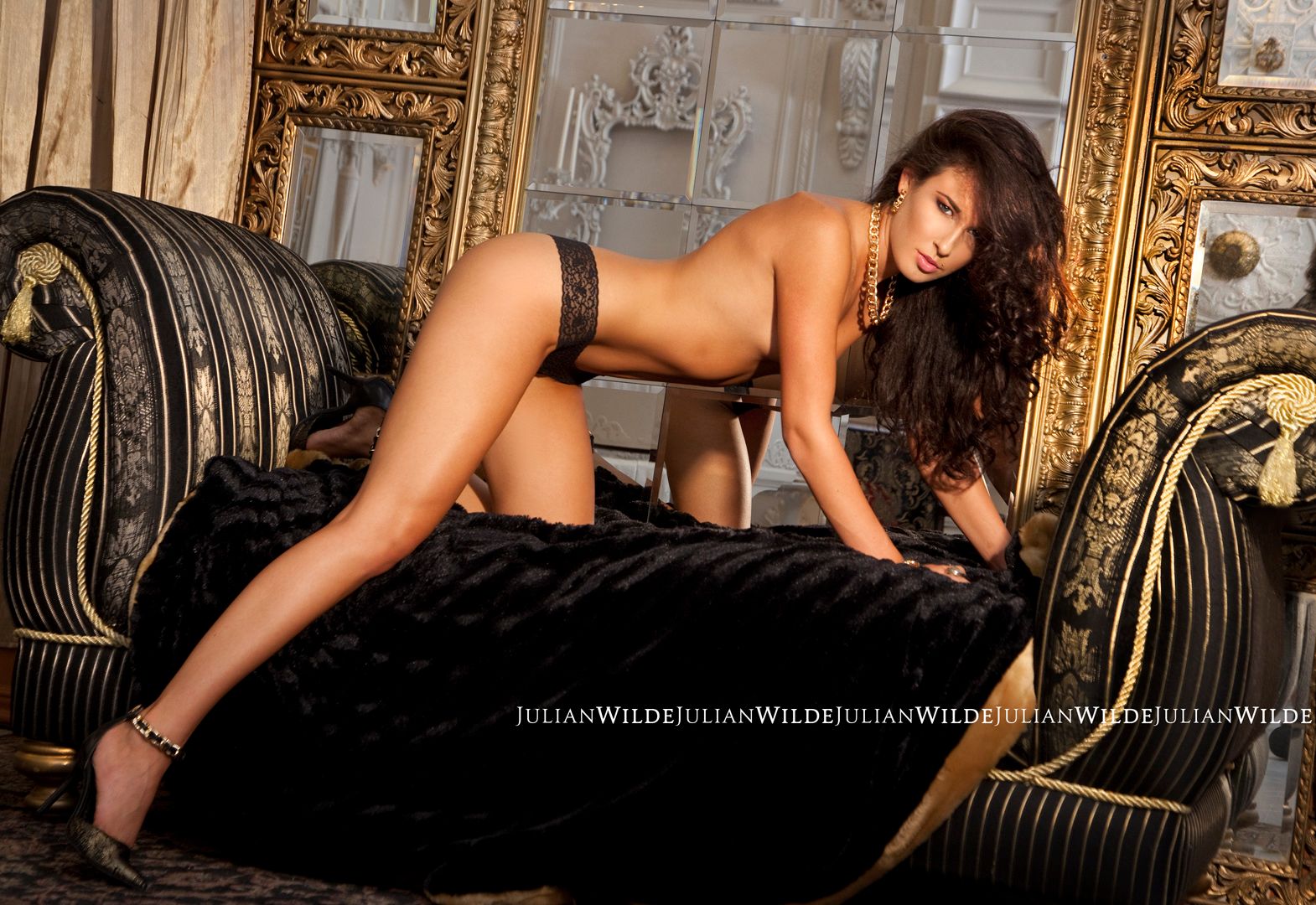 The very beautiful Tessa... photographed at Wildevision for my newest download "WildeAngels."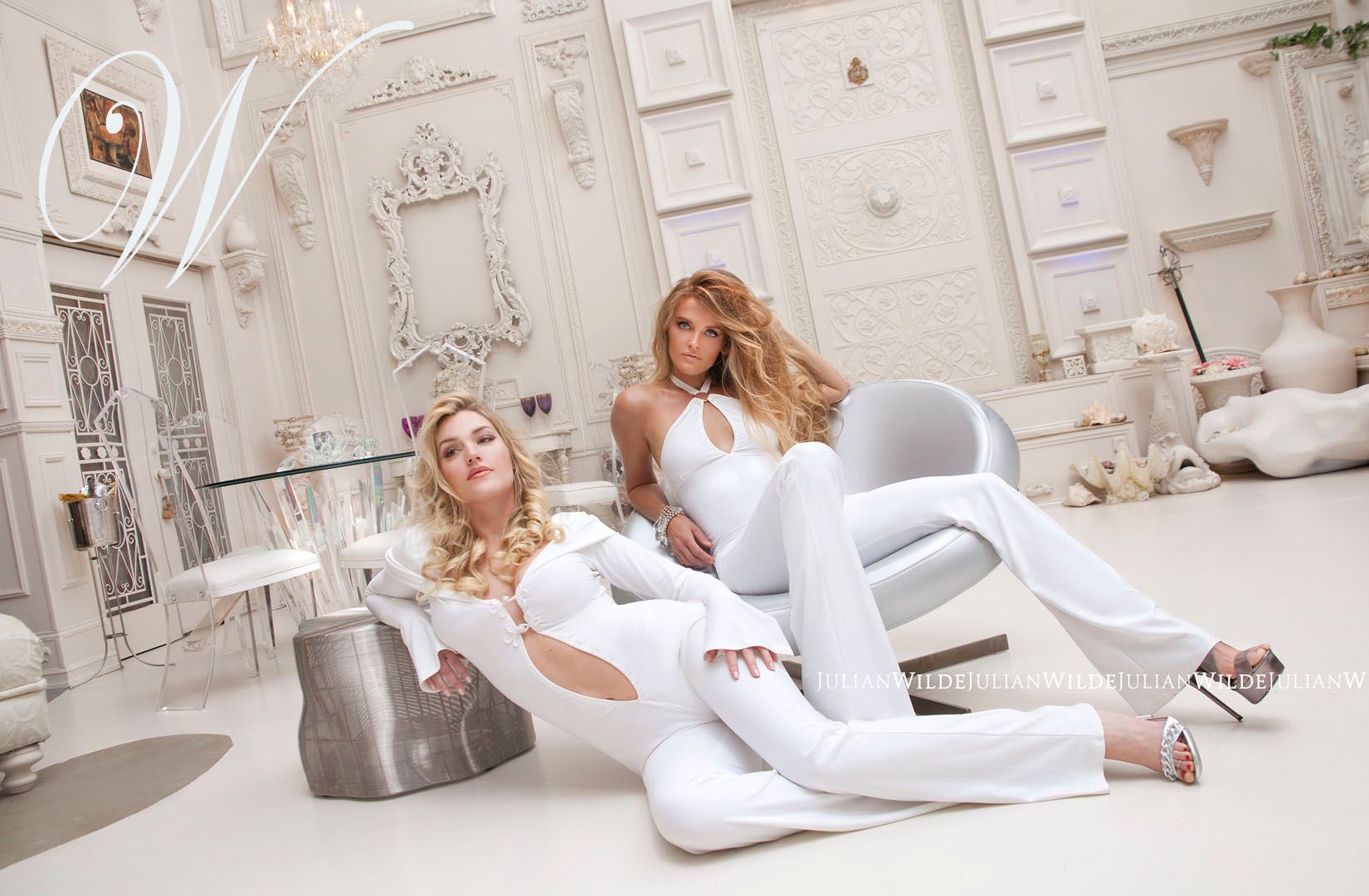 The ultra mod "Splash Sisters" Carly Kingston and Staci Hart for The House of Dubard....photographed at WildeVision.
Some of WildeVision's "Cover Girls." Created for "La Femme."
Kimberly working the Super Bright and photographed for "RockStars!"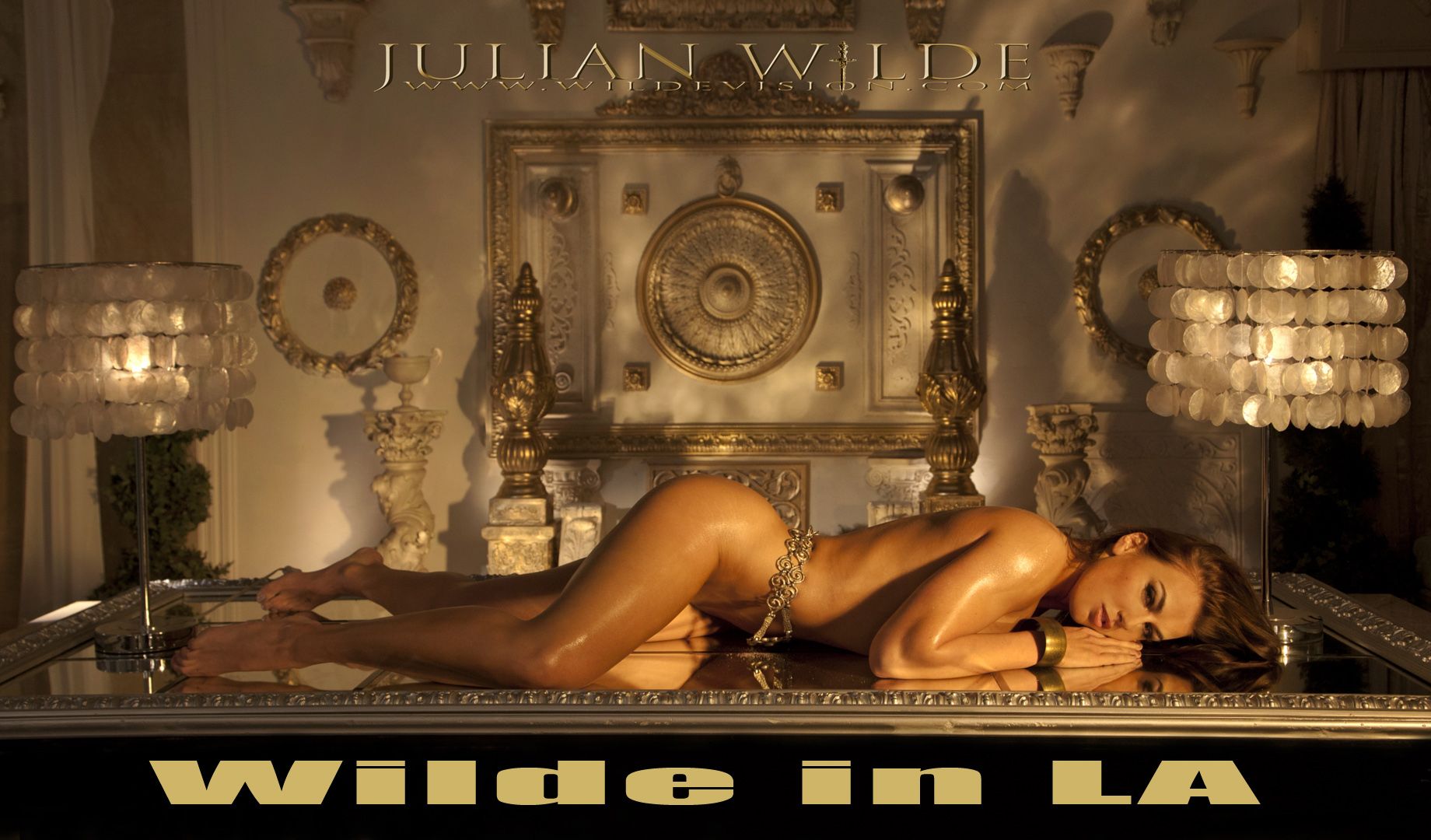 1.) "The Beauty of Rome" with Fave Wilde Model Madeleine Moore, photographed for my newest book "NightVision."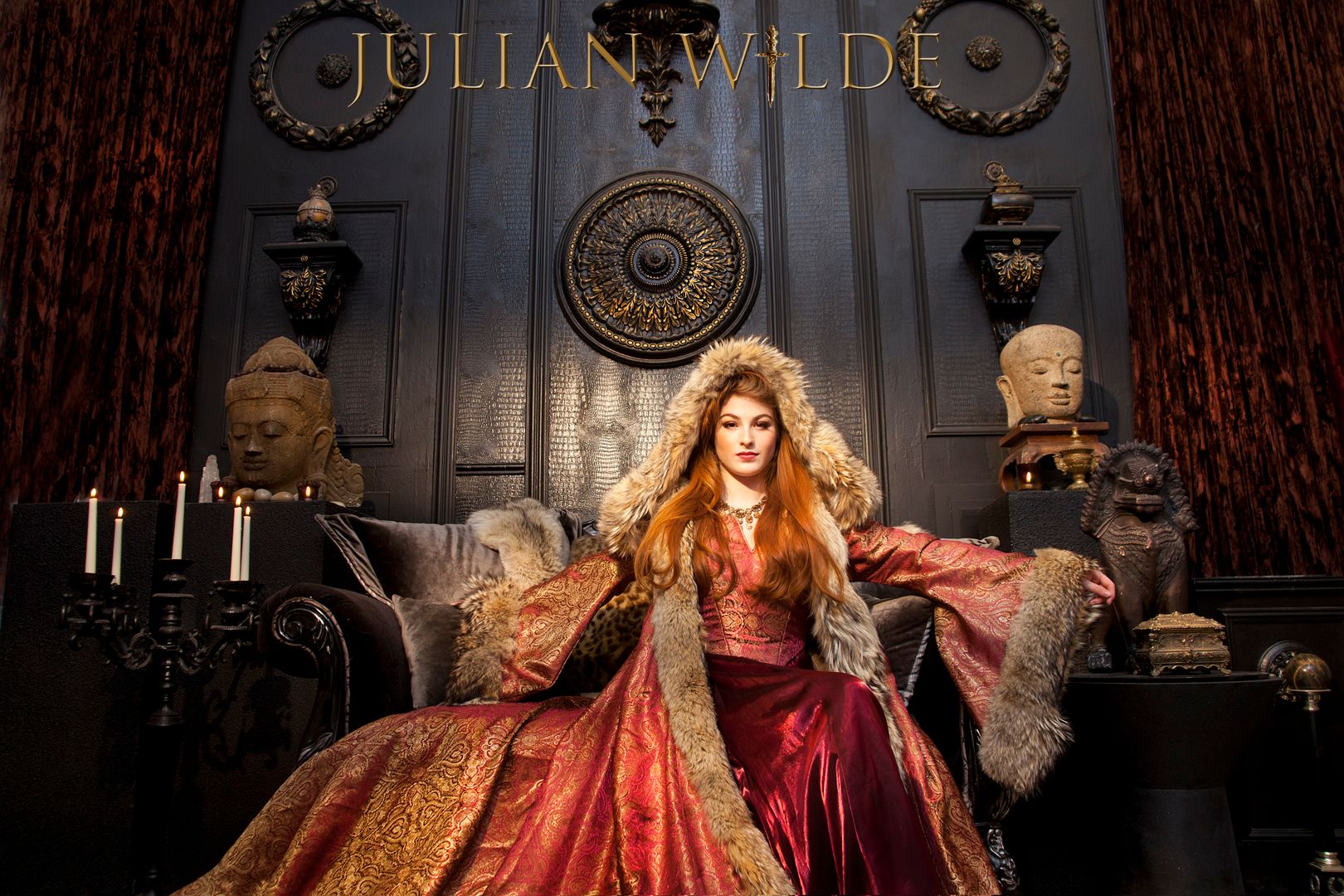 "Her Majesty Queen Emilee," photographed at Castle Wilde for "The Fine Art of Dreaming."
3.) Naturally drawn to Light & Beauty, the People of Zentai gather for "The Adoration of The Beautiful One." Photographed for my book "Erotic City."
4.) The beautiful Carly Kingston... in Versace and looking ravishingly Rock Star for "Diamond Girls."
5.) MacKenzie plays the Grand at WildeVision.... photographed for "WildeBeauty."
"Moonbather" with international beauty Laudan. Photographed for "NightVision."
6.) I'M A PROFESSIONAL PHOTOGRAPHER. This is exactly what I do for a living. I'm not shooting in my garage or my living room or on the street. I shoot in a Super Studio--a Multi-Studio with unlimited photo opps. And I'm happy to share this amazing space and offer my services and those of my talented Stylist/wife to those willing to pay for what we do. I do not have time to TF or answer questions regarding TF. -JULIAN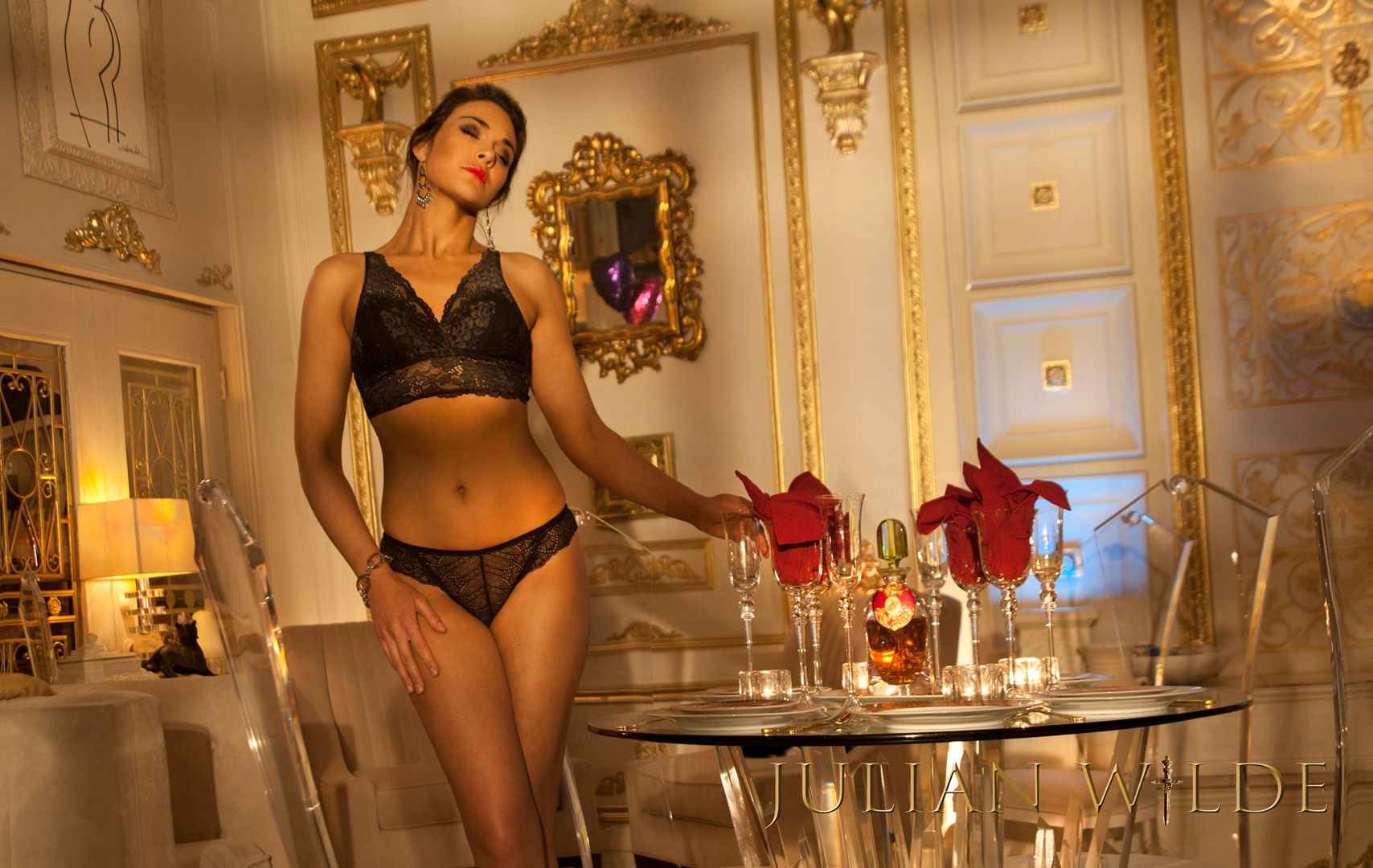 "Dinner with Laudan" photographed for Peach Lingerie and included in "La Femme."
Resubmit Book Covers from Wildevision...
7.) "It's What We Do." Collector Editions, large fine art coffee table style photography books. Hard Cover size: 11 x 15. 100 hi-gloss photographic quality images of some of the world's most beautiful men and women, "captured beautifully by a modern master of beauty, fantasy and glamour." Each complete with a Foreword and an Exclusive Interview by Julian James Wilde. Described by one photographer/collector: "Wilde's books are some of the most beautiful I have ever seen." Always available to preview and purchase on our official website:
http://www.wildevisionentertainment.com
.
8.) The insanely sexy Tiffany in the Gallery Salon at WildeVision.... Photographed for "NightVision."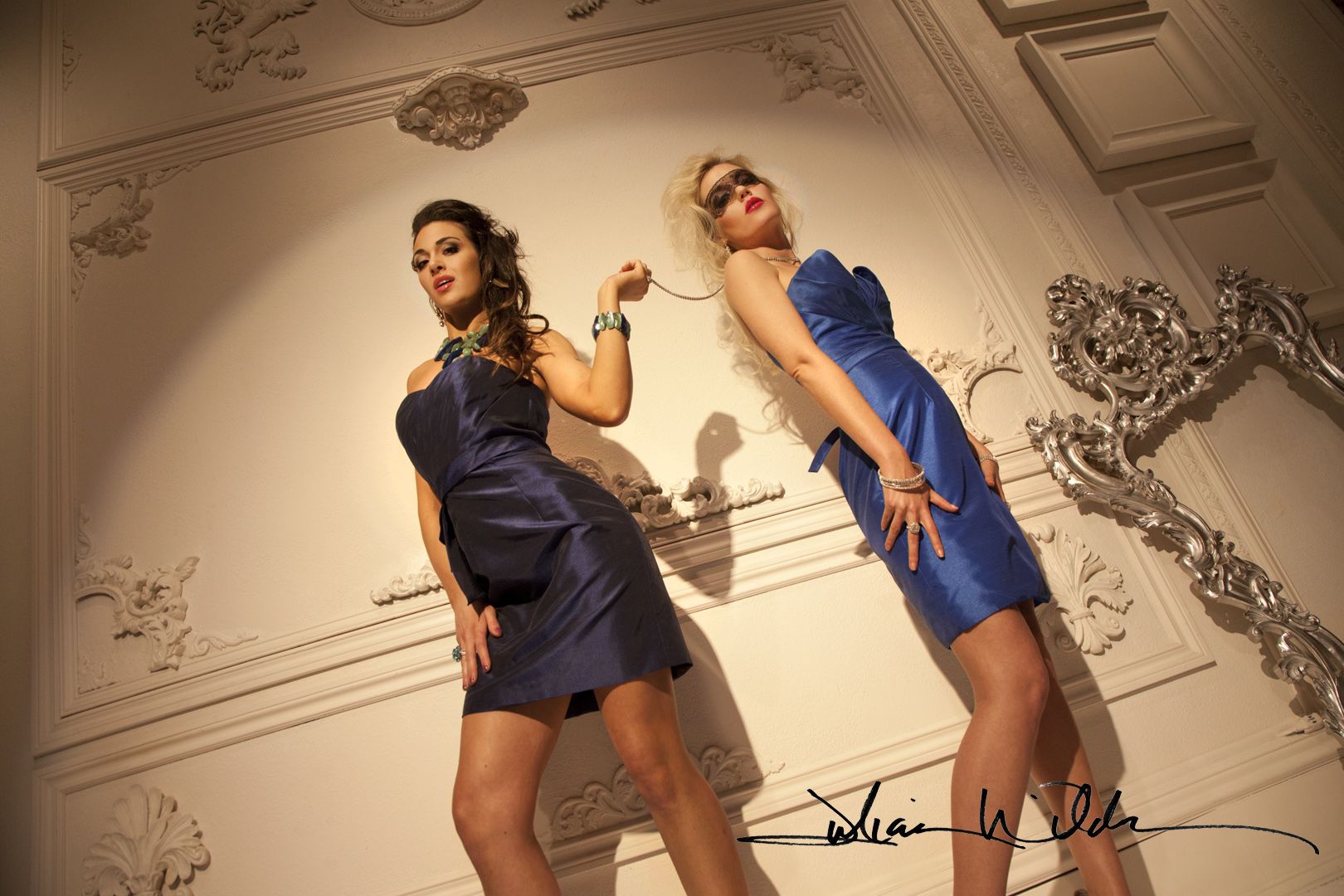 9.) During a recent workshop at WildeVision...Fave Model Dani Elizabeth takes her girl Carly Kingston for a Walk on the Wilde Side at WildeVision Studios.
10.) Lady Christina plays with her jewels and ends up being The Album Cover for "Pearl," by Italy's Federico Romano.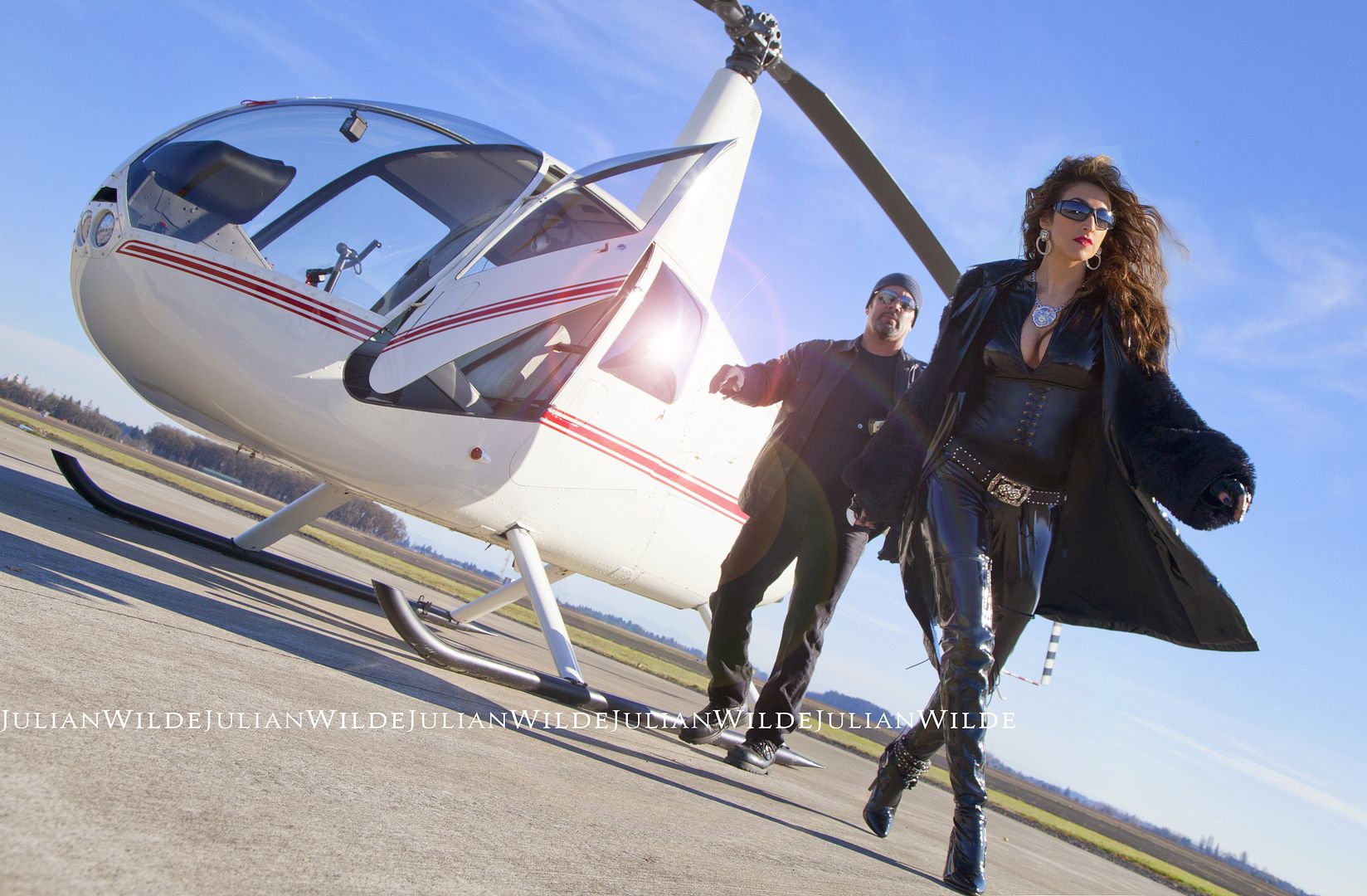 11.) Latina Pop Star Sheena G hits the tarmac in full stride for her latest music video Directed by moi for 20Four7 Music.
12.) Laudan relaxes in the shade during yesterday's Editorial Lighting Workshop at the Studio.
13.) The Salon is where it all starts. "The Wall" is a panorama of photo opps with multiple personalities and it's changing and re-inventing itself all the time.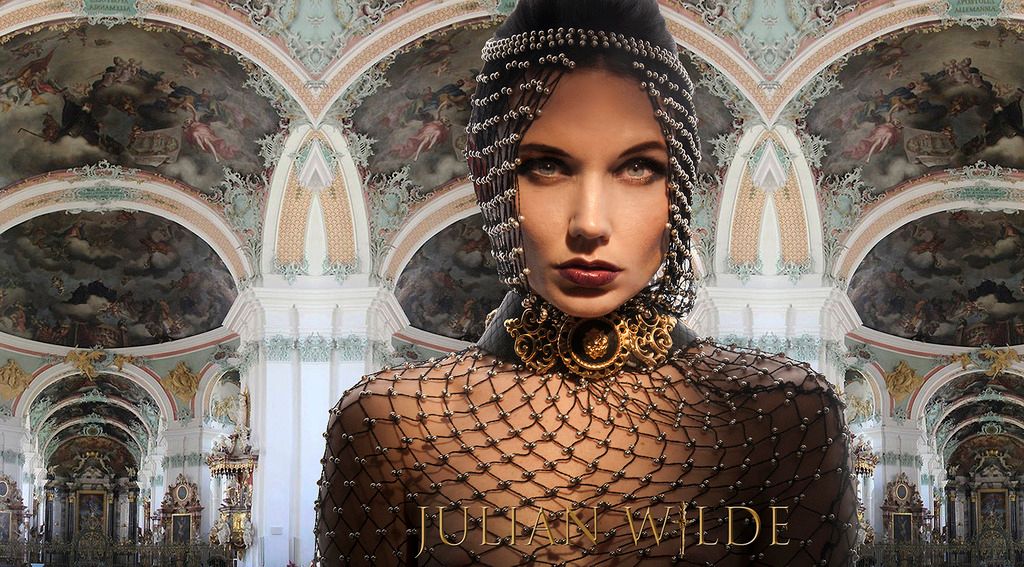 14.) "Saint Emmauelle before the Spanish Inquisition," photographed for "The Fine Art of Dreaming."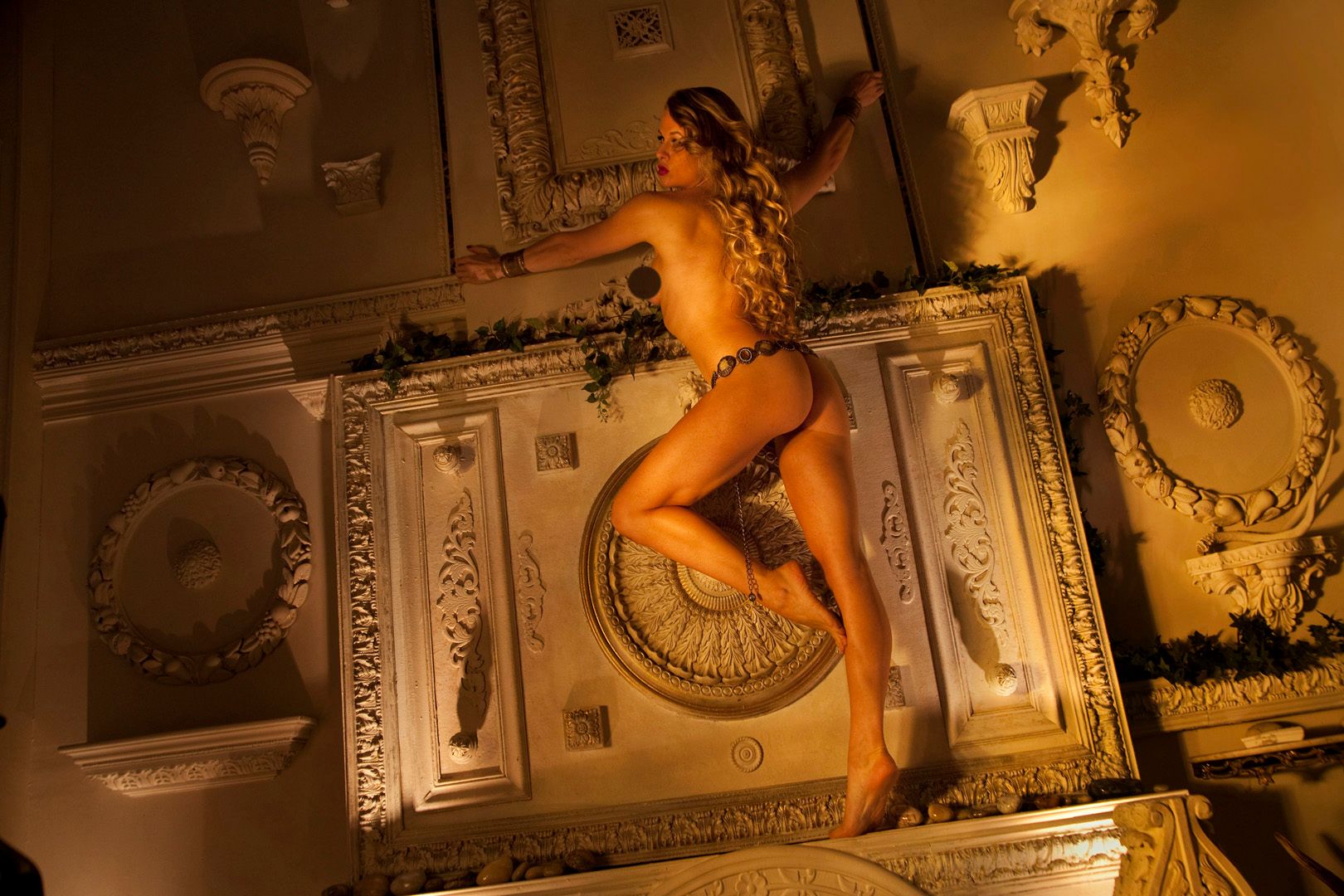 15.) Sophia takes on The Wall of Rome and gets photographed for "The Fine Art of Fantasy."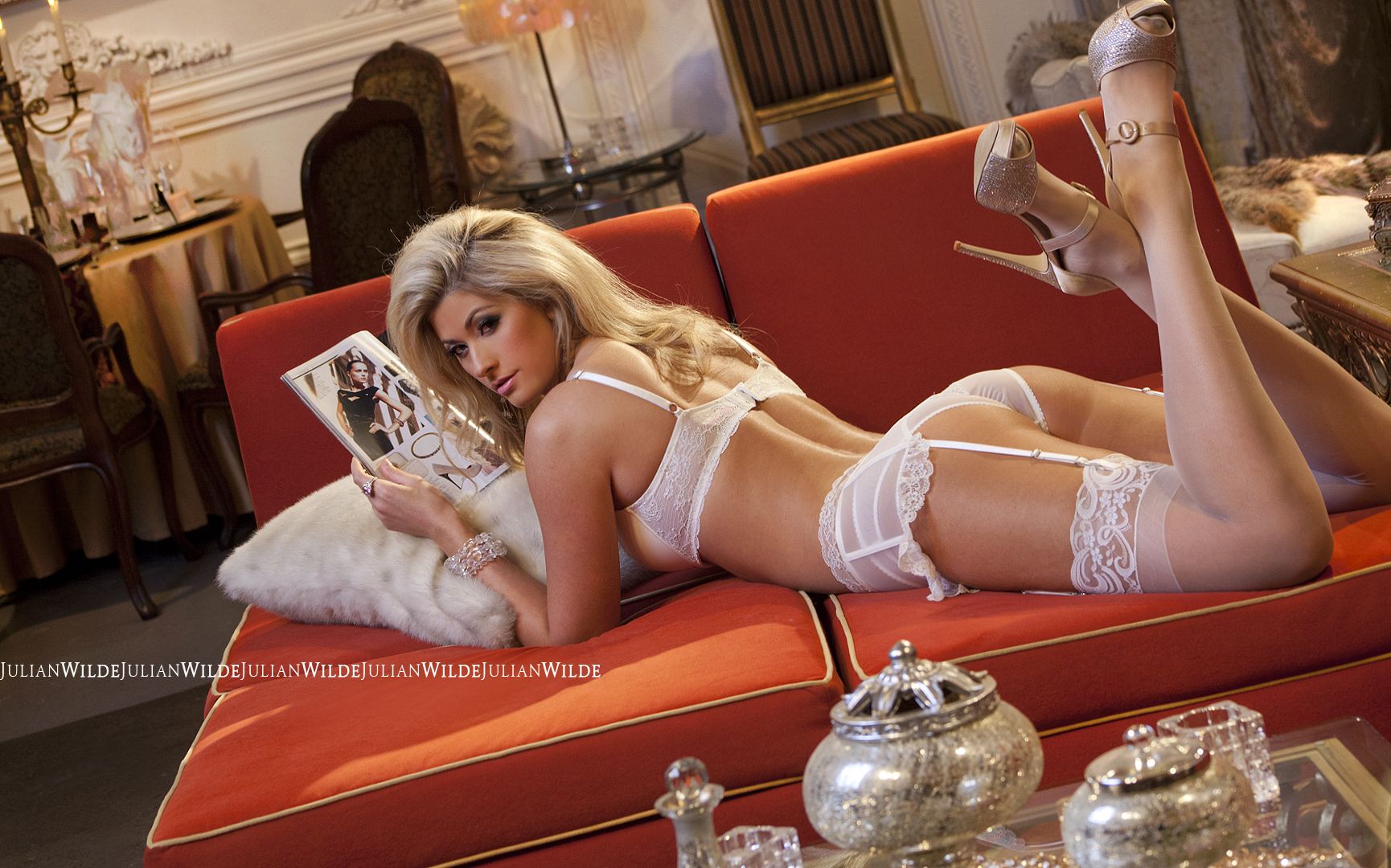 16.) Super Model Kenzie Smith lounging in the Gallery Salon and catching up on her French Vogue.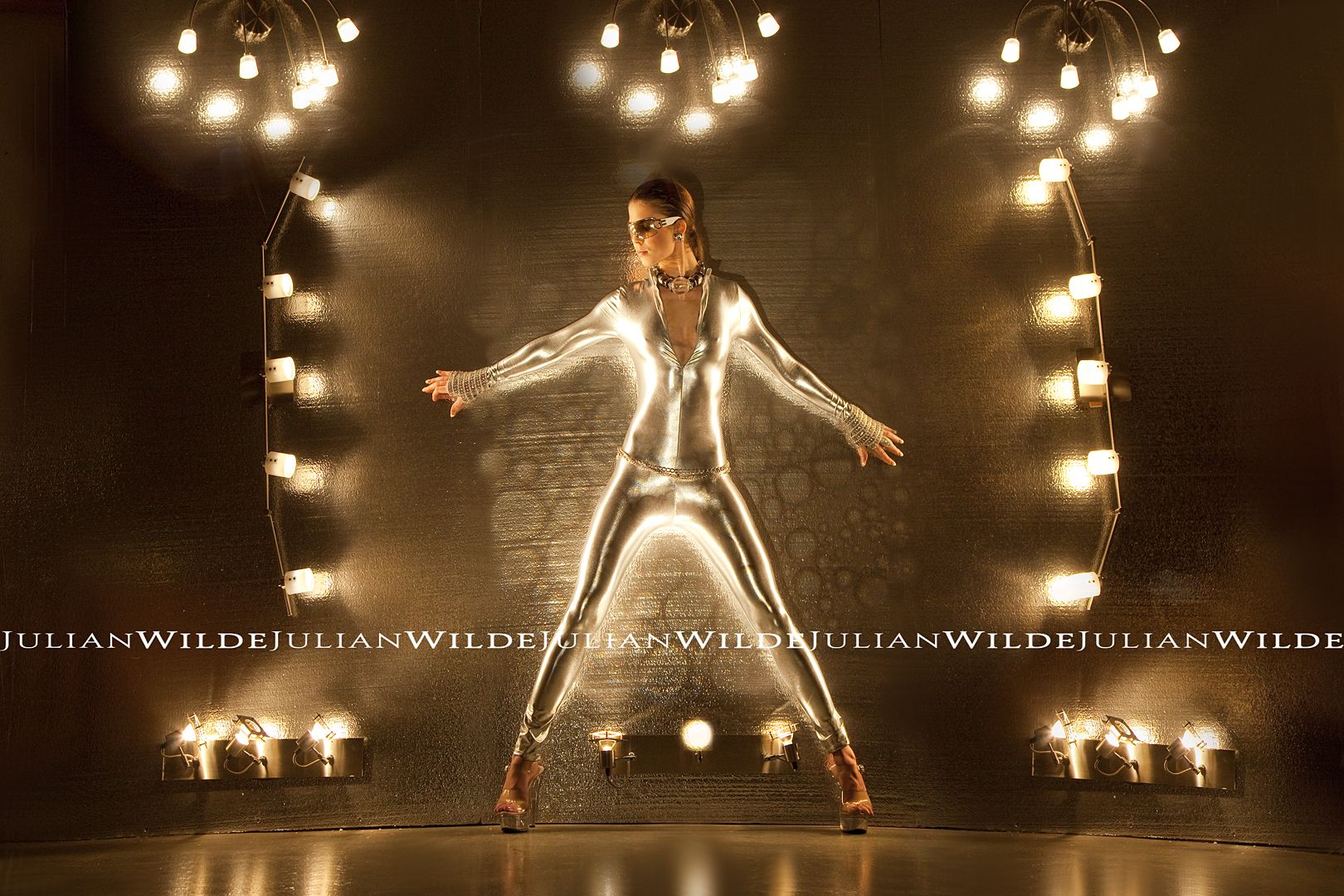 17.) Deep inside the laboratory of The Most Diabolical One... our heroine begins absorbing huge amounts of energy from the Bio Energy Depleter and StarBaby is magically transformed.... Photographed in the Main Studio, deep inside WildeVision Studio.
18.) The very Lovely Ashley will be featured in our next Lingerie & Implied Workshop here at WildeVision Studios.
19.) The also Very Lovely Roma... relaxing in the Grand Salon At WildeVision.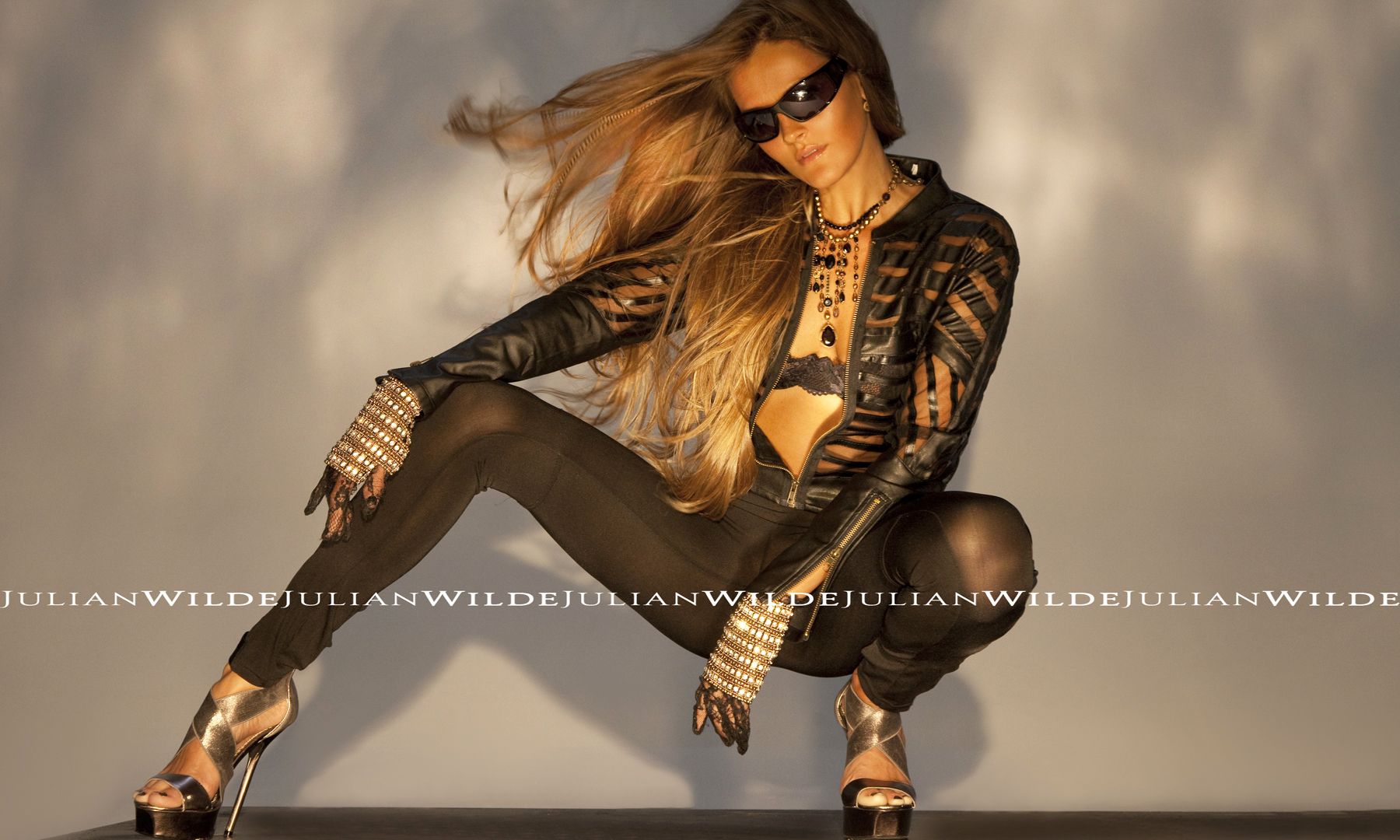 20.) FAVE model and Wilde Beauty Staci Hart. What more can I say?
Next: Everything you see here is shot in either my Super Studio or my home on the Columbia River. Absolutely Everything. I'm not looking to Travel for work and I won't be "coming to a city near you." At this point, almost 80% of the models I work with, fly in to shoot with us.

21.) The inside of Paris's fold-out Comp Card. Yeah.... Waaaaay Cool. Her entire card was shot in 2 photo sessions. My point? If you pick the right photographers, you won't be one of those girls who shoots for years without getting the kind of shots needed to produce a successful card.
22.) FAVE Model Kenzie Smith and the Grand Parisian, photographed for the Collector's Edition of "NightVision."
23.) The Very Lovely Cara Michelle... part of her shoot that I just submitted to that rather famous men's mag. Bunny ears anyone? ;-)
24.) Wilde Beauty LaTiffaney... goes nose to nose with Sir Robert Livingston Peacock in a spin-off shot from a Luxury Cigar & Liquor Calendar we did.
25.) Balcony Kisses.... Photographed for "La Femme."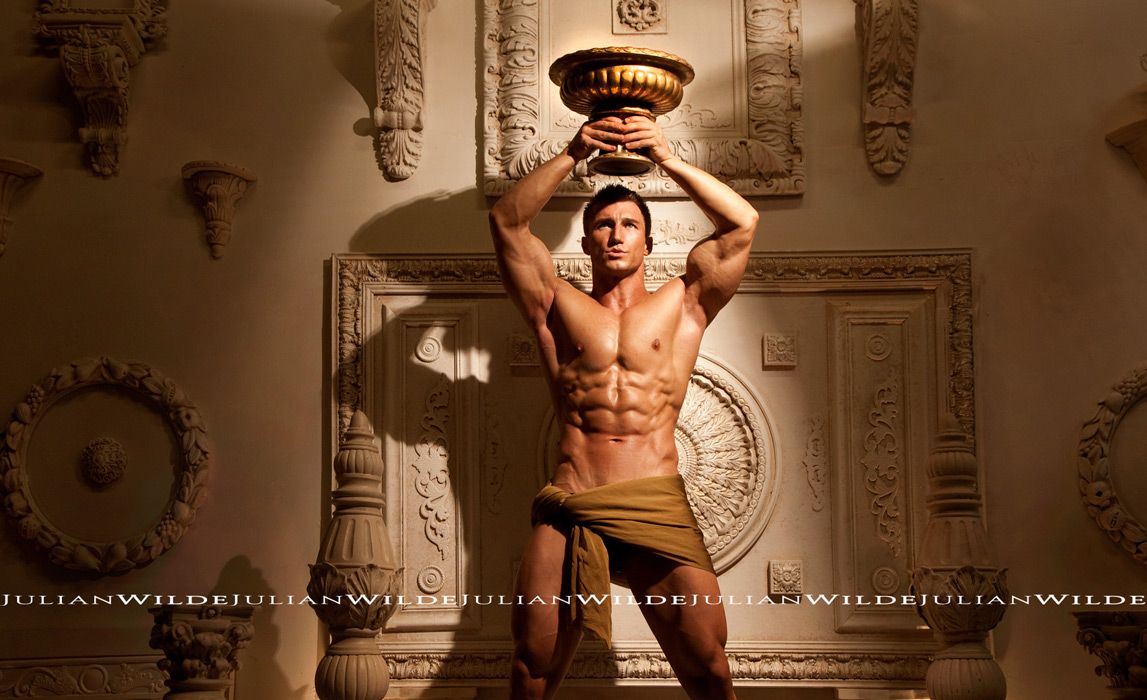 26.) "Alexander the Great & The Golden Chalice of Rome," with national fitness competitor Alex Atanasov, in WildeVision's Rome.
27.) What would fit nicely here.....
28.) Friends Ugo Serrano and Elle... playing in the Gallery Salon at WildeVision. Photographed for my book "NightVision."
29.) ATTENTION SHOOTERS: Msg me about "One-on-One With Wilde" Workshops. Full Days with Moi, in my Super Studio--just off the freeway in Vancouver. It's all the Fun you can stand and categorically answers the question: What would Wilde do? A brief outline for this Intensive is at the bottom of my Profile Page. More later! -JULIAN
30.) "Riding Lessons for Alaniya." Photographed for my book "WildeBlue, Rated W," The 2016 Collector's Edition.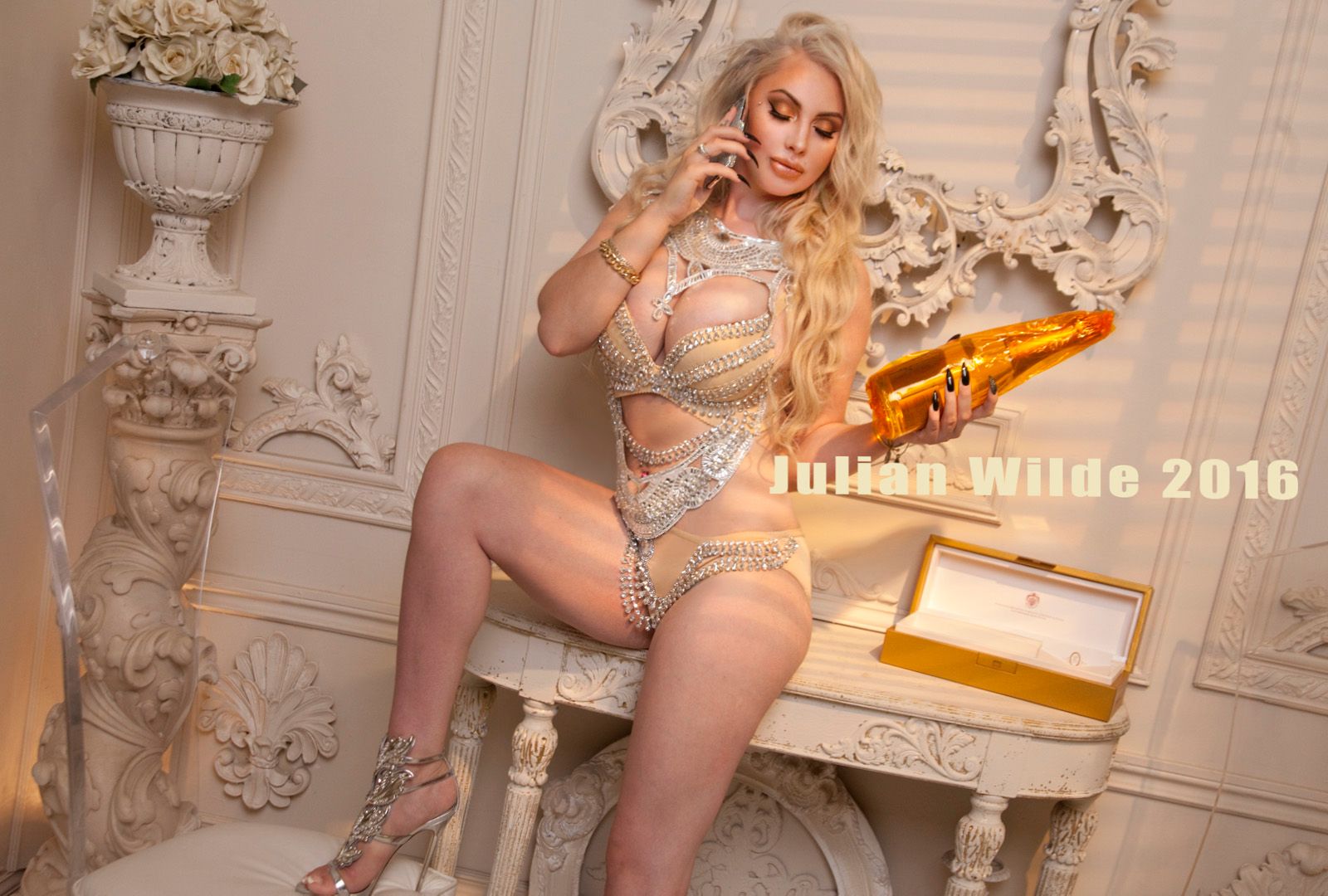 31.) Chanel Lynn about to open a fine bottle Cristal bubbly ...
32.) Hmmmmm....
34.) Ad campaign for a fave LA Swimwear Designer.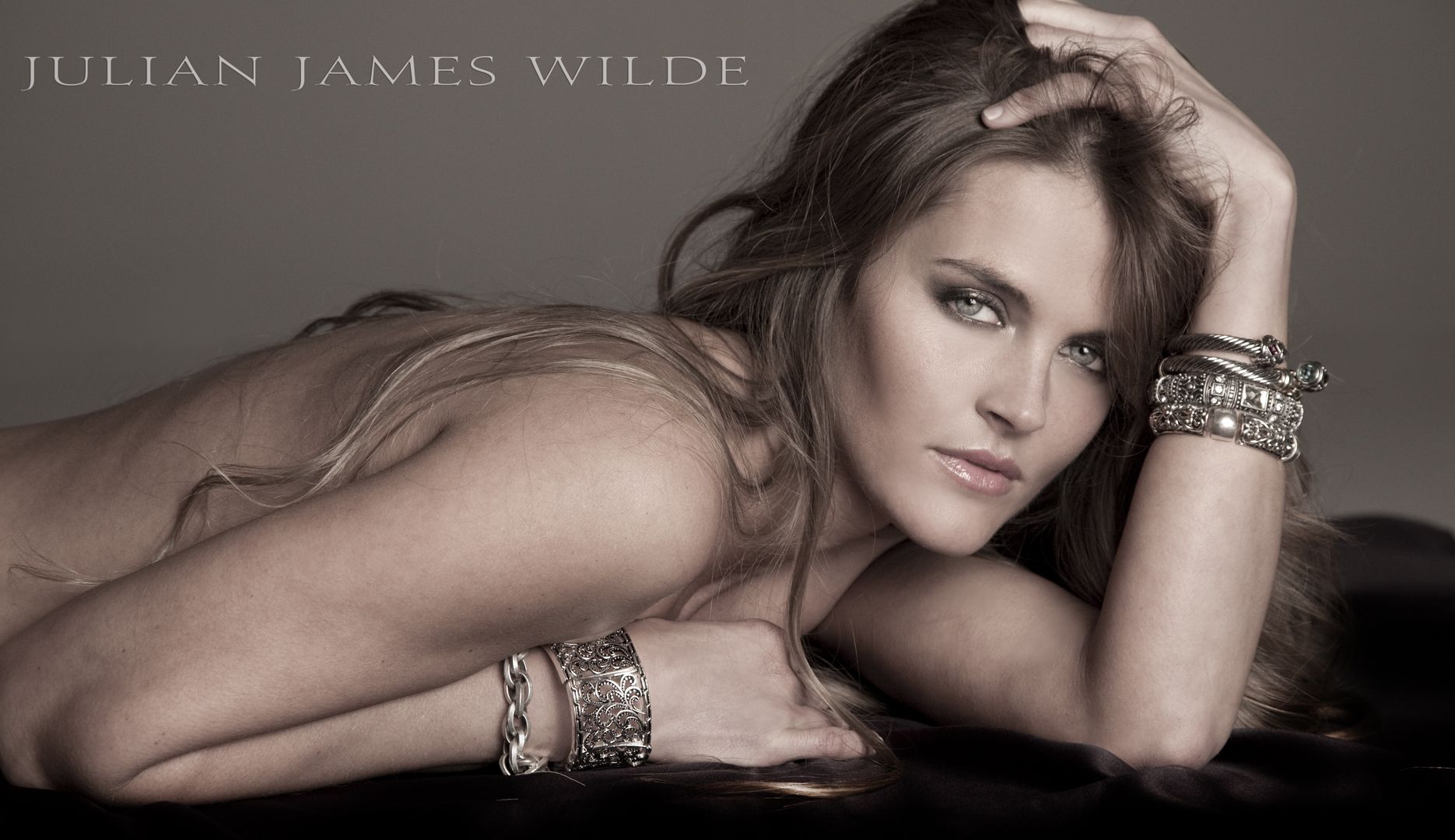 35.) Wilde Beauty Fave Model Staci Hart, styled by Raven Wilde.
36.) Paris gives her young trainee a little extra attention during a recent photo shoot in the Gallery Salon at WildeVision Studios.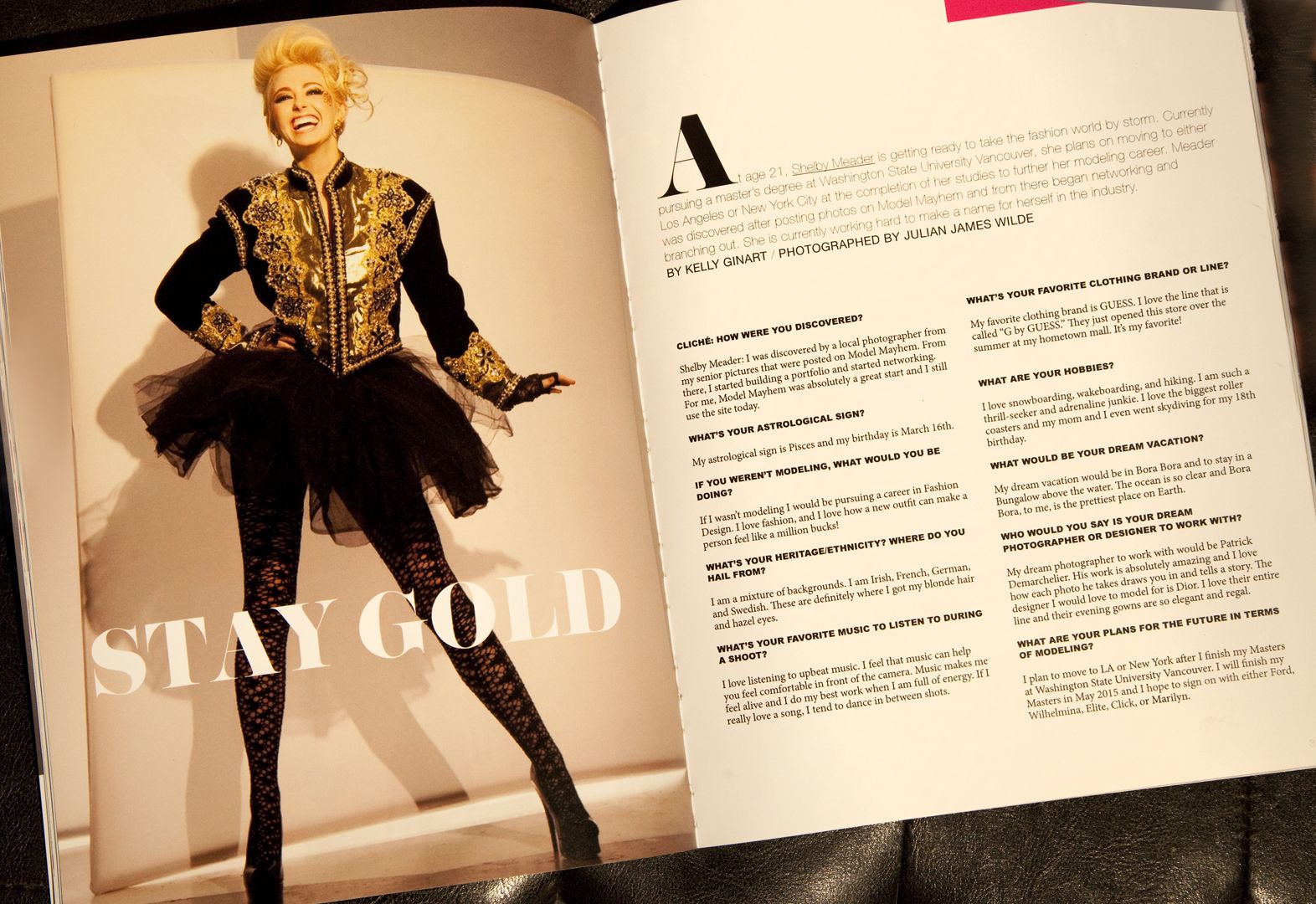 37.) We recently shot 6 full pages of fashion editorial with Shelby in Cliche Magazine, with the entire article styled by Raven.
PHOTOGRAPHER. CREATIVE DIRECTOR. DAYDREAMER. CEO. VIDEO DIRECTOR. ARCHITECT. 3 METER DIVER. INTERIOR DESIGNER. BEACH BUM.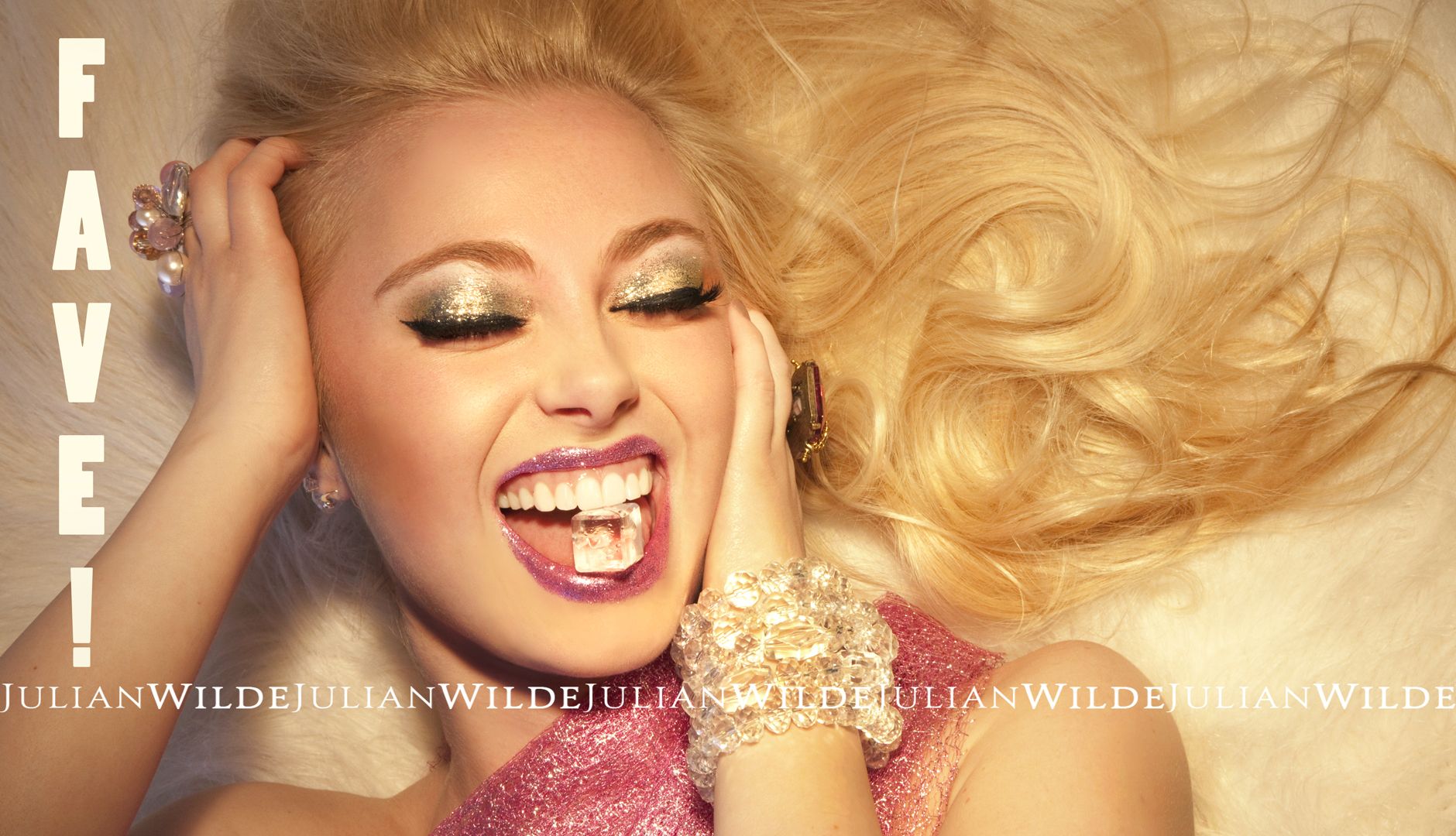 38.) For the Portland Fashion Film Project, Shelby does the Ultra Glam for poster of "Star Baby!" with Raven and Jodi Von Jodi Styling.
"As artists, it is not always clear as to why we do the things we do; but it is always crystal clear that we must do them." -JULIAN
39.) Fave Model Kenzie Smith takes her V.S. for a stroll thru The Gallery Salon at WildeVision. Photographed for "WildeBeauty." 2013.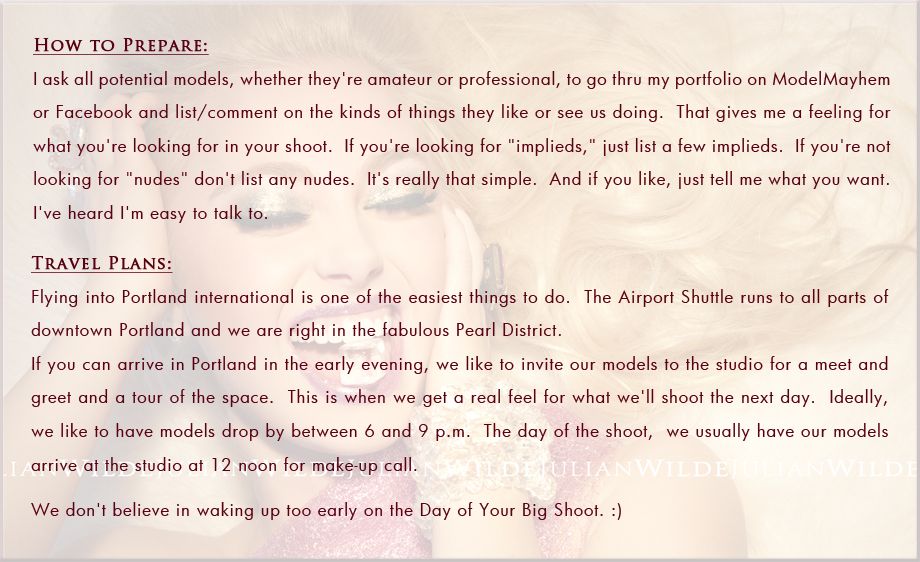 40.) How to prepare for a Wilde Shoot and How to Get Here.
IF YOU WANT TO SEE WHAT I DO... just scroll down thru My Profile page. I'm on Mayhem to show what I do. I'm not here to get comments or to get put on a list of "Things I want to copy." Look at the Profile and you'll see The Studio and everything there is to see. Thanks again. Happy Perusing! -JULIAN
41.) See us on Facebook: "Julian James Wilde" and "WildeVision Studio." Also on
http://www.500px/julianwilde.
Plus
http://www.redbubble.com/julianwilde.
And the Official WildeVision Website and Blog:
http://www.wildevisionentertainment.com
Over 30,000 visitors on my BLOG can't be ALL wrong! Well... who knows! ;-)
42.) The incomparable Sapphire... Moon bathing at WildeVsion Super Studio.
43.) For "The Fine Art of Fantasy," Artist, Model and Performer Lady Stockholm in "What Dreams are Made of."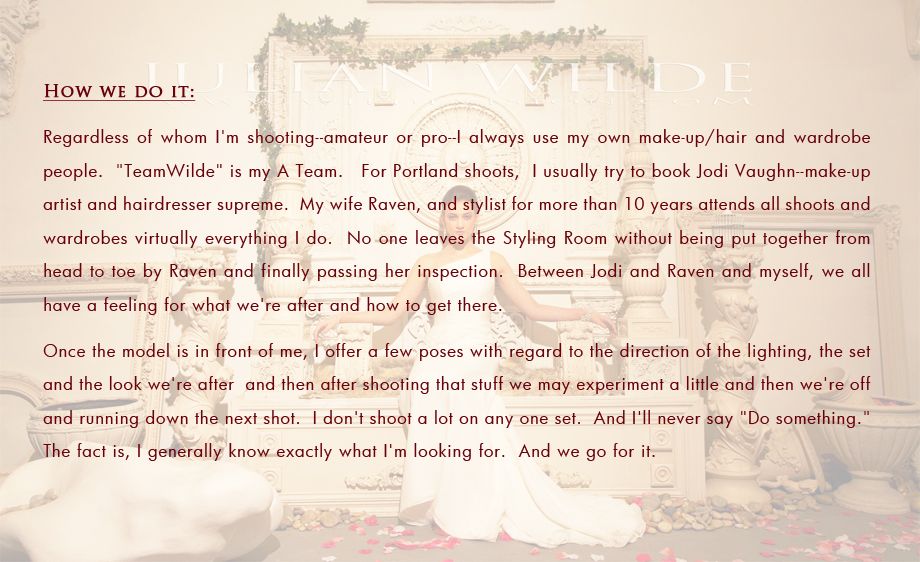 44.) "This is How We Do It!" This section can be sung to the song by the same name. ;-)
45.) Rates are available on my official Website:
http://www.wildevisionentertainment.com
.
46.) It's not unusual for a model who's new to the business to say:" I've never paid for a photographer before." And after looking at their pictures, I WANT to say "Honey, that's obvious." But I bite my tongue. And to this day I've never said it. ;-)
47.) Did I mention that all Out-of-Town models who book us for a Full Day are invited to spend the night at the Studio? We call it "Special Model Hosting." Bed and nightcap included. ;-)
The Lounge and Shooting Salon at WildeVision... The Cyclorama and Make-up Bar are to the right and the Cocktail Bar and Entertainment Center are to your left. Please, make yourself at home!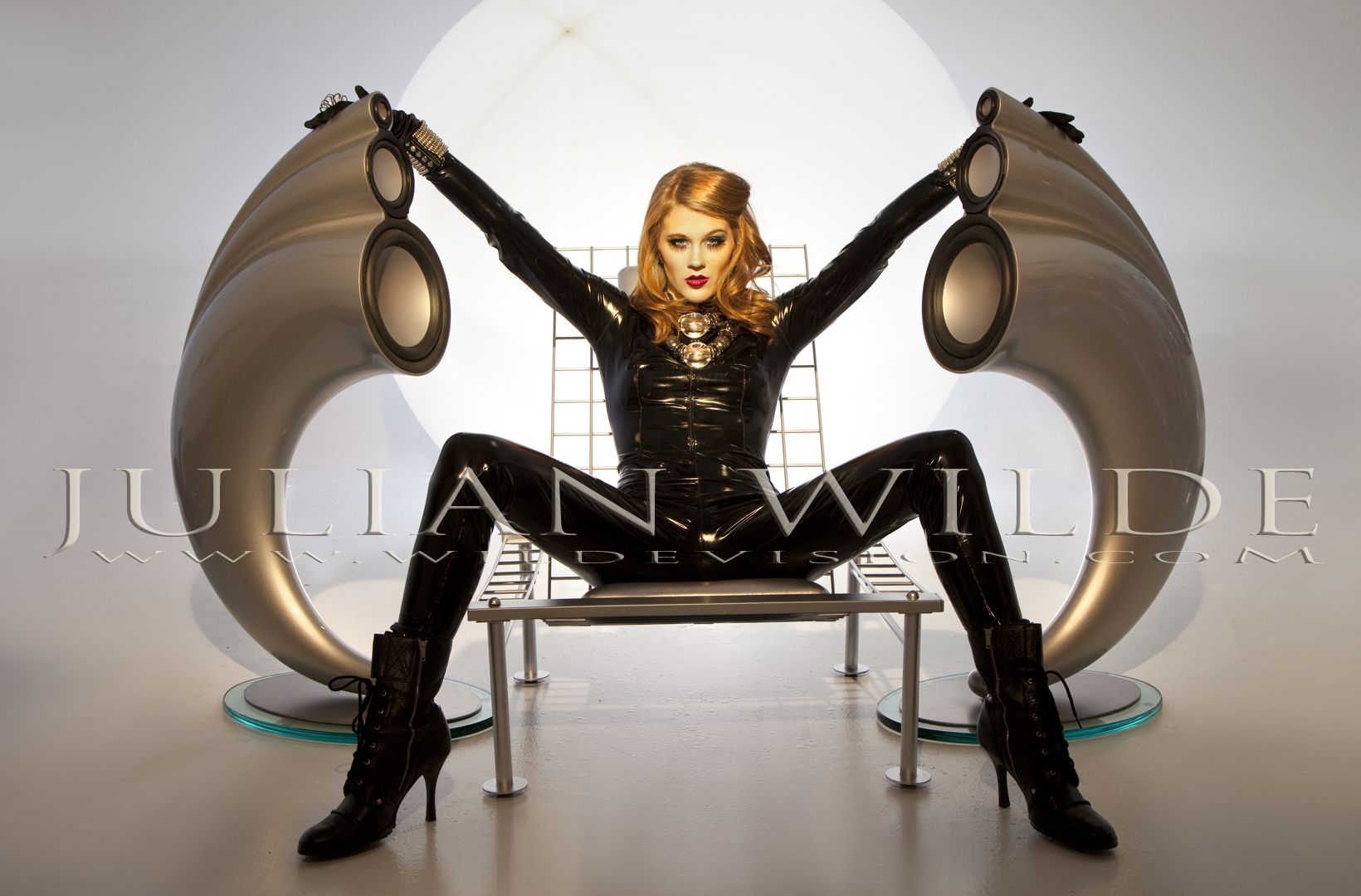 48.) Commercial advertising for the Elegance Series speaker line by Echelon Audio Systems.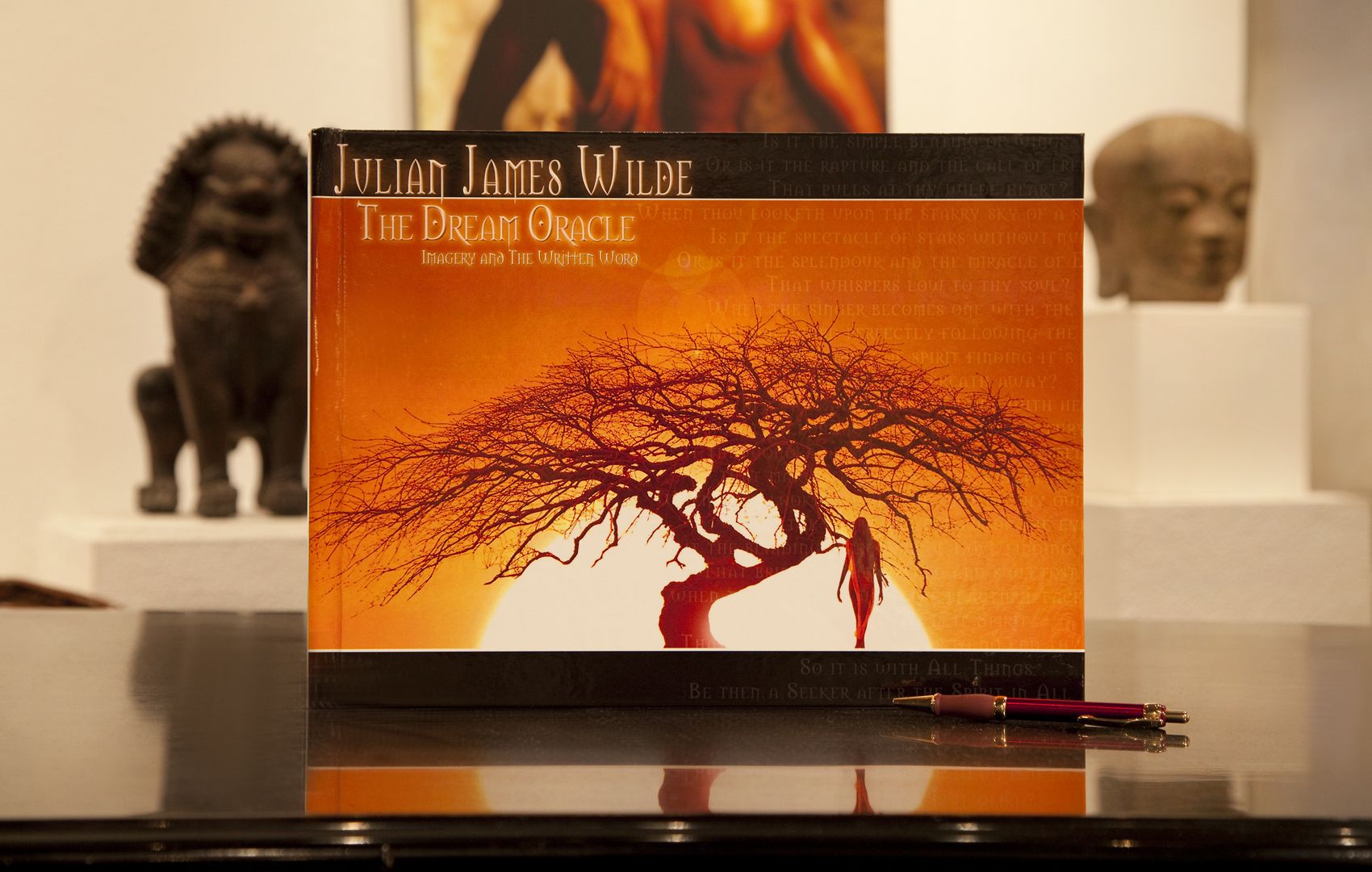 49.) "Time to Say Goodbye." Featured on the Cover of my Collector's Edition coffee table book "The Dream Oracle." This Limited Edition features "the written word of JULIAN" along with some of my most favored gallery exhibited images. Available soon on my official site:
http://www.wildevision.com
.

50.) WildeModel Head Sheet: created for our Face book page. All models may be booked thru us for shoots at WildeVision. All Rights Reserved. 2012.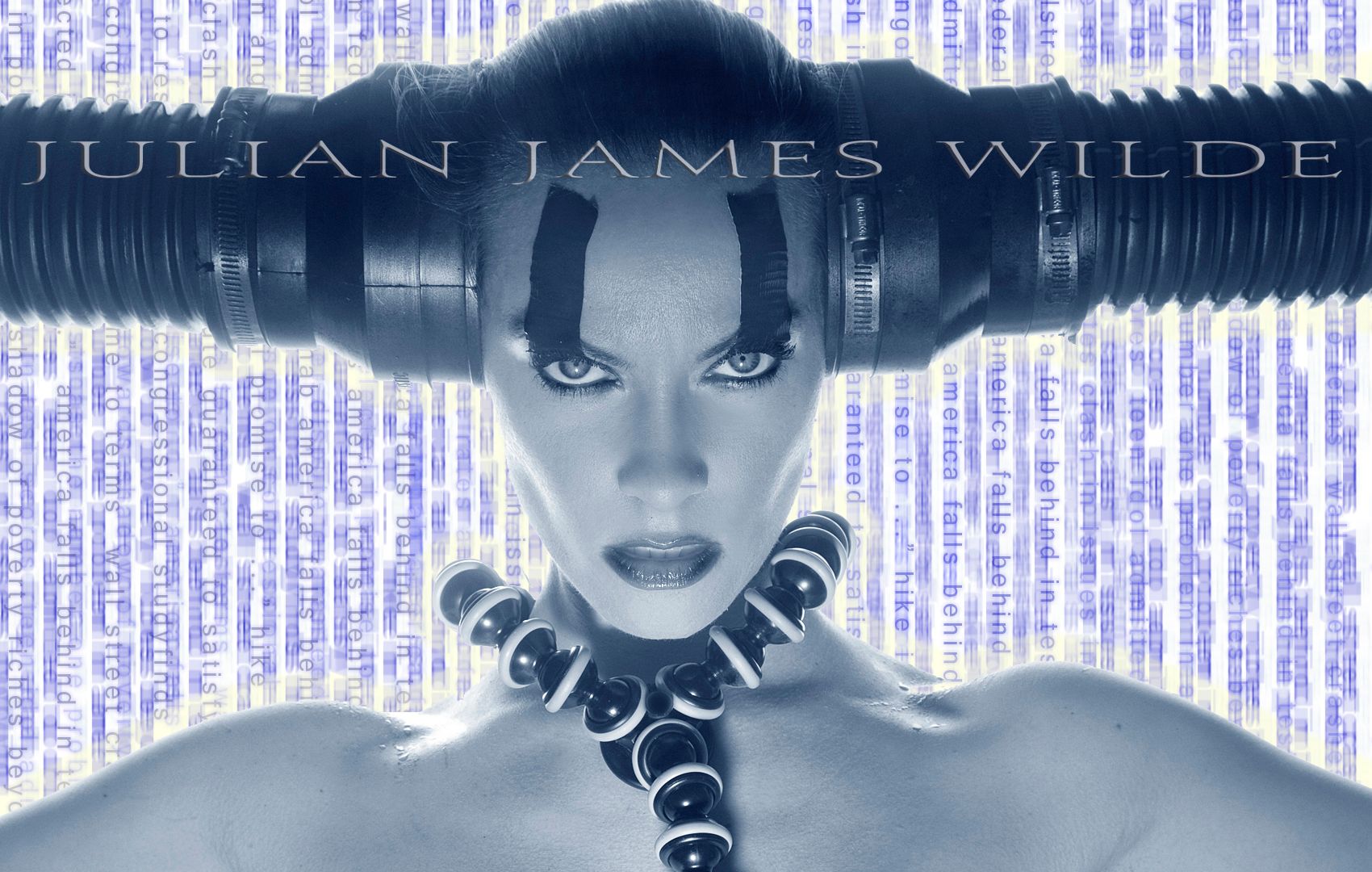 51.) Stephanie in "Media Overkill," Photographed for "The Fine Art of Dreaming." 2012.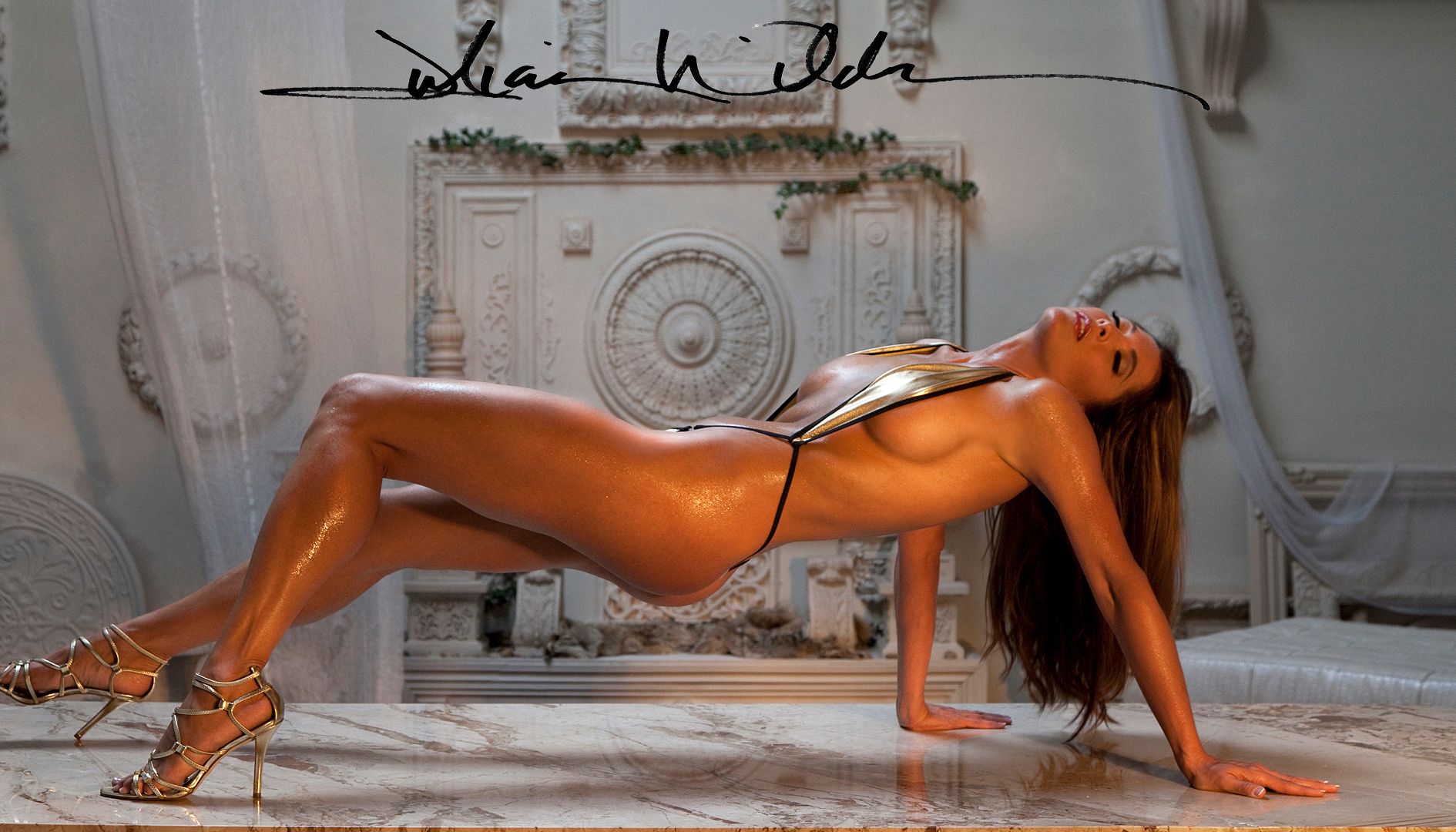 52.) Fave Wilde model, Elle of California, aka "The Body,"... does "The Elle" in WildeVision's "Rome." For "WildeBeauty, Rated W." 2012.
53.)Anzhelika Arrives in Style! Also featured in "StarBaby!" 2013 Edition.
54.) "First Kiss" with Wilde Model Stephanie and the amber-smooth, unforgettable taste of DeLeon Tequila...
55.) Sir Robert Livingston Peacock in the Shooting Salon at WildeVision Studios. Photographed for "The Fine Art of Fantasy, 2016."
56.) We call it our "beach house"... but it's not REALLY a "beach house." If you'd like to shoot at the House, which quite often involves the pool, the beach and lots of sun...check with Raven for info and availability. Hey wait! Is that Anghelika and a new copy of "WildeBeauty" on the coffee table!??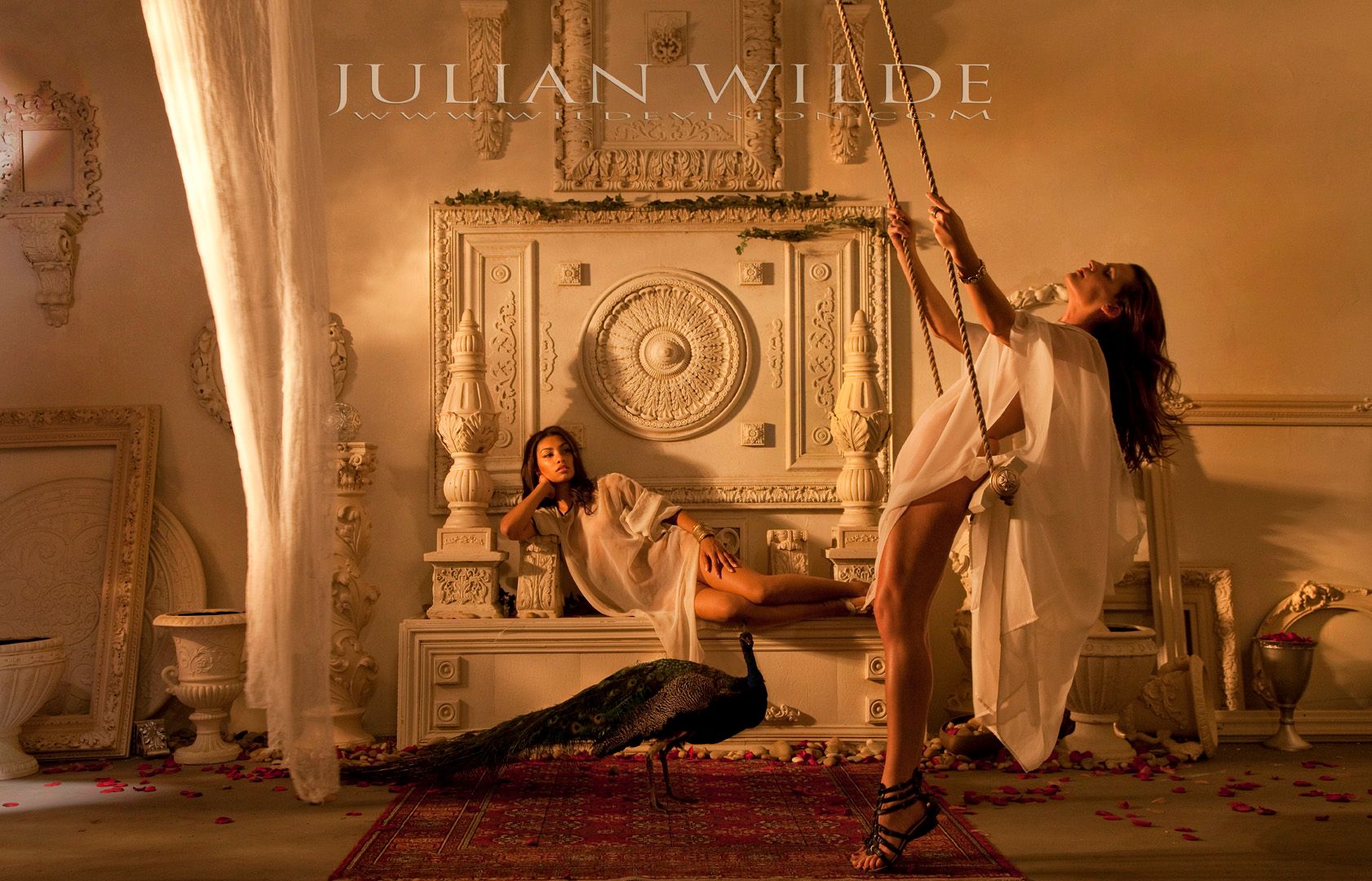 57.) "Life Under an Amber Moon." Just in case you've been wondering what I've been up to lately at WildeVision Studios...allow me to unviel "Ancient Rome." My Dad would say "Rome wasn't built in a day." In this case, it took 5 days.
Goddesses may apply at WildeVision Studios.
"Art is the noble but ultimately doomed effort to make sense of a mystery that is essentially and thankfully beyond our understanding." -from JULIAN's Blog.
58.) Fave Wilde model Kodi Sawyer gets washed ashore for a foldout page in "WildeBeauty, Rated W." 2012 Collector's Edition.
59.) Fave Model Kenzie Smith and my friend and CEO Jeff Stewart relax in the Gallery at WildeVision Studio. For "NightVision, Rated W." 2013.
60.) For clients who are not interested in being published in one of my coffee table books, but still want the experience of shooting with us and the quality of photography that we provide, I offer a Full Day shoot for $6000. For an additional $600, full muah/styling and wardrobing is provided. For this session I provide the client a copy of all RAW unedited digital files, and do not require a Model's Release to be signed. You are free to use the images in any way that serves your purposes.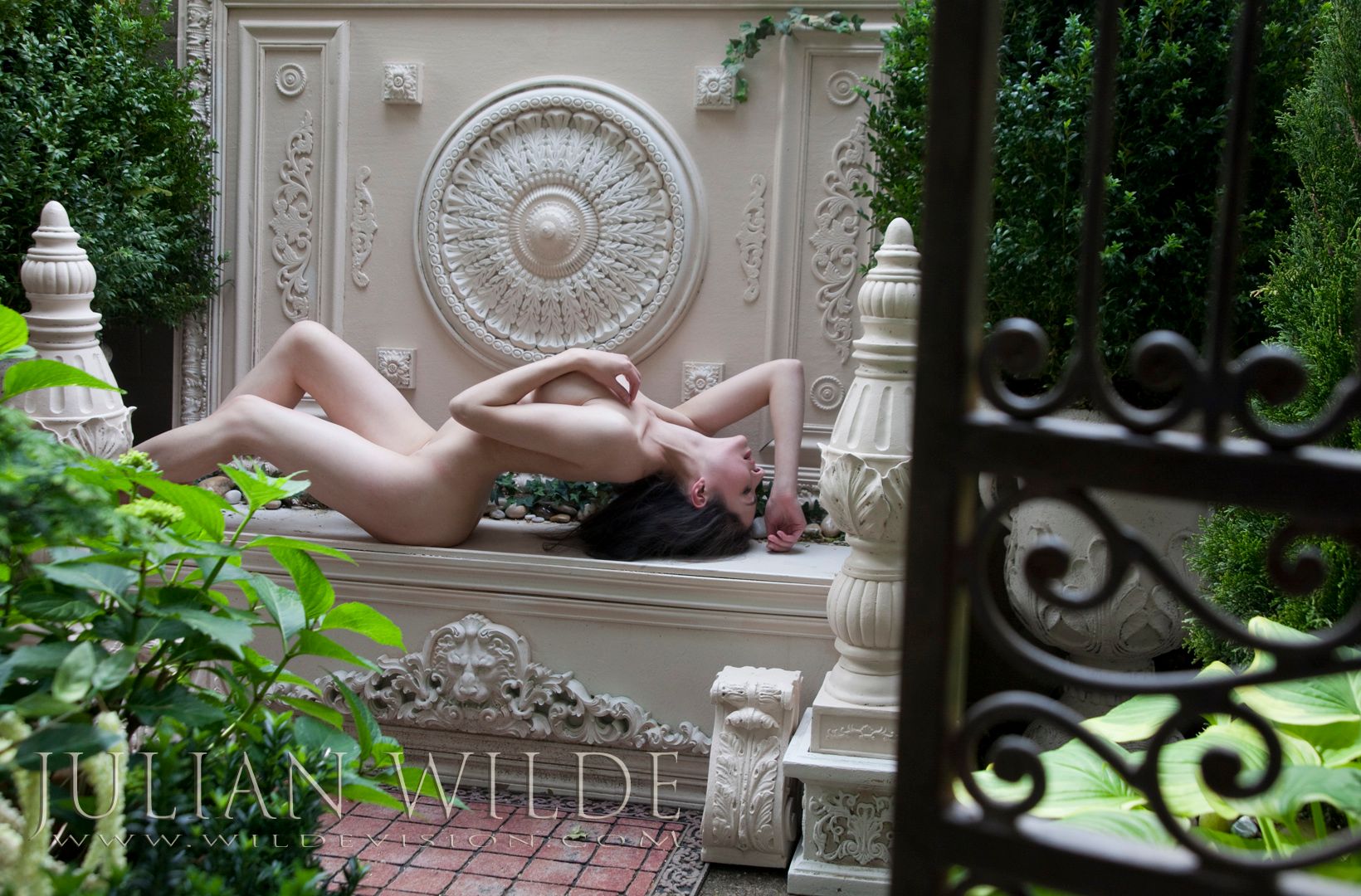 61.) "So much has happened since Beauty fell fast asleep in the Labyrinth, and so much has yet to happen. But as in all things in this life, everything begins with a dream..." -JULIAN. Excerpted from my official Blog. Photographed in the Labyrinth at WildeHome and showcased on RedBubble.com.

62.) Here's the recently shot inside of Kenzie's fold-out comp card. All images shot and styled by WildeStudio. 2016.
And speaking of The Incomparable Kenzie...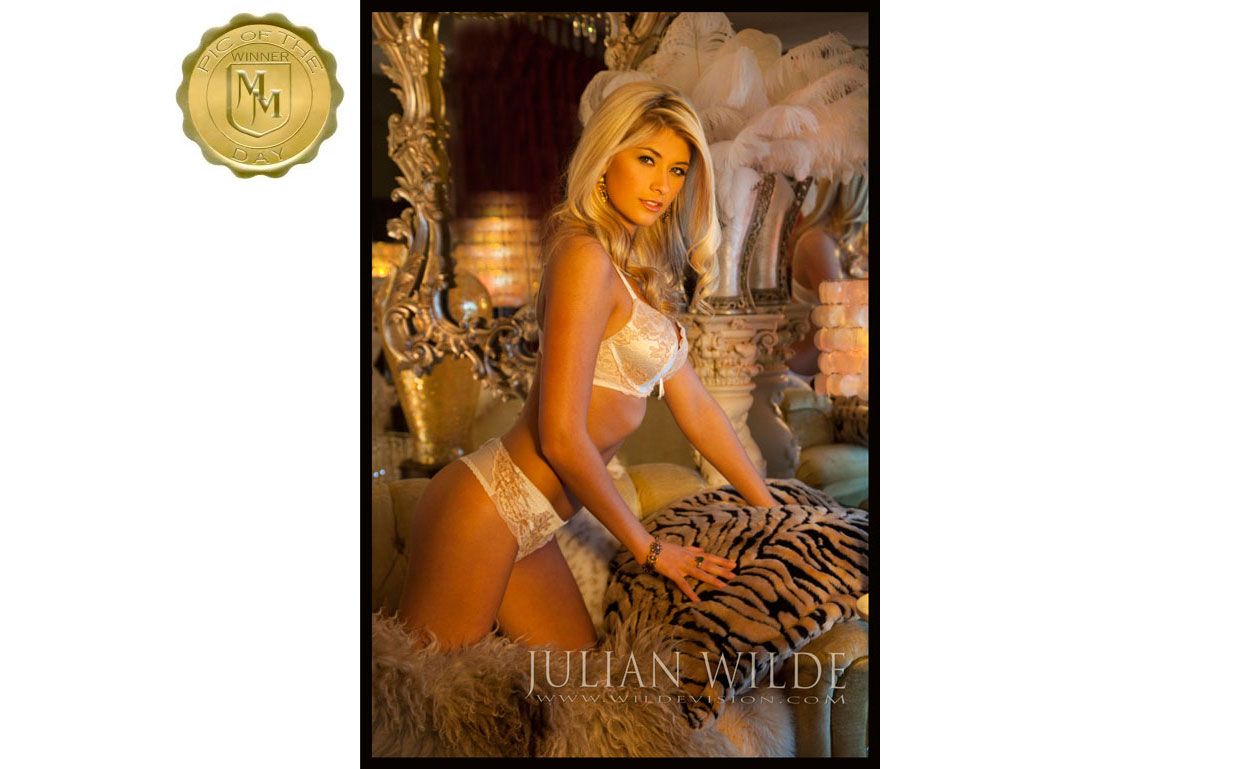 63.) She just won "Pic of the Day" with an image we shot for her comp card. Well done Dear. In everything you do, you make us insanely proud of You!
"Julian Wilde's photography continues to amaze; beautiful women, gorgeous settings and stunning results." David Weber, Professional Photographer, Boston.
64.) THERE ARE PHOTOGRAPHERS... who offer TFP and there are photographers who say "message me for my rates." I'm not one of those guys. I'm the guy who tells you what he charges. And that's what I charge. Straight up. No sliding rates. No hidden fees. No funny business. ;-)
65.) And for out-of-town models, 2 Day shoots are not uncommon, if not highly recommended. There's that much here to play with!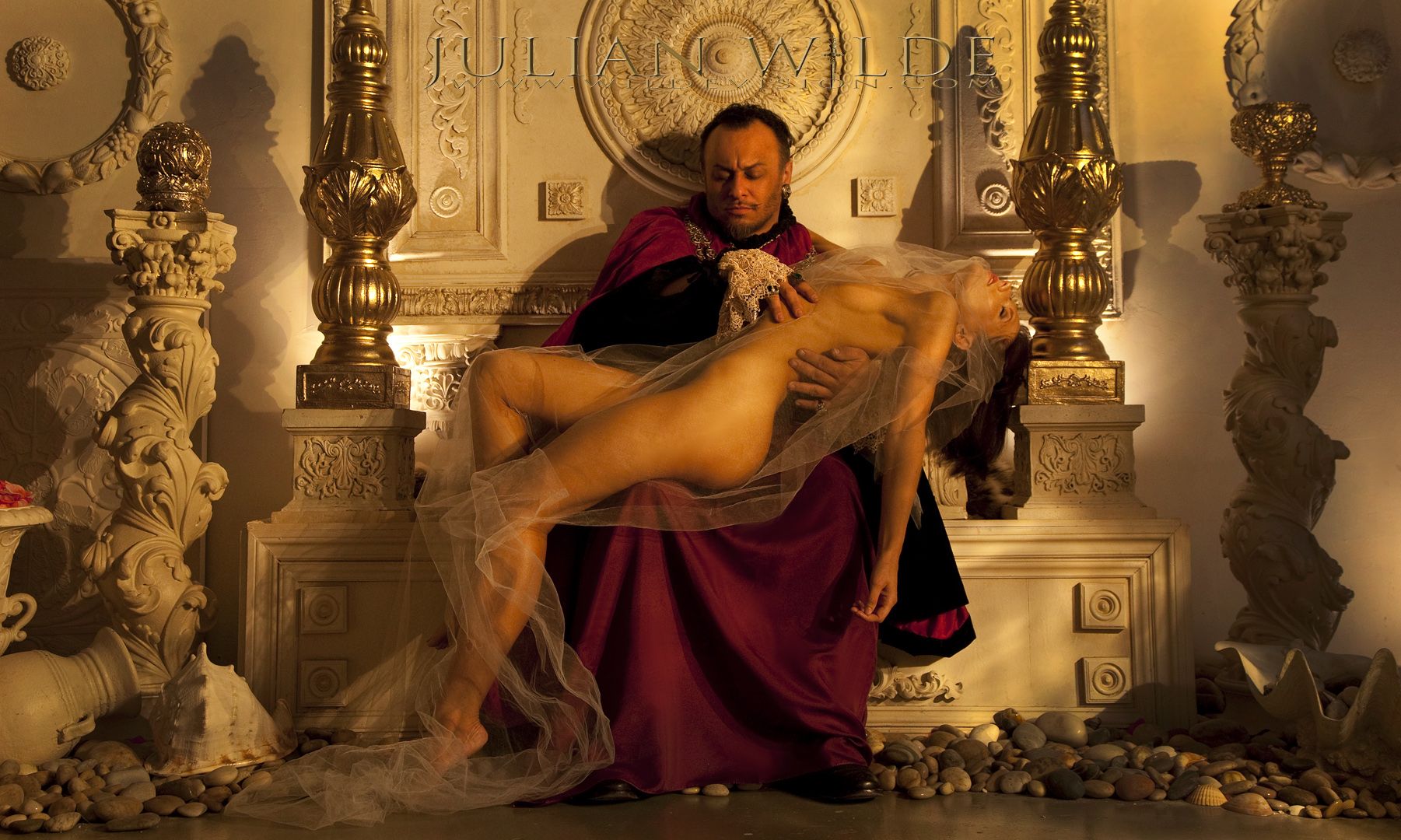 66.) The Cardinal of St. Serrano in "The Final Absolution of Athena." Photographed for my book "The Fine Art of Fantasy."
67.) To see what we're doing with our Fashion/Fantasy/Fine Art Books, check out my official site:
http://www.wildevision.com
.
68.) SOME RELEVANT WORDS/PHRASES: theatrical, erotic, surreal, dark beauty, mysterious, passionate, creative, transcendent, dangerous, elegant, mythical, timeless, heart-felt, exquisite, cinematic, modern classic, evocative, powerful, luxurious, enchantment, visionary, movie-quality, dreamlike and of course for different reasons: Galliano and Chocolate!
69.) "TF SHOOTS:" Now... it's not entirely correct when I say I "don't TF." The fact is, I never TF on the first shoot. After you've paid "the admission price," and I've seen that our chemistry is good and you are indeed an amazing model... A TF shoot is not entirely out of the question.
70.) Playboy model Jennifer McCall gets washed ashore in the Collector's Edition of "WildeBeauty, Rated W."
71.) "Bedtime Story" with traveling models Jessie June, Jaylynne and Jason for "WildeBlue." 2012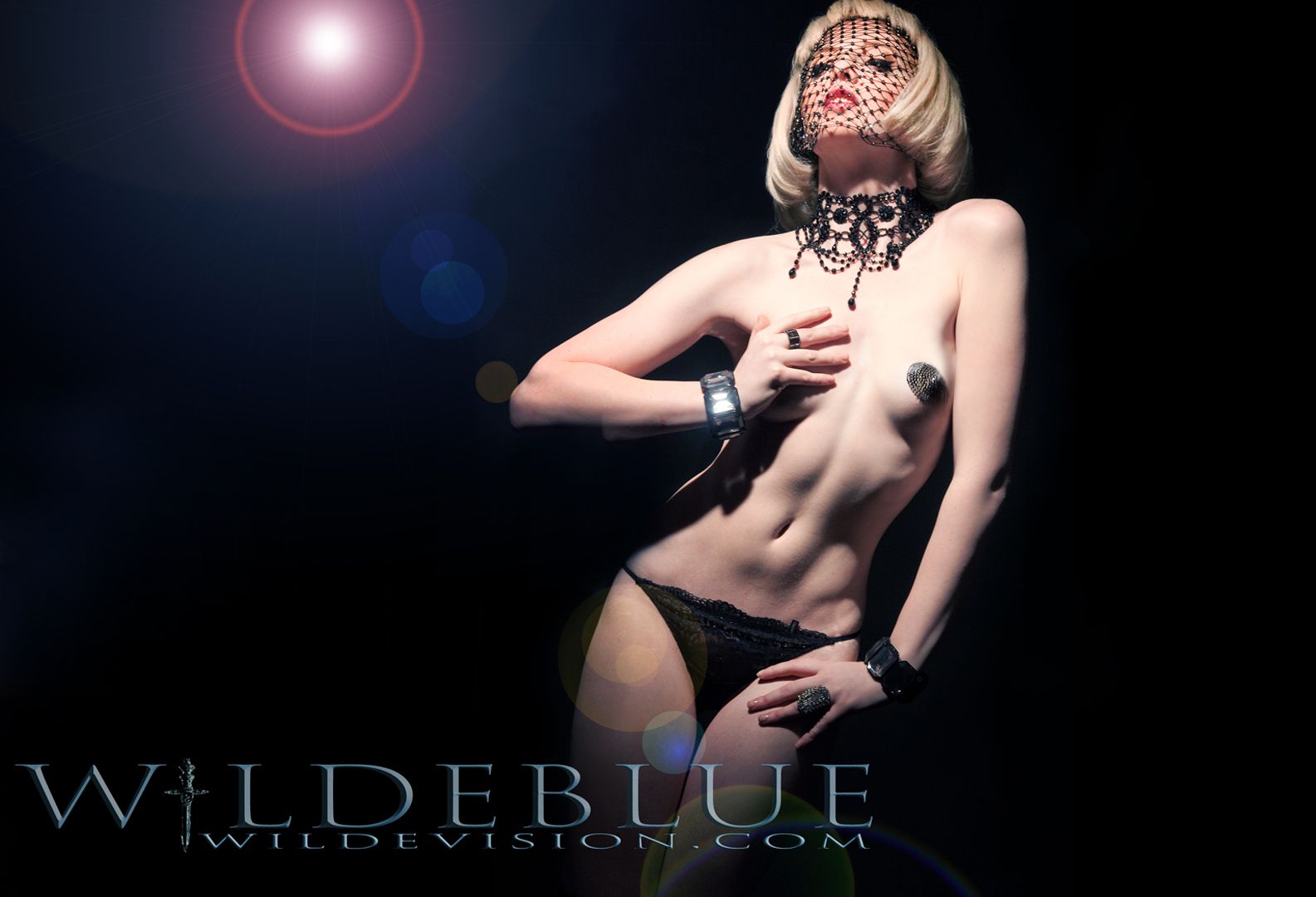 72.) "Cabaret Blue," by Arizona beauty Shantia. Featured in "WildeBeauty, Rated W," 2012. "Rated W," means "The Even More Fun Version." [winks]
73.) "Image Removed due to Image Rule Violation"
74.) The Golden One... Kenzie Smith for "WildeBeauty."
I'm often referred to as a "Fashion Photographer" by well-meaning individuals, but the fact is I really couldn't be less interested in Fashion, or what's coming down the runway this very instant in Paris. But I do love Style and I do love Beauty. And those are two things that just never go out of fashion.
75.) Fave Wilde Model and Russian phenom Anzhelika, AKA "The Body," photographed in the Grand Salon for the Collector's Edition of "WildeBeauty," 2011.
76.) From "WildeBeauty," a commissioned portrait of Russian lovely Svetlana and our "Miss America" Katie Harmon for the cover of her opera-inspired CD "Soul of Love."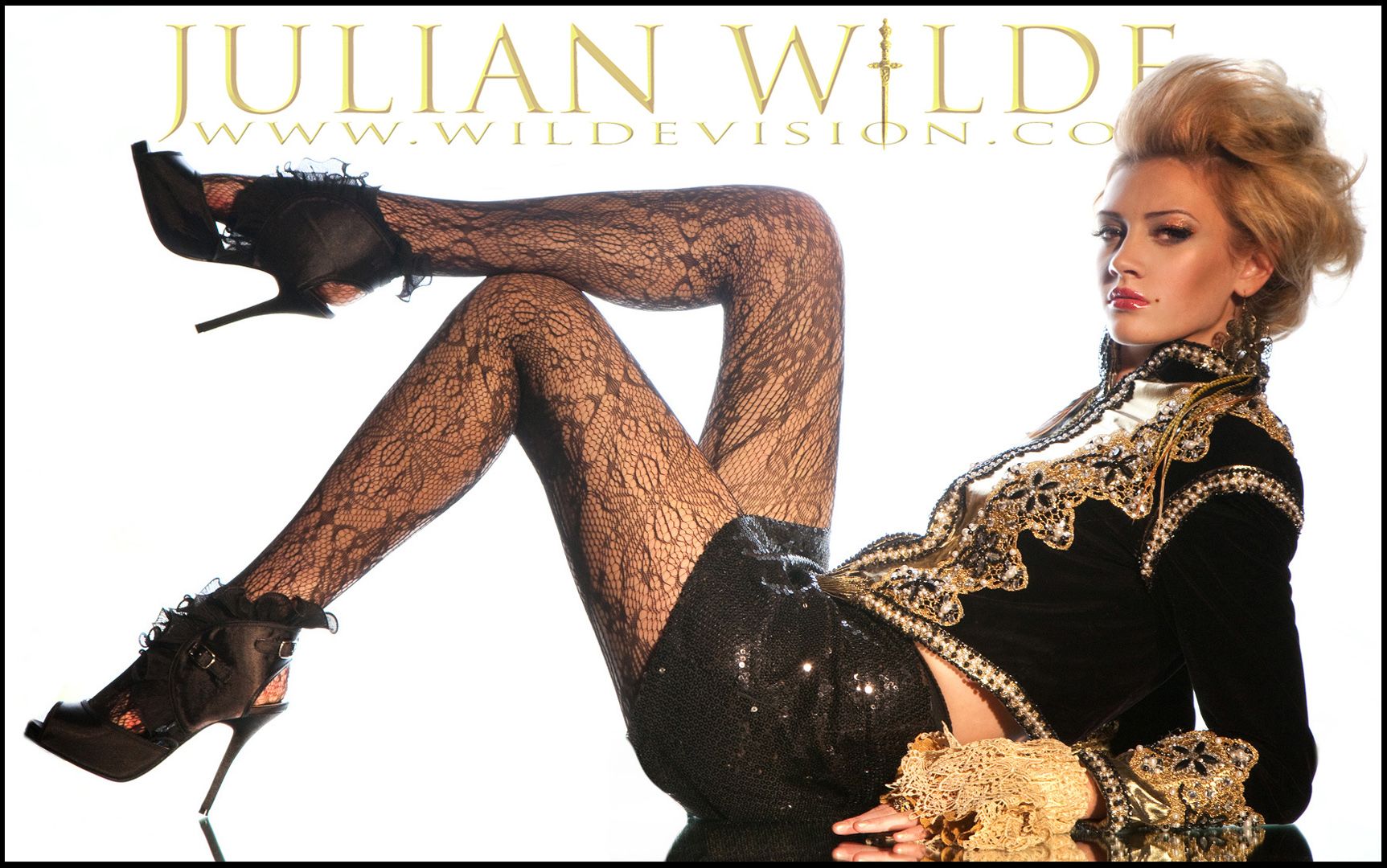 77.) Young fashion and beauty model Courtney Bryant at 14, in her first test with WildeStudio, styled by Raven for WildeStyle. Yeah...14.
78.) "Image Removed due to Image Rule Violation"
79.) And in case you're wondering "Why so many horizontal images?" Our coffee table/art books are all 11 x 14 horizontal formats. There ya go!
81.) I'll often advise models, if you want to control the parameters of your shooting experience, write in your port: "If you see it in my port, there's a good chance I do it. If you don't see it, there's a very good chance that I Don't." In my case that's equally true. So... What you see is What you get.
82.) "Image Removed due to Image Rule Violation"
83.) Like most photographers on this site, I get the daily messages that amount to "Let's Shoot!" And I luv hearing that. But unfortunately I can't shoot everyone who wants to shoot. First of all there's the financial situation: because I charge between a grand and 2 grand to shoot, the models I work with are generally well-financed. If you don't have the financial thing together, I'm just not going to be able to help you. Secondly, and this is the hard part: you may be a devastatingly beautiful girl, but if you're not "the look" that I'm looking for right now, for the projects I'm working on right now... I'm not going to be able to use you and I will pass. Very tactfully. It doesn't mean you aren't Everything your bff says you are. It just means I can't use you right now. And I'm incredibly selective. It's not personal. It's just business.
"I've seen many talented Fashion Photographers, but Julian's work goes beyond beauty and fashion. There is such mystery, passion, artistry and mood with all his work. The way he sees and connects with his models goes beyond the surface. His work actually allows us to feel, to experience and to know his models." Jaclyn, Fashion Photographer. Excerpted from the Foreword to "WildeBeauty."
84.) Just outside the Salon at WildeStudio and in from Chicago, Jordan is styled by Raven in a test for "WildeBlue, Rated W."
85.) Some of the most beautiful women in the world are featured in "WildeBeauty, Rated W." Including 14 year old Madeline and Playboy model Jessie Shannon.
"I believe that everyone has their own song to sing--the unique and ineffable song of their soul. And I feel so fortunate that thru photography and with all the wonderful and talented people I have been blessed to play with--I am singing mine." -JULIAN
MAGAZINE PUBLISHED. GALLERY EXHIBITED. CORPORATE CLIENTELE. AGENCY ENDORSED. MOM APPROVED. (O.K. well, maybe not that last part!) :-)
86.) I don't know how to say this delicately, so I'll just say it: if you haven't shot with a pro before, or it LOOKS like you haven't shot with a pro before... the chances of you shooting with me are somewhere between nil and zero. I suppose what this means... is that I have a real tendency to work with models who are willing to invest in their careers. And if you're the type of "model" who takes pics of themselves in the mirror with their cellphone... Oh, I don't even want to say it. ;-) And I do not shoot TFP. No exceptions whatsoever. Unless your name starts with the letter S.
-JULIAN
87.) California Beauty Staci Hart, lounging for "WildeBlue." FYI, my book "WildeBlue," has stuff you won't see on Facebook. ;-)
Oh yeah! ONE OTHER THING: I just recently started Blogging, "The Wilde Side of Fashion, Photography & Fine Art," on my Official Photography Site:
http://www.wildevision.com
. Drop on by, leave a comment or a question, or just say Hi!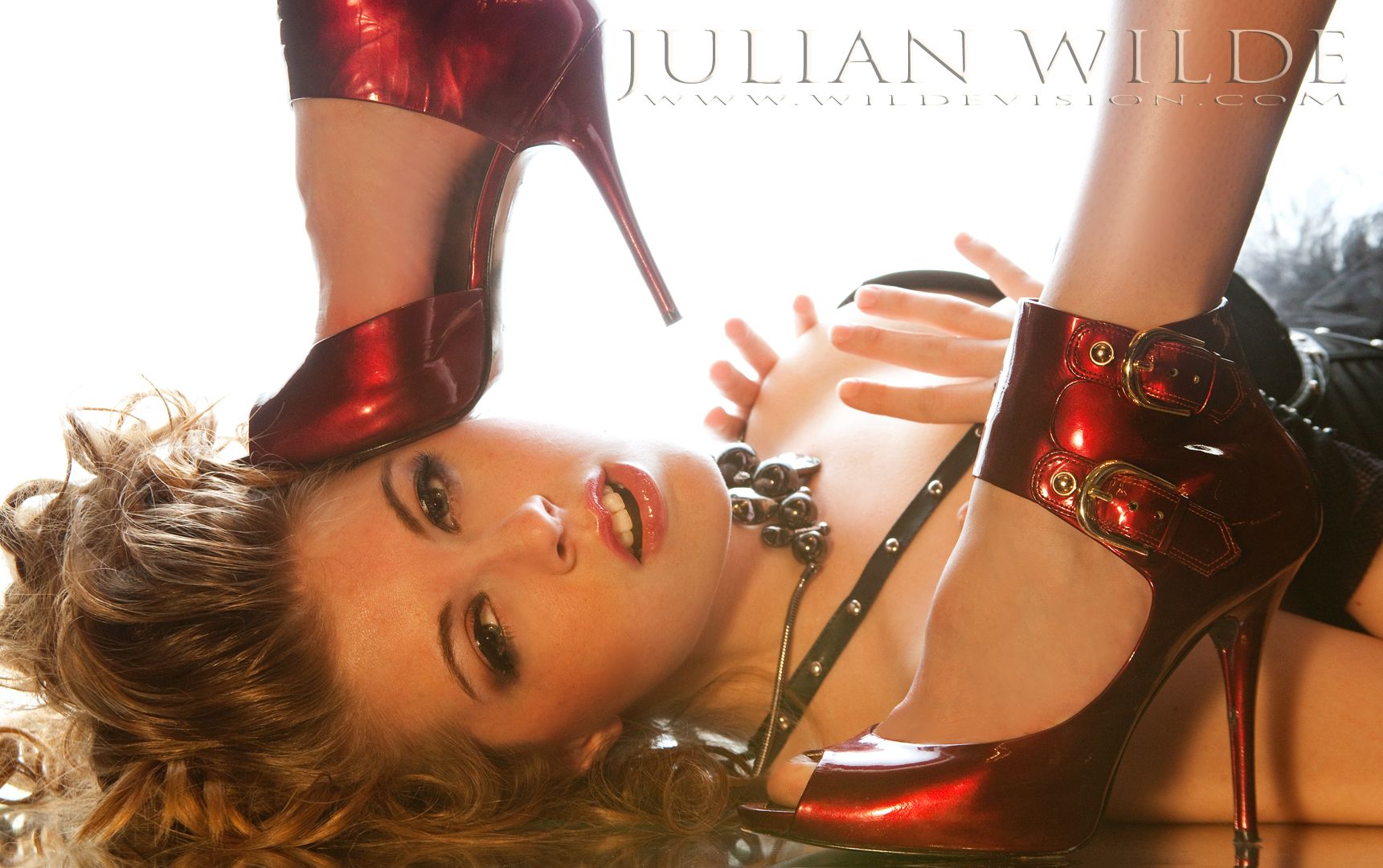 88.) Fave Wilde Model Jessi June, styled by Team Wilde for our book "Provocateur."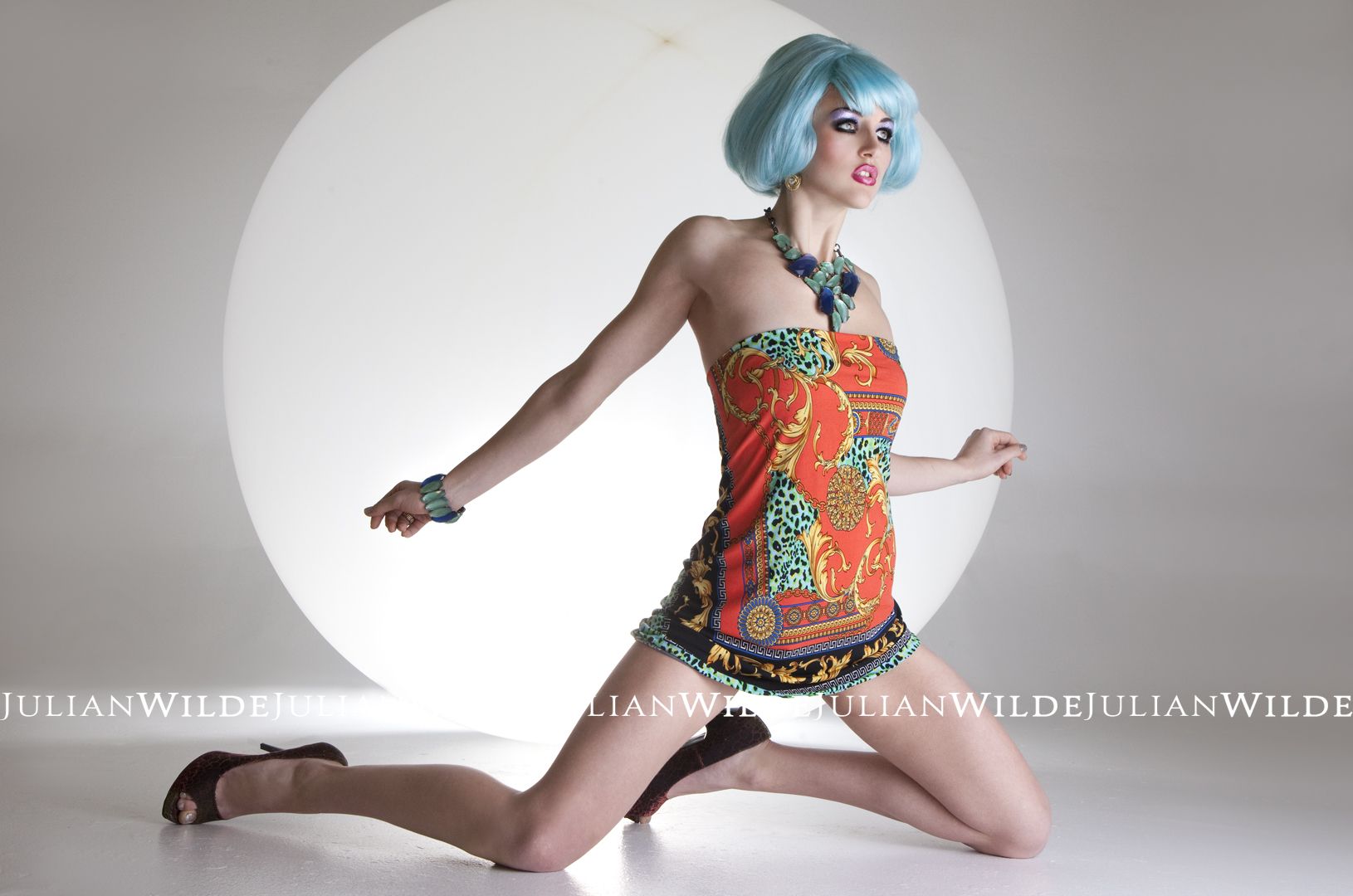 89.) Fave Russian Model and Wilde Beauty Alaniya works the Full Moon at WildeVision. In an original desgin by Stylist/Designer Raven Wilde.
"Commenting about any of Julian Wilde's work feels about the same as popping into The Louvre in Paris and scribbling a quick comment on the Mona Lisa. Mere words feel so inadequate for work such as his. Wilde is one of the Great Masters of our art and sets a standard which we all hope to aspire to." John Farrar, Award Winning, Professional Photographer, England, MM # 680246
91.) The Beautiful Roma flew in to shoot with us for our books "WildeBeauty" and "NightVision."
92.) Although it's not something we do throughout the year, Selective Model Testing--either for our own projects or for agencies-- generally ranges from $300 to $1200, depending on length of session and number of sets and images. Professional MUAH and wardrobe is always part of our sets. "Inquire within."
"Julian Wilde's style and the exotic eloquence of his style is intoxicating. I never get tired of it!" -Jessica Lark, Photographer.
93.) I only accept "Friend Requests" if I think it's possible that we may shoot together at some point. Or, if I'm just feeling warm and fuzzy. Thanks!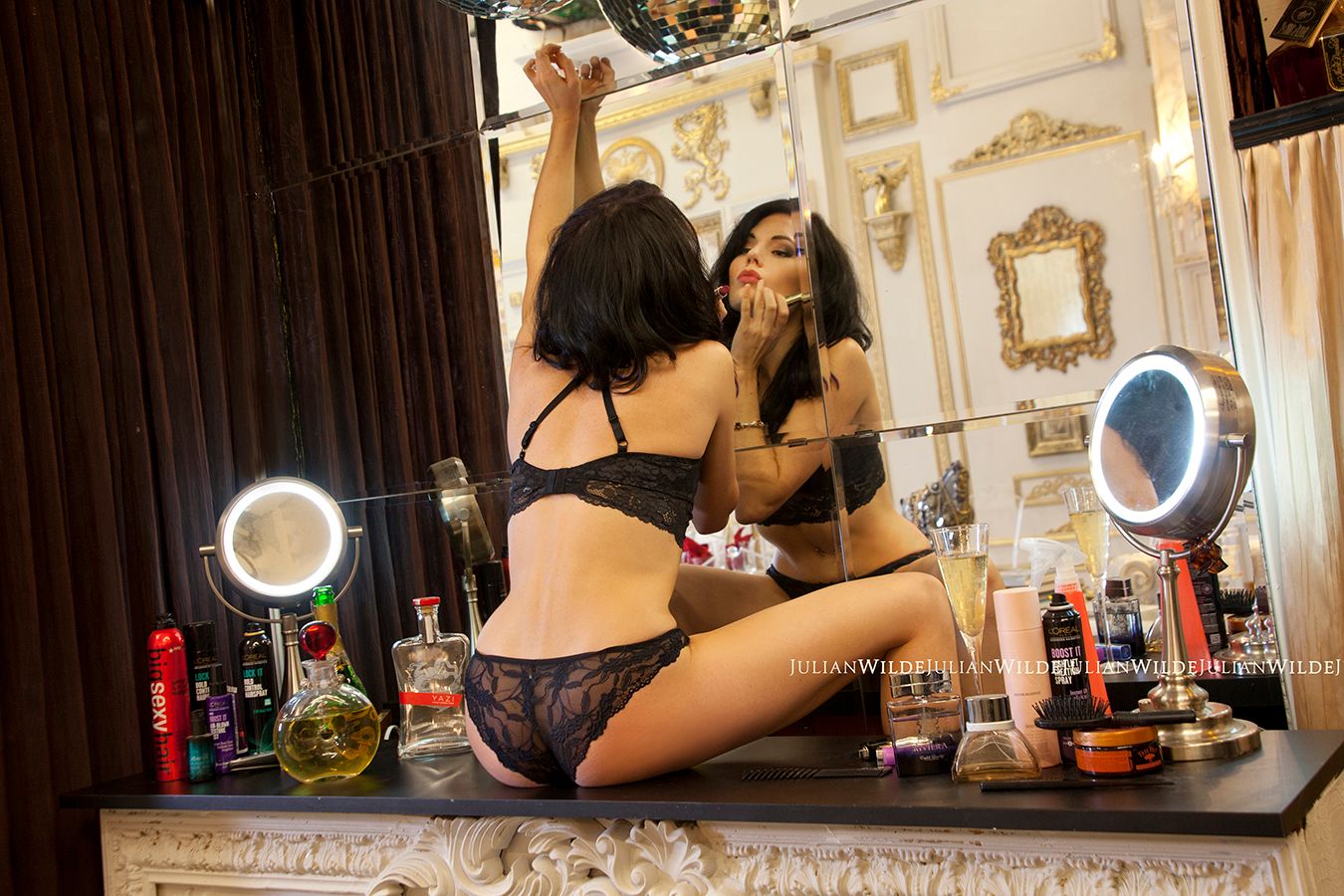 94.) The very lovely Shawna... for "Lingerie Lounge."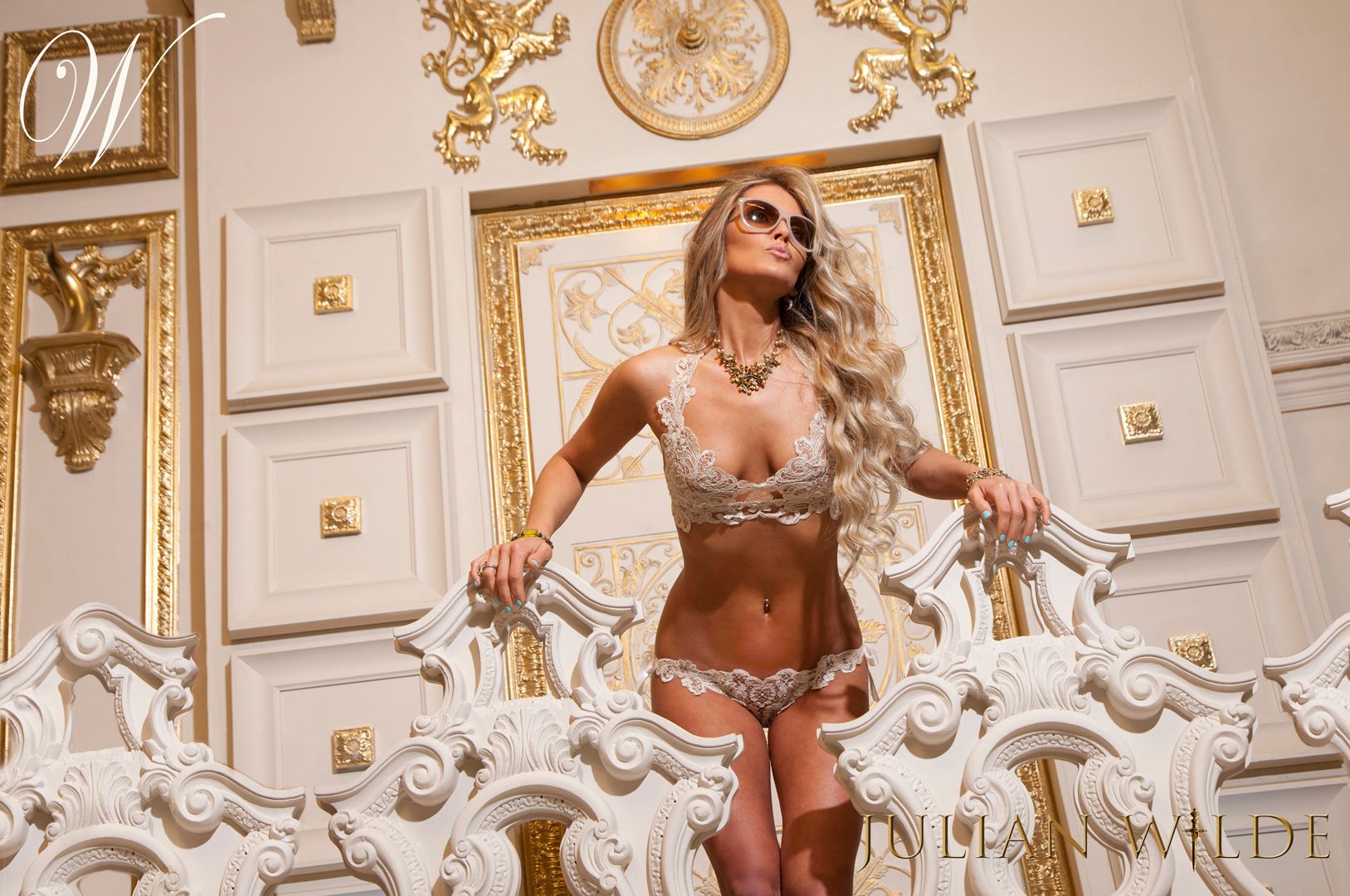 95.) Fave Model on the balcony at Wilde Manor... wearing an original lace piece by Designer Raven Wilde..
96.) Something NEW here....
97.) Swim wear model Staci Hart wears LA Designer Jeremiah Hill for "StarBaby!"
98.) Before we walk too far "down the Garden Path," let me be up front about a couple of things. I do the caliber of work that I do because I work with a high caliber team of mua's, stylists and wardrobe artists. When you're working with me, you're working with them. They are Professionals and they are Always Paid. No exceptions. They do Not "collaborate." Generally speaking my muah's come in at 125 plus and wardrobe is 75 to 150. Some things are negotiable. THIS is what's called: "a deal-breaker." I could go on and on as to the reasons, but the fact is: if you can't handle this, I'm sorry... I just can't help you.
99.) And the other thing: All Models sign a Model's Release before I ever pick up a camera. Now... let's all have some fun!! -JULIAN
"I have no interest whatsoever in capturing people as they really are. I gladly leave that to Portrait Photographers." Real "portraits" bore the living hell outta me. But I am utterly fascinated by portraying my subjects most convincingly in a way that they are not." -Julian Wilde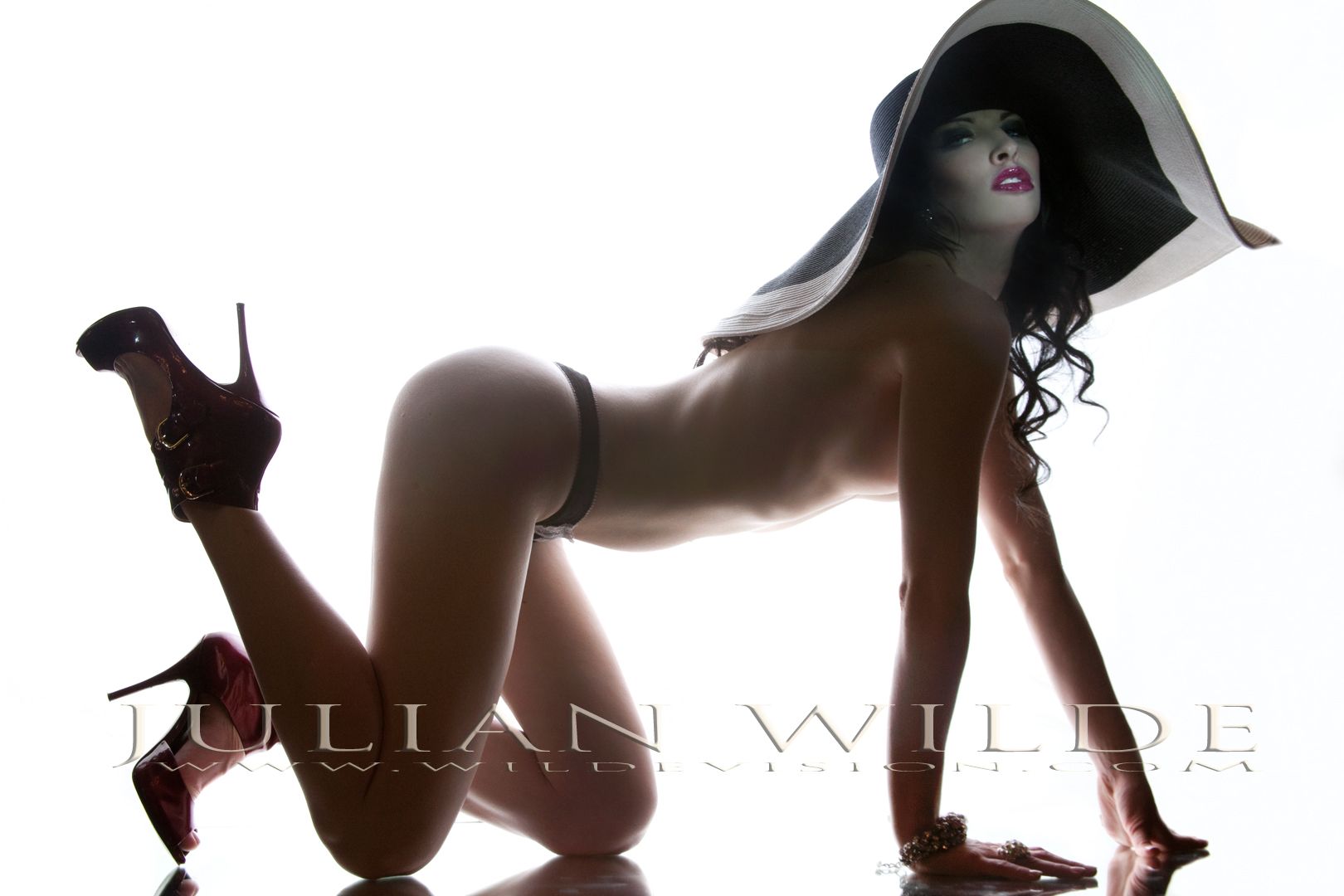 100.) "A Lady & Her Hat," an award-winning image on RedBubble.com, with touring model and Philly Knockout Jaylynn Mitchell.
"There is a unique and special dynamic between a model and a photographer. When someone as easy-going, creative and talented as you, makes a model feel so comfortable, and beautiful as you do--it shows in the pictures. I so enjoyed working with you! Keep bringing your visions and dreams to light." XOXO Victoria. Awww, Victoria... you make ME melt!
101.) Editorial for Marc Kristel lingerie line...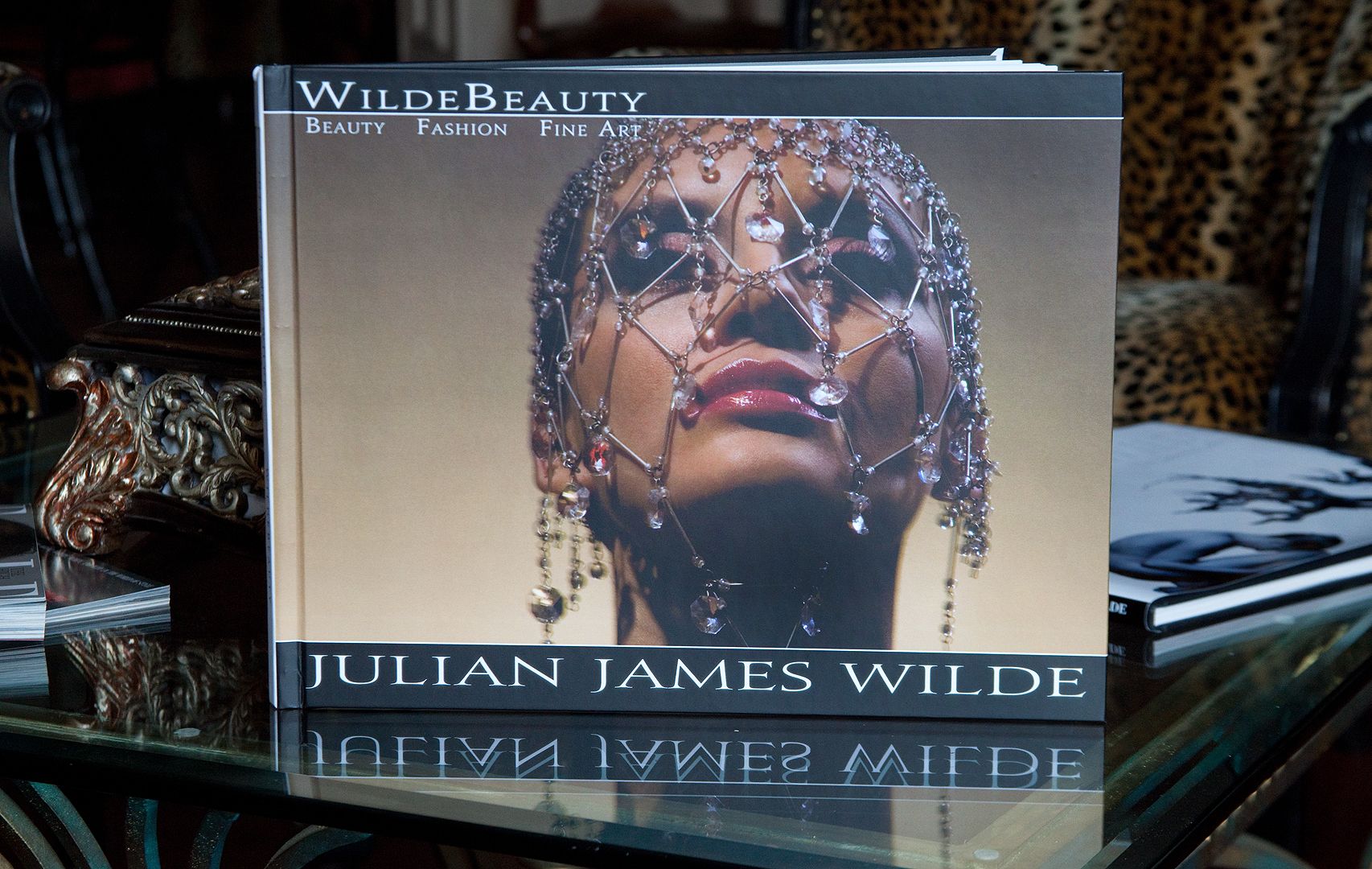 102.) The front cover of "WildeBeauty." This 100 page, hard cover, Collector's Edition is printed on high gloss paper and available thru our official site.
103.) You may have noticed that I like my girls looking like they're from the planet Earth. I'm not a big fan of abusing Photoshop or plastic-looking faces. If you wanna look like a rubber-skinned Android with a brushed aluminum body... there are photogs and "photo shop wizards" who love to do that. I'm just not one of them.
104.) I joined MM about 6 years ago to network internationally with other photogs, stylists and models concerning a few projects I'm self-producing. . As you peruse my port you'll see some of my personal work and photography books/Digital Downloads represented. "Entourage," The Fine Art of Dreaming," "NightVision," and "WildeBeauty" have all recently wrapped. If you see a project that looks interesting and you believe you have something special to contribute, msg me and let's talk. This kind of work can sometimes be done on a TF basis with me. But once again, mua and wardrobe is always additional.
106.) Darling Nikki.... photographed for "La Femme."
"Julian Wilde's incredible imagery, his visual decadence, his whimsical touches balanced by depth and richness--all brings fantasy and art to the world. His work is the Platinum Standard." -Craig Allen, Commercial Photographer, MM # 649.
"Julian Wilde's photography is incredible and stunning... it leaves me breathless!" -John Hough, Photographer, West Hollywood, CA.
O.K. I admit it: I'm a hardcore Architectural Junkie! The Perfect Shoot? French Vogue meets Architectural Digest! Everybody wins! ;-)
"Wilde's work is a unique brand of high-style glam. Elegant, Sexy, Hot and Flawless!" Camerosity, St. Loius, MI.
"A heady and sumptuous mix of fashion, high-end glamour and beautifully styled drama. Our James Bond could have lived in [his] photographs. Great respect for outstanding work. " Roger Mann, Photographer/Designer, U.K. MM # 719711 Thanks Roger. No slouch yourself! ;-) -Julian
"As an artist and more importantly as a human being... I am not here to judge anyone. I am here to appreciate. And I do fully appreciate the beauty, the energy and the wonderful talents I work with to the very height of my abilities." -Julian James Wilde, From "WildeBeauty"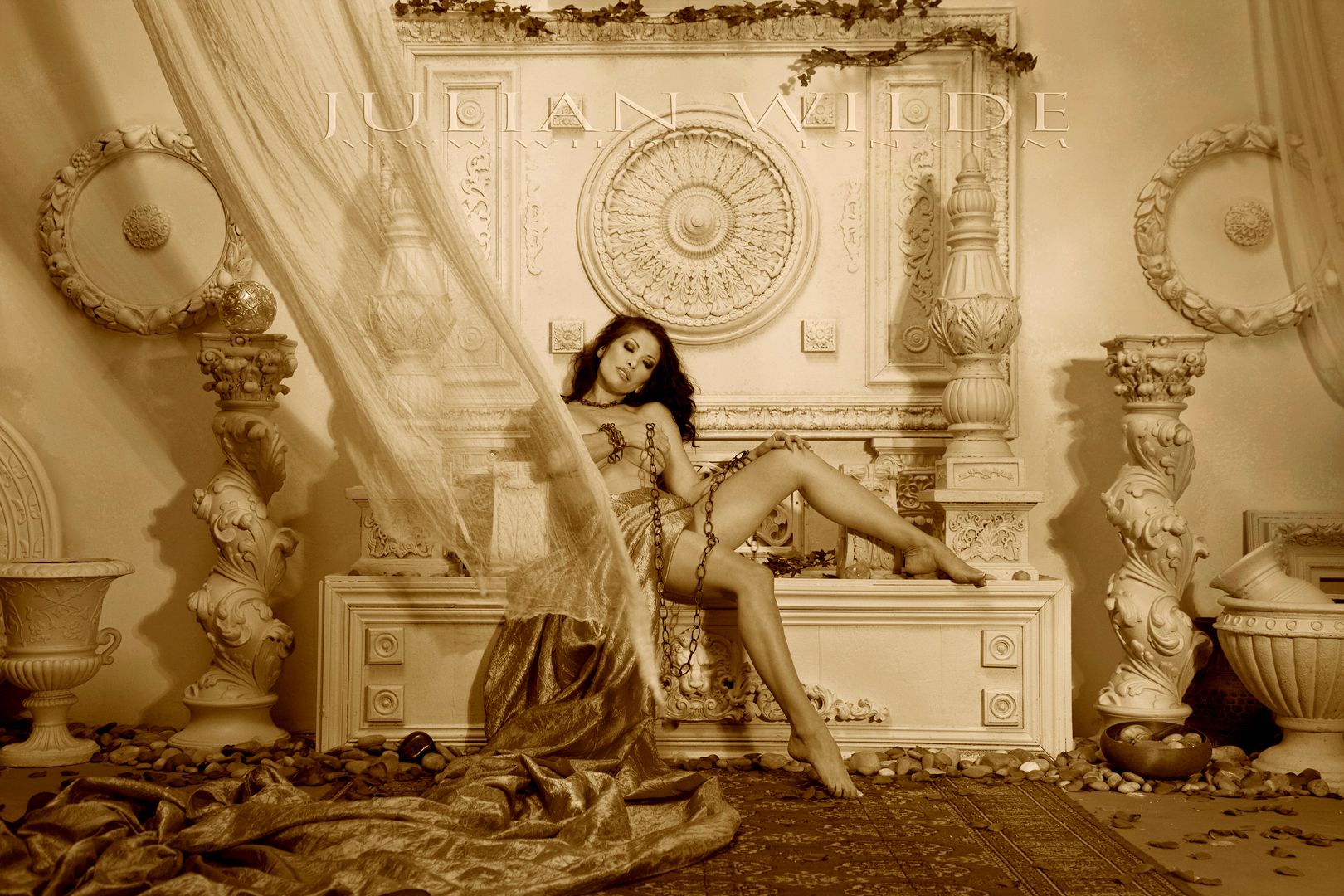 107.) The incomparable and very dear Dora Miller... caught in a daydream at WildeVision Studio's Rome. "Thank you Sweetie!"
108.) Once again, virtually everything you see in this port were photographed in either my Super Studio in The Pearl of downtown Portland or my home on the Columbia River. Simply put, the studio is a full private floor, with simply unlimited opportunities for shooting and creating. Having said that, I actually enjoy shooting at our House, especially during the summer. Consequently, I very rarely leave town for work. ;-)
110.) One other thing, I usually don't add "friends" unless I feel something friendly. Feel free to tag or comment first. Warm fuzzys welcomed. And if it looks like your more into porn than photography--I'll pass. Thanks!
111.) If perchance, you are 20 minutes late for an interview or a shoot--and you do not call--I will consider the appt canceled. No hard feelings.
But the chances of getting a second appt under these circumstances are somewhere between nil and void.
112.)
"We are human only in the the sense that we play. For we touch the divine and we are our most human when we play for no reason."
-Julian Wilde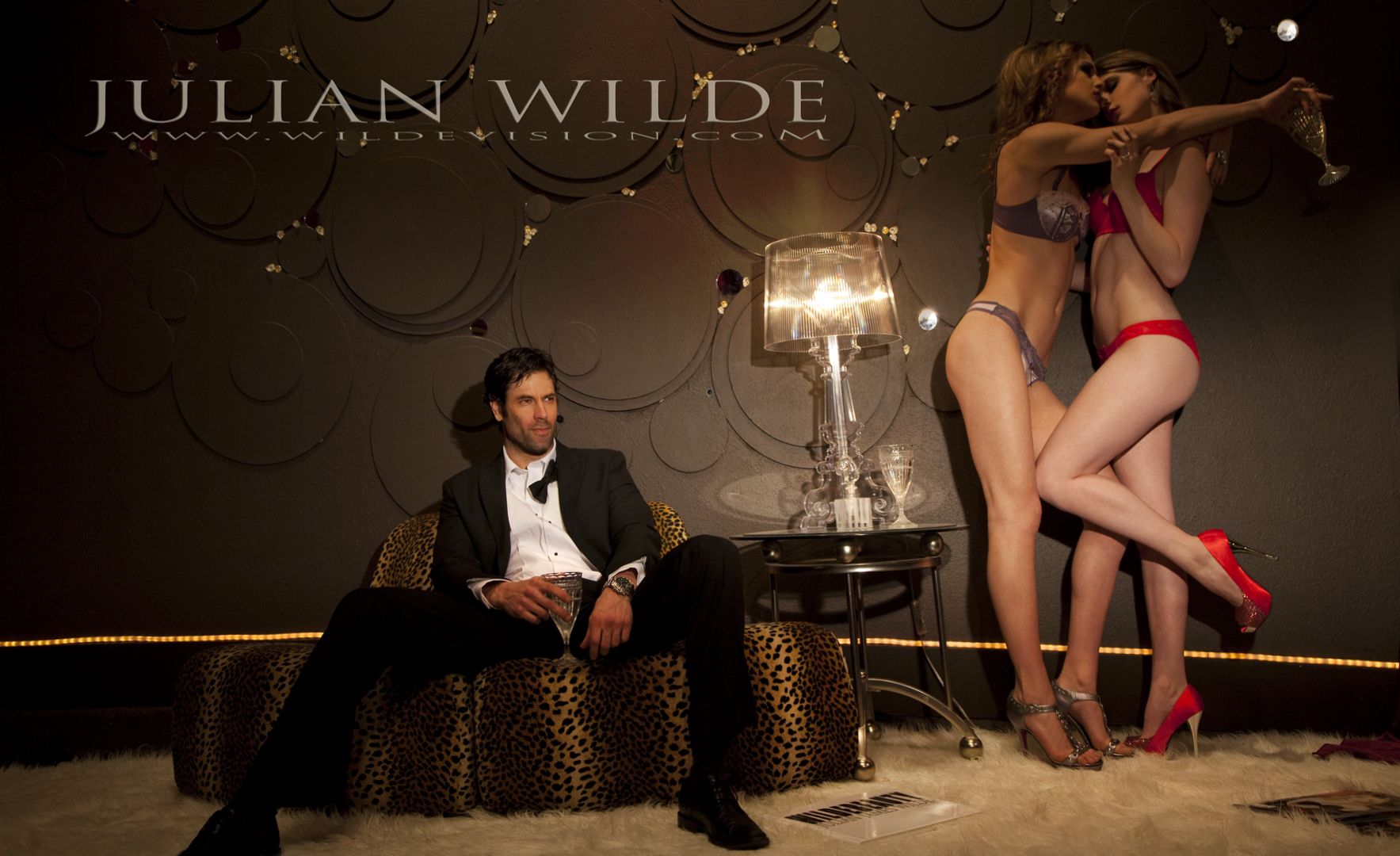 113.) So much for "What Happens in Vegas, Stays in Vegas!"
Photographed in WildeVision's "Vegas!" for my new book "WildeBlue, Rated W." 2013.
"Thank you so much Julian Wilde. You are an amazing person that will accomplish everything you desire because of your talent, creativity and your commitment as well. I really don't know what to say other than Thank You from the bottom of my heart. Julian, you are a star in the night shining on everything and everyone. Thank you so much!" -Jennifer McCall, MM #521345 (Jenn, you are so welcome! And more than I can say. -JULIAN)
114.) Outside of us all being a little subjective about our work...our Portfolios are really the "hard facts."
A general rule of thumb regarding paid shoots: the one with the better portfolio is in a better position to charge for services.
Now... that may not sound like the perfect world, but is a position that can be justified by a reasonably sane person.
There are exceptions of course, and as we all know: it's the exceptions that make the world go round!
115.)The beautiful Laudan and the inside of her Beautiful Card... All shot by us.
116.) I get asked a lot "Am I experienced enough to shoot with you?" I'm really not at all concerned whether you've shot with 500 photographers or this is your first shoot. The only thing that concerns me is what I feel you are capable of in My studio. That's it.
117.) Not to worry about my pet Peacock. "Handsome Bob" is always happy to model, and although he is very much "the cock of the walk," he is really quite harmless!
118.) Miss America Katie Harmon for "WildeBeauty."
119.) Oh, and my ESCORT POLICY: If I don't like their energy, I may at any point, ask them not so politely--to leave. If I do like their energy--well, that's different, and that happens all the time too!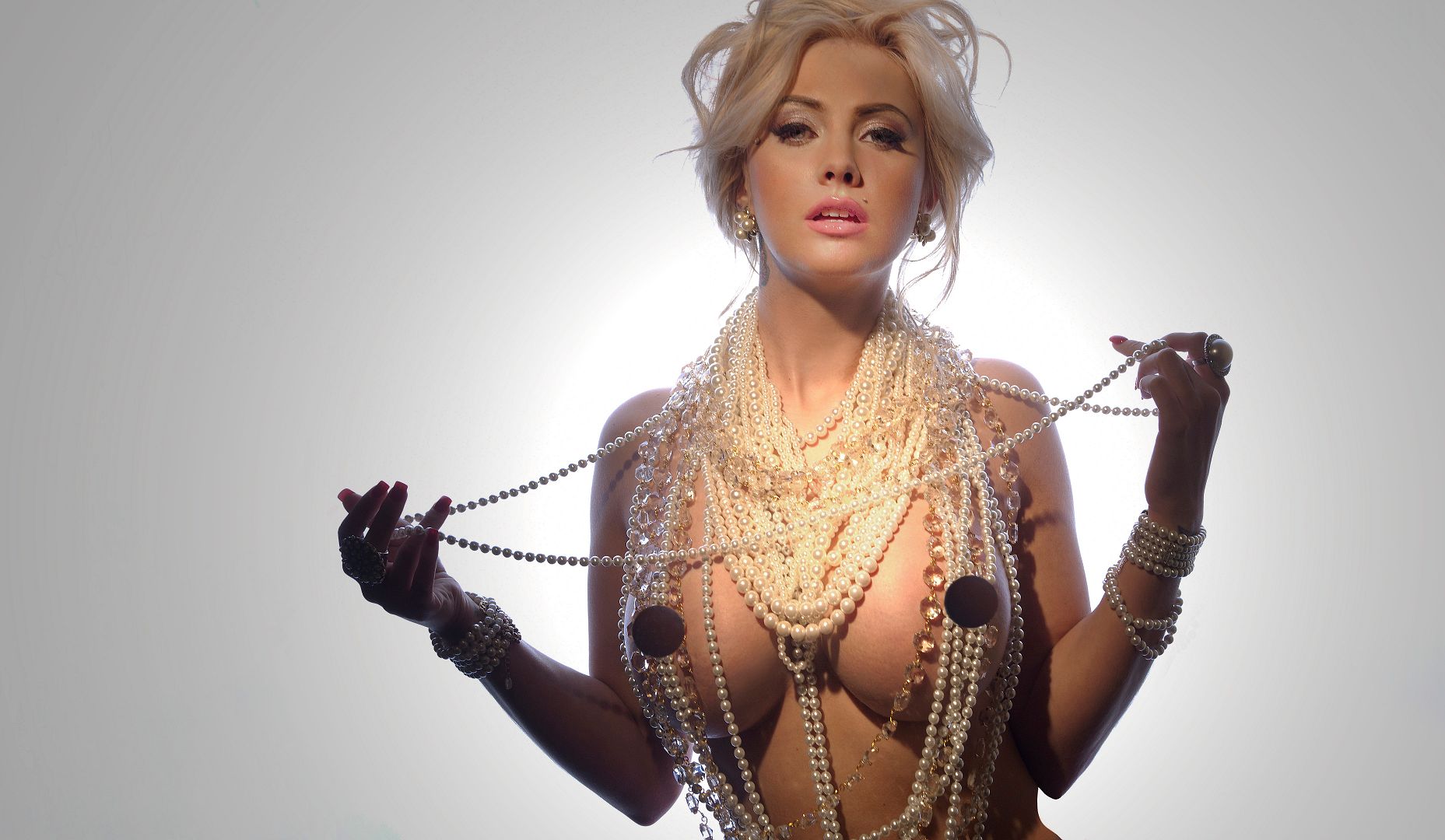 The Fabulous Chanel Lynn for "ClubWilde!" Censored per Mayhem Rules.
120.) I generally don't solicit commercial work. To do so, would be an outright concession that my time is worth more working for Them and hooked up to their plow, than it is working for Myself. And THAT... I rarely believe. -JULIAN
Danielle Scherparelle photographed at WildeVision for "The New Boudoir by Wilde."
121.) "Bad photographs don't lie. Great ones do." -JULIAN
122.) Breathe deep. And Smile. It's a Beautiful Day!
"Midnight at The Studio."
Verified Credits (3)
Worked with Julian W I L D E? Share your experience and become verified!
Add Credits
"Super professional and fun to work with. Julian is particular and every aspect of a photo serves purpose in telling a larger story. He pays attention to detail and provides photos that transport you to a fantasy world that feel exotic." Read less
"Julian and his wife are just so much fun to shoot with and are a power duo for styling, lighting, staging, and making you look and feel like a rock star. Julian in particularly has a very invigorating, enthusiastic personality that's a blast to work with. Looking forward to shooting with him again!" Read less
See Less
See All Verified Credits (3)
Credit Notes
A.) As for Acknowledgments, I feel privileged to tip my hat to legendary photographers like Helmut Newton, Francesco Scavullo, Irving Penn, Guy Bourdin, Skrebneski, Richard Avedon, Gilles Bensimon and Herb Ritts among others. We all are privileged to stand on the shoulders of these giants.
B.) Beyond that, I owe everything to Raven--my angel, the love and the light of my life. Without her support, inspiration and love, I wouldn't be able to accomplish a fraction of what I've done over the last 10 years. My success would not only have been diminished--but there would be no joy in it for me. "Raven, you are, and have always been The One."[/b]
C.) "Being a photographer is something like being born a songbird or a zebra. It's not something you try to be. It's something you are. And even though you strive to become better with each day you are given, you cannot change that essential part of yourself. No more than a songbird may forget to sing or a zebra can change it's stripes." -Julian James Wilde
"Julian Wilde's work is absolutely stunning. Not only is he one of the most amazing photographers, but his "eye" and sense of style really captures a look and creates a moment."[/i]
Tim Peirson, Cast of Thousands Studio, MM#795387
"Wilde's work is phenomenal and incredibly sensual. He succeeds in ways that is far beyond making photographs; his work takes hold of the viewer and transports them into a story--which stirs the senses beyond the visual and gives meaning and reason to art."
- Mindzeye Photography, MM# 83790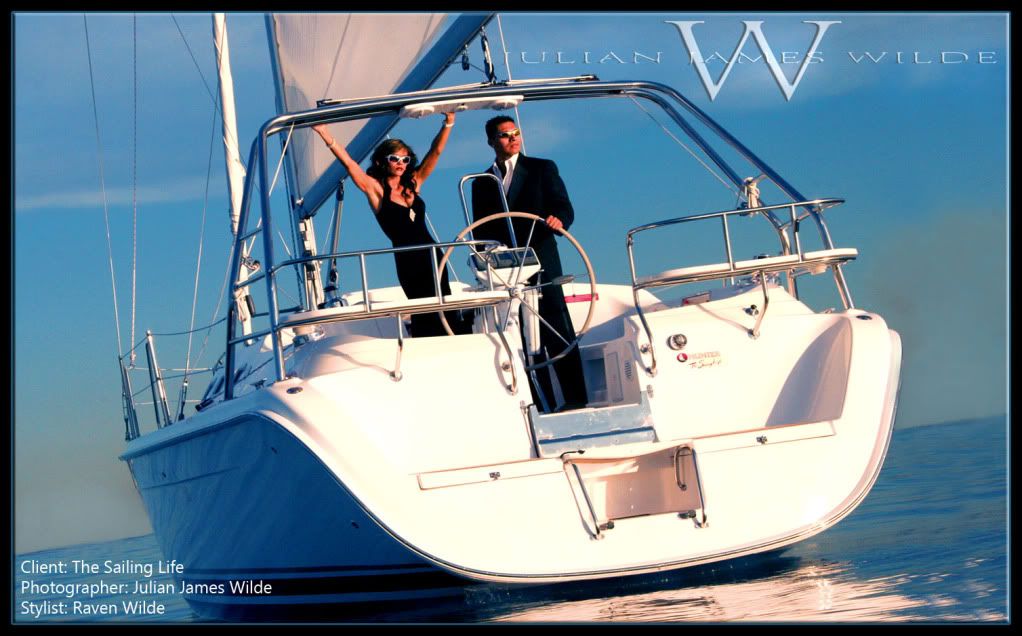 D.) Commercial Advertising shot for The Sailing life.
"Julian Wilde's photography is at a level few will ever reach."
-Will Le Blanc, Photographer, WJL Studio, New York, MM# 163271
"The photography of Julian Wilde is art that flows. Always elegantly beautiful and seductive. Captivating and sublimely decadent."
-Contessa Black
"A true visual artist! Julian Wilde is one of the world's most diverse, stylish and intensely creative people." -Duane Allen, Photographer, MM# 649
An Impromptu Zentai Performance in the Gallery Salon by Artist/Models Artemis and Samantha. Included in "Erotic City."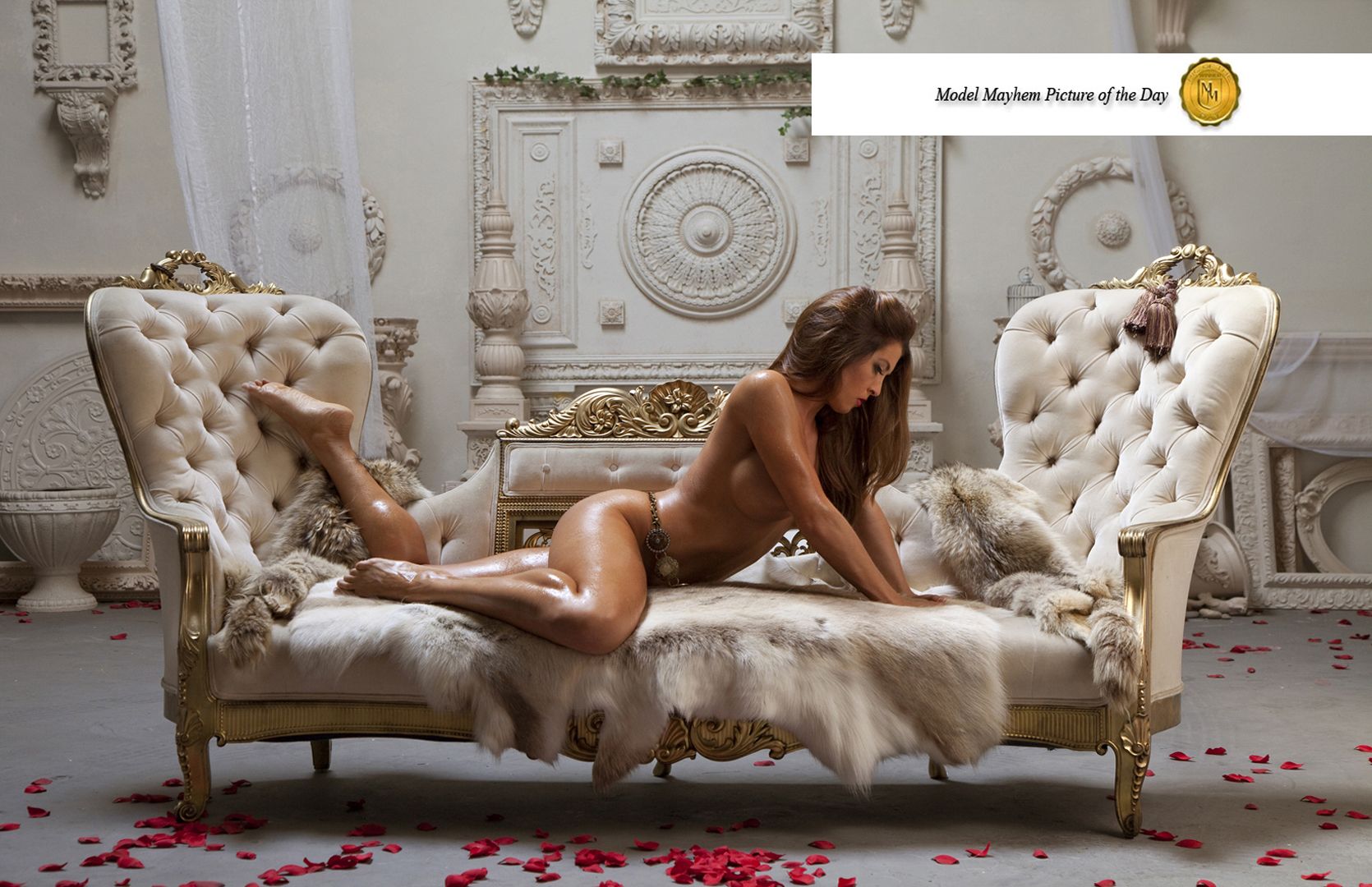 F.) Another Picture of the Day "The Lioness of Ancient Rome," with LA Model Emelle.
"Julian Wilde is a high class phenomenon, and his work--which is an everlasting enjoyment--is superbly stylish and deliciously decadent."
-James Walsh, Photographer, London MM#697374
"There are Photographers and there are Artists. Julian Wilde is unquestionably the best of both."
-Bill Morrissey, Photographer MM#138877, L&M Studios, Orlando, FL
"This is pure cinematic joy and shows talent and skill way beyond what most of us will ever achieve." Roger Mann, Photographer, U.K. MM # 719711
"Like anything meaningful in life, photography is not about what we see, it's about what we don't see." -Julian James Wilde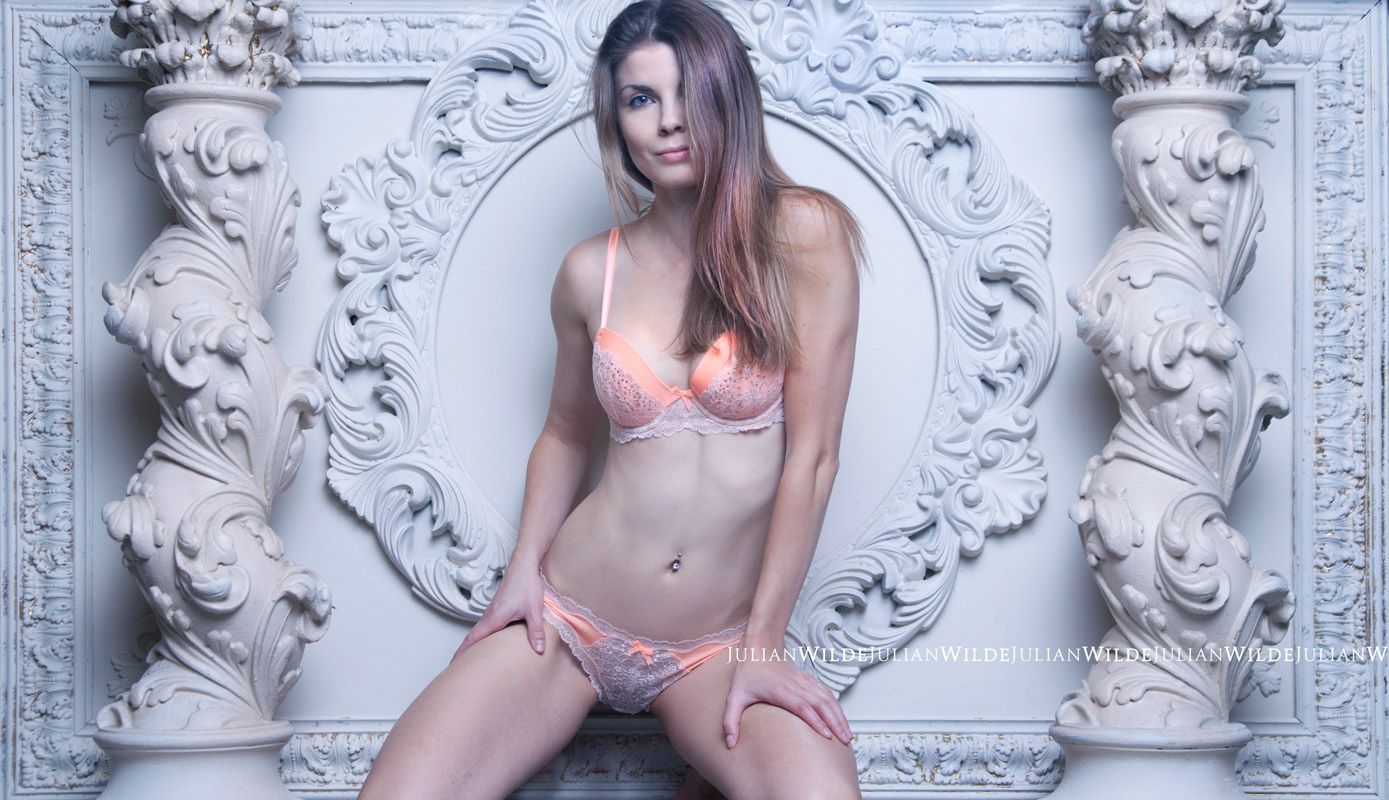 G.) The lovely Cara Michelle...Styled by Raven and photographed at WildeVision for "Fashionista!"
H.) Roma getting Wilde in L.A...... Photographed for my new DVD "NightVision."
I.) Just some of the Beauties of WildeVision...
J.) Wilde Beauty Chanel Lynn for her Playboy submission shoot at WildeVision.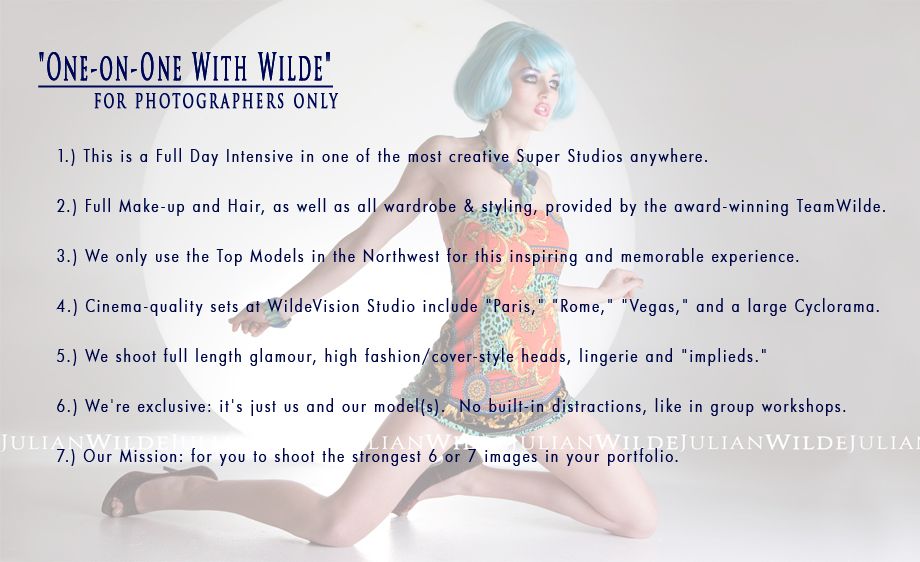 K.) Here we are again with Russian sensation Alaniya at WildeVision Studio. Alaniya is a favorite Touring Model one of the models we love to work with in our "One-on-One with Wilde" Intensives.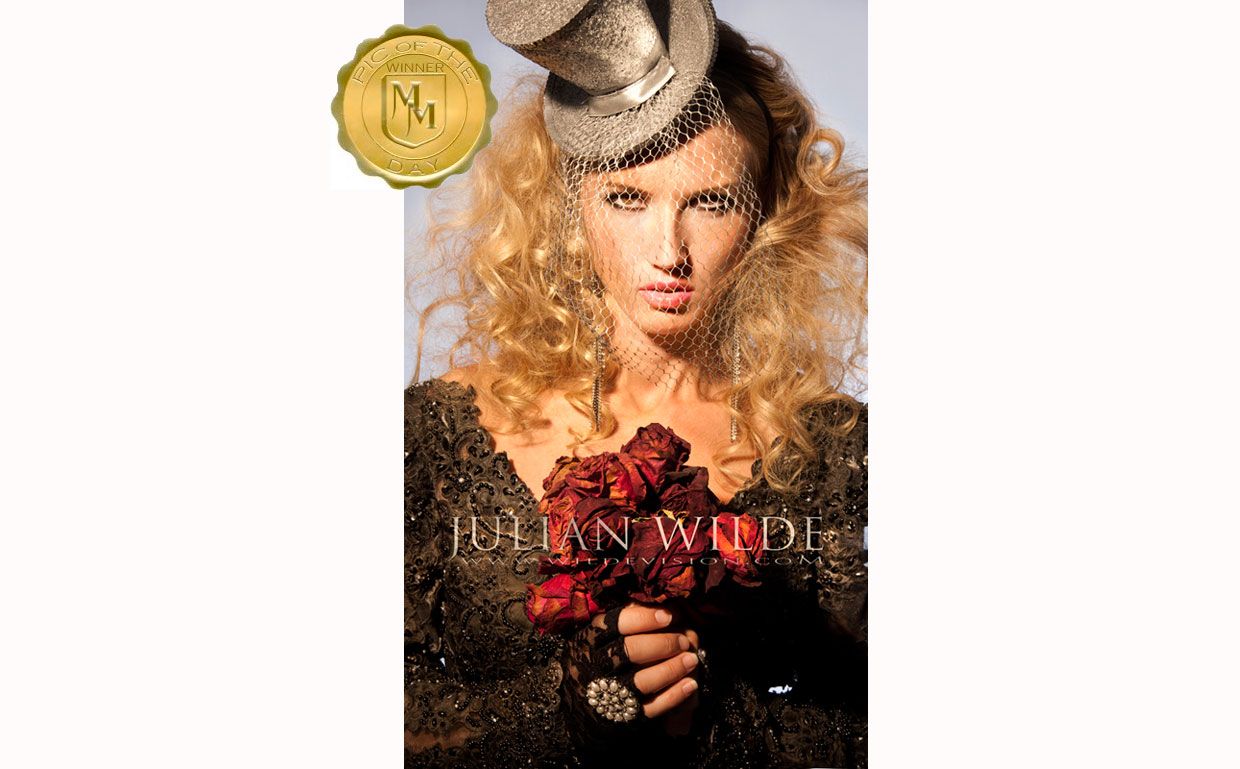 L.) Russian sensation Anghelika Yakimenko in Pic of the Day: "Dark Circus Flower Girl" styled by TeamWilde at the Beach House.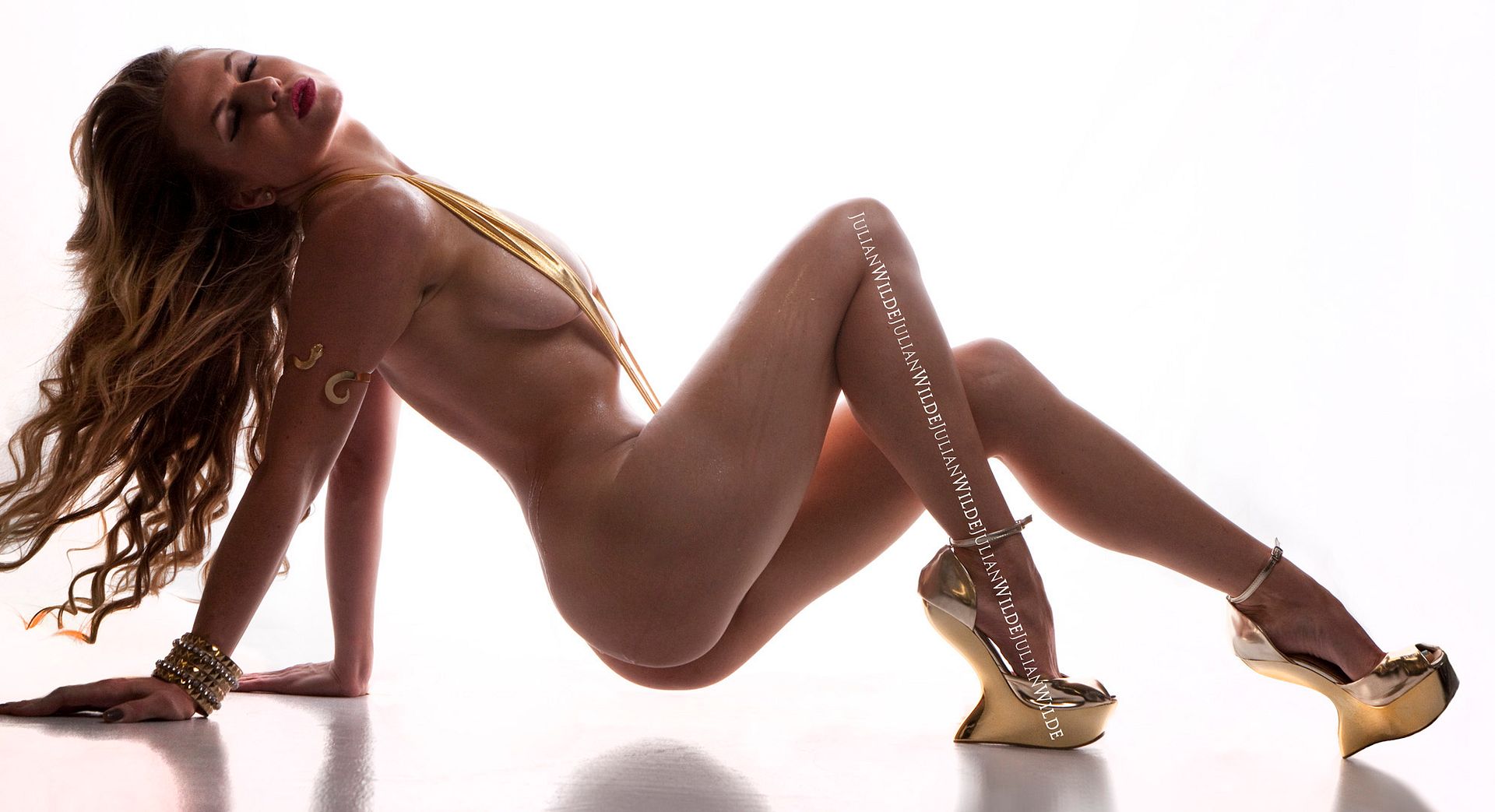 The very lovely Sophia DePorter for "ClubWilde, Rated W."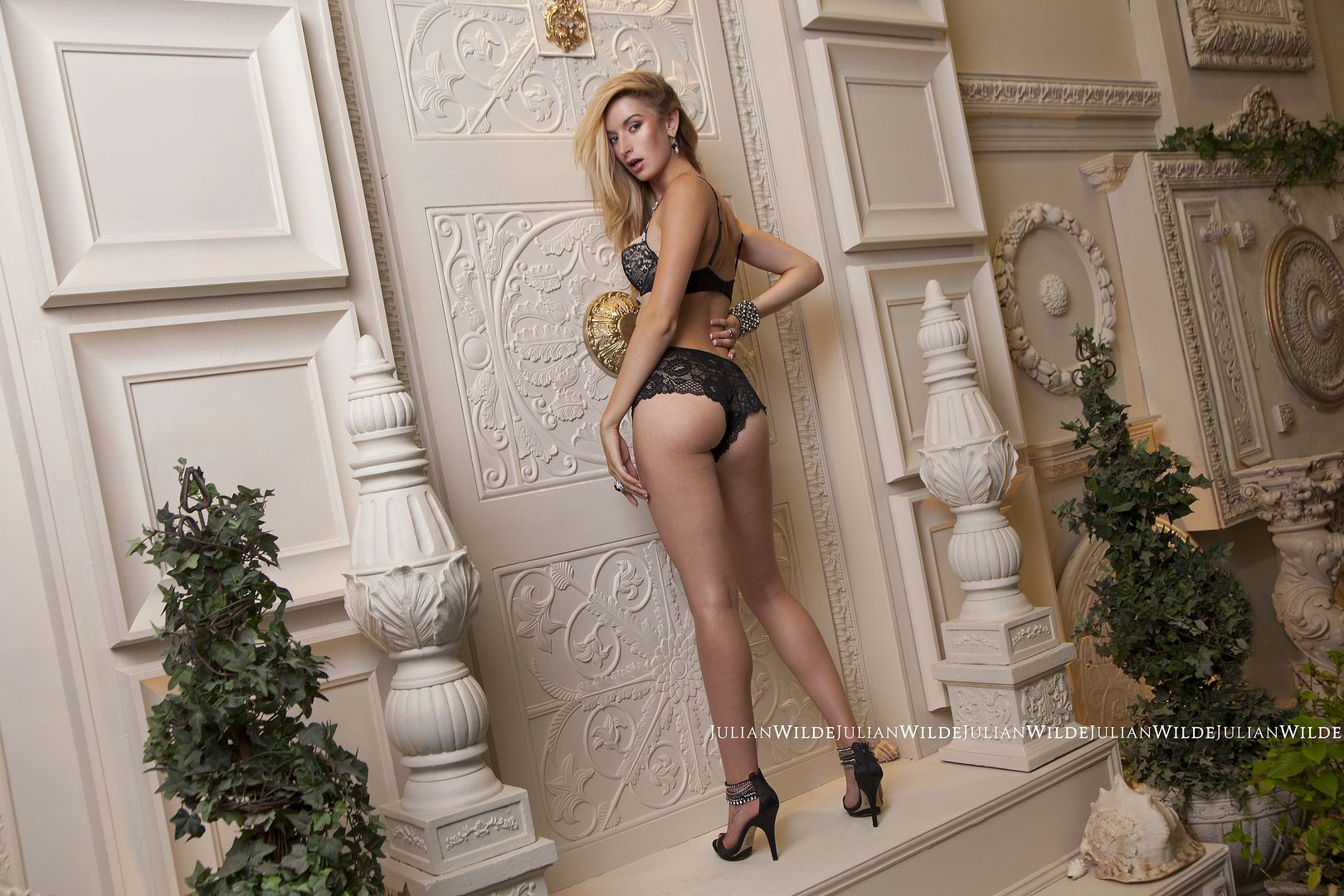 The beautiful 19 year old Carson... pauses for a moment at the door to KingsGate at WildeVision Studios while being filmed for "WildeBeauty."
Valentina in Agent Provocateur..... Photographed for "WildeBeauty."
Question: "Why don't you TRAVEL more?" Well... if there were Studios like this in every major city... I just might consider it! And besides, all My Toys are right here. ;-) It's really that simple. -JW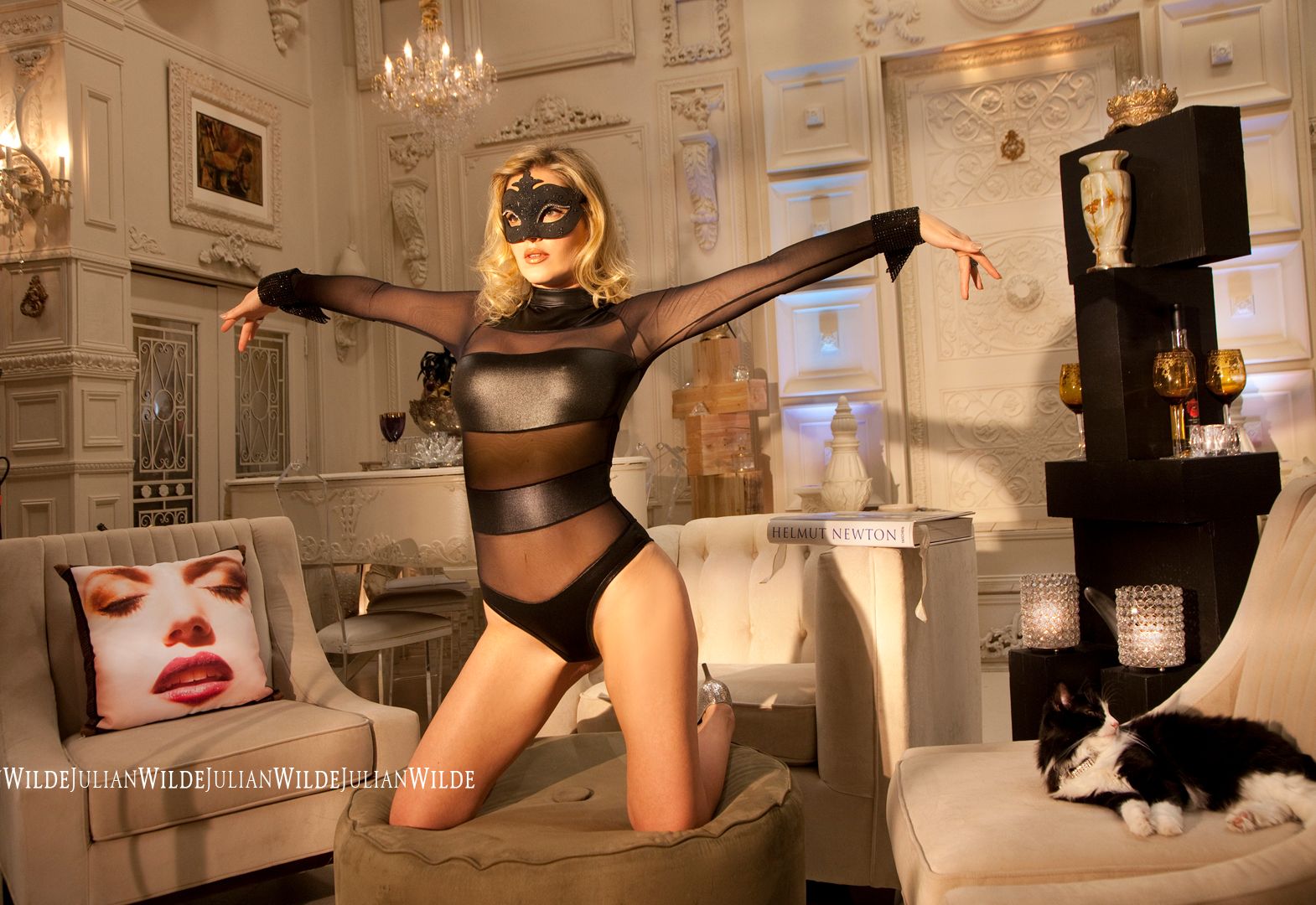 "Thank you Julian! You are so sweet and I so appreciate that about you. This time hanging with you guys was just the medicine I needed.
Also I LOVE how all these came out. This might be my favorite set ever!!" -Carly Kingston, Model/Actress.