Details
Last Activity:
Oct 31, 2013
Experience:
Very Experienced
Compensation:
Depends on Assignment
See Less
Friends (390)
Lists (2)
Melissa Maria's list of killer photos
1 Photos
See Less
About Me
My Favorite Quote
"The challenge is to be yourself in a world where everyone tries to make you like everyone else."
Photo of my spread in Millennium Magazine NYC April 2012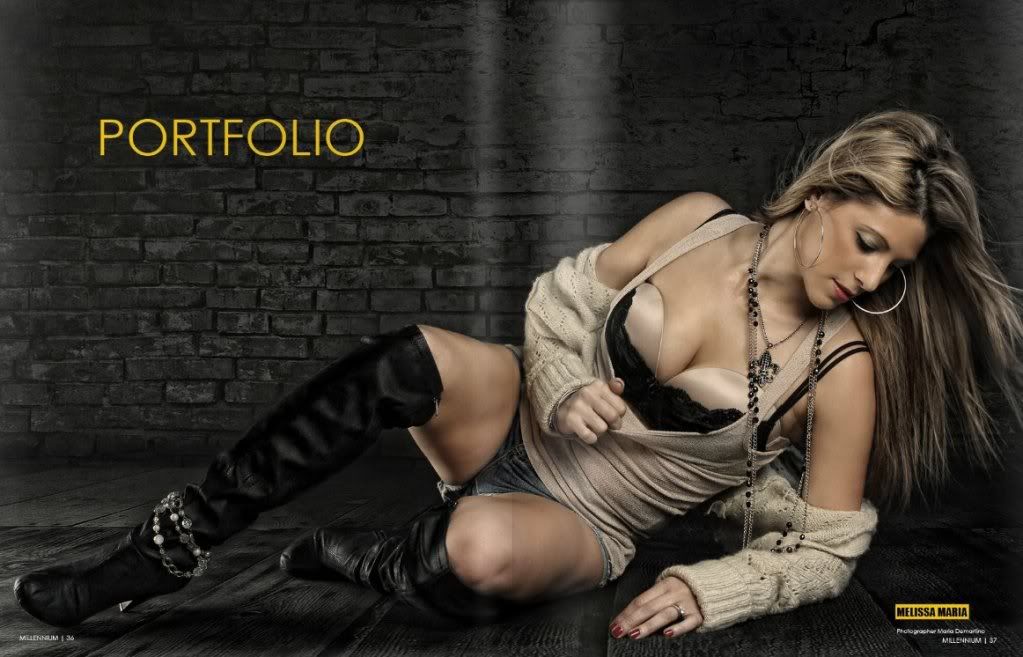 UPCOMING APPEARANCES/PROJECTS
•Jersey Shore Premiere Red Carpet Event | Red Carpet Host October 2013
•Mommy To Be February 2014 <3
BECOME A FAN OF MY FACEBOOK FAN PAGE
http://www.facebook.com/melissamaria.fanpage
FOLLOW ME ON TWITTER
http://twitter.com/melissamaria959
YOUTUBE
http://www.youtube.com/2011ratrockgirl
2011 WRAT ROCK GIRL | 95.9FM
http://www.wrat.com/RRG-Melissa.aspx
Verified Credits (0)
Worked with Melissa Maria? Share your experience and become verified!
Add Credits
Credit Notes
APPEARANCES/HOSTING EVENTS/PROMOTIONAL
Jersey Shore Premiere Fall Fashion Show 2013
Mrs. Highlands United States 2013
"Rock The Runway" Charity Fashion Show | Modeling for Rue Royale Couture
IHOP's Annual National Pancake Day | Children's Miracle Network
Breast Cancer Awareness | Charity Fashion Show | Diane and Company, Jersey Couture/Jersey Shore
Modelz Rock Model | Editorial Shoot
Ronnie Mund's Hot Chick of the Week | June 18, 2012
Red Carpet Host | Jersey Shore Premiere
Bamboozle Festival | Harley Davidson | Promotional Model
Host | Red Carpet Event Special Guests Jackie Jerseylicious & Jersey Couture
Host | Jersey Shore Premiere | Special Guest Jersey Couture
Miss Howard TV for March 2012 | Howard Stern
Harley Davidson | Belmar St. Patrick's Day Parade 2012
Headliner Happy Hour Live Broadcast
HI Def Den Giveaway | Stone Pony
Nutcracker Ball ft Corey Taylor | Backstage Interview with Corey Taylor
Runway Model | Winter Fashion Show | Jason's Dreams for Kids
Five Finger Death Punch Interview | Share the Welt Tour | Backstage Interview with Ivan Moody
Host | Taste of Middletown Red Carpet Reception
Host | Trick or Treat Red Carpet Event
Millennium Magazine Launch Party | Sky Room
Major Tool & Equipment | Live Broadcast with Rocker
Beerfest | Asbury Park Convention Hall | Photo Booth with me/RAT TV
9th Annual Rat Rock Open Charity Golf Classic | Ladacin
Judge | Third 2012 RRG Casting | Harley Davidson of Ocean County
Judge | Second 2012 RRG Casting Call | Bar Anticipation
Jersey Shore Fashion Show | Runway Model for Posch Boutique & Ergo Jeans
Red Bank Street Fair | Appearance
Shoreline Heart Walk | 3 Miler | Asbury Park
Rat Presents Sevendust | Starland Ballroom | On Stage Appearance
Judge | First 2012 RRG Casting Call | Headliner
Live Broadcast Headliner with Jim Steal | Guest Co-Host
9/11 Memorial Run | 3 Mile Run | Belmar, NJ
Model | Jersey Shore Runway Fashion Show | Bar Anticipation
Host | Red Carpet Networking Event | Long Branch, NJ
Live Broadcast with Jim Steal | Guest Appearance | Headliner Neptune, NJ
Guest Appearance | Live Broadcast at the Starland Ballroom | Seether
Raceway Park Monster Truck Meltdown | Englishtown, NJ
Rat Listener Appreciation | BlueClaws Stadium
17th Annual Clam Festival | Highlands, NJ
Welcome Home USMC Lance Corp Vincent Valente | Brick, NJ
Harley Davidson | Bikini Bike Wash | Big Brothers Big Sisters
Starland Ballroom | Interview with Puddle of Mudd | RAT TV
Rockstar Mayhem Fest | Interview In Flames | RAT TV | My Autograph Signing
Toni Silvano Memorial Benefit | Tre Amici | (Benefit I put together)
Kim Moran's House | Gotts as a French Maid
Belmar Five | Five Miler | Jersey Shore Golden Grand Pri
Oceanfest | Belmar 4th of July Fireworks
Live Broadcast Headliner Happy Hour | 4th of July Weekend Fiesta
Fireman's Fair | Atlantic Highlands
Cut-A-Thon | Sniptease Hair Studio
Ultimate Garage Finals | Stone Pony
Battle of the Bands | High Velocity
Asylum Cage Girl | Fight Under the Lights MMA | FirstEnergy Park
Belmar Seafood Festival | Belmar
Buona Sera | Networking Red Carpet Event
Bark in the Park | My First Pitch | BlueClaws Stadium
Autism Benefit | Bar Anticipation | Greater Media Newspapers
Cinco De Mayo | Live Broadcast with Jimmy Steal | Escondidos
Cinco De Mayo | Live Broadcast with Steve Hook | Spicys
The Rat Running Team | Ladacin Network
Autoimmune System | Bartender Competition | TGI Fridays
Salon Cemone | Haircut-A-Thon for Autism
Three Days Grace Interview | Starland Ballroom
MS Walk | Bar Anticipation
Longshots | Saturday Night House Party Live Broadcast
Ladacin Fundraiser | Publik House
Liver Life Walk | American Liver Foundation | NYC
St. Patrick's Day Parade | Live Broadcast | Spicy's
Headliner Happy Hour | Live Broadcast
St. Patrick's Day Parade | Live Broadcast | Belmar
Jersey Shore Premier Red Carpent Event | Bogarts
Rat's Big Day Off Ski Trip | Mountain Creek
National Pancake Day | IHOP Charity Event
Live Broadcast | Jenks Lingerie Contest
Pepsi Max | Back To The Beach Bash | Martells
Jagermeister Music Tour | Buckcherry Interview | Starland
95.9 WRAT Superbowl Party | Bud Light
Saturday Night House Party/Tattoo Contest | Live Broadcast
Music As A Weapon Tour | Disturbed | Korn | Sevendust | In This Moment
Super Bowl XLV Giveaway | Coors Light
95.9 WRAT | 2011 Rat Rock Girl
Nutcracker Ball | Starland Ballroom 2010
Broadcast For The People | WRAT 2010
Dos Equis (XX) | New Jersey LSA Holiday Package Show 2010
Chris Teach McNeil Stunt Show | Cross Country BMW 2010
Bella Rosa Salon | Hair Model 2010
American Hotel | The Power We Create | 2010 Red Carpet Event
FSN | International Fight League | Ring Girl
Johnson & Johnson | Red Bank, NJ| | Model
Nestle | Red Bank, NJ | Model
Dockers | Marlboro, NJ | Model
Pepsi | Edison, NJ | Model
Barbizon | Runway Event | Model
FILM
EM Magazine | Behind the Scenes with Votre Vu
Host | New Year Resolution Red Carpet Networking Event
CASA Commercial
Interview with Jackie Jerseylicious | Style Network
Interview with The Cast of Jersey Couture | Oxygen
FIOS1 | My Life | Melissa Maria
Chaunce Hayden | Holiday Models
Interview with Corey Taylor | Backstage at The Starland Ballroom
Runway Model | Winter Fashion Show | Jacques
Interview with Ivan Moody | Five Finger Death Punch
Host | Taste of Middletown Red Carpet Reception
Host | Trick or Treat Red Carpet Event | Park East
Runway Model | Reaction 1 Media | Posch Boutique | Ergo Clothing
SHOREzine Interview | Bar Anticipation Fashion Show
"Special" Wrat Rock News as a Zombie | Asbury Park
Beerfest | Asbury Park Convention Hall| Interviewing vendors/fans
Host | Red Carpet Networking Event Long Branch, NJ
Starland Ballroom | Interview with Puddle of Mudd | RAT TV
Mayhem Fest/Ratfest 2011 | Interview In Flames | PNC Art Center
Ultimate Garage Finals | Stone Pony | RAT TV
Asylum Fight League MMA | FirstEnergy Park
Buona Sera | Red Carpet Event Interview | Manny
First Pour at Rat Trap with Carl & Marty | BlueClaws Stadium
Wrat's Big Day Off Ski Trip | Snowboarding Lessons
National Pancake Day | IHOP Charity Event
My Rock News | Weekly Rock News | weekly
Jagermeister Music Tour | Interview with Josh Todd | Buckcherry
Wrat's Big Day Off Ski Trip | Interview Ski Lift Winners | Bar A
Live Broadcast | Tattoo Contest | Jenks
Backstage with Melissa 2011 Rat Rock Girl | Interview with Disturbed
Ladacin Network | 3rd Annual Polar Plunge
95.9 WRAT | 2011 Rat Rock Girl
Interview The Morning Rat Race | WRAT Radio
The Nate Berkus Show | Design Deal Breakers | Guest Stars
CUT-Guess Films | Actress
CBS Elimidate | Actress
Natale a New York | Actress
ABC-6 Degrees, Actress
MTV-Coconut Beach Tanning | Commercial, Model
Dojotube.net | Model promoter
One Acts | Blonde Barbie
RADIO
Miss Howard TV | Sirius Radio | March 2012
WMCX | Appearance on Metal Show
Broadcast for the People of NJ 2011 | On Air Guest with Morning Rat Race
Rocker Robyn Lane | On Air Guest 2PM for RRG Finals
Live Broadcast Headliner with Jim Steal | Guest Co-Host
Guest Appearance | Live Broadcast with Jim Steal at Starland with Seether
Part-time On-Air Personality | Tuesday mornings 8:00am EST | 95.9 WRAT
Headliner Happy Hour | Live Broadcast with Jimmy Steal
Oceanfest Live Broadcast | 4th of July Fiesta
Longshots Saturday Night House Party | Live Broadcast
Emerald Landscaping | Commercial with Gotts
Harley Davidson | Commercial with Gotts
Headliner Happy Hour | Broadcasting Live
St. Patrick's Day Parade | Live Broadcast | Belmar
Live Broadcast | Lingerie Contest | Jenks
95.9 | Morning Rat Race with Carl & Marty | Rat Rock Girl | Every Tue 8am-9am
95.9 WRAT | The Morning Rat Race | Foxy Four
Guest Appearance | Saturday Night House Party with Gotts | Thanksgiving
Broadcasting for the People of NJ | Broadcasting Live | Guest Appearance
Saturday Night House Party | Gotts
WMCX 88.9 | Interview | Reality Shows
PRINT
Atlantic Highlands Herald | Mrs. Highlands United States
Asbury Park Press | Upcoming Red Carpet Event | Host
Jersey Shore Premiere Calendar Model | Miss August 2013
InJersey Magazine | Bridal Model September 2012
Breast Cancer Awareness Charity Fashion Show | Diane and Company | Jersey Couture
InDisguise Poster Model for upcoming tour
Modelz Rock Magazine | Featured Model
Steppin' Out | Guest column | January 2013
Steppin' Out Magazine | June 13, 2012
Millennium Magazine | June 2012
Asbury Park Press | Red Carpet Coverage | April 2012
InJersey Magazine | April 2012
Millennium Magazine | Portfolio | April 2012
NJ BIZ | March 2012
Bella Magazine | NYC | March 2012
Rock Show Magazine | Featured Model/Corey Taylor Article February 2012
My guinea pig Snookie is Pet of the Month for 2012
Year End Models December 28, 2011 | Steppin' Out pg. 40
Holiday Model of the Week | Steppin' Out Magazine December 21, 2011 pg. 42
Celebrations Guide December 15, 2011-January 15, 2011 | Wedding Advertisement | Jacques Reception
World Press | Model Melissa Maria for Winter Fashion Show | Jacques
SHOREzine | Melissa Maria's 2011 Wrat Rock Girl Interview
Central Jersey Edition | Celebrations Guide | Page 29 Oct 15-Nov 15, 2011
NJ Biz | Red Carpet Networking Event | Draft House
Tsunami? What Tsunami? | Steppin' Out Magazine
Steppin' Out Magazine | Model of the Week
Steppin' Out | 2012 RRG Audition Ad Issue: September 28, 2011 Page: 56
Write up by Don James | Fox Radio
CBS Billboard #2 | Rock At Work | 95.9 The Wrat
Rat Rock Girl Photo Shoots | Email Blast Photos | WRAT
Cover Model | Steppin' Out Magazine | July 6, 2011
Centerfold, Interview | Steppin' Out Magazine July 6, 2011
Model of the week | Steppin' Out | June 15, 2011
Brochures | Red Carpet Gala | Buona Sera
CBS Billboard #1 | 95.9 WRAT | Nothing on but...The Rat
Jacques Bridal Show | Bridal Advertisement | Brochures 2011
Contemporary Bridal Magazine | Jacques 2011
Asbury Park Press | Jacques 2011
Jacques Bridal Expo | Exclusive Caterers Ads | 2011
G-Auto Calendar Model | 2011
CTA Digital | Play Station Move | Model 2010-2011
Fight Launch | Featured MMA Model | September 2010
Slippery Girl Magazine | Featured Model | September 2010
Sexy Girl Store | Lingerie Model 2010
Inside Women Magazine | 2010
Miss Cobra Seats | Sube Sports - Cobra Seats USA
Forever Lilly Featured Model | June 2010
Urban Male Magazine-UMM.CA| Model 2010
Powa Girls Featured Model | June 2010
Fever Magazine | Internet Hottie
Pulp Magazine | Cover Model 2010
Rogue Angels | Featured Model 2010
TrueSin Vixen | May 2010
Contemporary Bride Magazine | New Jersey Edition 2010
New Jersey Bride Magazine | Spring 2010
The Knott Magazine | Spring/Summer Edition 2010
Asbury Park Press 2010
New York Post 2008
CONTESTS
JSP | 2012 Jersey Shore Premiere Girl
InJersey Magazine | Model Search 2012
95.9 | The 2011 WRAT Rock Girl
Status Fitness Magazine | Cover Contestant Finalist 2010
True Sin Vixen Featured Model | May 2010
Forever Lilly | Miss June 2010
High Street Honey | FHM
International Fight League| Ring Card Girl
BodyRockin | Model
College Mansion | Model
Jett Girl Model Search | Model
Orlando Style Magazine | Model
Carbon8 Babe | Model
Maverick Illustrated | Model
TriState Hotties | Model
Hollywood Poker Girls Model Search
Maria's Angels | Model
944 Cover Model Contest
Ring Girl Jamaica | Model 2009
Mannequin Model Contest
Miss Myspace USA | Model
World Physique Model | January 2009
Swimsuit Model Contest | Amuso
Mavgirl of the Day | Dec 2, 2008
Ms. Bikini World 2009
Belle Models | Model
Hollywood Poker Girls Calendar Model Search 2010
Hedonism Photo of the Month Contest
JAX Model
Modified Girl Contest
RT Web Designs Model Search
Orlando Style Magazine | Model
FNU Ring Girl | Model
PHOTOGRAPHERS
MTC Photography
Maria Demartino
Carl Maiorino
Chaunce Hayden
Moto Photo Photography
Grapevine Studios
Talan Photography
Sensei Dad
Rex Lott Photography
Mark Weiss
RedMohawk Photography
TRAINING
•Voice projection
•Self-confidence Development
•Runway techniques
•Effective Speech and Voice Projection
•Poise and Etiquette
•Interview skills
•TV Presence/ Public Speaking
•Runway Modeling Techniques
•Fashion Show Techniques
•Projecting Self Confidence
•Photoshoots
•Wardrobe Planning and Accessorizing
•Product modeling
•Talk Show Workshops
•Professional Photo Posing and Movement
•Fashion Workshops
•Monologues
•Personalization
•Focusing & Connecting to a Character
•Sense Memory
•How to Understand a Scene
•Creative Performing Workshop
•Acting Class
•Opera Lessons
•Television/Radio Broadcasting Class
•Radio Broadcasting Classes