Details
Last Activity:
Jun 14, 2016
Experience:
Very Experienced
Compensation:
Depends on Assignment
Genres:
Cosplay
Editorial
Fashion
Fetish
Glamour
Hair/Makeup
Lingerie
Performance Artist
Pinup
See Less
Friends (594)
Lists (7)
Clothing to die for
14 Photos
Favorite works of art
48 Photos
Favorite Works Of Art Pt. 2
27 Photos
My work with photographers
19 Photos
People I wanna shoot WITH or to shoot ME
23 Photos
See Less
About Me
My name is Charity....
******Currently not shooting!********
I put on some weight in the last 2 years and I'm working hard to loose it. Once I feel comfortable in my skin again I'll be open to shooting. Right now I'll only shoot with people that I've shot with before.
**NOTE** I have a full time job. 40 hours a week. I only get one week-end off a month and my work schedule is not consistant. My days off change every week and so does my shifts. If you wanna work with me please understand that. If you want me to travel to you, I need either a request for my week-end off or a months notice so I can request it off work. I have to put in a 30-day-prior-to request to get any time off work other than what I have scheduled.
on June 19th, 2009 I got my tattoo finished, this is what my back now looks like:
I also have 7 piercing. 3 in each earlobe and 1 cartlage in my left ear. I can take out the jewelry from them for a shoot but need to keep at least a small stud in my cartlage so it doesn't seal shut.
Since I was little I've always been in front of the camera. I was my mother's favorite model. She gave me the desire to want to actually pursue modeling. If she wouldn't have grown me accustumed to being in front of a camera I would shy away from them at all chances.
I'm looking into doing more modeling and hoping that joining here would help me get a start on that.
I'm a goth/metalhead/industrial/fetish girl. That's the basis of my fashion. I wear a lot of leather,vinyl, and Corests (I'm obsessed with Corsets) but also lots of sexy gothic clothing along with elegent and classy gowns and outfits. **No nude! **I will work with any other models if needed. I'd be willing to pose in lingere as long as I'm covered in all the right places. I can go from elegant to sexy, so which ever angle you would like to go for I'm up to. I'd like to have some edgy type shoots done if possible, I look too soft and sweet in most of my pictures. If you'd like to know anything more about me feel free to ask, I'm also on myspace under Alice Thru The Looking Glass
Currently I'm looking for TFP/CD work. 'Cause I can't afford to pay for pictures..... but if you'd like to pay me I'm up for that
Here are some links if you wanna see more of my fashion and photos since I can only post 20 in my port:
http://photobucket.com/albums/y123/Charity_the_slave/modeling%20photos/
Create your own visitor map!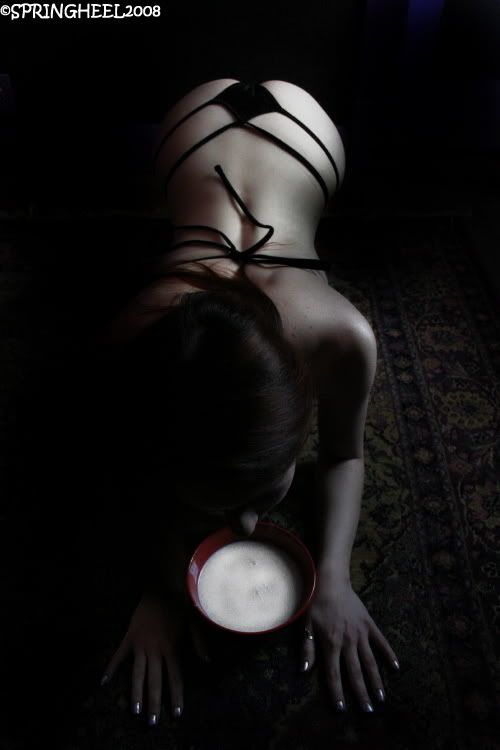 Verified Credits (0)
Worked with Sleep_to_dream? Share your experience and become verified!
Add Credits
Credit Notes
What's been said about me by other members:
SPRINGHEEL wrote:
This is my true story about Charity....
Since the moment I laid eyes on her, I thought she was one of the most beautiful women I had ever seen and an absolutely fantastic model....
So of course, I figured, she would never want to work with me....
The first time we worked together, I was blown away...she wasn't just a beautiful model but one hell of a performer.....I was even more smitten....
In the past year, she has inspired me and been involved with some of my best work....she has charmed me and made me laugh....she has cheered me when I was down and of course, turned me on too many times to mention ;-)...she is and forever will be one of the sweetest, most wonderful people I've ever known and its an honor to have her in my life....
xoxoxoxo
Said by EyeCatchersUSA:
The difference between a good model and a great model is the ability to make believable the unbelievable. to sand in the shadows of the crowd and agreeing with the surroundings to get by, or to stand out from the crown and make a statement.


You pass great to achieve brilliance. As beautiful as your port is its also shocking to the point of disturbing. Where most would not even touch the concepts, you embrace them. for those of us that would turn away and deny such concepts as unbelievable would be captivated by such concepts.

out of thousands of models we find a few hundred of good models that put every thing they have into their work. Out of millions of models we find you. not frightened to push you modelling to the edge of acceptance.

well done, you are an inspiration to know that perfection can be achieved.

Just want to show my appreciation your remarkable talent.

regards

Ian
Shoots that I'd LIKE to do:
Fairy Tale
Pin-up
Good VS Evil
Shot with so far:
Nad Iksodas - MM#3971
*photoguy42 (Alan Klem) - MM#17186
*Alizarine (Andi Young) - MM#12227
*Visions Of Excess Studio - MM#152
*Glen Berry - MM#3876
Eric Cain - MM#6616
*QuickShotPhotography - MM#57151
*Gary Mitchell - MM#24931
*Art Schotz - MM#52971
David Linke - MM #79534
TheAnj - MM#7199
Patrick Dew - MM#27335
McKenzie Bros Photo - MM#93647
Rocky Dawson - MM#8270
Nihilus - MM#26850
Synthetic Shadows - MM#258
Hectates Illusion
Flutterby Studios
Fuzzytek
JMX Photography
Convent Studios
LazyI
Michael Morrow
Shoreline Studio
Sin City Photography
Terra Luna
Firstlight Photography
William Kious
SPRINGHEEL!!!!!!!!!*******************
* - Denotes who I've worked with mulitiple times
Models I've shot with:
Mas69ter - MM#19211
*The_Thorny_Rose - MM#25920
SarahMonster - MM#19379
Patrick Dew - MM#125218
*Shawshank - MM#91590
Crystal Lynn - MM#117965
Athena06 - MM#14577
*Madalynn - OMP#241664
*SubBoyd *giggles* - MM#15764
Tyrgrim
Pheona
Katherine_Rose
Mandy
AJ