Details
Last Activity:
Jul 23, 2014
See Less
Friends (78)
Lists (3)
Bikini Perfection
2 Photos
long lean AND extreme
3 Photos
theartyst's list of killer photos
0 Photos
See Less
About Me
I have focused on figurative and portrait work for most of my career. Even when I am doing something totally different I always come back to what I love most - Painting and drawing Beautiful people.
When I found MM I was amazed by the growing diversity AND had to be a part of it. I hope to meet that perfect model for future projects (obviously) and immortalize them in my painting style...
The idea of having pollution-free driving high above the landscape in hydrogen powered hover-cars is a reality in "Fifties Future" It's an idealized glimpse into what the people in the 1950's may have envisioned.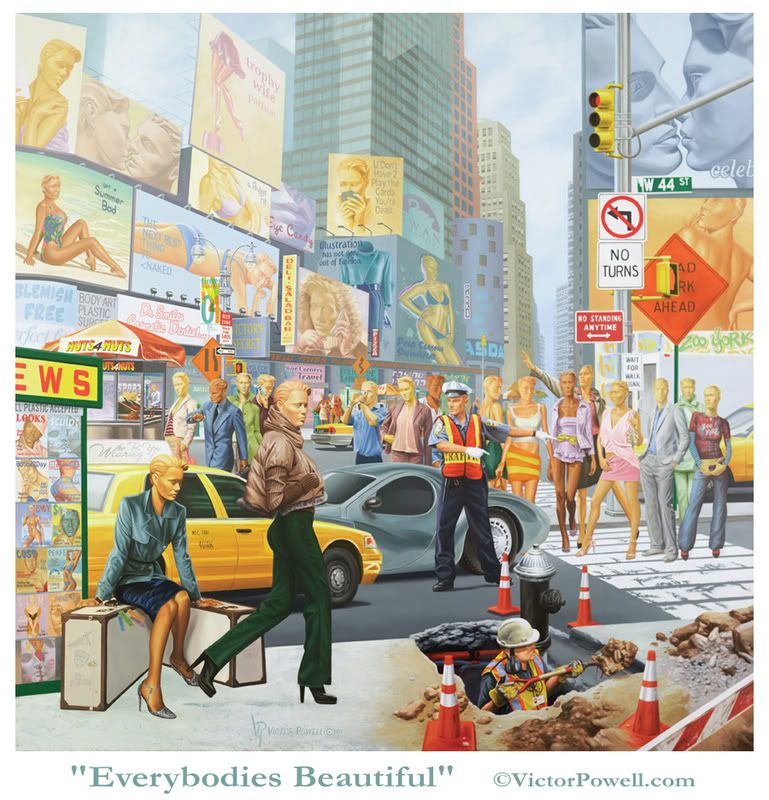 We're constantly bombarded by images we aspire to, yet cannot attain. Imagine a World where everyone HAS what Madison Avenue and Hollywood claims as Perfection.
I believe I have a gift of seeing life slightly askew. I always think there are other ways to understand things. My works of art take you beyond what you're normally familiar with. Once you look closer at them you'll realize they're rich with meaning. Things are being discovered. They will in fact begin to communicate with you whether you want them to or not.
My work informs and educates with a collision of ideas all designed to tell a story. When the time is taken (which is different for everyone) you'll start to see the clever use of metaphor - always used with a strong emphasis on fun, whimsy and humor, all-the-while making a point and commenting sometimes with wry wit or biting humor on current social issues and pop culture.
Each subject painted are in the language of personal experience in our real world, but altered. My paintings poke fun at serious everyday issues that have caught the popular cultures attention. And, since we live in the 21st century - adding a modern edge ties it all together. My goal is to invite the viewers into a world they have never seen which is completely my creation, yet they can relate to. I've touched on subjects such as: Our constant desire for instant gratification, addictions, teamwork, the ever-growing plastic surgery obsession and our current high-tech oriented society and non-stop movement towards newer and improved gadgets. These are part of a series of seven oil Paintings (unique unto themselves) yet connected. Each consecutive piece has an aspect from the previous one, adding complex variations that wouldn't exist otherwise.
On the surface you'll see luminous vibrant colors and unique characters in impossible situations telling stories that can be related to on multiple levels. Often I'll manage to breathe life into objects that otherwise wouldn't be so.
I'm deeply committed and passionate about every aspect of my art. From the subject matter, to the story-telling, to the smallest of details in designing and creating every unique character that populates each world depicted. A little bit of me goes along with each piece I make.
True to any creator - I feel my work is an intimate reflection. Each project and painting is about subjects that are from personal experience, and even if it's not evident to others - I'm baring my innermost thoughts through my work.
Verified Credits (0)
Worked with theartyst? Share your experience and become verified!
Add Credits