Details
Last Activity:
Mar 23, 2016
Experience:
Very Experienced
Compensation:
Depends on Assignment
Genres:
Acting
Art
Bodypaint
Dance
Editorial
Erotic
Fashion
Fetish
Glamour
Hair/Makeup
Lifestyle
Parts Modeling
Pinup
Promotional Modeling
Runway
Spokesperson / Host
Stunt
Underwater
See Less
Friends (163)
Lists (11)
Exceptional portraits
34 Photos
I have the most awesome friends.
11 Photos
My favorite statements
8 Photos
My Magical Fairy Tale Dreams
18 Photos
Popping up in ports everywhere
15 Photos
Simply Striking.
9 Photos
The Art of Life 101
9 Photos
These kind of make me shiver for various reasons
3 Photos
Well done vintage goodness!
2 Photos
WendyLane's list of killer photos
17 Photos
See Less
About Me
November 2013 update: Sorry guys, currently inactive, working on health stuff. I'll let you know if I come back to this
I do it for fun. I also do it for money. I do it because I enjoy art and I enjoy collaborating with people to see what kind of crazy stuff we can pump out. I'm an artist myself*, so I enjoy being able to help throw ideas around when shooting and also hearing what ideas the other models/artists/photographer have to offer. I want to make mouths gape. If I can make a person cry or vomit or laugh hysterically, awesome. I want to create images that you can't forget if you try. Raw.
I'm built like an Amazonian and I'm okay with that. Sometimes it works to my advantage. I like to play with guns, knives, snakes (I own a Ball Python), dynamite, duct tape, chains, and numchucks on rooftops or seesaws or anything else we can find that fits in a frame. I am very self-aware and have an objective viewpoint. Good models can do this for a photoshoot. I do this all the time. I am very aware of exactly what I look like at any given time. I make my living by looking pretty, so I have to.
I can pretty much rock a runway, and I'm available for runway work as well. I'm damn good in heels. Speaking of:
The best way to contact me is through this site. I check it quite a bit. I enjoy working with other models or by myself, so I am versatile in that respect. Basically, if you have an idea for something incredibly awesome, let me know. I may not be the right model for everything, but I know I'm right for some things, and those are the things I aim to make beautiful.
Travel:
I am willing and able to travel pretty extensively provided that travel costs are covered. I love to travel. I may or may not bring an escort with me, but I reserve the right to do so. My escort just happens to be a model, and we work wonderfully together. I can travel (tentatively) up until August 2009, so let's hop on it and start booking!
I do change my portfolio up and add new photos quite often, so keep looking back for more stuff!
Body Mods:
Tattoos:
-5 nickel-sized dots on my right collarbone; black
-7 black lines around left ankle, varying widths; black
-Hindu "aum" on upper spine, just below neck; black
-11 swirls on the backside of my upper left arm; black
See here: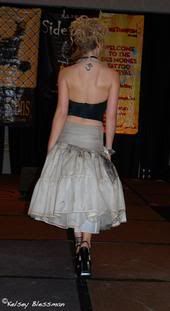 And here: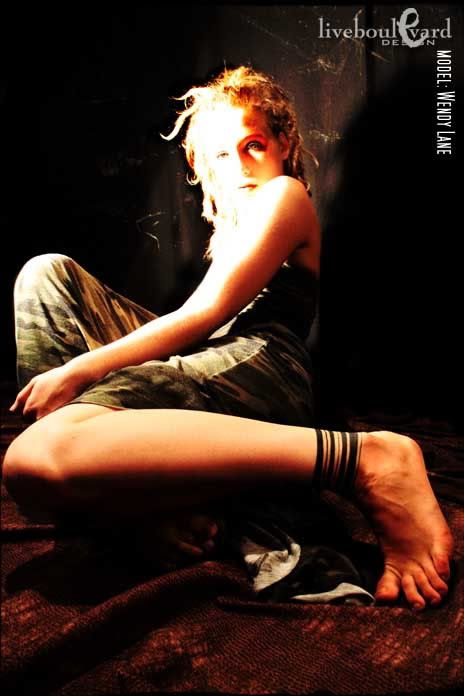 And here.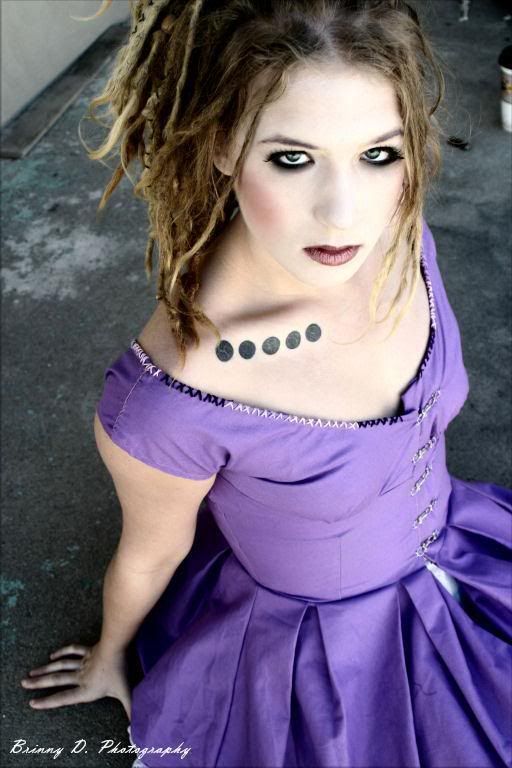 And that's all for now, but not forever!
I've been pondering on a few concepts I'd like to try. If you're down for any of these and have some great ideas and want to collaborate with me on them, please please drop me a line.
-Fantasy (My dreads now reach my butt. I've played Mother Earth. I'm quite fairyesque, and I want to show it).
-Nature Amazon/Ferrel woman type shoot. I am the proud mother of a 4-foot Ball Python. He likes to get his picture taken. Get the picture? Get ahold of me.
-Beautiful Gowns
-Body art (I do body painting and I also model body painting).
-Alternative Fashion
-Anything '90s alternative styled (I'm in love with the '90s).
My "no nudes" policy is semi-questionable. I have done nudes with photographers whose stuff I really really like. I may do nudes in the future for photographers who pay extremely well** and/or whose work I really, really like and want to be a part of.
Holla!
-Wendy Lane 3/4
*Shameless Plug:
http://wezface.deviantart.com
**I don't like to trade art for money. However, I'm a poor college student. Environmental Anthropology, if you're interested. Always looking for side jobs. Rest assured that my rates are reasonable and I will give you my all.
I also enjoy my time behind the lens, and have been expanding my photography portfolio more in recent months. My MM# for my photography portfolio is
1096704
. Check it out and get at me for any collaborations!
Verified Credits (0)
Worked with WendyLane? Share your experience and become verified!
Add Credits
Credit Notes
I have been incredibly fortunate in the time I've been modeling to work with many incredible photographers, stylists, makeup artists and wardrobe designers. Here they're listed in no particular order. Go check them out, because I've not worked with one person here from MM that I had a bad experience with. I'm sure they wouldn't mind shooting out a quick reference, too, if you need one. These people are great. Asterisks (*) indicate the number of shoots we've done together, if more than one.
Photographers I've worked with:
Brent Isenberger
Stephen Melvin: MM# 193886
Caspers Creations: MM# 117004
Laura Ann: MM# 551432
Brinny D: MM#112554 **
Miss Nicole: MM# 168388 (Model profile)
Maggie Gulling: MM#209320
LiveBoulevard Design: MM#383195 ** (Photography and Videography)
Ace Foto: MM# 458512 ****
Danson Images: MM#666127
Dream Picz Photography MM# 705330
Robert Martinez MM# 89203 **
R. Friess ****
SaveMaven Photography MM# 455942
Bodyshots Photography MM#330640
Boybarian Photo MM# 1135742
Models I've worked with:
Miss Nicole: MM#168388
Brooke Lynn: MM# 435770
Cydnie Owens: MM# 324209 (Rest in peace.)
Serana Rose MM#362854
Emily Svec MM#434624
Jolene Hull
Abigail Wambold
Nick Strickland (Model and Videographer)
Stylists/Clothing Designers, and MUAs:
-Emily Gansfield (Costume Design, Hair, MUA; $trick9 Mother Earth Music Video)
-Emily Svec Body Decor: MM# 453284 (Body Paint Performance Art)
-Serana Rose: MM#362854 (
http://www.seranarose.com
), Des Moines, IA (print ads, Runway)
Print:
-The Truth Quarterly, Summer 2008 Issue
~Vogue Vision, Action Accents Swimwear, Salon Utopia
Runway:
-2008 Fashion Midwest Runway Revue Fashion Show
~Atomic Heart Designs, Atomic Garage Vintage Fashion
-2008 Des Moines Tattoo Convention "Art of Fashion" Fashion Show
~Serana Rose Designs
-2009 Fashion Midwest Runway Revue Fashion Show
~Magpie Designs, Vitae Design Collective
Film:
--Mother Earth: $trick9 and the Truth's "Mother Earth" Music video, Mother Earth (Lead), June 2008
--Janie Jones: Concert Girl, September 2009