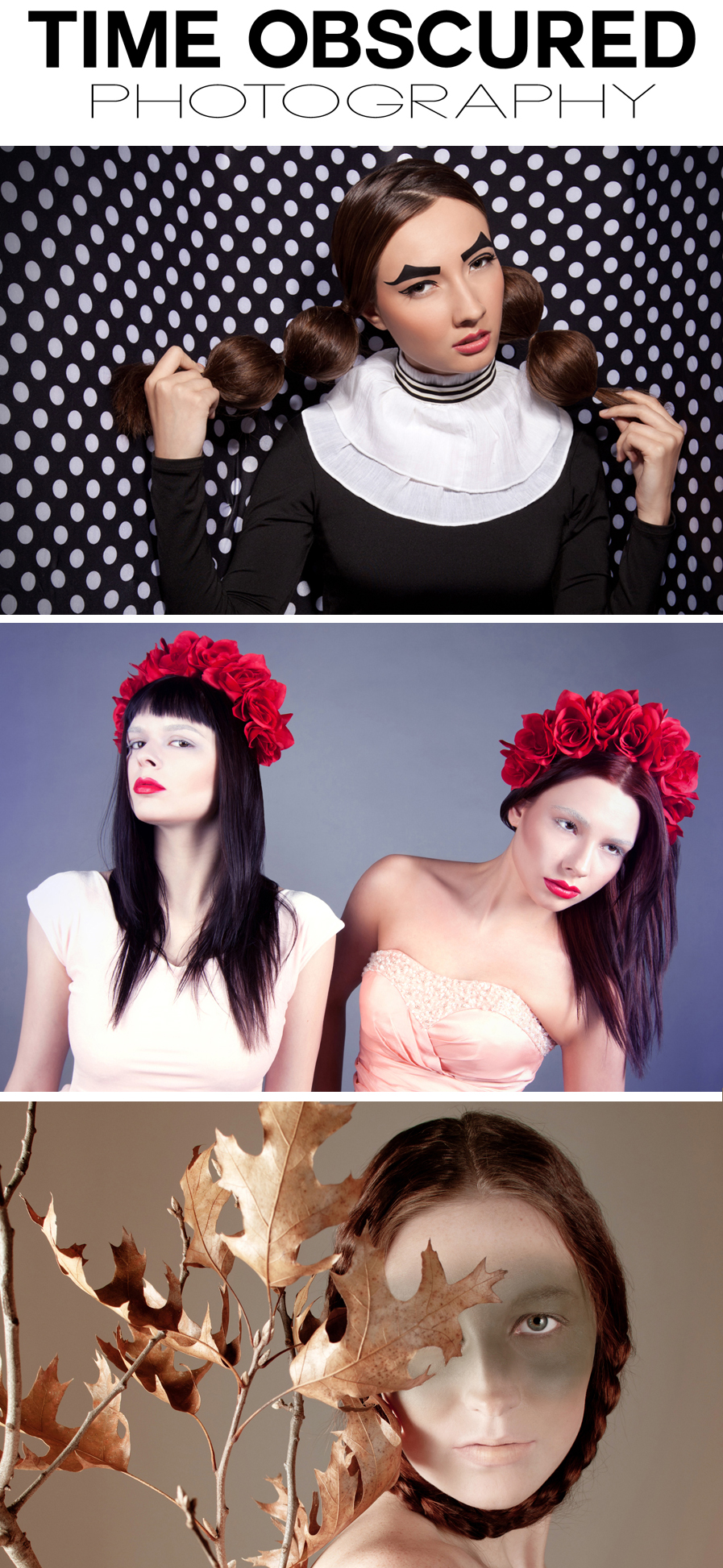 ________________________________________________________
LE PHOTOGRAPHE:
Manda Rose |
CONTACT
manda@timeobscured.com
SPECIALTIES:
Photography | Post Production | Digital Retouching & Photo Restoration | Art Direction & Concept Development | Design | Portfolio Building
BOOKING:
Booking 2014 for creative shoots. Seeking paid work -Will only consider trade with experienced designers & talent, agency work, or if shoot will result in tear sheets. I occasionally seek out models for personal projects though, so by all means, let me know if you're interested in working together! My rates vary depending on type/length of set. I am located in Worcester/Boston, but will shoot anywhere given that travel expenses are covered! I love networking and collaborating with MUA, stylists, and designers - contact me with thoughts on what you're looking for, and we'll discuss the details!
NOTES:
FYI: I will not photograph animal-based clothing / accessories such as fur, feathers or bones. Please keep in mind I never send bulk, un-edited shots on cd, -especially- if shoot is trade. I carefully review & edit with respect to the needs of my portfolio, myself as an artist, and the model as a performer.
TOP 12:
My top 12 features models & stylists I have worked with in the past.
PREVIOUS EXHIBITIONS:
RAWartists: RAW Los Angeles: "Encompass" Featured Photographer,
Oct 2013 - Belasco Theater, Los Angeles, CA
Mad Girl Productions: Sugar Art & Fashion Show "Secret Society" New York Fashion Week 2013: Featured Photographer, Sept 2013 - Sutra Lounge NYC, New York, NY
Sugar Art & Fashion Show "Sugar Does Boston" Featured Photographer,
June 2013 - Underbar, Boston, MA
Worcester Alliance of Photographers "Let There Be Light" Featured Photographer, Nov~Jan 2012 - City Hall Gallery, Worcester, MA
RAWartists: RAW Boston : "Provocations" Featured Photographer,
Oct 2012 - The Estate, Boston, MA
"Like" Time Obscured Photography on Facebook!
Instagram/Twitter: @TimeObscured #TimeObscured