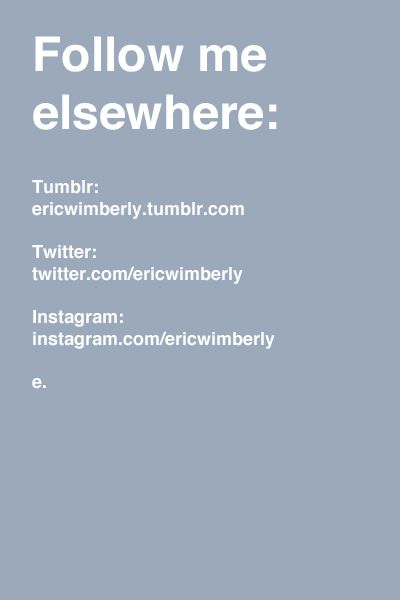 REGARDING TFP:
I am no longer entertaining the idea of tfp shoots, but my rates are very affordable.
However- should I choose to accept a TFP shoot, as a model- you will not receive all the images from the shoot. That is exclusively for paying customers. You will get the final images only. Feel free to contact me with any questions you may have.
I have been a photographer for about ten years now. I do it all. art, fashion, editorial, journalism, glamour, portraits.. you name it.
If you are in need of ANY kind of photos, let me know. I just want to continue doing what I love.
I appreciate any and all feedback, so please- don't hesitate to give me your opinion of my work.
enjoy.
www.ericwimberly.com
ericwimberly@gmail.com
Blog:
www.ericwimberly.tumblr.com
headshots and portraits for dozens of local models. (Orlando and Portland)
7 Orlando fashion shows.
3 shoots for xander blue hair salons. (Orlando)
3 shoots for Orlando based hair shows.
shot several engagement shoots for couples.
several weddings throughout each year.
full day shoot for Silver Moon Creations body jewelry product line. (featuring 5 models)
had a gallery opening of 10 prints of fashion photography featuring SUPAYANA clothing designs, as well as shooting the actual SUPAYANA fashion show in Orlando. (featuring 15 models)
work featured on jones soda bottles, Orlando Style Magazine, Orlando Weekly, 2 local bars, 5 art festivals, and sold prints to clients from the entire west coast, as well as FL, NY, and VT.
shot several local apartment properties.
worked with evilneedles.com as a photographer-(including the tori amos line).
photographer for the TITANIC exhibition in atlanta (artifacts, pieces of the titanic, display rooms, macro shots of artifacts).
Fuse fashion show (Portland).
Redken/Pureology Seattle event featuring stylist Ruth Roche.
shot the Aveda salon holiday gift card campaign for 2010.
Shooting documentary and processes of Portland local restaurant Ned Ludd, as well as food sources and farms.
shot the spring and summer 2011 senior portraits for Aveda at AIP.
worked with local dress designer Anisa Makhoul.