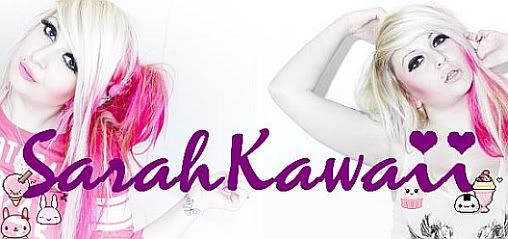 Hi,
I am a published model based in Central London and agency represented by Spirit Model Management.
My hair is currently PINK. It has been pink for 8 years but I get asked what colour it is at the moment alot.
Please don't hesitate contact me either on here or at sarahsjazz@hotmail.com if you have any idea's or would like to work together.
SarahKawaii.
Some of my favourite styles of photography are-
♥ Ringflash glamour.
♥ Compisites.
♥ Avant garde.
♥ Latex collaborations.
♥ Colourful and creative.
___________________________________________________________________
I have modelled for a number of clothing designers such as:
Hellcat Latex.
ASD Latex.
Burleska.
Dead Threads.
Death Kitty.
Goodie Two Sleeves.
Hell Bunny.
NewBreed Girl.
Poizen Industries.
Raven SDL.
And many, many others.
Published:
Attitude Clothing Catalogue Spring/Summer '10.
The Daily Star.
Bizzare Magazine #199
Catwalk:
The Great British Tattoo Show.
London Fetish Weekend for Lady Allura's Latex.
London Anime Con.
Guest Judge:
GEEK 2013.
Feel free to follow me on...
Twitter-
www.twitter.com/sarahkawaii
Facebook-
www.facebook.com/sarahkawaiimodel
Tumblr-
www.sarahkawaiimodel.tumblr.com
I look forward to working with you.