* Fashion * Glamour * Special Events * Weddings * Film *
LOOKING FOR NEW FACES!!
Also started photography - check out my photography page - Cindy Hines Photography - MM #2561092
**LIMITED TFP to intriguing concepts!! Otherwise, please inquire about my rates if you are interested in working together. They are very reasonable.**
If we have been in contact about a shoot or are trying to set something up, please keep in touch with me. If a date is discussed, I reserve that date for you. Please be professional and acknowledge messages.
**AVAILABILITY: WEEKDAY EVENINGS AND WEEKENDS**
My name is Cindy and I am a licensed Cosmetologist and Certified Makeup Artist. I enjoy being creative with hair and makeup. Looking to work with creative photographers, outstanding models, fellow makeup and hair artists and designers.
I am in no way, shape or form an expert and I don't pretend to be. I also do not work magic so please don't expect me to. Please be realistic with ideas/inspirations. Everyone's hair, face, or body are not the same. I am taking the time to make your shoot how you want it to be. Please do not waste my time. I take my work very seriously as should you.
**MODELS** Please do not fix your hair the day of the shoot. Do not straighten or curl. Please make sure that your hair is clean (washed the night before) and DRY! And please don't wear ANY makeup...NONE!
Follow me on Twitter:
http://twitter.com/StarMoowa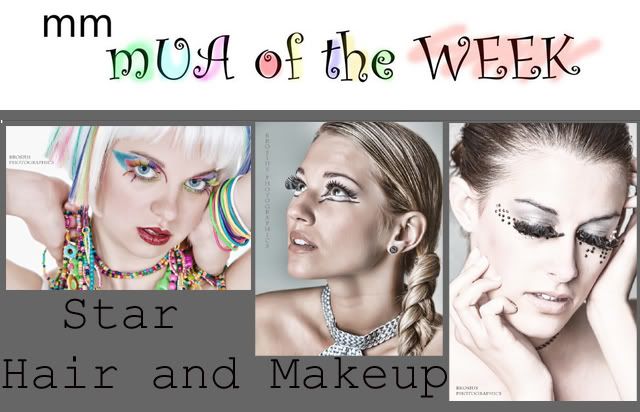 Special thanks to the following people: (top friends are who I have most recently worked with)

**Photographers**
Brosius Photographics - MM #378707 (X42)
c h r i s g o o d e n - MM #668576 (X48)
Danielle Anderson Photo - MM #795542 (X5)
Aaron Zeitler - MM #422502
Sharon Dominick - MM #29100
Jeff Zoet - MM #10805 (X2)
Brent Isaac - Kim Rullo - MM #140717 (X2)
James Campbell - MM #11581 (X4)
Shannon Kenyon - MM #512581
Brandon Riggs - MM #841800 (X5)
Cayla Elliott - MM #701813 (X5)
Kevin Ross - MM #775721 - never received images
Brian Kaldorf Photo - MM #255714 (X2)
Mona T Brooks - MM #158904
Nea Bristol - MM #185778 (X2)
Ashlee Nicole Gray - MM #746166 - never received images
Alexis Shapiro - MM #1340896 (X11)
Radikal Kats Photograph - MM #261373
Dawn Derbyshire Photo - MM #1268551 (X2)
Lauren Siers - MM #713411 - never received images
Villain Photography - MM #1305463
Kathryn Stabile - MM #1208250
Barrie Blau Photography - MM #1041706
WyckoffPhoto - MM #1116171
Liteguy - MM #749593
Lauren Loncar - MM #570524
Steve Prue - MM #311
LightFall - MM #61543
Joe P - MM #131506
michaelarion - MM #1586052
Dannymo Photography - MM #1680158
Kristi Telnov - MM #1768581 (X2)
Deborah Kocan - MM #1864434 (X3)
Stacy Wescoe Photography - MM #2031815 (X6)
Joseph_Paul - MM #1370165 (X2)
Brian Herman - MM #1901095
Dale Schiebel - MM #1127227
Nicole Mueller - MM #1529447
T R Willmitch - MM #37534
JoePhoto - MM #1101664 (X2)
412foto - MM #845073
Cindy Hines Photography - MM #2561092
Danny Landoni - Outside of MM
Chris Molton
Edwin Shaw
Todd Plinke
Fautaugraufy Get Fautograf'd - Outside of MM

**Models**
Cindy Star - MM #795072
Oh Susannah - MM #478121 (X2)
Mallery - MM #663699 (X2)
Lady Kei - MM #760172 (X3)
Maura KC - MM #521080 (X2)
Bryn Rose - MM #350113
Lenka Lukac - MM #1022335 (X10)
The Diamond Princess - MM #588392
Ingrid Ullrich - MM #704075 (X4)
Rhonda Cooper - MM #1052562 (X2)
Sarah E Lee - MM #577388
Gerria - MM #1285676
Marissa - Outside of MM
Model Lizz - MM #581008 (X6)
Sarah Prankha - MM #13043
Samantha Joanna - MM #1029707 (X2)
Carley Lenz - MM #81863 (X2)
Liz Tailore - MM #1064076
Courtney Lynn - MM #679139 (X2)
Morgan Wolk - MM #1002330
LexiM - MM #1065030 (X4)
JenniferLyn - MM #1085926
Kristie Mary - MM #1160846
Destiny M - MM #697165
Amanda M Brown - MM #399248
Lyndi Jo DeLisio - MM #1230716 (X3)
Sarah Brittney Burgess - MM #869312 (X2)
Rachel Weichbrodt - MM #849859
Jessica Halle Lynn - MM #275839
Kate Blakley - MM #65076
Tonya Tardiff - MM #1189725 (X2)
Natalia Dove - MM #805671
Amy Eli - MM #359029
Caileigh Corine - MM #1041580 (X3)
Bridget Fry - MM #1085499
Jerrica Marie - MM #1026502
Sarah Block - MM #1334797
Nikkie D - MM #801226
Elysia S - MM #1297842
v e l o c i t y - MM #800145
Marie Blanchard - MM #164649
niRRv - MM #821056
Samantha Sham - MM #1232198 (X6)
Alexis Katsafanas - MM #1342434
Milanya Maria - MM #1197643
Brittany Rotto - MM #613399 (X6)
c h r i s g o o d e n - MM #668576
Kara Elizabeth Cafeo - MM #12141948
Kristi Tel - MM #1105857
Shannxn - MM #644280
AshleyElizabethFrohnert - MM #1317898 (X2)
Kali Hazy - MM #198771
rig - MM #178883
Jamie Michelle Gainer - MM #23401
Siouxsie Radcliffe - MM #799434 (X3)
antietam - MM #15155
Amber - Outside of MM (X2)
Dana - Outside of MM
caitlin noel - MM # 1356391 (X5)
Ali Fink - MM #1080132 (X2)
Jordan Daniele - MM #1306654 (X4)
Nicole - Outside of MM
Allie - Outside of MM
Essa Thiry - MM #10151
Caitlinchels - MM #1529839
Joanne Starkey - Outside of MM
DreaMariaV - MM #1388505 (X2)
Lucy Osinski - MM #1177511
Irina - MM #7055
Calico R - MM #378543
Rachel - Outside of MM
SarahMichelle7 - MM #1329546
Paris Nicholson - MM #1311711
Billie Jo Powers - Outside of MM
Kristen - Outside of MM
Deanna Deadly - MM #377063
Kamarose - MM #445059
ashley genova - MM 1513469
Giovanna Yannotti - MM #1698266
BrandY_Xoxo - MM #428166
Mariyah Wallace - MM #1773057 (X7)
Shawna Bee - Outside of MM
Model Mandy Lynn - MM #1690459 (X2)
Samantha Ley - Outside of MM
The members of Through These Walls
Rachel Ann K - MM #1307937
Amy Caroline - MM #1736923
Elizabeth Ann Acklin - MM #1427715
Anastasia Ustinova - MM #1312682
Sweet Cindy - MM #1379097
MissOffensive - MM #2100988 (X3)
COHara - MM #1850041
Sara Ann - Outside of MM
Rai Frydryck - MM #1642807
Claire-Marie - MM #1276268 (X3)
Paigey Price - MM #2465595
Alexis Eichelsbacher - MM #1858642
Kait Schoeb - MM #1719197
Lisa07 - MM #2517197
Ali Soukovich - MM #2420424 (X2)
Megan Sawey - MM #2524237
edible - MM #1402220
Kelly Lee Daugherty - MM #2203650

**Models - Hair only**
Sarah Brittney Burgess - MM #869312
Ami Eli - MM #359029
Lian Zhang - MM#767722
Anastasia Ustinova - MM #1312682
Rachel Weichbrodt - MM #849859
Alysha Nett - MM #469272
Brittany Rotto - MM #613399
Lady Kei - MM #760172
Kristi Tel - MM #1105857
Rai Frydryck - MM #1642807
Ali Soukovich - MM #2420424
Renee Rahimzadeh - MM #1392712
Haylee Peace - MM #2544004
Annie Blair Lieber - MM #2380692

**Collaborations**
Reel Makeup - MM #812907
Fierce about Face - MM #233327
Dione Yvette Makeup - MM #697234
Makeup by Adrianna - MM #585445
MUA Lori D - MM #724605
Zarelli Hairdressing - MM #1831801 (X9)
Janneth MUA - MM#1910409

**Designers/Wardrobe stylists**
Sew Addicted - MM #1009804 (X5)
ModCloth - Outside of MM
Hollywood Wardrobe - MM #1273121 (X2)
RockLove Jewelry - MM #1238464 (X3)
Brittany Donaldson Stylist - MM #1133505
Minx Shop - MM #1525761
Ashley Rose - MM #2162888
Nicole Myers Stylist - Outside of MM
Little Black Dress - Outside of MM

**Fashion Shows/Misc Work**
Sew PINK by Sew Addicted - Breast Cancer Foundation Benefit 2009
ModCloth - 1950's Finest Fashion Salon Benefit for Cystic Fibrosis
Sew PINK by Sew Addicted - Breast Cancer Foundation Benefit 2010
Music Video: "I'm Staying" - Jade Lundgren/Paul Saunders
Bella Morte Magazine - Issue #6
Front Row Monthly Magazine online - September issue